Left bank, heart of the 7th arrondissement, unquestionably one of the best locations in Paris. The apartment is surrounded by cafés, shops, restaurants, and open markets; the neighborhood retains its original village feel.
View of the Eiffel Tower to the right, with the gardens of the Champ de Mars Park directly ahead.
Ecole Militaire métro is 3 blocks; 5 blocks to Pont de l'Alma métro. Three main buses stop ½ block away.
Three large open markets in the neighborhood: Pont de l'Alma, Rue de Grenelle and Ave. de Saxe. The famous Rue Cler is three blocks away.
Champ de Mars Park (1 min): Stroll, jog, bicycle or play in one of the playgrounds, throw some hoops, go to the puppet theater or just sit and enjoy Parisian life and the beautiful gardens.

Public Transport:
- Metro: Ecole Militaire (4 min)
- RER: Pont de l'Alma (7 min); local train that goes direct to Invalides and Notre Dame
Eiffel Tower (6 min)
Seine River (6 min): A stone's throw to the romantic Seine river, where you can bicycle or stroll along at sunset.
Boat Tours (6 min): Bateaux Mouches, Batobus and Bateaux Parisiens boat tours.
Ecole Militaire (6 min): Napoléon attended military school here and the buildings still show signs of gunfire from the French Revolution in 1789.
Paris Bike, Segway and Walking Tours (7 min)
Musee Branly (8 min): Award-winning Museum of Ethnic Arts.
Paris Sewer Tour (8 min): Fascinating tour of limestone arches and caverns with street signs that traverse all of Paris . The Phantom of the Opera was inspired by these underground streets.
Open Markets (10 min): Pont de l'Alma is a ten minute walk and has the largest open market in Paris every Saturday morning. Rue Cler is five blocks away and is among the best and most famous shopping streets for food in Paris.
Invalides, Napoleon's tomb (10 min): Napoleon's tomb rests under its golden dome.
Musee de l'Armee (10 min): One of the world's finest collections of arms, medieval armor and uniforms
High Fashion (13 min): Cross the river to the Grand Couturiers on Avenue Montaigne. All the big names - from Chanel, Dior, Dolce, Givenchy, Valentino, Jimmy Choo to the outrageous Jean-Paul Gaultier and more
Four Seasons Hotel, Plaza Athenee (13 min): Enjoy tea or 3 star dining. Plaza Athenee is famous for being the venue where the final episode of 'Sex and the City' was filmed.
Trocadero, Museum of Mankind (15 min)
Rodin Museum (15 min): Picnic in the gardens among the sculptures
Rue du Commerce (18 min): A true Parisian shopping street with trendy boutiques, food stores, bistros and the Monoprix department store, like a French Target - good quality and great prices!
Grand Palais and Petit Palais, Palais Chaillot (20 min): Expositions throughout the year
Champs Elysées, Arc de Triomphe (25 min)
Musee d'Orsay (25 min): Walk along the river or go direct via RER.
Place de la Concorde, Madeline: (25 min): Walk along the beautiful river or direct by bus or metro
Bon Marche, Rue du Bac (25 min): Famous shopping area.
Louvres (35 min): Walk along the Seine or direct bus/metro
Department Stores: Direct metro and bus to Galeries Lafayette and Printemps Department Stores.
We think you will love staying in our Paris apartment! We leave several Paris guidebooks and other information on the neighborhood for you to peruse during your stay. This is a non-smoking apartment and, sorry, but no pets are allowed. Please let us know if you have any other questions or would like to check availability; we are happy to help.
Paris Perfect
1 Rue Augereau
75007 Paris
France
1-888-520-2087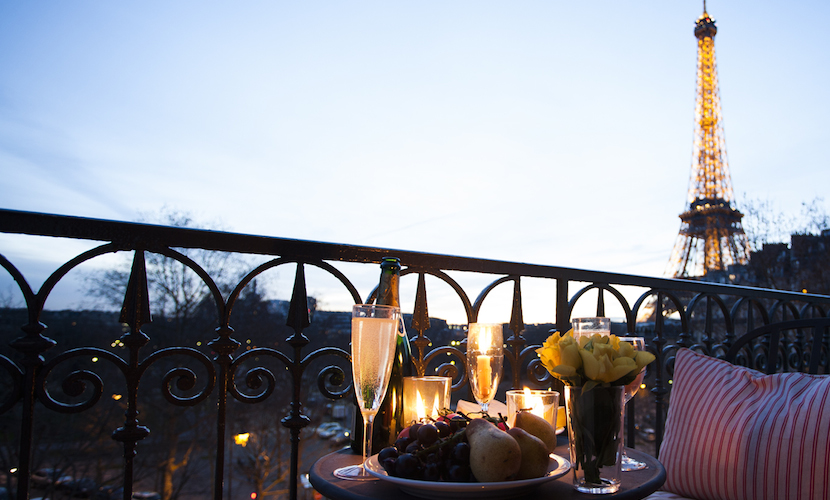 Enjoy champagne and a stunning view of the Eiffel Tower
You know you've arrived in Paris; our apartment offers an astounding view of La Grande Dame de Paris. Enjoy champagne and candlelight in the evening and watch the magic light show on the Eiffel Tower from our 635-square-foot short term apartment rental in Paris.
Enjoy breakfast on the balcony of your Eiffel Tower rental
A sunny day with breakfast on the balcony of our Paris apartment. The view is dazzling. It is extremely difficult to find these apartments with one-of-a-kind views, but we are uncompromising in our standards. We prefer to offer a few, gorgeous apartments in Paris than à la carte menu of mediocre ones.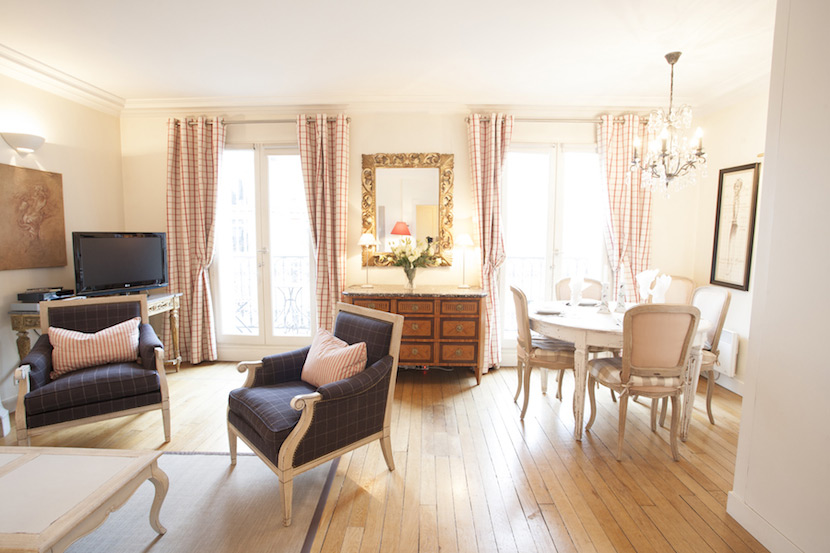 Sunlight streams through the French doors in the living room
This beautiful, double-room of our Merlot apartment was opened up to create a feeling of space and light. Two pairs of French doors lead onto the balcony to breathtaking views of the Eiffel Tower, gardens of the Champ de Mars, and Parisian life below. A round marble bistro table and chairs sit on the balcony for you to enjoy croissants and café au lait each morning, or to toast the sunset in the evening. At www.parisperfect.com, we believe that a crucial element of your stay in Paris is to be able to enjoy this kind of view - whether for the first or fiftieth time.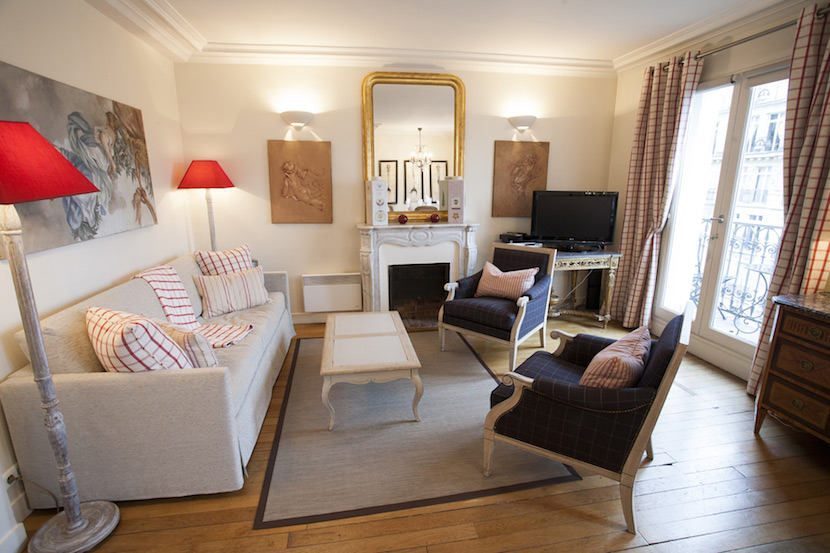 Luxurious living room of our Paris apartment
The living room of our Merlot apartment has a luxurious feel. The beautiful original features combine with two pairs of French doors. You will find yourself stepping out on the balcony to watch Parisian life unfold below and to watch the incredible view. We think that these features should be an integral part of your stay in Paris.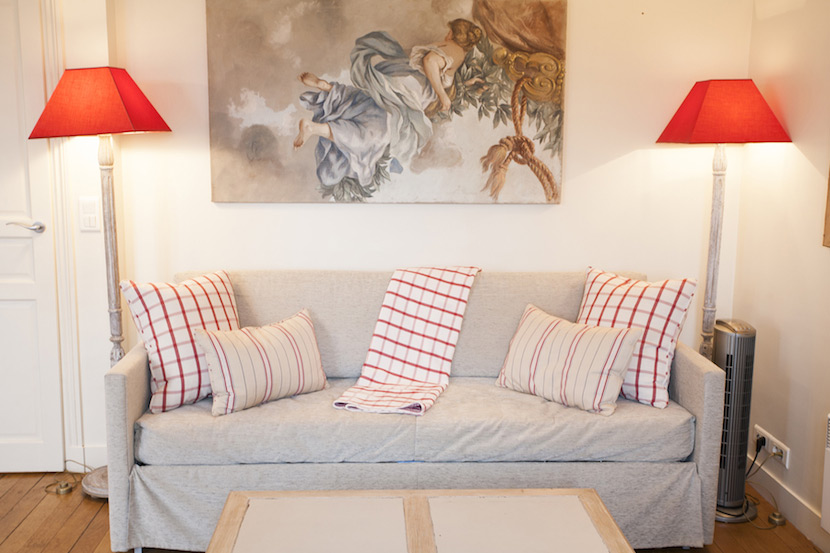 White empire sofa bed with trundle
The empire sofa bed converts to two comfortable twin beds or a dual-king at night. We find it a better option for guests than regular sofa beds, as they are good for sitting on, for taking naps, and for sleeping.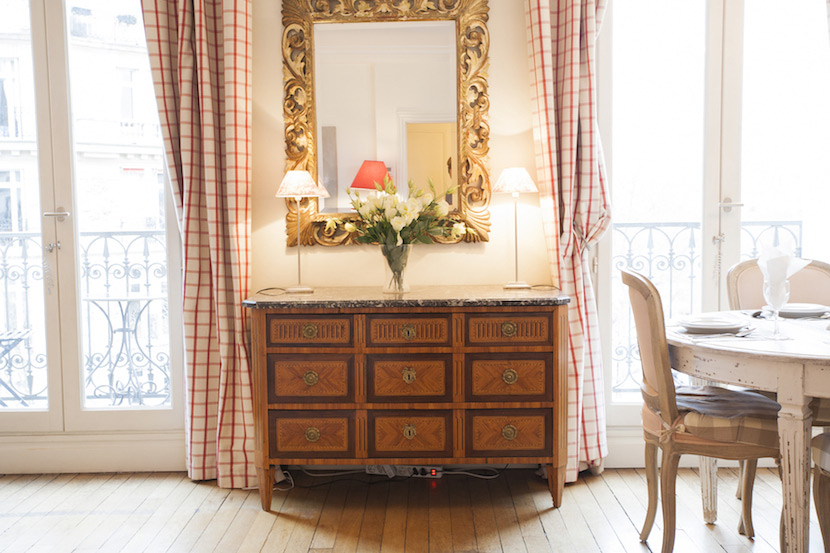 Beautiful antique commode sits between the two French doors
The living/dining room faces due West and is warm and sunny. We restored the parquet floors, returning it to a mellow oak color. An antique commode, from Philippe's town in Normandy, sits between the two French doors - beautiful and excellent for storage. The mirror was purchased at the Marché aux Puces in Paris.
Dining table expands to seat six people for dinner
On the right of the living room is a round dining table which expands to seat 6. The delicate chandelier highlights this corner and make a welcoming space for meals. Two built-in closets for hanging and storage are built in to the right of this niche.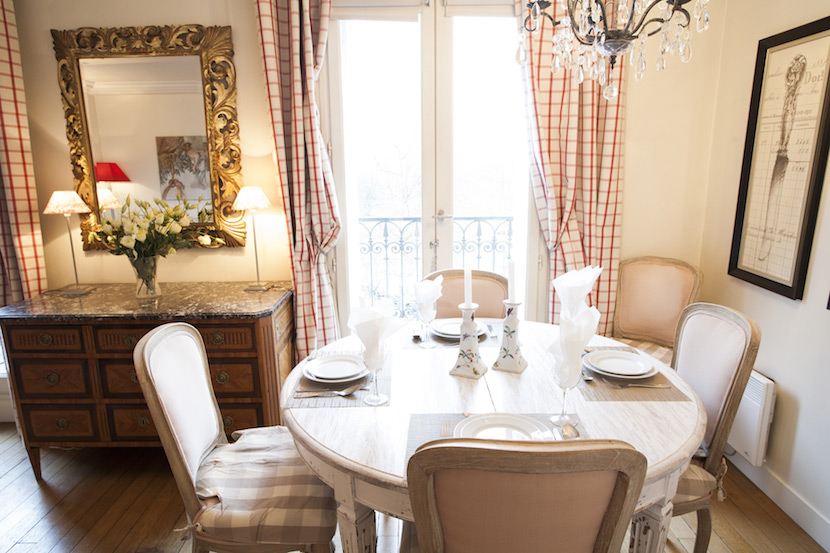 Enjoy dining at home with fresh food from the markets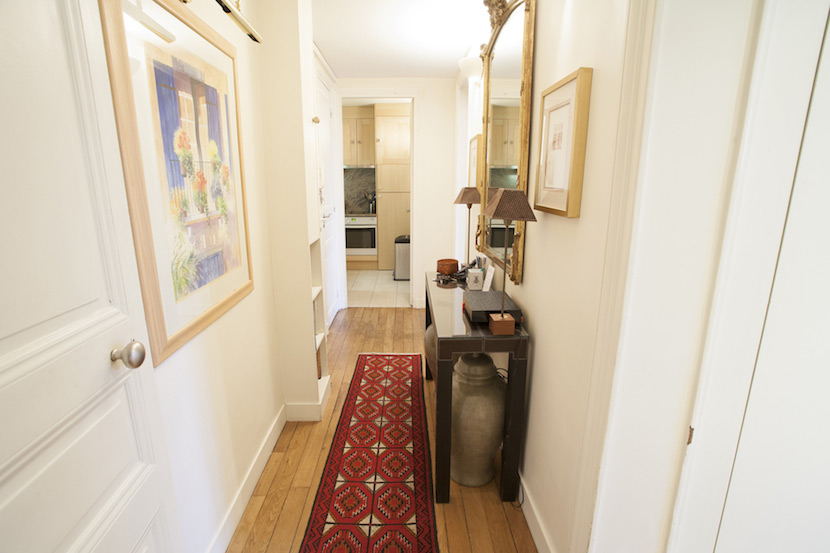 Corridor facing towards the kitchen of our Paris apartment

Newly remodeled kitchen of our Paris apartment
Turn right from the living room into the newly remodeled kitchen of the apartment. Granite countertops in pink and gray complement the pale wood cabinets. The kitchen is well conceived and offers good workspace to prepare your meals from the ingredients you've found at our local open markets. A large window with wooden Venetian blinds opens onto the inner courtyard of the building.
Quiry decor in the kitchen of our Paris apartment rental
The kitchen of our Paris apartment has everything you need to cook a gourmet meal. The large refrigerator-freezer, oven and dishwasher are all top-of-the-line appliances by Miele; they are the best quality and rarely break down. You'll also find a stove, microwave, teapot, coffeemaker, espresso machine, and toaster. The white porcelain dishes are from E. Dehellerin in Paris, the shop which furnishes all good restaurants. With a full array of cookware, you can shop the local open markets and shops to prepare your own gourmet meals.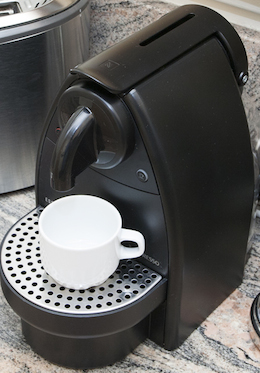 You'll love having your own espresso machine!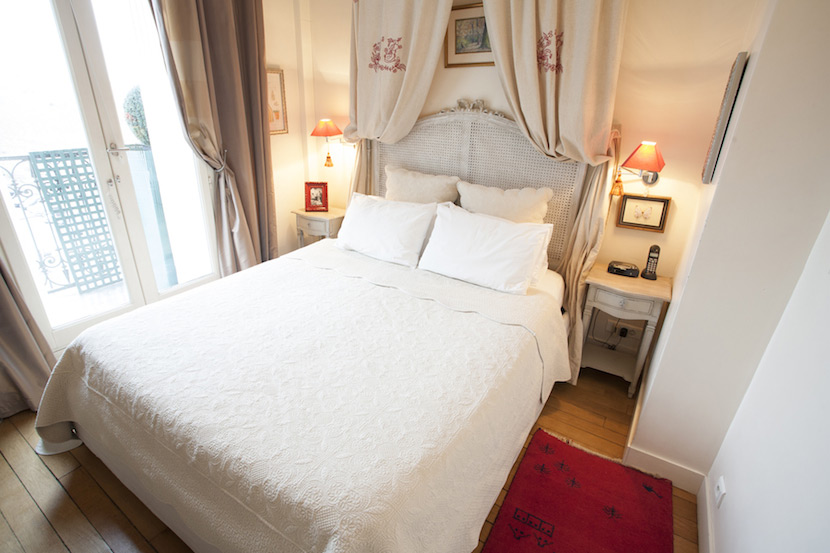 Romantic master bedroom of our Merlot Paris apartment
The master bedroom of our Paris apartment is at the end of the corridor on your left. It's a beautiful, romantic room with a queen-sized bed and double French doors that lead onto the balcony. With the same view as the living room, you can savor the beauty of Paris morning and night.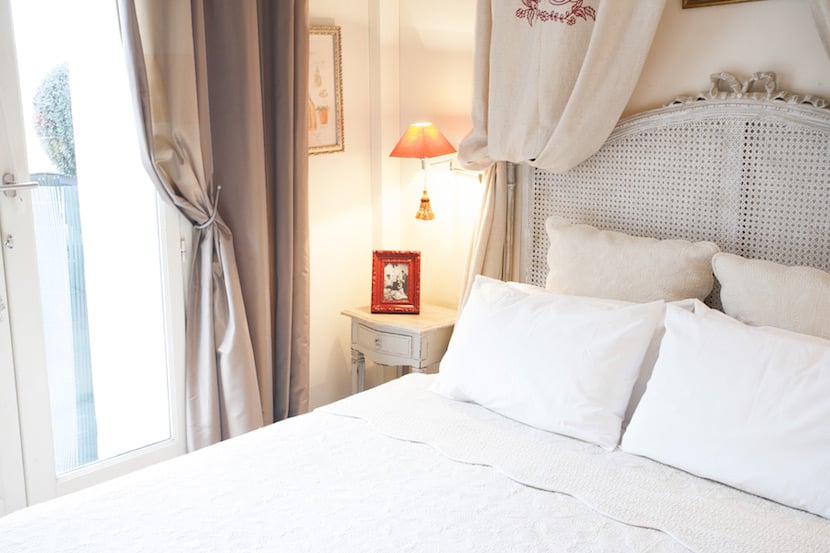 French windows in the bedroom let in plenty of natural light
All windows and French doors are new and provide excellent sound and thermal insulation. The bedroom and living room windows have blackout blinds for sound sleep.
Beautiful drapes above the bed in the master bedroom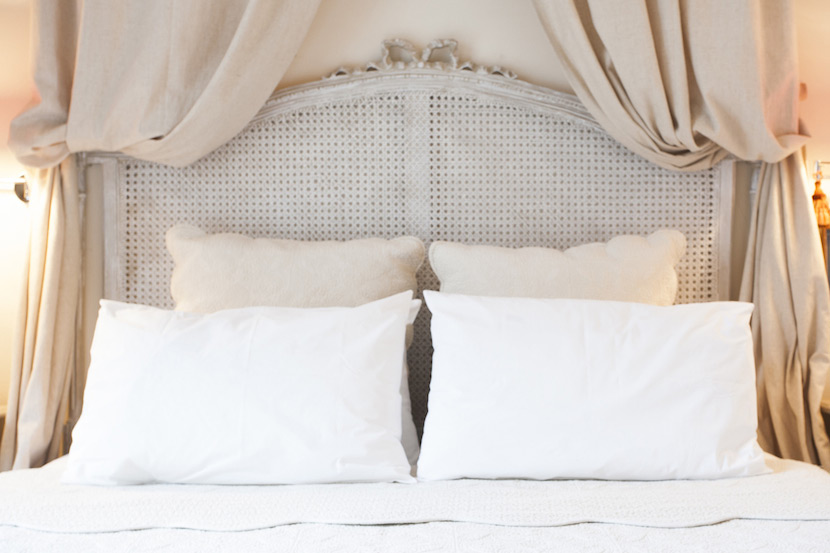 Luxury pillows and bedding used in our Merlot rental

Console table with elegant antique mirror
The console table in chocolate leather with elegant antique mirror. Small touches such as good reading lights mean you can study your itinerary at night, or lounge in bed with a good book.
View of Haussmanian buildings from the bedroom
The actual view from the bed of our Paris apartment. It's one of the prettiest Haussmanian buildings in the quartier, with angels at the top. Note the tiny windows at the very top, where the servants lived in olden times. Most of them are now studio apartments which students rent. The maids' rooms all shared a common bathroom on the landing, which makes plumbing a problem for the students who rent them.
Corridor leading towards the country-style second bedroom

Bedroom 2 overlooks the courtyard and has two twin beds
The second bedroom overlooks the inner courtyard and has two comfortable twin beds. We have put extra phone plugs here for computer access via the phone line. This bedroom is decorated in tones of yellow, with Provencal quilts and has a warm, cozy feel.
Pretty floral bedspreads in the second bedroom

Compact bedroom with two single beds and cupboard

Main bathroom with bathtub-shower and antique stone basins
The master bathroom combines modern and antique and has a relaxing feel. Two antique stone bowls have been converted into sinks, sitting on a modern limestone countertop. There is a full-sized bathtub with shower and the 80-gallon hot water tank means you can luxuriate after a long day of sightseeing.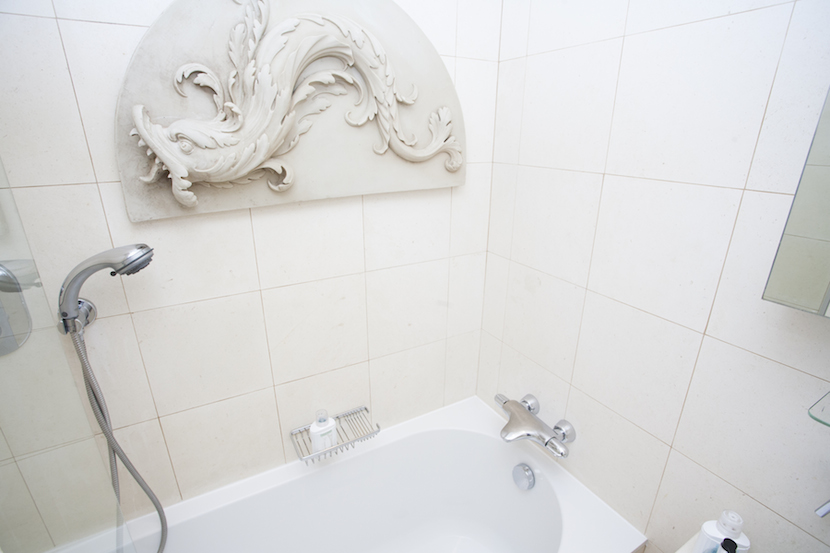 Frieze of a mythical fish decorates the wall above the bath
The bathtub has a frieze of a mythical fish which we found in England. Other touches: when we travel, we appreciate bathrooms with lots of good, strong hooks so we can hang our toilet kit, t-shirts, towels, pj's etc. We do the same in all of our apartments.

Opposite the bathroom is a hanging closet for more storage and second closet with full-sized Miele washer and dryer.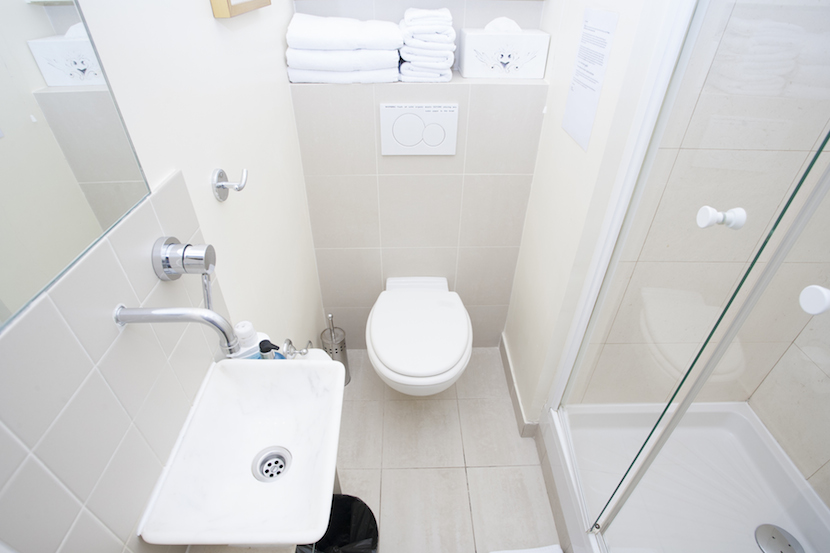 Second bathroom with full-sized shower, toilet and sink
The second bathroom has full-sized fixed shower, toilet and a marble sink from Italy. It's tiled in small green tiles and beige limestone. Good storage and loads of hooks means this compact space functions well. Hairdryers and fluffy white towels are supplied for both bathrooms.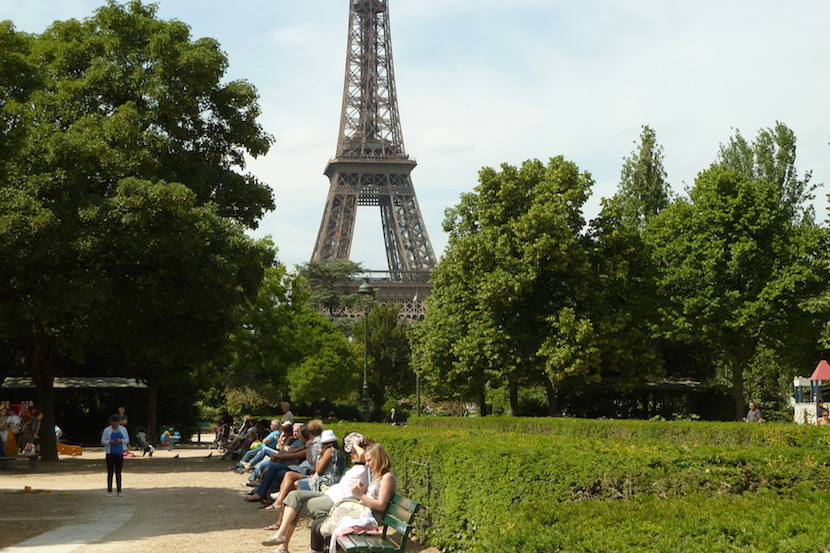 You'll love being close to the famous Champ de Mars park
The location of our Merlot Paris apartment is a rare feature because there are few open parks in the center of Paris. The Champs de Mars gardens which surrounds the Eiffel Tower is one of them and it is less than one minute from your apartment.
Stroll along the Seine at sunset
No visit to Paris is complete without a sunset stroll along the romantic river Seine. Whether you choose to take a dinner cruise, hop on a lively party boat, or simply take a quiet walk hand-in-hand with your loved one, the Seine at sunset is a memory of a lifetime!
Take the kids for a spin near the Eiffel Tower!

Decorate your apartment with fresh flowers from the markets
Wouldn't some of these look lovely placed around our Merlot Paris apartment? You'll spot many beautiful flowers artfully arranged in the open markets and flower shops dotted around the neighborhood and especially on rue Cler, which is a few blocks away. You'll want to be sure to pick some up as a centerpiece for your dining table or simply to spread a little fragrance and color about.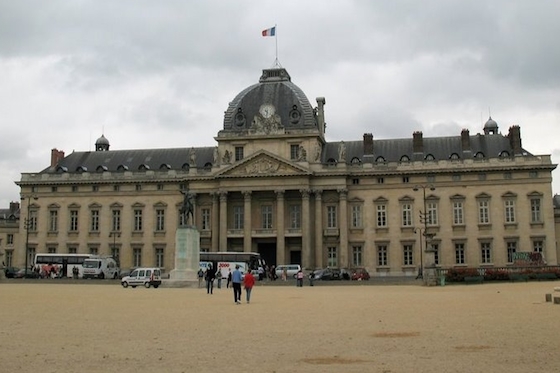 Short walk to Napoleon's military school, Ecole Militaire
At one end of the park you'll find the stately Ecole Militaire; this is the school where Napoleon received his military training. And the same grounds across the street, called the Champ de Mars park are where he and his fellow cadets drilled en masse. If you get up early in the morning for a walk, bike ride, or run, you will see the cadets jogging around the Eiffel Tower. The school became Napoleon's headquarters and housed the elite Emperor's Troops in 1795. Look closely and you'll see the damage from gunfire that occurred in the French Revolution in 1789, as well as the results of the shelling when the Prussians declared war on France in 1870 to defeat Napoleon III. There were four ancient statues on the façade that represented: Might, Peace, Victory, and France. The statue of Victory is of Louis XV. Few of the statues are still standing, as most were destroyed during the French Revolution.
Pastries are a passion in Paris!
Mouth-watering pastries can be found on nearly every block in this neighborhood, one of the advantages of staying here. Children will love picking out their desserts for lunch and dinner, and like all Parisians, you'll want to grab your fresh-baked baguette right before your meals.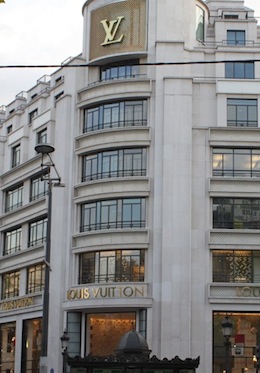 Cross the river to the Grand Couturiers in the 8th
All the big designer names can be found on Avenue Montaignem the Champs Elyseés and the surrounding streets - from Chanel, Dior, Dolce, Givenchy, Valentino, Jimmy Choo to the outrageous Jean-Paul Gaultier and more.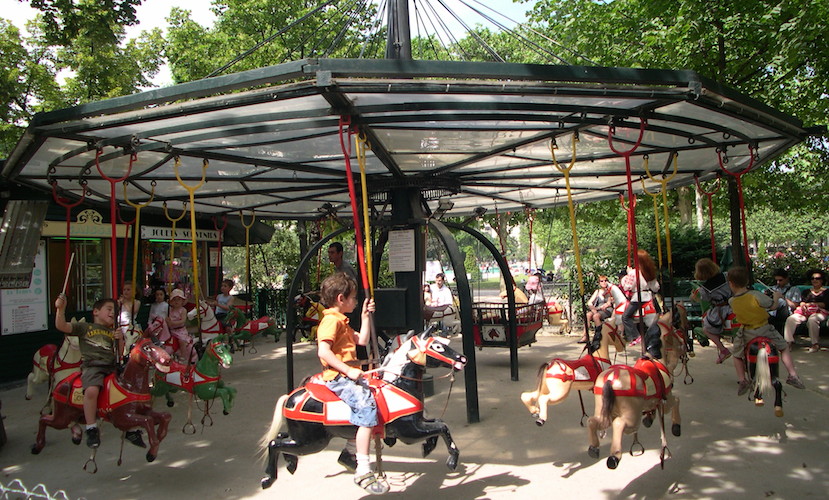 Little ones will love the Champ de Mars playgrounds
French families have lived here for generations and on Sundays you see the grandparents who love to take their grandchildren out to the same playgrounds where they and their children played. It's a wonderful part of your vacation to come here, picnic and relax. You can also shoot some hoops on the basketball court, play on the hand-cranked merr-go-round or rent a bicycle for the day.
"Excellent location, quiet, convenient to buses, metro and RER. Excellent restaurants nearby. Apartment is tiny but comfortable. The team was helpful and informative."
Eric S , Texas , USA
"This was our 4th trip to Paris staying at a Paris Perfect property. The management is terrific and very helpful and the properties are very nice. We would stay again if back in Paris."
Carole N , Honolulu , Hawaii , United States
"Our stay in Paris was truly a memorable one - a long overdue family get together from South Africa and London. The apartment contributed to this in no small way.
The service and support that we received from the Paris Perfect team was simply ..."
Charles Staple , Port Elizabeth , Eastern Cape , South Africa
"We loved it! Friendly and accommodating office staff.
perfect location - nice view of eiffel tower, short walk to subway and lots of great restaurants and a boulangerie around the corner. Nice space, great showers, perfect air conditioning, ..."
Dina C , Illinois , United States
"Our stay in the Merlot apartment was everything we hoped for and more! It was a perfect apartment for my daughter, my niece, my stepmother and myself to live a true Parisian experience. The Paris Perfect office was wonderful and the information ..."
Lynnette Schroeder , Somers Point , New Jersey , United States
"We had a fantastic stay! We were a family of five, with kids aged 12, 9 and 4. And the Merlot worked perfectly for us. The kids immediately fell in love with the fun sinks and the charming bedrooms. My girls even named the bird paintings in ..."
Carrie Cotter , Oak Park , United States
"Excellent apartment. We booked as a group of 5 girls for a special occasion and it was so much nicer than being in separate hotel rooms. The view of the Eiffel Tower from the lounge is stunning, makes you feel really at the heart of Paris. Kitchen ..."
Emma Maillard , Cardiff , United Kingdom
"What a wonderful apartment. I traveled with two close friends to visit my daughter who was studying in Paris. Although I had never been to Paris, my friends were both frequent guests. We had all found the apartment to be wonderful. The location is ..."
Holly C , Great Falls , VA , United States
"We have been to Paris at least twice a year for more than 15 years. Over that period of time, we experienced many hotels and apartments (some good and some...bad). Since we found Paris Perfect a few years ago, I can honestly say that they have the ..."
Pierre D , Montreal , Quebec , Canada
"Our family of 4 stayed at the Merlot for a week in late December where we planned to welcome the New Year 2013 whilst enjoying the view of the Eiffel Tower from our apartment. The 2 bedroom apartment seemed small initially but it was compact, with ..."
Vanessa S , Killara , New South Wales , Australia
"We found your website while searching for a five star hotel to stay in for our first trip to Paris with our teenage children. The stay at the Merlot apartment surpassed the stay at a five star hotel. The amenities, decor, style, and architecture of ..."
Barb C , Ventura , California , United States
"Paris was more beautiful than I had anticipated. We used almost every moment of the day to see the sights. Coming back to the apartment was great - much nicer than a hotel room. We loved the Eiffel Tower was so exciting to see from the balcony, ..."
Barbara J. M , Los Angeles , CA, USA , United States
"What a perfect apartment. The view is incredible, the space was perfect for us and we thoroughly enjoyed our time in Paris. We loved the location (three blocks to the metro, but the bus was right outside the door). We used all the information ..."
Lorrie Hutton , Long Beach , USA
"The Merlot was an ideal location -- quaint, very French, and had everything we needed and more. We thoroughly enjoyed our morning ritual of chocolate croissants from one of the many local patisseries with the superb coffee (espresso) Paris Perfect ..."
Sue , Florida , USA
"The information provided was very helpful. Great location and apartment was very comfortable. We'd love to come back. Everyone we contacted including travel consultants, tour guides, etc were more than helpful and helped make our stay more ..."
Karina J , New Jersey , USA
"The experience of renting Merlot changed the way I think about travel -- never will a hotel have the same appeal as renting such a fabulous apartment. The Merlot apartment was literally perfect -- charming, clean, comfortable, convenient, etc. In ..."
Barb Patrick , Newtown , United States
"My family and I were very pleased with our apartment, it was perfect for us. Not only was it very attractive and well furnished but close to so many shops and transportation that we enjoyed. I have told many of my friends and family about our fun ..."
Letitia Wallace , Decatur , United States
"Merlot is a pleasing,comfortable,well located apartment with an excellent view of the Eiffel Tower. The afternoon sun lights up the apartment and there is a balcony where one can sit and enjoy the sun and the activities in the park. The local ..."
Dennis Bunder , New York , USA
"Fabulous apartment in a great location. Very well appointed and maintained. Wonderful views of the Bastille day fireworks from the balcony. We will definitely stay here again!"
Frederick Goetz , Minnesota , USA
"The Merlot apartment is beautiful. Luxurious, balcony overlooking the Tour Eiffel. Every amenity provided. The Paris Perfect staff are excellent -- friendly, accommodating, professional. We used Victor, the taxi service, to get in from CDG airport ..."
Darlene Fortune , Florida , USA
"The weather was perfect and the location was awesome! Great view of the Eiffel Tower from the patio.

We really enjoyed waking in the quaint Parisian neighborhood, buying our baguettes and wine from the local store, and then sitting out on ..."
Mark Platt , Onalaska , WI , United States
"A trip of a Lifetime....This was a vacation where simply everything fell into place for the four of us. Smooth traveling, absolutely wonderful warm spring weather in Paris (all the flowers were blooming!), the amazing and beautiful sites of the ..."
Eric E. Ulve , Green Bay , Wisconsin , United States
"Our stay in Paris was absolutely wonderful. The city, of course, is beautiful, the people warm and friendly and the food, regardless of how simple, was fantastic. The apartment, however, made the trip. I travelled with 2 twenty year olds and we had so much fun with our down time in the apartment. Instead of running around all the time, we saw what we wanted and took advantage of some of the normal things Parisians do and we had our own place (not a small hotel room) to go back to. We had our own Christmas away from home; made our holiday dinner and opened our presents. The view was exciting and we never tired of it."
Sally Fermaint , USA
"We really appreciated the use of the telephone as we had two emergencies at home. We were able to resolve both and continue enjoying our vacation. Thank you so much and we look forward to returning!"
Marya M
"We spent nearly 2 weeks in Paris this summer staying at Merlot for the duration of our trip. The apartment was perfect for my wife & I and our two young children. It was well located in the neighborhood and the views of the Eiffel Tower from ..."
Clifford Siverd , Matthews , USA
"Lovely sunny apartment and great location. Had a wonderful time and will recommend Paris Perfect!"
Scott M
"We loved the Merlot apartment and its location. Your staff was friendly and we appreciated their help very much. The Merlot was so nicely decorated and perfectly well-equipped to meet our every need. We would love to stay for months! Loved the ..."
Margaret S , USA
"We loved the Merlot apartment and its location. Your staff was friendly and we appreciated their help very much. The Merlot was so nicely decorated and perfectly well-equipped to meet our every need. We would love to stay for months! Loved the ..."
Margaret S , USA
"This was a fabulous experience -- will highly recommend. Staff was exceptionally receptive to our needs!"
Trish C
"We loved every minute of our stay and will return and tell all our friends. The information you give is fantastic; well done! Can't fault a thing."
Bronwyn S
"We so enjoyed staying in your apartment in Paris. It made for a marvelous trip and I have already mentioned it to friends as the way to visit Paris and Parisperfect as the rental people to go with. The quality of the apartments and the attention ..."
Barbara, Buz & Sarah Brannen - Lincoln
"We stayed at the Merlot in mid-October ('09) and LOVED it. I can hardly wait to return to Paris. The entire vacation exceeded my expectations! The apartment is in a lovely quiet neighborhood with an incredible view of the Eiffel Tower. It is a ..."
Alice & Michael - St Paul, Minnesota
"Renting a Paris Perfect apartment gave us the best vacation ever. Within minutes of our arrival we felt like we were in a cozy nest. The on-ground staff took excellent care of us and we can't wait to return. Since we'd been to Paris three times ..."
Sandy & Bill - Bellingham, WA
"This was by far our best trip to Paris. The Merlot apartment was more than we could have asked for. First of all, the staff in Paris was fantastic. Sarah from the Paris Perfect team met us at the apartment and did a very thorough job in a very ..."
Eric & Kelly Stoneman - Libertyville IL
"Bonjour Madelyn,Philippe and everyone at www.ParisPerfect.com!

We had a fantastic stay at your Merlot apartment in Paris. It was nice to have your greeter show us around the apartment and then have Carolyn check on us a couple days later. ..."
Debbie Tremblay & Family - North Vancouver
"Thank you very much. We had a great time staying in Merlot – everything was wonderful. We loved having the view of the Eiffel Tower! Thank you for being so helpful. Your welcome package with all the information was very useful and ..."
Susan Calton
"I would recommend Paris Perfect to anyone! I stayed in the Merlot apartment for a week -- the views were to die for and the apartment itself was elegant yet still extremely comfortable. All a guest's needs seem to have been anticipated, and the ..."
Kristin Gazlay
"Our stay in the Merlot apartment in March 2009 was a great experience. The apartment was tastefully furnished, and the location was perfect.Our view of the Eiffel Tower was memorable, and we enjoyed watching it scintillate every night. Even the ..."
Betsy & Chris Bredrup
"If you want to experience Paris as a "local" not a tourist, but want all the comforts of home and a fabulous support staff just a phone call away, then rent a Paris Perfect apartment! We rented "Merlot" --just across from the Champs de Mar and ..."
Scott and Laurie
"I would like to thank the Paris Perfect Team for a totally enjoyable stay at your Merlot Apartment recently.
My husband and I are still dreaming of Paris and will be recommending your services to our friends and will definitely be using you ..."
Maxine Duarte
""Do you know that feeling when you get off a long flight, and you're excited, but tired, and a strange, but beautiful city is so bewitching, but for the moment all you want is a cup of tea and a chair and a moment to relax and take it all in? Well, ..."
Robin Rea-Scarborough
"We rented Merlot with our three young children for a week in August. It was a lovely apartment with everything you need when you are traveling with children- laundry, dishwasher,and equipt kitchen. We will surely go back - the views of the eiffel ..."
Jennifer and Brian
"It was a pleasure staying at Merlot apartment, we felt at home. It is a very beautiful and well located neighborhood.
Philippe, Madelaine thank you again for being so nice and friendly with us, we realy enjoyed aou stay in Paris."
Elizabeth Helou
"What a wonderful week, truly Paris Perfect! Perfect accommodations. Perfect view of the Eiffel Tower and it's light show each evening. Perfect neighborhood. Merlot proved to be centrally located enabling us to use the Metro or walk to all our "must ..."
H. Lynn and Patty Caldwell
""Our family of five (we have three sons ages 11, 17 and 20) just returned from a one-week stay in the wonderful Merlot apartment. It was a first trip to Paris, and your apartment made it even more special. We loved the furnishings, the special ..."
Linda and Len Simon
"My wife and I stayed in your lovely Merlot apartment in mid-May, 2004 -- celebrating our 25th. Our special treat was having our daughter join us -- who, at the time, was studying in Europe. So -- the accomodations were just perfect; Jenni had her ..."
Richard and Carol Stoff
"We stayed at the Merlot apartment in late March and completely fell in love. We couldn't tell what we loved more - Paris or the apartment! It was a true fairy tale experience. The view from the apartment (from living room and bedroom) is ..."
Faith and Sandor
""ParisPerfect" is a most fitting name for the week we spent last December in your Merlot apartment. From our communication prior to the trip to Madelyn's helping me find a large street map of Paris after we returned home, everything was exactly as ..."
Dawn M.
"Philippe and Madelyn:

Staying in the Merlot and then the Chardonnay made our trip one to remember! All the amenities of home, but in Paris, what more could one ask? Thank you for providing easy to follow instructions for getting to and from ..."
Sarah Coddington