Buy Your Dream Apartment in Paris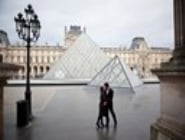 Paris is a city that's easy to fall in love with - strolling along the Seine as the golden hues of sunset dance across the water, shopping at nearby open-air markets and the wealth of culture, arts and history to discover. At Paris Perfect, we know all about falling in love with Paris. It happened to us! Our company was founded on that love and a passion for sharing the charms of Paris with guests from around the world.
There's nothing quite like waking up in the morning and strolling to your favorite café to enjoy café au lait and buttery croissants while soaking up the Parisian atmosphere. Even better, linger over breakfast on your own terrace overlooking the rooftops of Paris with a glorious view of the Eiffel Tower. And that's just the start of the day!
Our Paris vacation rentals are all about falling in love with Paris and the Parisian lifestyle. We handpick each one for that perfect blend of historic charm, great locations in the best neighborhoods and knockout views. Many of our guests at Paris Perfect feel the same way we do about Paris. When you fall in love with Paris it's very hard to leave! Some guests have even decided to buy their dream pied-à-terre in Paris, spending part of each year savoring life in this beautiful city.
On occasion we have assisted guests in locating that perfect apartment and helped during the complicated steps to negotiate, purchase and transform it into a beautiful Paris home. It can be a lengthy and complex process, but the end results are marvelous! They can also rest easy knowing that we manage their apartment while they're away, including maintenance, cleanings, repairs and more.
We have been investing in Paris real estate for almost 25 years. Having bought and sold a number of apartments during this time, we've learned a lot about the Paris real estate market - having made a profit on some and also lost our shirts on others. We're delighted to share some key principles and tips about investing in Paris properties, including hints on what we look for in terms of location in Paris, how to find the dream apartment, real estate tricks, remodeling and furnishings tips, mistakes and more.
Click on the following for our articles for Do's and Don'ts and other tips when you are searching to buy an apartment in Paris!
Where to Buy an Apartment in Paris
Finding the Right Paris Apartment
Working with Real Estate Agents in Paris
Details of the Purchase Process
The first stage of a purchase is making the offer and having it officially accepted by the seller. You sign a preliminary purchase contract (usually via proxy to your lawyer or the notaire) and wire a deposit of 5% - 10% of the price. Over the next months the Notaire will verify all documents, request certificates etc. Purchaser may apply for a bank loan. The final closing usually occurs three months later.