Why Paris Perfect? The Best Paris Locations!
Your location in Paris means everything to creating a fantastic Paris experience. From proximity to museums, landmarks to good restaurants that Parisians go to, these are important factors to take into consideration when you look for a Paris apartment rental.
Central Paris Locations
What we offer at Paris Perfect are unbeatable locations that offer unrivalled shopping and a feast of culture within walking distance. Find world-famous landmarks on your doorstep, stroll along the River Seine, walk to museums, boutiques, and many popular monuments and attractions. What a pleasure to stroll home to your apartment after a fun excursion, rather than standing in crowded métros. All of our apartments are located in central Paris neighborhoods, and some of our favorites include the village-like 7th arrondissement, the 6th arrondissement and St-Germain-des-Prés, Notre Dame and the Marais.
"The locations are perfect with great shopping, sightseeing, dining, and convenient access to transportation" - Julio S Muao, Sacramento
"Your perfect location can't be beat..we enjoyed the neighborhood cafes and the great bakeries" - Linda & Len Simon
"I will never stay anywhere else in Paris. Best location and so comfortable" - Ann Gursey, Santa Barbara
Live Like a Parisian
Surrounding your apartment, you'll find charming streets lined with the quaint cafés, restaurants and open markets, where you can enjoy city life like a true Parisian. An easy stroll along the romantic streets takes you to the River Seine and the city's famous museums, monuments, and Paris' world class shopping boutiques.
Our neighborhoods are surrounded by food shops and specialists that Parisians have shopped at for decades.
Access to nearby open air markets where you can shop for the freshest foods grown in the countryside every day of the week. Read more about Paris Open Air markets
Fashion and accessory boutiques abound on the busy streets of your neighborhood. From discount to haute couturier, you'll find a huge selection nearby. Read more about discount and fasion shopping in Paris.
Delicious and affordable restaurants and bistros that the locals go to
Walking distance to landmarks and museums so you can stroll home and pick up a baguette along the way. No waiting for métros and buses or having to trek a long way home.
Find more recommendations and advice about our favorite Paris neighborhoods:
"The neighborhood couldn't be better and I felt like a Parisian when every morning we went to buy croissants!" - Marcia Bueno Netto
"We felt like Parisians for a week. The neighborhood was fabulous with the Rue Cler markets so close by" - Liz & Pete
"The apartment was perfect - quaint & Parisian! The neighborhood was full of great cafes, stores & brasseries" - Pam & Ray Strickland, Sugar Hill, CA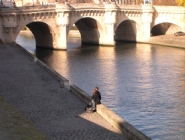 Enjoy Life at a Different Pace
It's wonderful to experience life at a slower pace in Paris, savoring each moment from deciding where to buy your morning baguette to enjoying long walks along tree-lined, ancient streets. Enjoy the pleasure of setting out each morning in Paris, without a specific destination in mind, and simply savor the beauty of ancient architecture and mouth-watering shops. View an exhibition at a nearby museum, then stop for a café or delicious lunch in a warm café that Parisians go to. Stroll home along the Seine River at sunset, walking past incredible landmarks such as the Louvres, Grand Palais and Orsay Museum. After dark, enjoy wine and gourmet cuisine in your neighborhood, or retire to your pied-à-terre and pop a cork of French champagne, loving each and every moment.
Harlan Coben from Long Lost
But more than that, Paris makes you feel alive.
Makes you want to feel alive.
You want to do and be and savor when you are here
You want to feel, simply feel, and it doesn't matter what.
All sensation is heightened
Paris makes you want to cry and laugh and fall in love and write a poem and make love and compose a symphony.
Enjoy reading anecdotes about Paris with tips and ideas in our Paris Perfect blog.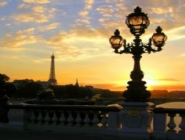 Paris Sabbatical -- A Nine-month Interlude
By Karen Perlroth, The Almanac News, July 31, 2002
A fascinating article from a couple who took a sabbatical in Paris in 2002 and stayed in one of our apartments. There is an excellent list of books to read, insights and ideas on the French, Paris and traveling in France.
"We ventured out in our neighborhood, which is called "chic" by the Parisiens. Since we had a view of the Eiffel Tower from our apartment balcony, we never stopped being in awe of this amazing 1,000-foot-tall monumen" - Karen Perloth