What's On in Paris in July
July is an exciting and fun month in Paris! Whether you're soaking up the sun at the Paris Plages, dancing away at the Carnaval Tropical or enjoying a picnic and movie in the park, you'll find plenty of ways to relax and enjoy Paris in the summer.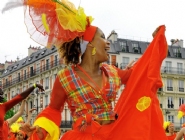 Carnaval Tropical de Paris
6 July 2013
Summer is the perfect time to go tropical during the Carnaval Tropical de Paris, a colorful and fun parade starting at the Place de la Nation and continuing through the streets of the 11th arrondissement back to the starting point. The costumes, music and atmosphere are very lively and it's a memorable event to experience in Paris.
Website: www.carnavaltropicaldeparis.fr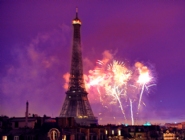 Bastille Day Parade & Fireworks
14 July 2013
On July 14th, Paris celebrates Bastille Day, the French national holiday that marks the storming of the Bastille prison in 1789 and the beginning of the French Revolution. With a national spirit similar to the Fourth of July in America or Canada Day, the celebrations for Bastille Day are some of the most extravagant of the year. Enjoy the impressive military parade down the Champs-Élysées and then at night find the perfect spot to watch the amazing fireworks display around the Eiffel Tower. If you're staying in one of our Paris Perfect vacation rentals with an Eiffel Tower view, you'll enjoy front row seats for one of the most spectacular fireworks displays you'll ever see!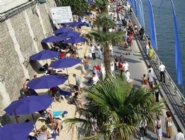 Paris Plages (Paris Beach)
20 July to 20 August 2013
Paris Plages will once again transform some of the roads along the Seine into a temporary beach resort atmosphere complete with sandboxes where you can rent umbrellas and deck chairs to soak up the sun, a floating pool, live music and sport events and lots of fun summer activities. If the heat of the summer is getting you down, head to the beach … right in the heart of Paris!
Website: http://www.paris.fr/english/visit/highlights/paris-plages/rub_8208_stand_34146_port_18969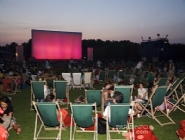 Open-Air Cinema at Parc de la Villette
24 July to 25 August 2012
Enjoy a warm summer evening in Paris outdoors at the open-air cinema at the Parc de la Villette in the 19th arrondissement. Each summer the "Cinéma en plein air" festival presents movies from around the world in the pretty park setting. Many films are in English and the selection runs from blockbusters to art films. Pack a picnic and enjoy an evening in the park!
Event website: http://www.villette.com/fr/agenda/Cinema-en-plein-air-2013.htm
Address: 211, avenue Jean Jaurès, 75019 PARIS
District: La Villette / Belleville / Canal Saint-Martin
Métro: Porte de Pantin

Open-Air Cinema image: © Paris Tourist Office - Photographer : Marc Bertrand