Philippe's Birthday Present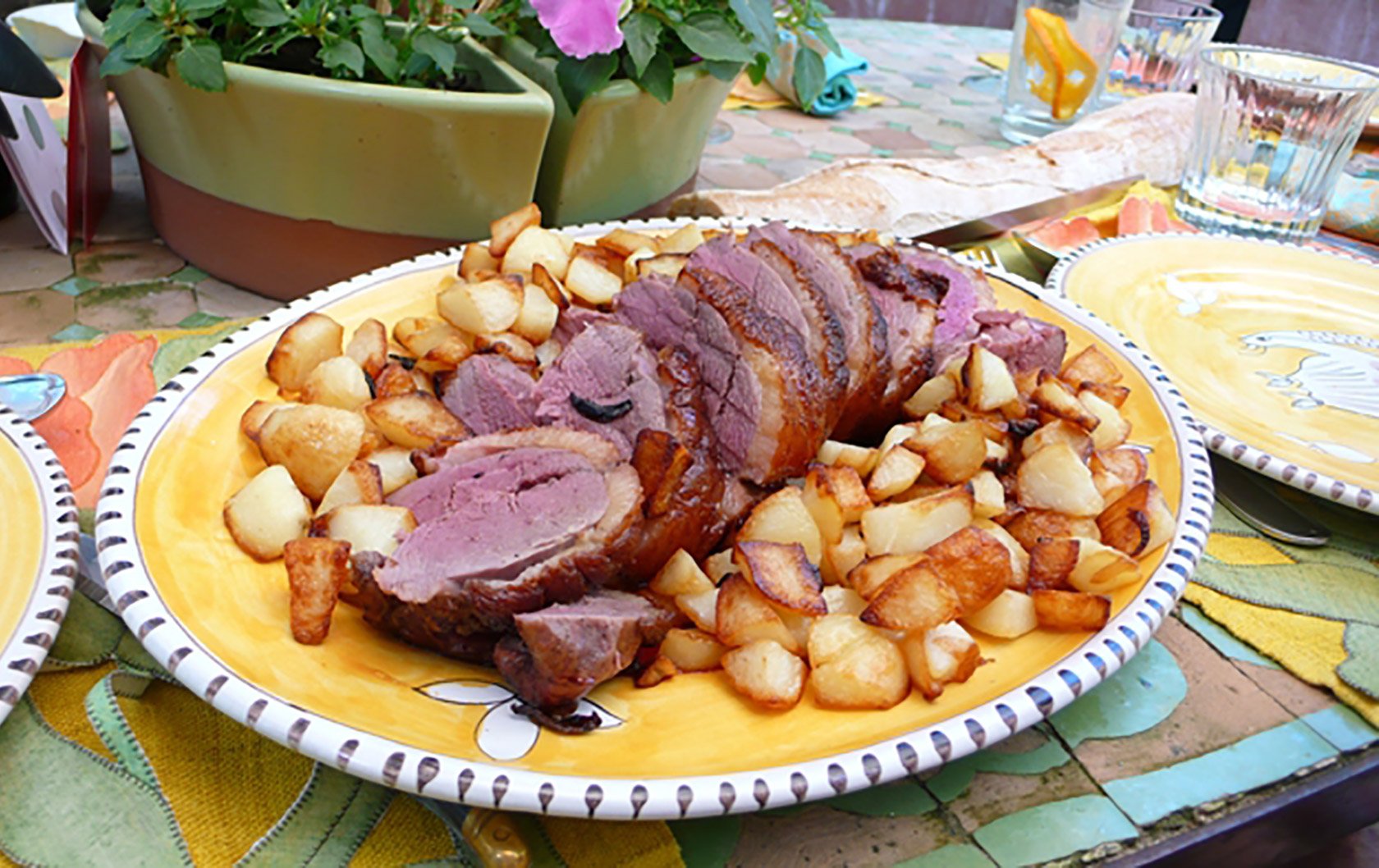 Philippe's Birthday Lunch Served on the Terrace
My husband Philippe's birthday was last Thursday and I was struggling to find something special to offer him.   Then,  I walked past Dubernet, the shop which sells specialties from the Southwest of France on rue Augereau in the 7th and the lightbulb went on! This shop is tucked away on a quiet street, but well known throughout Paris. They supply many of the top restaurants with foie gras and other delicacies from the Southwest of France: pate's, foie gras, magret de canard, sausages, choucroute and more, all excellent quality and delicious.
Philippe loves good food and his parents are currently visiting. For the French, Sunday lunch is the most important meal –perfect idea to bring back to London to serve for the weekend.
On the last weekend of the month, Dubernet puts many of their products on sale; so I lined up behind the Parisians on the sidewalk to take advantage of the good prices.
I bought a small magret de canard, or breast of duck that was fully prepared and ready to cook, some special sausages stuffed with pork and foie gras. Finally I added a small selection of chicken liver and goose liver pate's.
Heading to the Eurostar to London, I stopped off at my favorite macaron shop, Pierre Herme' and choose a small box of Philippe's favorite macarons:  Caramel, Cherry, Passion Fruit with Chcolate and Dark chocolate.  Our daughter and I have been learning to bake them and they've been a big topic of discussion at meals, with our son a reluctant listener. 'Mom, you're obsessed!' Ok, so I'm obsessed with macarons at the moment; what a challenge to try to make them! I decided we needed a tasting session to compare the best makers in Paris, so bought a small box of Laduree' and Gregory Renard's macarons as well.  Not cheap, but all in the name of French Food Research.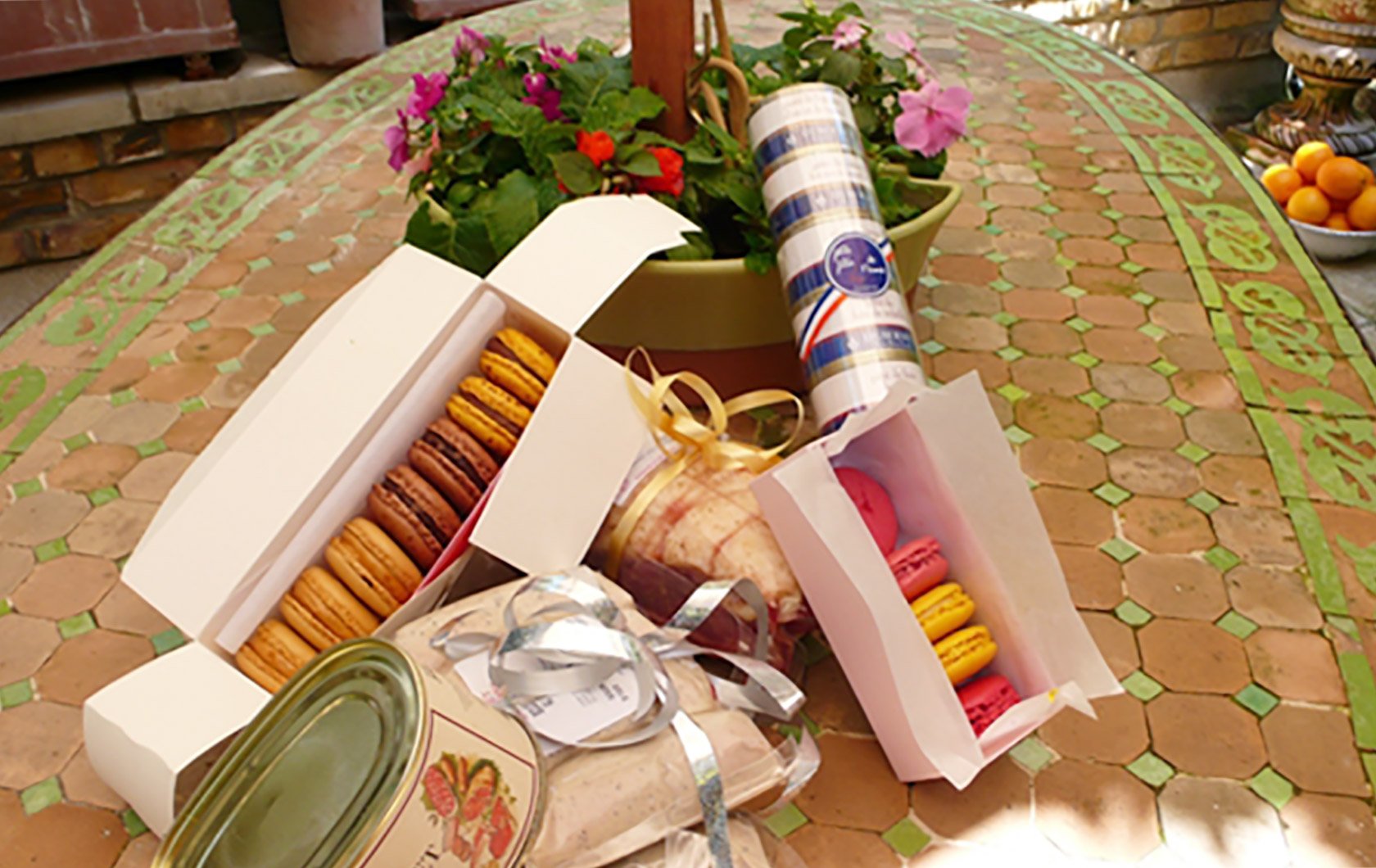 French Gift Ideas:  Delicious Food Specialties!
Philippe loved his present and as predicted, suggested we cook the magret for Sunday lunch. The weather in Paris and London has been glorious so we enjoyed champagne and pate' on the patio, then the tenderest duck we've ever eaten. There wasn't a single slice left! My mother in law made 'pommes de terre rissole's, or cubed potatoes with olive oil and garlic – her dish was wiped clean when we finished.
For dessert, Philippe carefully cut up all of the macarons and separated them on different places so we could taste and comment – the Great Macaron Taste Off! My in laws raved about Herme',  their first introduction to his specialties. They loved his olive oil and basil macaron one, should have bought more. They kept asking who could imagine that such an unusual combination could taste so delicious. The hands down winner: Herme's incomparable cherry flavored ones – your mouth waters when you bite into one — second was the surprise Mogador macaron, with a "ganache" or filling of passion fruit and chocolate. Laduree's caramel macarons were superior to Herme's as was Laduree's dark chocolate macaron. Gregory Renard won kudos for his raspberry and pistachio ones.


My daughter and I were so inspired that we spent the afternoon making macarons. More on that later…
Tonight we're having ratatouille omelettes from my mother-in-law Ninette and fresh fruit salad, so we all get our 'five veg' a day!