Warm up your winter with a getaway to the city of light—now at amazing low sale prices! Take advantage of low airfares and snuggle into one of Paris Perfect's cozy apartment rentals.
Looking for that perfect Christmas gift? Enjoy the magic of Paris as it gears up for the holidays, plan a girlfriend's shopping getaway for the January sales or bring someone special to the most beautiful City in the World? There's never been a better time to come to Paris!
Shop for the holidays and see the sparkling sites while saving 30% off our already low winter season prices.* Don't delay—this Supersale offer expires Tuesday November 30, 2010. Apartments available on a first come, first served basis.
Email or call us at 1-888-520-2087 so you don't miss out!
*This amazing offer is valid for a minimum one-week stay from November 2010 to February 2011 Please note that Thanksgiving, Christmas, New Year's weeks are excluded).  Space available only and offer expires on November 30, 2010.
Here are some examples of our fantastic savings!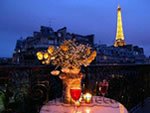 The delightful Pinot one bedroom apartment features a balcony and Eiffel view.  It is offered on a space available basis at only € 285 per night compared to € 403 per night from November thru February!*  If you can't make it this winter, we're offering 30% off the Spring and Summer 2011 prices for a short time only.
The Quincy apartment, named after the delicious wine from the south of France offers special Paris views and great value:  € 255/night for up to four people compared with € 364/night regularly from November thru February!* With views like this from your bedroom, how much more romantic can a Paris getaway be?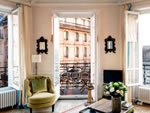 Picture yourself enjoying a glass of champagne at sunset overlooking the magic Seine River at the Minervois apartment.  Sleeping up to 5 people, pay only € 395 instead of the regular price of € 564 from November thru February.*  For a limited time only, we're offering our Spring and Summer rates at a 30% discount too!
Email us at [email protected] with your dates or call us at Call US Toll Free: 1-888-520-2087.  To receive our Supersale prices, just say you heard about it in this newsletter! Be sure to share our sale discounts with your friends on Facebook and Twitter!
*Prices quoted for a minimum 7-night stay from November through February 2011.  Thanksgiving, Christmas and New Year's weeks are excluded.  All taxes, utilities and amenities are included.  There are no additional fees or commissions! Please note: offer is on a space available basis and expires on Nov. 30, 2010 so email or call us right away.