I'm not a gourmet cook, but I love learning new recipes and techniques! It started years ago when I was a banker in London and had to make frequent business trips to Paris to visit clients. It was hard work to translate phrases like 'gross margin' and 'Price earnings ratio' into French, so I rewarded myself with a treat after each meeting. It was so easy; within a few blocks of each institution was a new pastry shop to try!
I'd return to my office in London and dream about the chocolate flavors mixed with coffee ganache, or apricot tarts with pistachios. I vowed to stay over on a weekend and take some cooking classes, so I could make these treats myself. My first class was at the Cordon Bleu, watching the chef make a Gateau Surprise — so complicated that I've never attempted it. At La Varenne, I took a special class to learn how to make one of my favourite pastries, the Gateau a' l'Opera. When it ended two hours later, I vowed to pay the going price to buy one than attempt them myself. I recently took a master class in macaron-making from Pierre Herme' – impossible to perfect like they do.
We started cooking classes for our Paris Perfect guests at the excellent Violon d'Ingres restaurant, given by chef Stefan Schmidt. Unlike the other classes I've taken, Stefan Schmidt teaches a delicious 3 course meal. I've actually cooked the delicious dishes for friends!
Here is a list of cooking schools in Paris that we've been working on and adding to for years. We know many of them and try to describe in detail so you can choose the best one for you. We hope that when you come to Paris, you'll try a cooking class too! Please note that some of the schools are offered in French only. If you're not sure, email them and find out.
Cooking Classes in Paris
Alain Ducasse's Cooking School
One of the newest schools in Paris and an instant success thanks to the reputation of Michelin-starred chef Alain Ducasse. Located in the tony 16th arrondissement, it's across the river from some of our luxury Paris apartment rentals in the 7th arrondissement.  The courses and activities are so mouth-watering that you'll want to enrol immediately, from finer classes in technique, to an evening of wine tasting and food from Burgundy, to seasonal and regional dishes, to childrens classes. They sell gift certificates, an excellent surprise for that special someone.
Ecole de Cuisine Alain Ducasse
Address:  64 rue du Ranelagh 75016 Paris
Website:  www.ecolecuisine-alainducasse.com
L'Atelier des Chefs
This new concept in cooking schools, casual cooking and easily accessible classes, has been a success in Paris. There are 5 ateliers in Paris, including Galeries Lafayette Maison on Blvd Haussman and on the 3rd floor of BHV on rue de Rivoli — for a quick class including eating for lunch at a reasonable € 15/person. Classes are in French, but for this price including lunch, why not try it?  You're bound to meet some friendly participants who want to try their English! Loads of classes, menus and locations at reasonable prices. Do-able recipes and lots of variety. Check out the site and you'll be impressed by their many classes and ideas!
Address : www.atelierdeschefs.fr/fr/contact/index.php
Email : accueil-penthiev[email protected]
Website:  www.atelierdeschefs.fr
Ritz Escoffier
One of the most deluxe cooking schools in Paris. Excellent adult classes and even classes for children; but, for children, the classes are only offered in French. Not cheap but highly recommended!
Address: Ritz Hotel on 15 Pl. Vendôme
Phone: +33 (0)1 43 16 30 50
Website: www.ritzparis.com

The Cordon Bleu Market Tours and Cooking Lessons
Take a lesson from Julia Child's alma mater, The Cordon Bleu. Le Cordon Bleu offers an extensive range of specialized classes, lasting from three hours to full-day experiences. Use the link below to see the classes available. Convenient to many of our Paris apartments, such as the delightful Montrachet Paris Left Bank rental. Across the Champs de Mars to the Motte Piquet Metro and it's a few stops away.
Website: www.cordonbleu.edu
Promenades Gourmandes
Fun full-day or half-day courses, including a market visit, lesson, and preparation. Paule Cailat speaks fluent English and gets excellent reviews.
Phone: +33 (0)1 48 01 56 84
Email: [email protected]
Website:  www.promenadesgourmandes.com
Ecole Lenotre
Classes offered for food lovers, master classes and childrens' classes at their beautiful building just off the Champs Elysees. It's walking distance from the Volnay Paris rental where you'll enjoy sampling your creations with front seat Eiffel views. One of my favorite Patissier's in the world, most of the classes are about the best course, dessert.
Address: Le Pavillon Elysee Lenotre , 10 avenue des Champs Elysées – 75008 PARIS
Phone : +33 (0)1 42 65 85 10
Website:  www.lenotre.fr/en/ecoles_lenotre.php
La Cuisine Paris
Run by a former banker and consultant, this dynamic and talented Franco/American couple took stock of their lives and decided they loved cooking. They started La Cusine Paris to superb reviews. A fascinating variety of courses offered in English. And easy access from our Paris apartments via the 69 bus direct to the Hotel de Ville.
Address: 80 quai de l'Hôtel de Ville
Email:  [email protected]
Website:  www.lacuisineparis.com
Academie Cinq Sens
Pierre-Dominique Cecillon's cooking school specializes in classes for children and adults. The former head chef at the Prince de Gaulles Hotel, his rates are reasonable and they have lunch-time lessons.
Address: 2 workshop locations:  40 rue Sedaine 75011 Paris and 10 rue du Bourg L'Abbé 75003
Phone: +33 (0)1 47 42 14 10
Email: [email protected]
Website: www.academiecinqsens.com
Patricia Wells
The food critic for the Herald Tribune and New York Times conducts five-day classes on rue Jacob, in St. Germain. Her school is easy to get from our Sancerre luxury Paris apartment and others; take the RER at Pont de l'Alma. Reservations for this school are often made at least a year in advance.
Website: www.patriciawells.com
Le Violon d'Ingres
One of the best and best-value cooking classes in Paris, organised by Paris Perfect Luxury Apartment Rentals! A 'Ratatouille' experience in a Michelin-starred kitchen for cooks of all skills and ages. Classes are offered on Mondays from 9:00 am to 12:30 pm; class size limited so book early. Reserved for Paris Perfect guests unless there is last minute space.
Address: Le Violon d'Ingres Restaurant, 135 rue St. Dominique
Email Lisa: [email protected]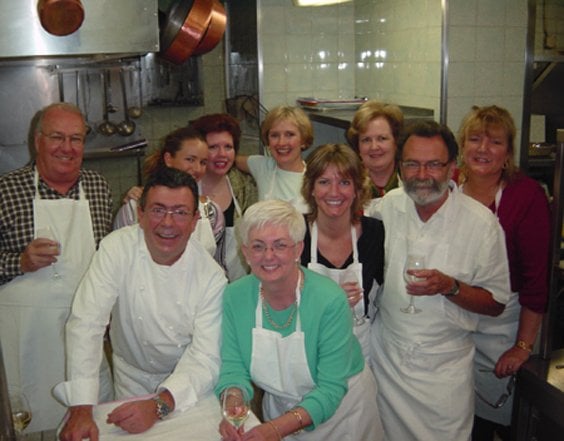 Ecole Bellouet Conseil
Small school mostly for professionals located in the 15th arrondissement. Two demonstration rooms. They can organize a private group cooking lesson for you.
Address: 304/ 306 Rue Lecourbe 75015 Paris
Phone:  +33 (0)1 40 60 16 20
Email: [email protected]
Website:  www.ecolebellouetconseil.com
Ecole Ferrandi
One of the leading professional cooking schools located in the 6th arrondissement. 1,500 students and 2,000 professionals who come to brush up on the culinary arts. If you're a serious cook, or get a professional degree, this is a serious school to consider. Professionals can take continuing education classes here and a variety of courses are offered in English. I attended Pierre Herme's master class at Ecole Ferrandi to learn how to make macarons last spring. Fascinating experience seeing the dozens of young French people who are studying cooking and restaurant management at all levels.
Address: ESCF – Ferrandi, 28 rue de l'abbé Grégoire 75006
Phone: +33 (0)1 49 54 28 0
Website:  www.egf.ccip.fr/international/escf-ferrandi.asp
Chef Martial Ecole de Cuisine
Classes for food lovers mostly offered on Fridays and Saturdays. Whole menus rather than individual specialties, good for entertaining. Site is a little hard to follow; they also rent their space and offer courses for business as a bonding experience. School is ideally located for the Sauternes apartment in the Marais, a few doors away!
Address: 80 rue des Tournelles paris 3°
Phone : +33 (0)1 44 54 02 18
Website:  http://www.chefmartial.com/
Chez Bogato
A select number of classes mostly for children. Wonderful cakes for sale for a special birthday or other occasion. Private courses for groups.
Address: 7 rue Liancourt 75014
Phone : +33 (0)1 40 47 03 51
Website:  http://chezbogato.fr/ateliers/

La Cuisine de Marie Blanche
A small school that specializes in the art of entertaining. Private classes, drop-in classes, pastry classes, cheese tastings, Art de Vivre classes and more.
Address:  18, Avenue de la Motte-Picquet, 75007, Paris
Phone: +33 (0)1 45 51 36 34
Email:  [email protected]
Website:  www.cuisinemb.com/index.htm
Cook'n With Class
Montmartre based cooking classes run by Eric Fradeau who trained with the best, including Alain Ducasse and Joel Robushon. Gets very good reviews.
Address: 21 rue Custine – Paris 75018
Website:  www.cooknwithclass.com
Normandy
On Rue Tatin with Susan Loomis
Week-long classes in Normandy, about 60 miles north of Paris. She has started to offer one day courses in Paris as well. Her courses receive excellent reviews!
Email: [email protected]
Private Lessons
Romantic Dinner with Private Chef
A romantic dinner for two or a gourmet meal to enjoy with family and friends. We have the perfect idea for an unforgettable Paris experience! Enjoy a gourmet meal with the option of a private cooking lesson at home – prepared by a talented chef. Learn secrets of French cooking and dine at home, a memory to relish of your Paris experience.
Email Lisa: [email protected]
Market Tour and Cooking Lesson
Explore a fabulous French market located within walking distance of your apartment. You will meet Richard, (an American chef who loves to share his knowledge of Paris and food) at the market, where he will show you how to select the freshest and tastiest fruit and vegetables. After selecting a variety of seasonal goodies, the group will stroll leisurely to the private home of an esteemed chef, where you will prepare all of the food and enjoy your lunch.  Offered Tuesdays through Fridays at a local market, meeting at 9:30 am; the market you will visit is dependent upon the day of the week
Email Lisa: [email protected]