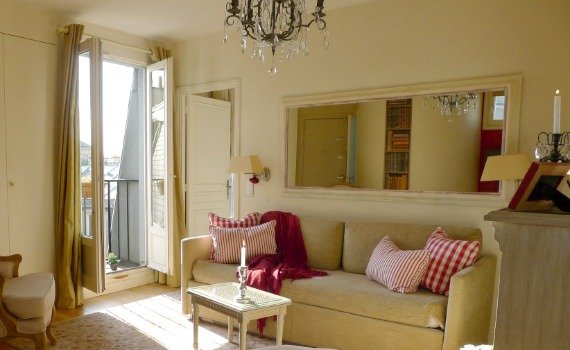 I come to Paris every few weeks and the Paris team always ask me to stay in a different apartment so I can "kick the tires," so to speak, by seeing if there are any repairs and improvements required. Then I send a punch list to the team, who get to work making improvements and (hopefully minor) repairs as soon as possible.
On a recent trip at the end of a long and hard day, I opened the door at the Médoc apartment rental and my spirit rose! It was wonderful to be greeted by the cheery reds, comfortable sofa and chairs and an impeccably clean and sunny apartment!
I hadn't visited Médoc in a little while, but when I stepped inside I remembered all over again why I love staying here. It's pretty, quiet, with 2 small balconies, charming views from the front and back — and the most gorgeous sunlight!
We've remodeled the Médoc for the owners twice since purchase. One of the decorating problems — a curved white wall — became an opportunity when we discovered this beautiful trompe-l'œil panel of an old bookcase. I dropped my briefcase and quickly took a few photos. This demonstrated one of our key rules!
No Extra Lights Rule! This is one of our important rules when looking for a great Paris rental apartment. And an even more important rule if you're looking to buy a Paris apartment. Notice the chandeliers in the mirror. They are turned off! Sunlight streams in and you just feel happy.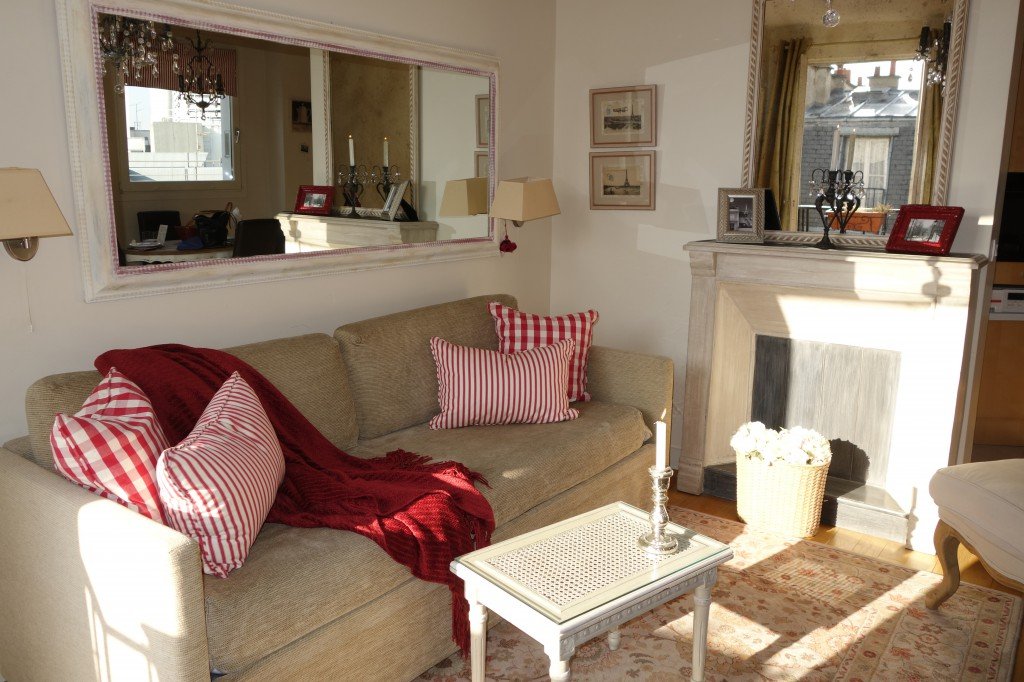 Step thru the living room into the sunny bedroom and the sunshine continues thanks to the upper floor location. The balconette and rooftop views are really something special.
Starting your day in the sunny kitchen is just as appealing. With the open plan and well-designed kitchen with antique style chandelier and french oak dining table, you'll look forward to coffee in the morning and relaxing dinners at home when you don't feel like going out.
Stroll to rue Cler for piping hot croissants and baguettes. Our favorite cheese shop is here, too. Select from their recommendations along with a bottle of wine next door — what better way to enjoy a simple evening in your Paris apartment!
I woke early the next morning and watched the sunrise over the Invalides. Pulled out my trusty Panasonic to take this amazing picture of a Paris sunrise from the living room and even the bed in the bedroom!
One of our suggestions for Paris visitors and buyers looking to purchase in Paris is to find the higher floors so they can enjoy the light even in winter, when the sun sets at 3:30 pm.
 Just one more peek– nothing is better in a Paris rental than large windows, natural sunshine and rooftop views!
Find out more about our Médoc one bedroom vacation rental in Paris.