We can just imagine the fun Paris girls' getaways and the romantic holidays that will grace the light and welcoming Cheverny. This lovely 2 bedroom apartment, with a fantastic setting in the 8th arrondissement, is close to cultural, historical and fashion icons, making it an ideal destination for a truly indulgent vacation. The Cheverny is a Parisian vacation rental that perfectly embodies the richness of the 8th arrondissement, and as a result we're certain that our guests will fall in love with its cool location and decidedly luxurious atmosphere. The bright accents of color, complemented by modern and classically Parisian works of art, create an inspired setting where you can easily unwind after beautiful jaunts exploring the elegant neighborhood.
We know our guests like a little decadence to accompany a fantastic vacation, especially in the City of Light famous for its absolute grandeur, and this is one of the many reasons why this vacation rental grabbed our attention. The Cheverny is just a five minute walk away from the stunning Champs-Elysées, a fashion and cultural mecca that's home to Louis Vuitton, Gucci, Chanel, and Jimmy Choo, among many iconic fashion names, along with the impressive Arc de Triomphe.
Dive into the famed Parisian art world at the nearby Louvre, Musée de l'Orangerie or the Musée d'Orsay, or sample the delicate sweets found at legendary chocolatier Pierre Hermé. The surrounding streets also boast a collection of markets, bakeries, cafés and other treasures, ensuring that the best of Paris is always within reach.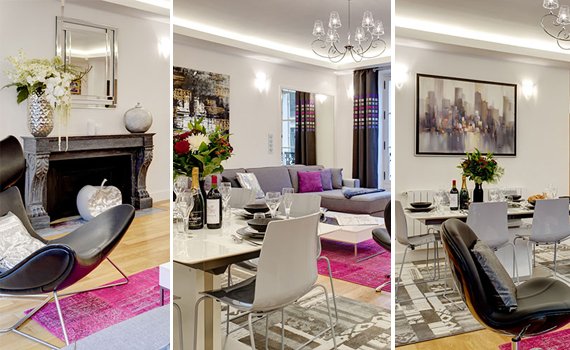 The Cheverny itself is a clever blend of classic and modern furnishings and design touches. We adore the bright pops of color that complement the stone fireplace (decorative only) mantle and delicate chandelier in the living room, where guests can gather with ease in the living area or at the adjacent dining table for six.
The kitchen with sleek cabinets, built-in appliances and a cool island bar is illuminated via chic wall scones and lofty windows, creating an inspired space to whip up deliciously gourmet meals. An electric stove-top with four burners, an oven, a fridge-freezer and a wide range of smaller appliances ensure that chefs have everything they require to let their creative cooking juices flow.
We were also charmed by the Cheverny's two bedrooms, both of which are perfect combinations of utility, comfort and undeniable style. With soft comforters and furnishings, tall windows, ornate lighting fixtures and built-in wardrobes for extra space, the bedrooms serve as sweetly indulgent havens for a well-deserved rest after a fabulous day out shopping and seeing the sights in Paris.
The bathroom is equally inviting with dual basin sinks, sleek tile walls, and a convenient bathtub-shower. With enough space for six people, (thanks to the sofa bed with double mattress in the living area), the Cheverny is expertly outfitted to allow guests to simply relax in style.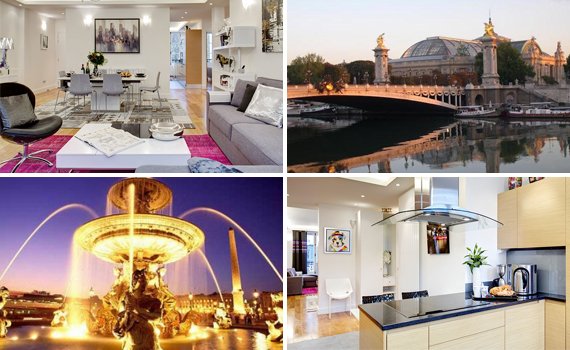 We have an inkling that the stellar appointments and neighborhood of the Cheverny will ultimately make it one of our most popular vacation rentals, so be sure and make a reservation as soon as possible. With fantastic access to the heart of Paris' shopping, art and cultural scene, the Cheverny is an ideal retreat for our guests who appreciate the finer things in life. Find out more about the Cheverny vacation rental in Paris.