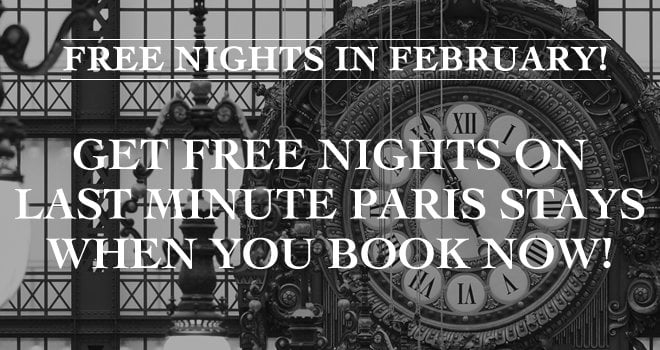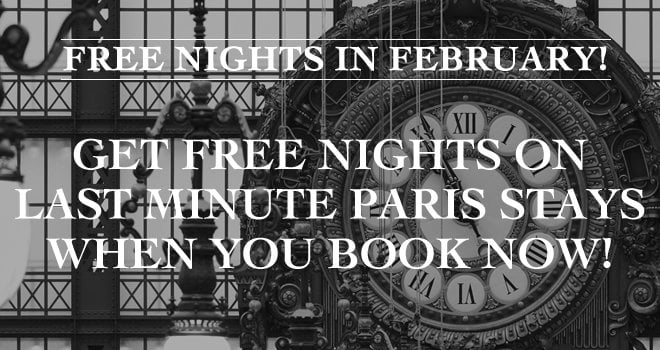 Thinking of a last minute winter escape to Paris this year? Now is the perfect time to take advantage of the strong dollar and discover the winter charms of Paris. Go ice skating on the Eiffel Tower, cozy up at a café with a warm vin chaud or hot chocolate, stroll along quiet cobblestone streets and find a more intimate Paris than you've ever experienced. Be among the first to visit the new Musée Picasso and gaze at iconic works of art without the crowds at the most popular Paris museums. Even better … enjoy extra time in Paris on us when you book a last-minute stay now through March 5, 2015!
Here's the scoop:
Book for 5 nights and stay for 7: Get 2 nights free!
Book for 7 nights and stay for 10: Get 3 nights free!
Book for 10 nights and stay for 14: Get 4 nights free!
Book for 15 nights and stay for 20: Get 5 nights free!
This fabulous deal is valid for stays of 5 nights or more between now and March 5, 2015 and only for bookings made between January 28 and February 28, 2015.
If you have any questions about sales and availability, simply Contact Us and we'll be happy to help!