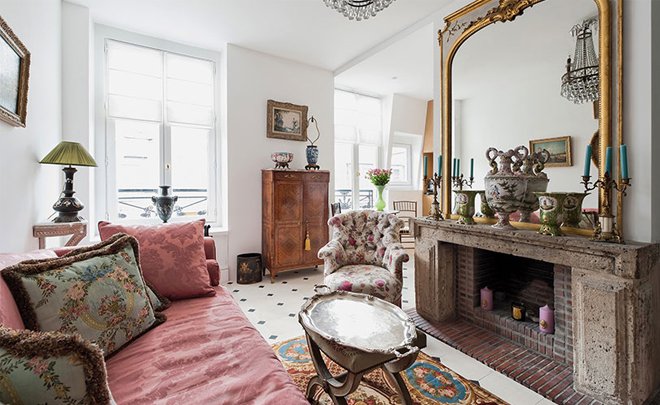 Strolling through the streets of Paris, it's easy to feel like you're in another era. With cobblestones, elegant buildings and tiny shops run for generations by the same family, you're surrounded by Parisian history with every step. We know many of our guests appreciate the same historic touches when they return home after a day of sightseeing.  The beautiful new Côte de Nuits is a stunningly appointed one bedroom vacation rental that feels as if it's worlds away from the hectic pace of modern life yet with all the comforts of a contemporary home.
Just imagine lounging on the plush, rose-hued couch in a gorgeous setting with period antiques and rich, Napoleonic III style décor. Combining luxury with a sense of history, the Côte de Nuits is the perfect setting for romantics, art and antique lovers and any guest with an appreciation of pure Parisian style.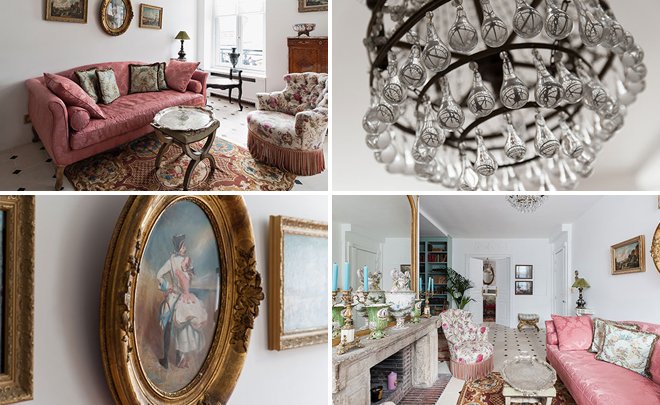 The furnishings and décor in the living area are historically inspired, which is evident from the unique glass chandelier to the collection of paintings with ornate frames. We can't imagine a better spot to curl up with a plate of fresh pastries like a modern-day Marie Antoinette and unwind in a truly relaxing atmosphere after a whirlwind day in the city.
While the living area is classically romantic, the kitchen is bright, sunny and enticingly modern. Visiting chefs will find all the elbow room they need to whip up a cozy dinner or quick breakfast, thanks to a suite of top of the line appliances, and fully-stocked cabinets with all the cookware required for gourmet cuisine. Enjoy a morning espresso at the dinette table for a cheerful wake-up call with plenty of sunshine streaming in through the windows.
One of our favorite corners of the Côte de Nuits is the dining area, which is lined with built-in bookshelves and features a pleasing palate of soft blue walls that is complimented by rows of books and antiques. Soft lighting and comfortable chairs add to the romantic scene, and we have a feeling the dining area will become your favorite romantic bistro in the city. (Best of all, this upscale dining setting is found at your fingertips – no reservations required!)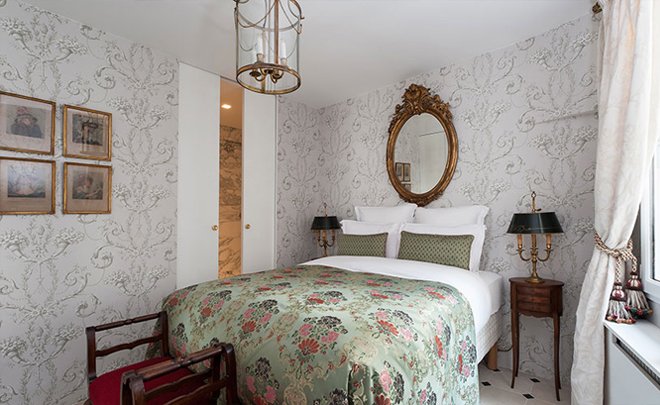 The romantic theme of the Côte de Nuits continues in the posh bedroom with a lovely satin comforter, deeply comfortable linens found under a pile of soft pillows and plenty of natural light from an adjacent window. Recover from a bout of jet lag by closing the beautiful drapes or relax with a good book in a decadent yet quiet atmosphere with soft light provided by the bedside table lamps.
The bedroom is just steps away from both the living area and the bathroom, where the cool gray tones of the bedroom's wallpaper is mimicked in walls of marble tile. We can't imagine a more inviting spot to freshen up for the day, as the bathroom features a rainforest showerhead in the step-in shower, a towering mirror, double sinks and porcelain and silver fixtures throughout. Life is good when you're surrounded by the best, which the details of the Côte de Nuits prove again and again.
Of course, we believe that what really puts a stunning vacation rental over the top is location, and the Côte de Nuits wowed us with a prime Saint-Germain locale in the stylish 6th arrondissement. Step outside, and you'll be just moments away from some of the top historical and cultural sites in the city, including the Seine River, Luxembourg Gardens, Louvre Museum, Notre Dame and the beautiful Ile de la Cité and Ile St-Louis islands.
The famed Saint-Germain region was also the preferred neighborhood for a number of literary giants and artists, and that inspired atmosphere is alive and well around every corner. You'll be within blocks of open markets and flower stands, modern artists peddling their wares along the riverfront, and a number of famous shops, restaurants and cafes, including the Shakespeare and Company Book Shop, Café de Flore and Café Les Deux Magots.
Undeniably delicious inside and out, the Côte de Nuits is a simply romantic, cultured and completely Parisian retreat for visitors who want to delve into the heart and soul of the famed City of Light. With such rich décor and a stellar locale, we expect the Côte de Nuits to become one of our most popular vacation rentals. As such, we advise our Paris romantics to book quickly to secure a spot before this spot fills up for the year!