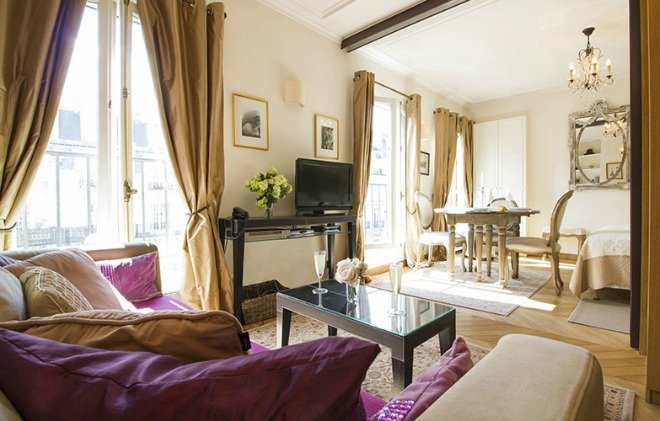 Choosing a place to stay in Paris can be a very daunting task, especially when it's your first time in the City of Lights. I have been fortunate enough to have visited this enchanting city a number of times, but on this trip, I did something different. I rented an apartment!
There are many different apartment rental companies out there, and you definitely need to do your homework before selecting a one. I had heard of Paris Perfect Apartment Rentals through other blog posts and simply had to check them out.
Low and behold, Paris Perfect had a buffet of scrumptious apartments to choose from, but since I was going to be a solo traveler for this trip I looked into their studios and 1-bedrooms.
As I was going through the studios there was one that immediately stood out to me: The Chablis!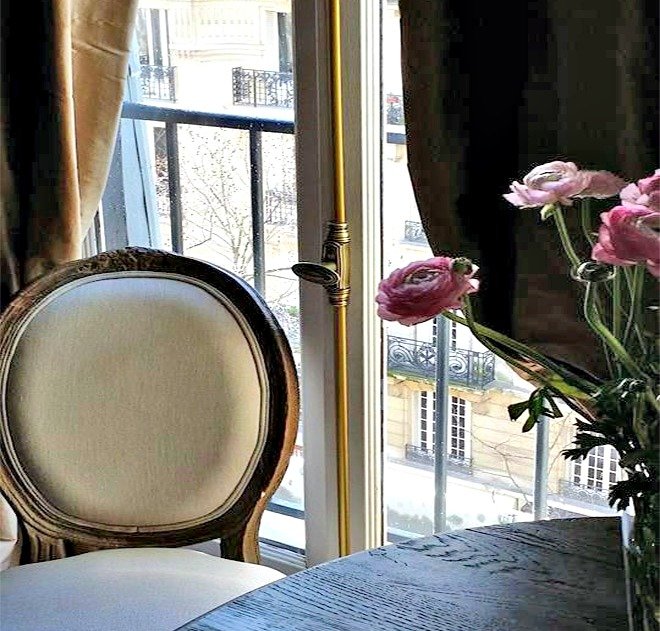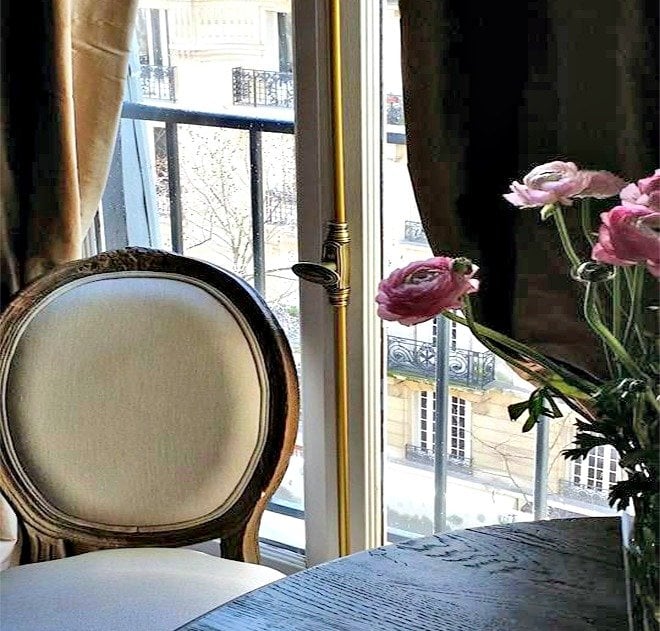 The minute I walked through the door I knew I was in for a treat! The Chablis is sweet and petite, classy and sassy, and just right for either the solo traveler or a couple wanting a romantic getaway.
Abundant light shines through all three sets of French doors, filling the apartment with a happy glow. That's right – three sets of French doors! From the kitchen to the living room to the dining and bedroom areas, each view gets better and better.
Paris Perfect left no stone unturned; I had everything I needed. As I gazed into the dining and bedroom area I drooled at the site of the beautiful chandelier and the trumeau mirror. Details – It's all about the details!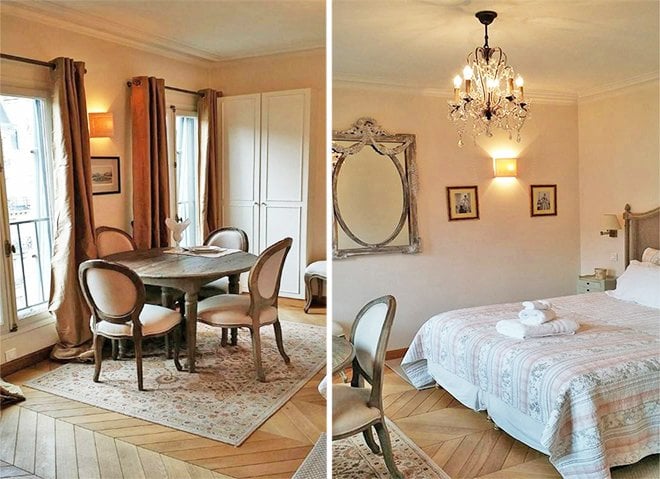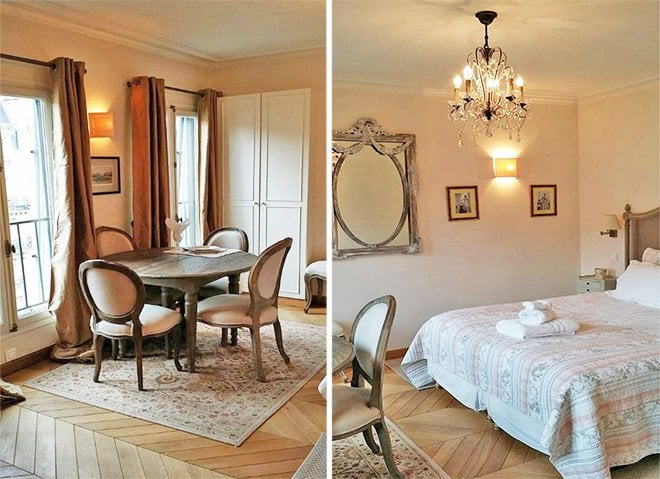 The dining room table is even set for however many people that will be staying there. Since it was just myself, I had a cozy setting for one, complete with a view, which was phenomenal!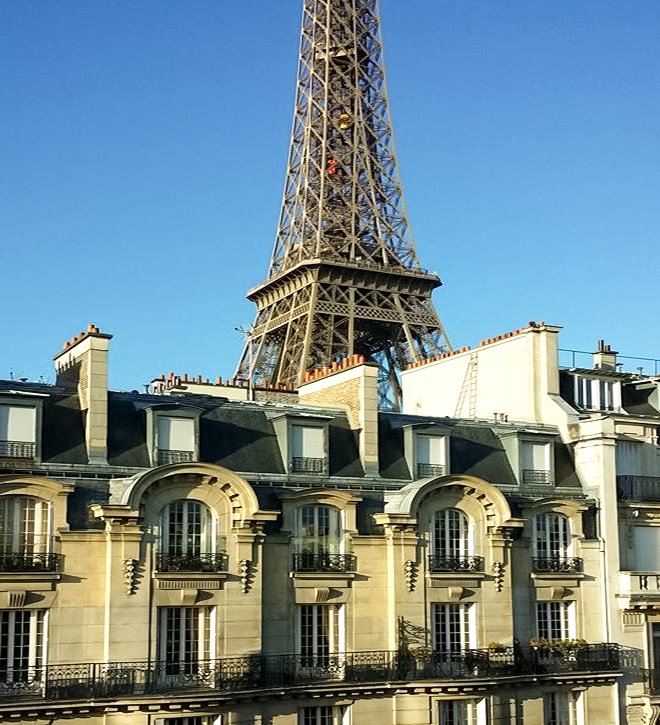 This is the view you will be presented with when you rent the Chablis! The Grand Dame herself towering and majestic in all her glory. Isn't this just jaw dropping gorgeous?! You will have this view from all three set of French doors.
Being that I am currently working on my Bachelor's Degree in Interior Design I couldn't help but be in awe of the architectural detail that smiled at me with a warm greeting of, "bonjour."
The Chablis is perfectly located in the 7th. You will be close to famous places like the Rue Cler market, the Champs de Mars, the Dome des Invalides and Pont Alexandre III.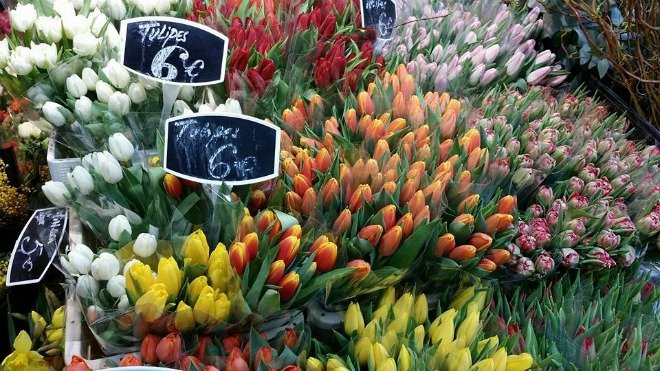 The apartment was particularly well situated for shopping trips to Rue Cler, which has tons of restaurants, cafés, bakeries, produce shops, florists and tons of other types of stores, mostly related to food. I shopped here many times to bring back goodies to the apartment.
After shopping along Rue Cler I prepared a small feast. Fresh strawberries, cheese, a petite baguette, beignets and fresh flowers. The wine was compliments of Paris Perfect! The evening view from the French Doors was the perfect compliment to my meal. Captivating, isn't it? I enjoyed and savored this view every evening.
My week long getaway at the Chablis (that went by all too fast) was one blissful experience I will never forget!
If you'd like to book your very own getaway at the Chablis, take a look at the apartment page here, and don't hesitate to contact our very helpful reservations team here!
(Image credits: All images by the Author)