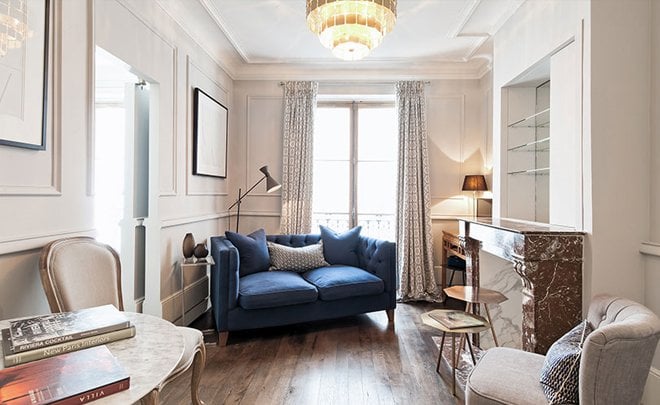 Say Bonjour to the Tursan! This inviting 1 bedroom, 1 bathroom vacation rental is a brand new addition to Paris Perfect, and will impress our guests with all the amenities and charm of a posh boutique hotel, but with much more space and room to relax. We were instantly beguiled as soon as we saw the chic and well-appointed central living area, which set the tone for the lovely décor and amenities found throughout this Parisian retreat – just wait until you see the bathroom!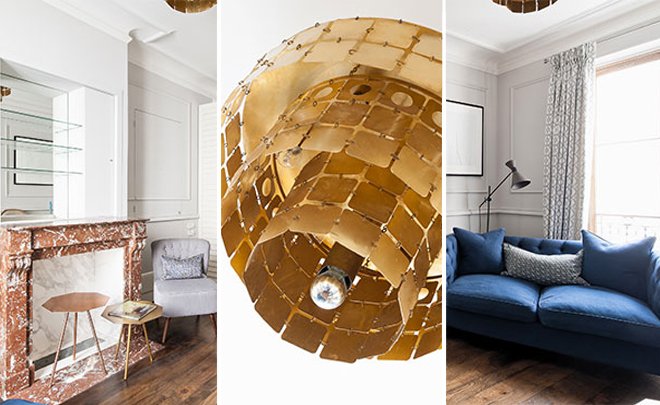 Comfort and style are essential for premier Paris accommodations, and the Tursan impresses with cozy furnishings that are complemented with classic aesthetics and cool modern accents. A bold decorative fireplace stands out in the fresh white living area, while the glittering overhead lamp is a stylish addition to the room. We can imagine guests spending long afternoons curled up with a glass of wine or a cup of tea, showing off the bags of goodies that were just picked up along the fabulous adjacent shopping streets.
One of the biggest lures for our vacation rental guests is the money-saving convenience of having a kitchen to call their own, and the Tursan's compact but accommodating kitchen has everything vacationers will need to whip up daily breakfasts, fresh espressos, and gourmet evening meals. Enjoy your creations in the intimate dining area, which is discretely located in a corner of the central living area and boasts just enough elbow room for two.
The queen bedroom is another delightful corner of the Tursan, and features plenty of morning sunshine courtesy of a floor-to-ceiling window, soft-colored comforters and pieces of décor, and ample storage to stow away your luggage and new fashions from the neighboring Rue Bonaparte and ultra-trendy Saint-Germain-des-Prés neighborhood. Needless to say, dedicated shoppers and fashion lovers are welcome at the Tursan, and will find plenty of room to store their newly acquired treasures.
The bathroom at the Tursan truly took our breath away, with decadent marble everywhere from the modern basin to the luxurious walk-in shower with a rainforest showerhead. Guests will be excited to wake up in the morning, or prepare for a night in the city, with such elegant surroundings!
Outside, guests of the Tursan can spend leisurely days strolling the enticing streets of the Saint Germain neighborhood and Rue Bonaparte. Top fashion boutiques and open air markets are found around virtually every corner, and foodies and literary fans will be just a minute away from some of the city's most famous cafes. Enjoy an afternoon at Les Deux Magots or Café Flore and soak up the atmosphere that once inspired francophiles like Ernest Hemingway, Pablo Picasso and James Joyce.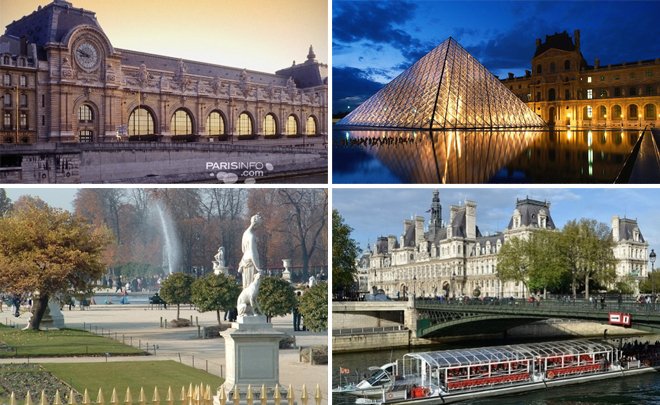 Tursan guests will be surrounded by a wealth of culture and history as well, from the artistic masterpieces of the Louvre and Orsay Museums, to the lush beauty of the Tuileries and Luxembourg Gardens. Visitors can stroll to the Notre Dame Cathedral, the Church of Saint-Sulpice or the Saint-Germain-des-Prés church to admire some of the world's most stunning architecture up close, or simply enjoy an evening stroll to view the I.M. Pei pyramid entrance to the Louvre in all its brightly glowing beauty. Trouble deciding where to start? Consider taking a dinner cruise along the Seine so you can see it all in one trip!
_____________
In essence, this gorgeous section of the fabulous 6th arrondissement will appeal to all manner of Paris fans, from shoppers and artists, to writers and romantics, to history buffs and curious newcomers. Best of all, Tursan guests will have a chic little corner of this fascinating and always entertaining neighborhood to call home. We expect the Tursan to quickly become a favorite retreat with our Paris Perfect guests, and encourage vacationers to book soon before word spreads about this gem of a Parisian retreat. Visit the Tursan apartment page to learn more and book your stay!