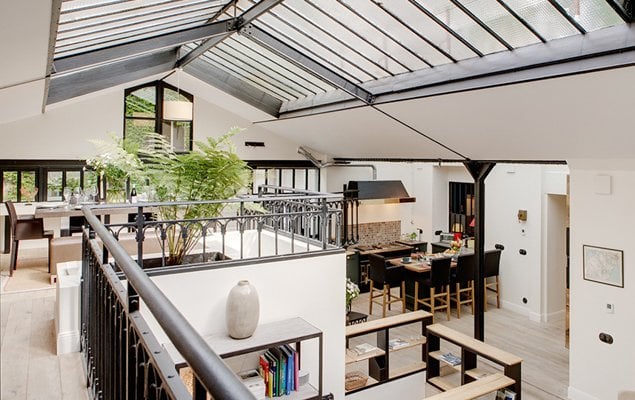 When we think of the City of Light, we can't help but envision the seemingly endless rows of windows and skylights in the thoroughly impressive Charlemagne, and we imagine that you'll feel the same.
This shining 4 bedroom Paris Perfect vacation rental has a charmingly whimsical history as a former chocolate factory, and we consider this distinction only fitting considering the decadent supply of markets, historic streets, and Parisian wonders found in the adjacent city streets. While evidence of its factory-floor history can still be seen, particularly in the towering open space and glass-topped roof, the Charlemagne is surprisingly modern from top to bottom and feels like an urban loft, but with private, enclosed bedrooms.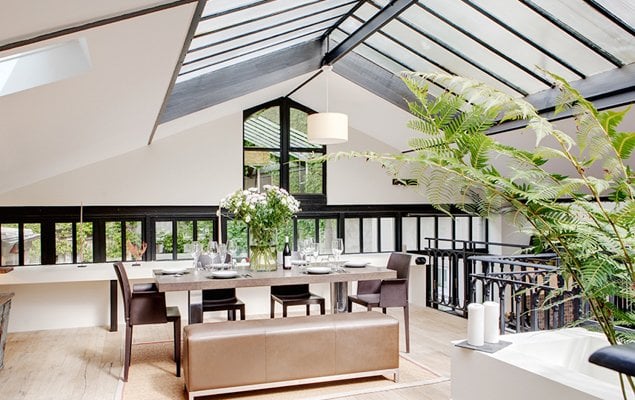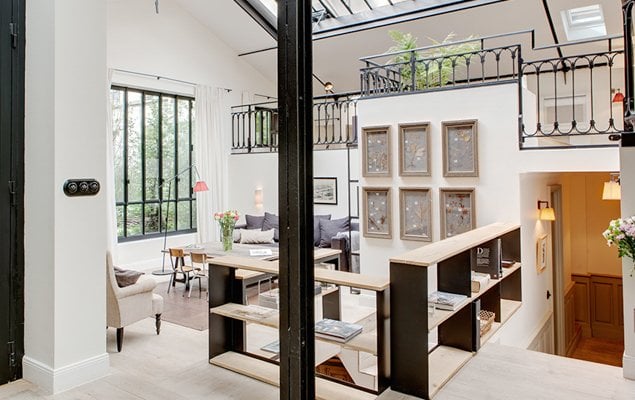 Our favorite attributes of the Charlemagne basically boil down to ample light and ample space. With a unique two-level layout, the top floor has an expansive and posh dining area that overlooks the sprawling first floor via a series of ornate balconies. This top level also features a cozy nook, ideal for a lazy afternoon of reading, while the first floor boasts a perfectly compartmentalized living area with cool earth-toned furnishings and plenty of lounging room.
The kitchen nearby has an expansive breakfast bar with an aristocratic country feel, but also contains all the modern amenities that gourmet cooks require to prepare world-class meals. An office with a towering bookshelf can be found just off the kitchen for working vacations, or just a little quiet time to leaf through treasures picked up at local antique bookstores.
It's a good thing there is so much space to spread out, because this apartment sleeps up to 8 guests! There are four bedrooms in the Charlemagne, which are streamlined masterpieces that boast built-in wardrobes and cabinets, TVs, paneled windows that overlook lush greenery, and neighboring bathrooms with all the modern fixtures.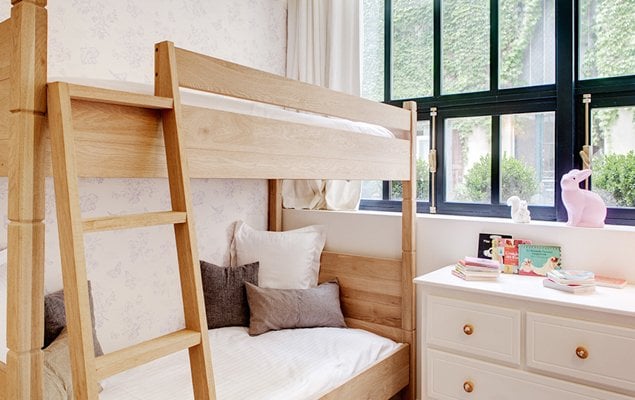 Every nook and cranny of the Charlemagne is both cool and comfortable, and we have a feeling that our vacationers will be absolutely wowed by the rows upon rows of windows, topped off with the glass roof. The central living area simply shines at night, when it's covered in a starry-night canopy, while morning breakfasts and get-togethers are virtually always cheery, sun-soaked affairs.
_____________
The 5th arrondissement perfectly complements the Charlemagne's eclectic history and style. Young visitors will adore afternoon strolls to the zoo and carousel at the Jardin des Plantes, while romantics will want to while away an evening at the elegant Luxembourg Gardens and adjacent Luxembourg Palace.
Literary legends of the 20th century linger in these streets, a spirit that is evident in the classic markets, cool galleries, bookstores, and artful cafes. The Rue Mouffetard market will inspire creative cooks with a selection of fresh produce, protein, and delicacies, while the cobblestoned streets of the Latin Quarter will delve history buffs into another era of romance and rich culture. Additional must-see Parisian attractions, like the the towering Pantheon, the Roman Arènes de Lutèce and the Medieval Museum complete the richly diverse scene, and cement the 5th arrondissement's reputation as one of the most inspiring yet ancient regions of Paris.
_____________
With a clean and polished look, and a slight nod to both the apartment's and the region's rich history, the Charlemagne is easily one of the most effortlessly alluring vacation rentals in the 5th arrondissement. Thanks to its large size, this would be the perfect apartment for a large family. Take a look at the apartment page for more info, including a floor plan and availability!