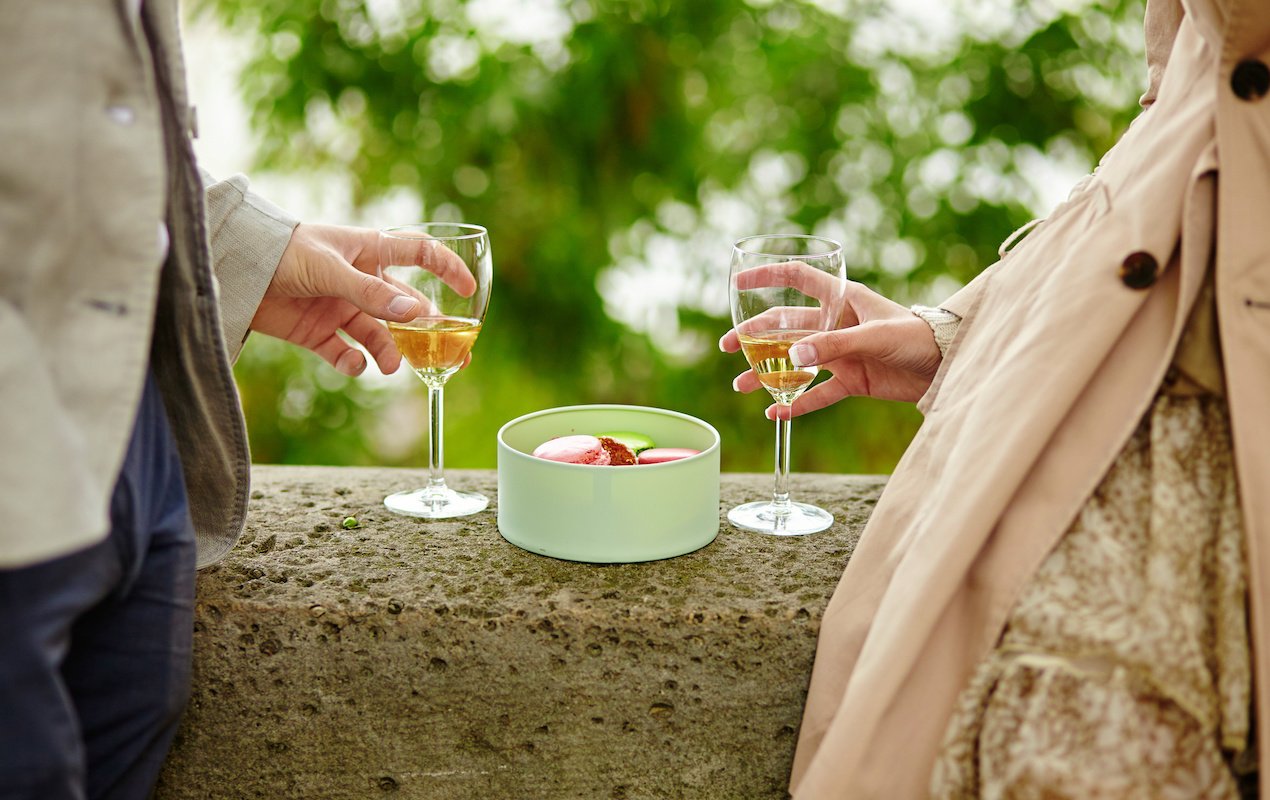 Clichés abound at this time of the year, and one could argue that it's Valentine's Day every day in Paris, but if you are lucky enough to be visiting us during February, here are our best ideas for making this the most memorable occasion of them all!
1. Say it with Flowers
Make a loved one's day and pre-order a special bouquet of red roses or an exquisitely arranged bouquet of your favorite flowers; our Concierge Service will gladly organize delivery to your Paris Perfect apartment just before your arrival. Let us add the final touch by telling us what to write on the note we leave to greet you—all proposals welcome! Please note that Valentine's Day orders must be made in advance.
2. The Best Way to a (Wo)Man's Heart
Imagine arriving in Paris after a long flight and finding your preferred champagne bottle and some exquisite chocolates or macarons awaiting you in your apartment! Indulge with some typically French delicacies and get your vacation off to a flying start.
3. Making a Date of It
Do you have your hearts set on a cozy, romantic atmosphere? Do you want to go all out and reserve a Michelin-starred dining experience? Are you excited to try a dégustation tasting menu at one of Paris' up-and-coming restaurants? We take all the guesswork out of trying to choose the perfect place to rendez-vous with your Valentine's Day partner. See our article, "10 Most Romantic Restaurants in Paris" for some of our favorites.
4. Capture a Moment, Forever
Karl Lagerfeld is famously quoted for saying, "What I like about photographs is that they capture a moment that's gone forever, impossible to reproduce." While there's nothing more satisfying than an instant 'selfie' to catch a fleeting moment, there's also no comparison with having a professional expert help mark a very special occasion, and knowing the best vantage points and angles to choose at your favorite Parisian backdrop. Treat yourselves to a Valentine's Day in Paris photo shoot. We'll help create unforgettable memories you will treasure forever. For a closer look at the photo shoot experience, see this blog post.
5. Have a Perfect Day in Champagne
No one put it better than Lou Reed with his immortal lyrics: "It's such a perfect day, I'm glad I spent it with you…" Well, you can't beat raising a toast with your beloved one in the home of Champagne itself. Travel out to the vineyards in the company of your specialized French guide, enjoy tasting vintage bubbles in the region where 330 million bottles are produced every year and spend a little time gazing at the dreamy stained glass windows famously crafted by Chagall at the Cathedral of Reims, before being chauffeured home to your Paris Perfect apartment. Cheers!
6. A Night to Remember
Paris is unthinkably magical by night, and the illuminated landmarks positively shimmer after dusk. Guaranteed to get stars in your eyes, taking an evening dinner cruise is a gloriously indulgent way to drink in all the sights as you glide along the water. And if you splash out and choose the Premier Service, you'll be seated at the very front of the boat for the best vantage point to watch the Eiffel Tower lights sparkle as you near the end of the trip. C'est magnifique.
7. Push the Boat Out
Unashamedly romantic and the stuff that dreams are made of—for a truly memorable experience, commission your own private yacht and sail down the Seine in style. Celebrate your wedding anniversary, declare your undying love or simply dare to dream on Valentine's Day as a couple or with a group of friends.
8. See Paris in a Vintage Car
If you'd rather stay on solid ground for your romantic escapade, nestle together in a cozy 2CV car and be transported around the City of Love to star gaze and see the enchanted capital by night. Your very Parisian chauffeur will collect you at your door and drive you through all the secret nooks and crannies that most people just pass by. And when you book with us for Valentine's Day in Paris, you'll be able to quaff champagne as you go (for that perfect photo opportunity). It doesn't get much more romantic than that!
9. Hit the Town
We have the lowdown on the best entertainment going on this month, so let us do all the groundwork and take care of your dream date planning for you. We can book your front row seats at the most iconic cabarets of them all, so you can witness firsthand the impossibly high kicks at the Crazy Horse, or be dazzled by the sequins and satin at the Lido on the Champs-Elysées. To see what a Parisian cabaret show is really like, read this blog post.
10. Let an Expert Plan the Perfect Itinerary
Whether you are staying for a long weekend or a couple of weeks, it can be exhausting trying to decide what to do and when to do it, and can sometimes take all the excitement out of planning your vacation. Allow us to prepare your personalized itinerary during your stay. We work closely with you to ensure we help you get the very best out of your experience. Need some ideas? Ask about our recommended "Romantic Itinerary" to set the ball rolling.
So much to do – so little time! We look forward to sharing our city with you and helping create your perfect Valentine's Day in Paris.