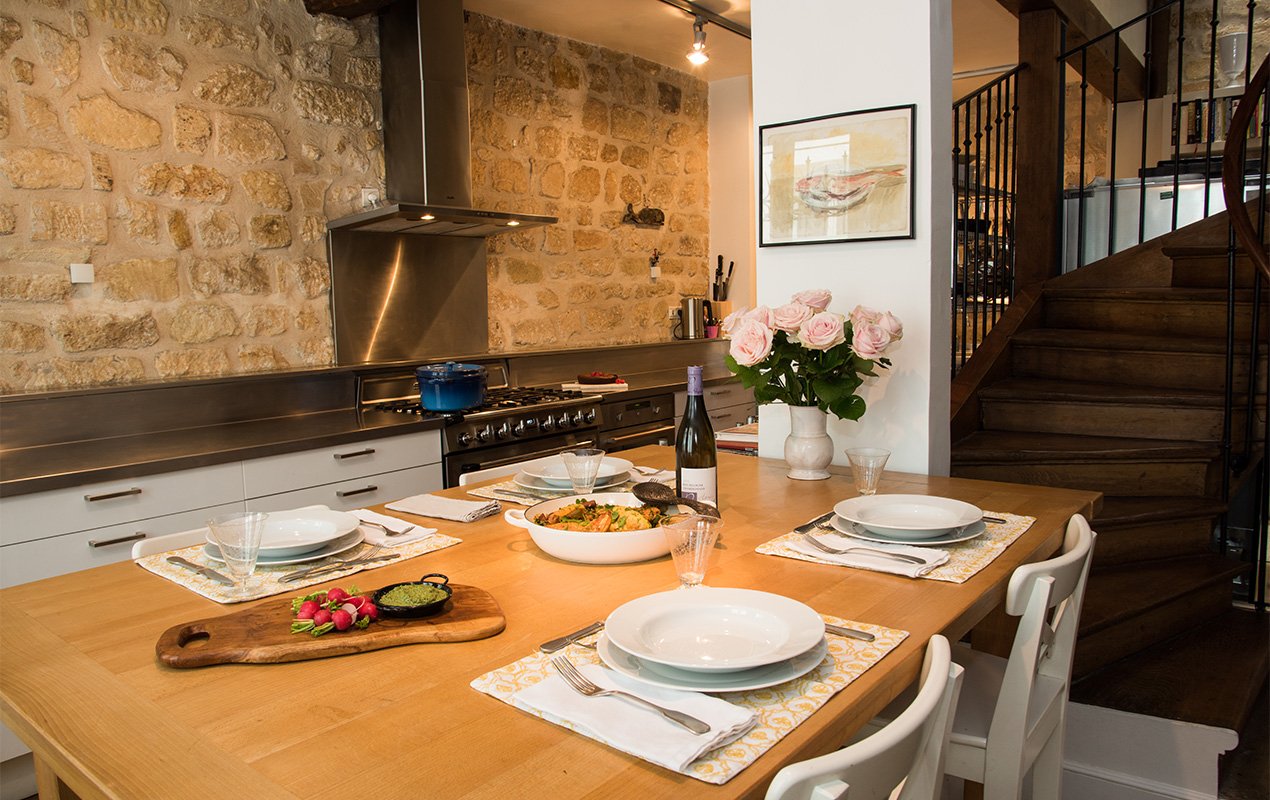 Exclusive New Paris Market Tour and Cooking Class!
With Chef Charlotte Puckette
Tucked away on a tiny 'passage' just off the bustling rue Cler market street stands a charming house built over 150 years ago. Push open the front door and discover a gleaming professional kitchen that fills the entire floor! This is Chef Charlotte Puckette's home and demonstration cuisine which she has remodeled to provide the best cooking classes in Paris.
The spacious and airy kitchen area contains all the modern equipment and utensils a professional or budding chef could possibly wish for, a real hidden treasure!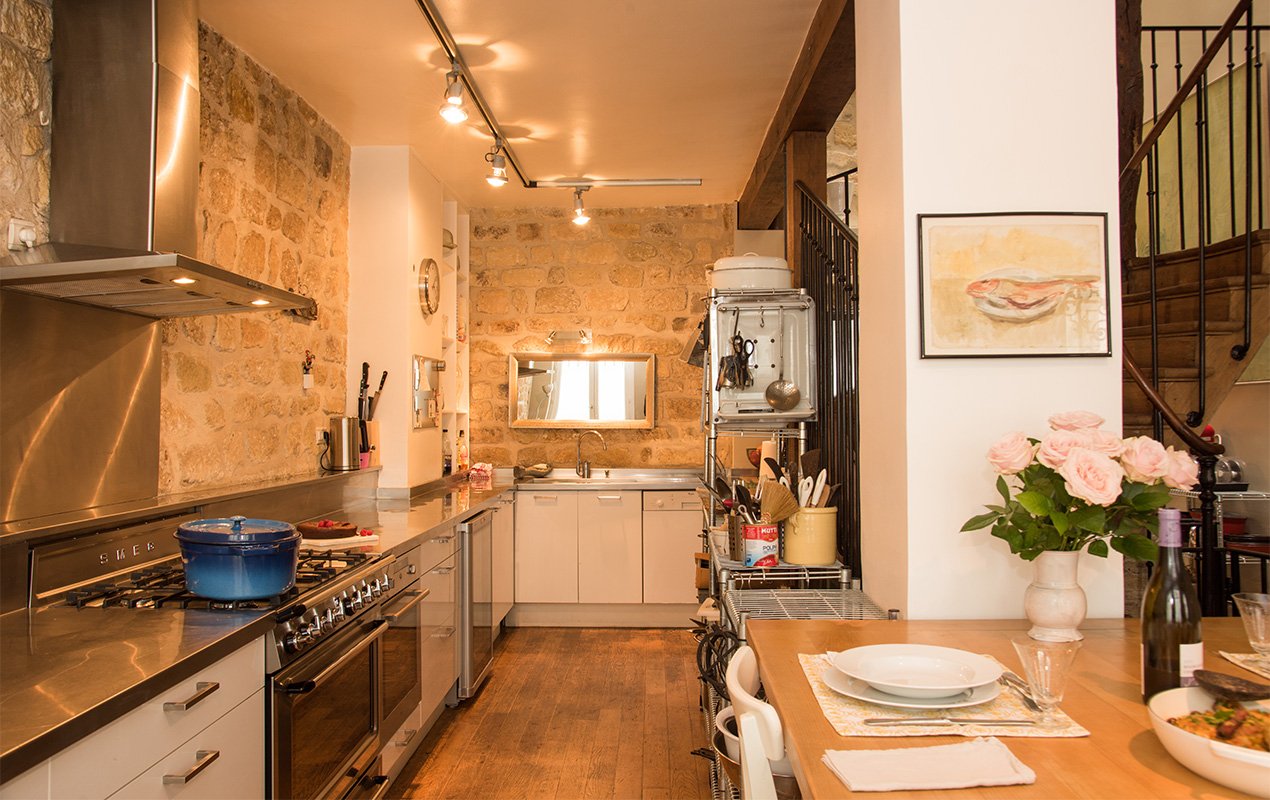 Hailing from Charleston, South Carolina, Charlotte has been living in Paris for almost 30 years and knows everything about where to shop for the best seasonal foods throughout the year – plus the most appetizing ways to transform these ingredients into delicious dinners. If you like to cook and enjoy good food, her classes are among the best in Paris. We offer three excellent options: an open air market tour followed by a cooking class (followed by lunch with wine, bien sûr!) … to cooking classes and dinner … or private catering in your Paris Perfect apartment. Email us to for more information at email us at [email protected]!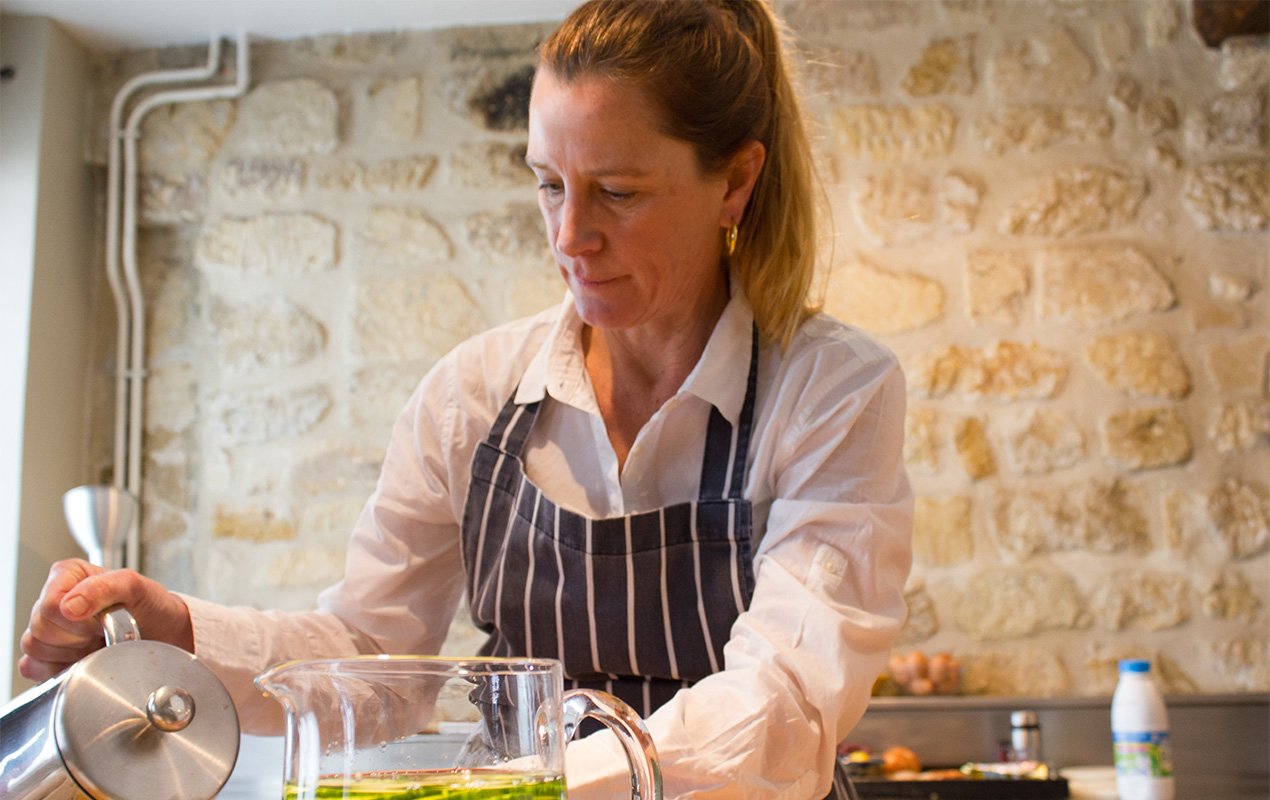 Fully trained in French cuisine and a 'Grand Diplôme' graduate of the toughest training program of them all, Le Cordon Bleu, Charlotte is the co-author of "The Ethnic Paris Cookbook", created with Olivia Kiang-Snaije to demonstrate that the French capital is a true melting pot of a wealth of flavors and cultures. She is currently working on a new project: Wellness Within Your Walls, a program aimed at bridging the gap between farm and fork, by guiding consumers in making smart choices to create health, harmony and sustainability in the kitchen environment.
Our Market Visit and Cooking Class
This week a group of us joined Charlotte for one of her brand new weekly market tour and cooking classes, introduced just recently as one of our Exclusive Paris Perfect Gourmet Experiences. We began our morning with a rendez-vous at the glorious open-air market on the avenue de Saxe, just next to the golden dome of Les Invalides in the 7th arrondissement.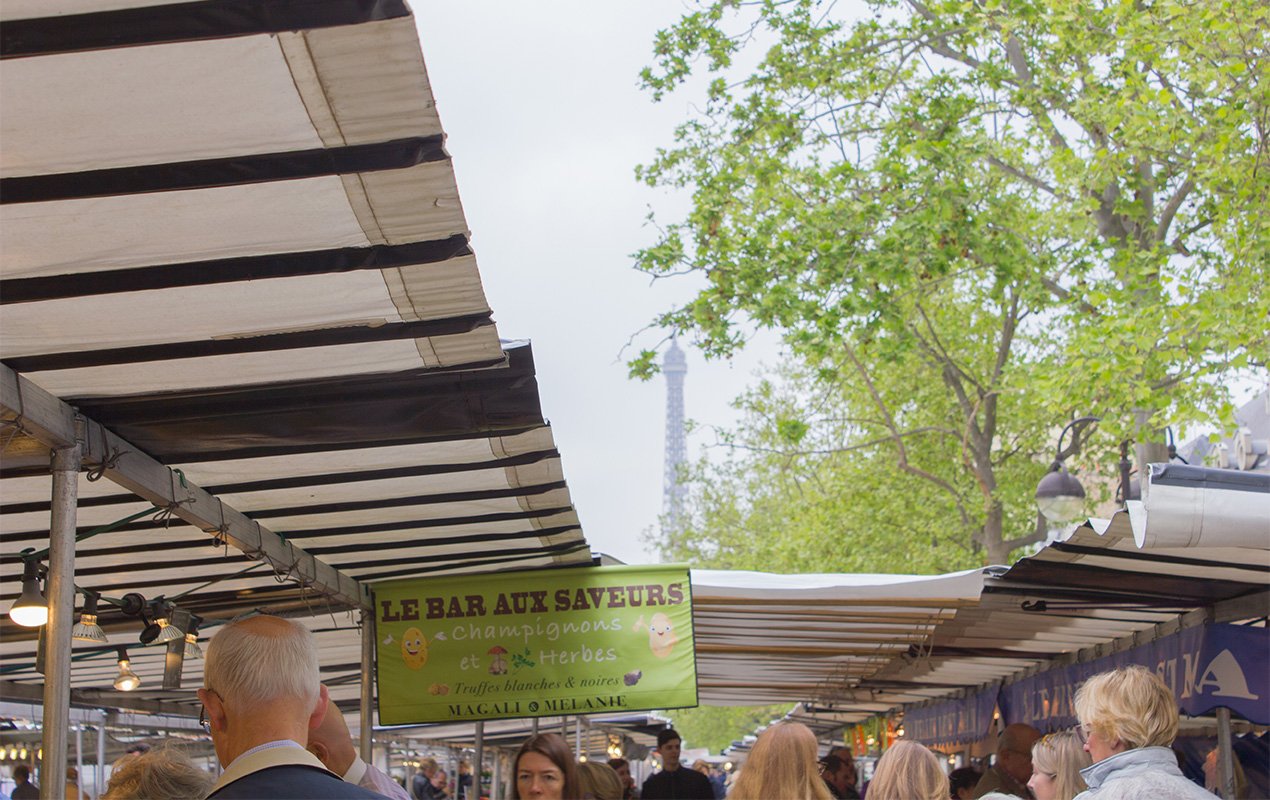 This typically Parisian food market is hard to beat, partly for its incomparable view of the Eiffel Tower in the background, but also because it offers everything from fresh fruit to vegetables that look as though they have just been plucked from the ground, and from innumerable varieties of regional cheeses to stalls with gleaming fish and seafood, recently fished from the 3,500 kms of coastline all around France.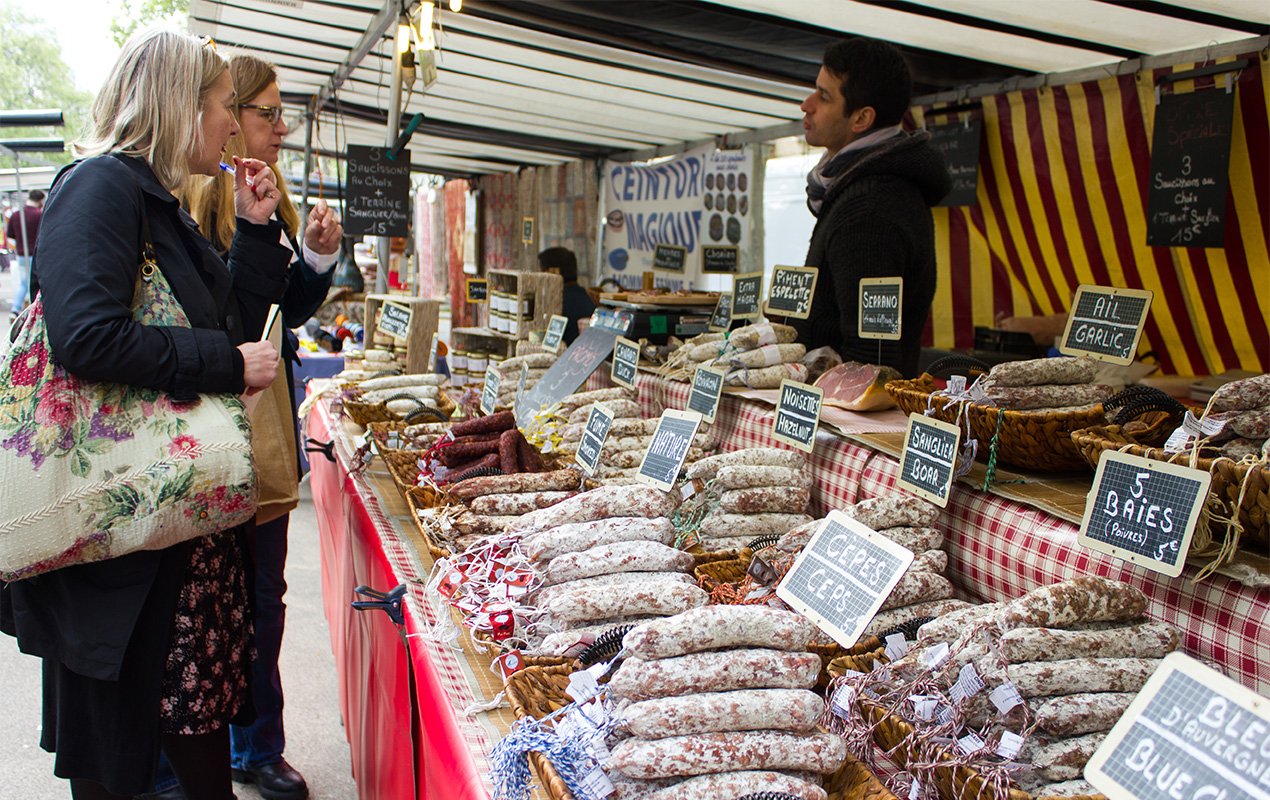 Visiting the market with Charlotte was great: we selected the final ingredients for the meal from her favorite farmers and we chatted with them, while gleaning tidbits about the cultural differences we take for granted.
Who knew, for instance, that the main thing to look out for when choosing asparagus is that there are no visible crevices along the shoot, as this would be a sign that it is drying out and will have much less flavor?
Or that spotting a feather in your egg box is a good sign, because it proves that the eggs have not been over-washed and stripped of their natural porous bloom, which keeps bacteria out, rather than the contrary?
It was also an education to learn about the numerous breeds and styles of chickens on the market and the difference between a Poulet de Landes and a Poulet de Bresse – ordering chicken in a restaurant will never be the same again!
Back in Charlotte's fabulous kitchen, where modern stainless steel appliances stand in attractive contrast to the weathered wood beams and original stone walls, we cooked up a storm and experienced a true Parisian lifestyle lesson. Together we prepared and cooked a three-course meal from A-Z, with lots of cooking tips thrown in and the techniques fully explained. All the recipes are created with the home cook in mind, so we knew we'd be able to confidently reproduce the dinner back home.
What We Cooked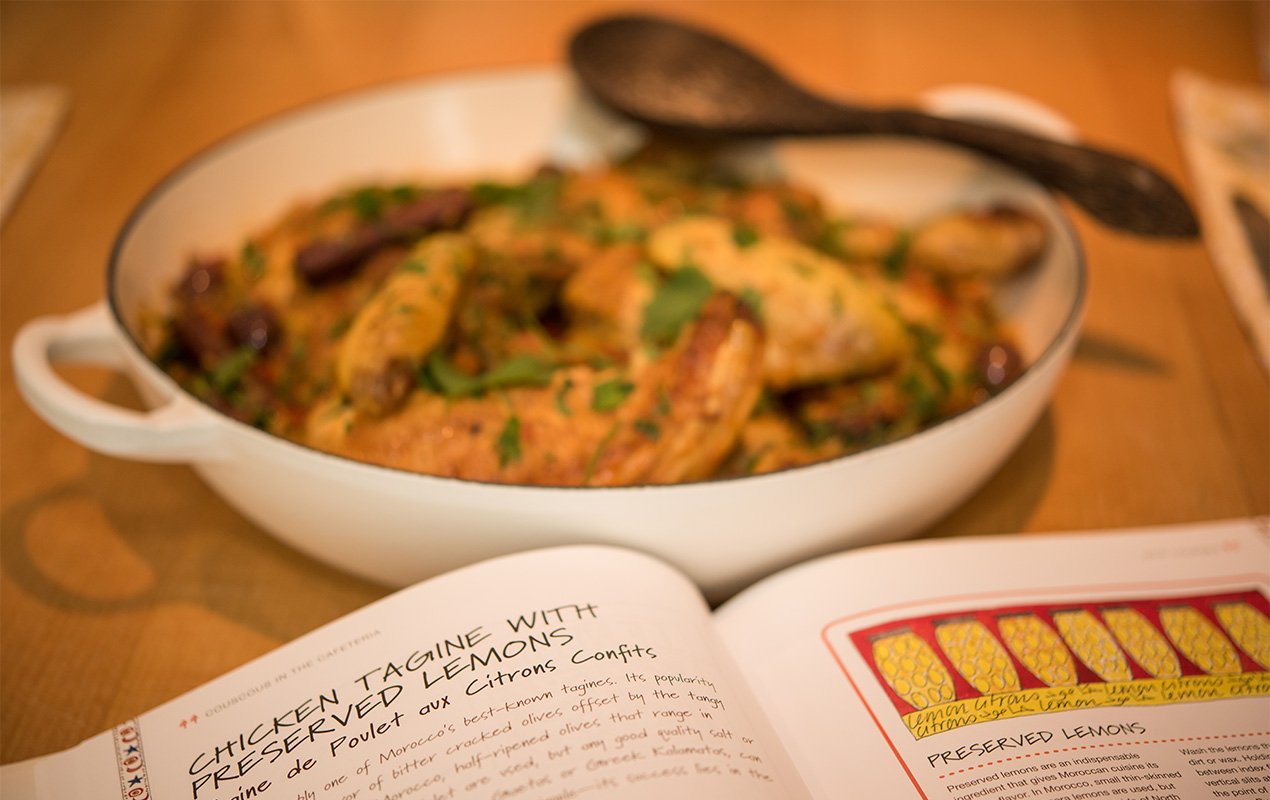 At the top of the menu was a Chicken Tagine with Preserved Lemons and Purple Olives. In no time at all, the chicken was sizzling in the giant Le Creuset casserole dish and heavenly scents were emanating throughout the kitchen. The combination of lemon and olives is divine, and we could tell how tender the chicken was going to be even before we tasted it!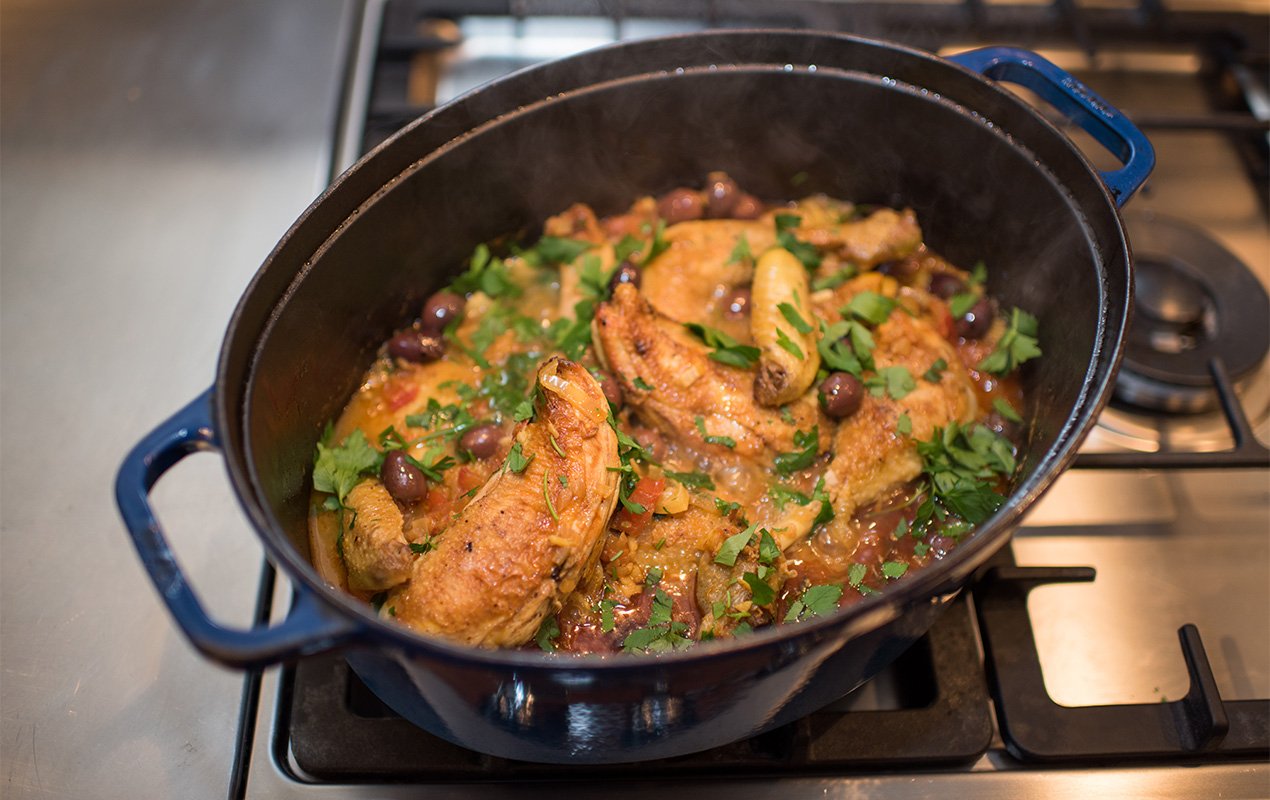 We enthusiastically returned to the kitchen table to prepare the chef's favorite Fondant Chocolate Cake, the most incredibly decadent dessert you can imagine. It contains just five carefully selected ingredients, and it's the precise cooking instructions that make all the difference.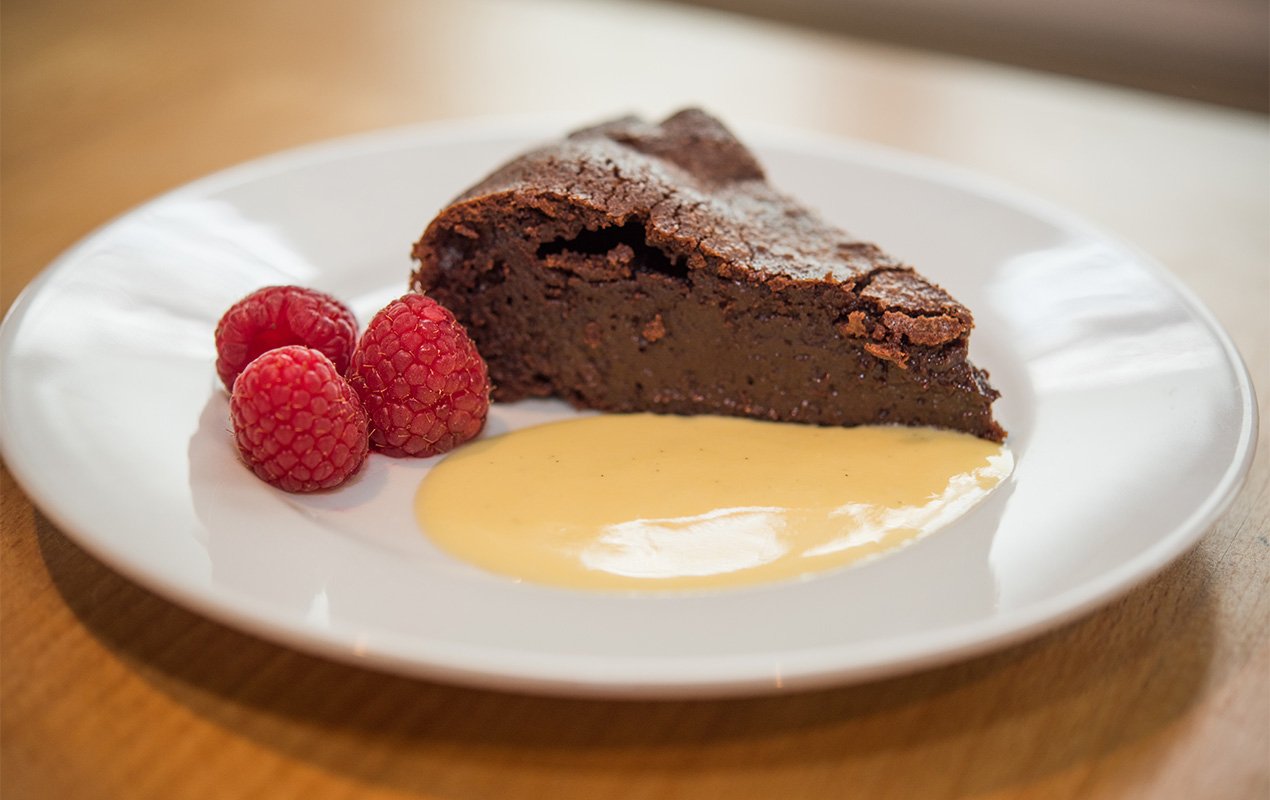 The beauty of this class was the adaptability of our Chef. As Rosa from our group commented, "I feel as though she could concoct an appetizing meatball and whip up a golden soufflé in the same breath and it would all work just perfectly." It was so useful, too, to be given a handout of our recipes at the outset, perfect for making notes on and ready to take home with us.
We picked up so many useful tips cooking together – but the icing on the cake was definitely sitting down around the table to enjoy the fruits of our labors together over a very welcome glass or two of wine! Our meal was absolutely delicious and it was a treat to chat about Paris, all things culinary and so many other things besides – not to mention planning what we'd like to learn at our cooking lesson on our next trip. It's so great to know that Charlotte keeps a note of what each guest has cooked, so you can learn new dishes each time you return: the seasonal possibilities are endless. This class can also be adapted on request to accommodate special dietary requirements, such as vegetarian or gluten free. We can't wait to repeat the experience!
To find out more details of dates and availability of our Exclusive Paris Perfect Market Tour and Cooking Classes with Charlotte, please email us at [email protected] and we'll be pleased to give you more information. Private events and alternative dates also available on request.