We're delighted to announce that we've found another gem waiting for your next visit in Paris's chic 7th arrondissement, where you'll find many of our beautiful apartments near the Eiffel Tower.
It's not every day that a new pastry shop opens its doors to dazzle us with its picture-perfect pastries, radiating such a warm, homely ambience. Moreover, it's not every day that the keen bakers amongst you can now also have an opportunity to enjoy the most prestigious hands-on macaron-making class in Paris, with a top pastry chef and Meilleur Ouvrier de France – in the same spot.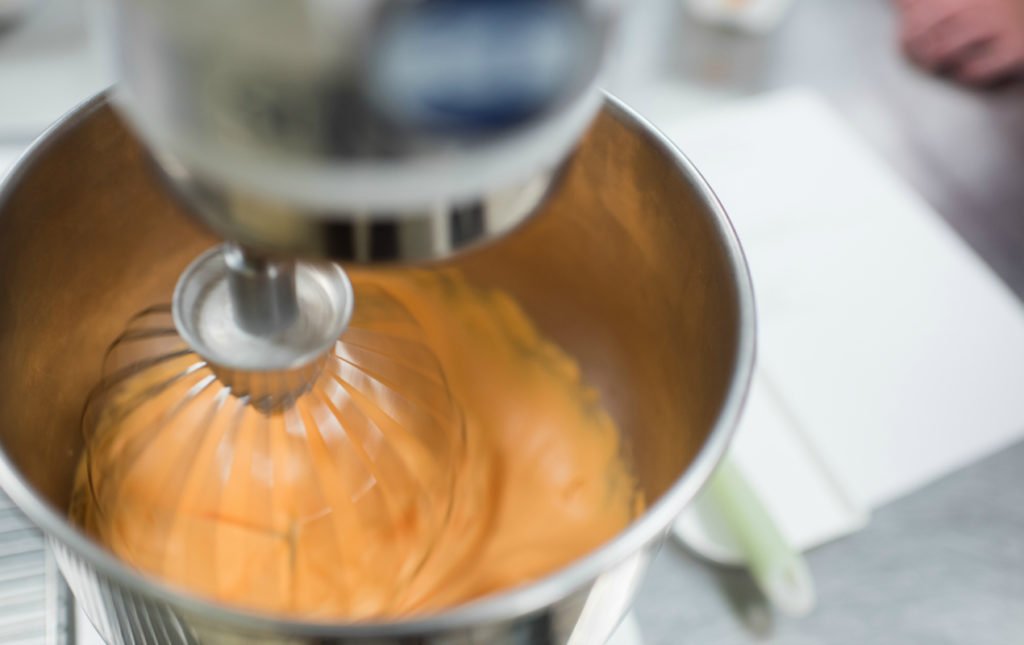 Just off the particularly sweet street of rue Saint-Dominique, Notre Pâtisserie is the most welcoming new boutique dreamed up by pastry chef duo, Christophe Rhedon and his Italian wife, Francesca.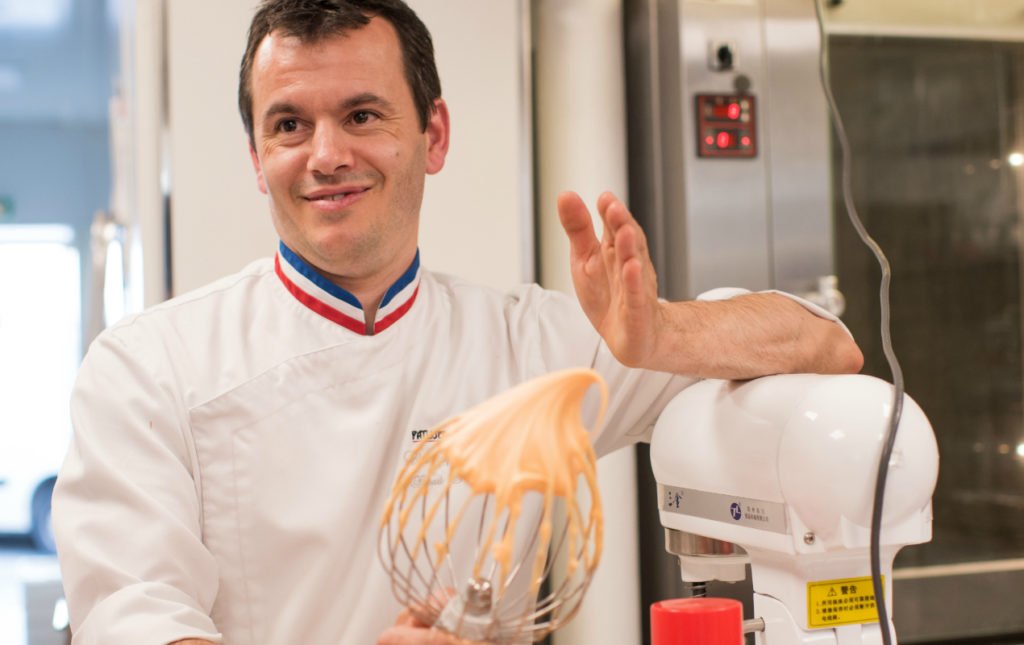 The name, "Notre Pâtisserie" was carefully chosen by the couple, who met while Francesca was completing a pastry masterclass at the impressive Lenôtre cooking school. Chef Rhedon emphasizes that it has been a real family project. As he deliciously puts it, "We've been working together on it for the past year like a mayonnaise." Decked out in turquoise blue and pristine white, he points out the boutique's stylish details, from his mother-in-law's teapot knick-knacks to the classy Parisian wallpaper picked by his beau-père.
Although completely refurbished, they have kept the old building's original iron fittings as a reminder that it lodged the Eiffel Tower's construction workers back in the 1880s. I wonder what they would have thought of the fabulous décor now, coated in white paint, holding pretty flowerpots and sablé shortbread cookies.
You'll be lured in to watch the chefs in full swing behind the enormous window, as they produce their exquisite pastries from chocolate-coffee Opéras, fruit tartlets, Chantilly-topped Rum Babas and savories, to vats of rising brioche dough from the chefs' lab, all in full scrumptious view behind the counter.  That's where the fun took place for our special macaron class.
Feeling immediately at home and, sporting our classy "Notre Pâtisserie" aprons, we were all raring to learn how to bake the very ultimate in French pastries, le macaron. Chef Rhedon began by taking us through the basics of "What is a macaron?", and I particularly loved his openness to all our questions during the afternoon.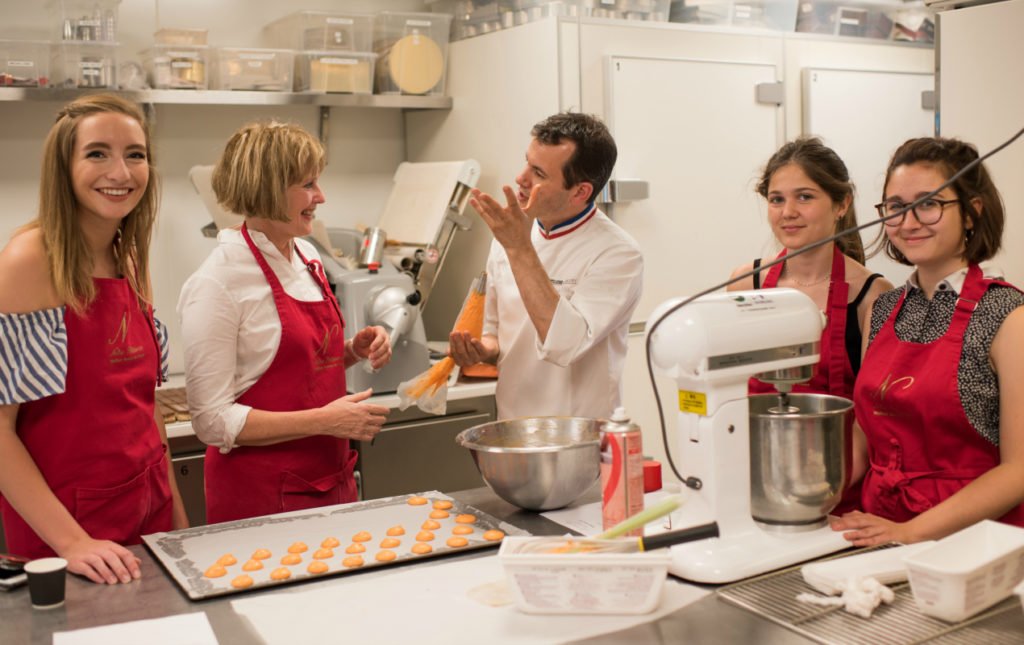 Wearing the highly coveted symbolic red, white & blue collar, Christophe has been a Meilleur Ouvrier de France – known as MOF – since 2007 (one of the best craftsmen in France in patisserie). One of the group asked if he was successful when competing for the championship first time or had to do it again four years later – to which he most modestly responded, "Thankfully, when you see what's painstakingly involved in achieving such a title, you'll only want to do it just the once!" He's a great teacher, so it's no surprise to discover that he has been a professeur de pâtisserie for the prestigious Lenôtre pastry school since 2001.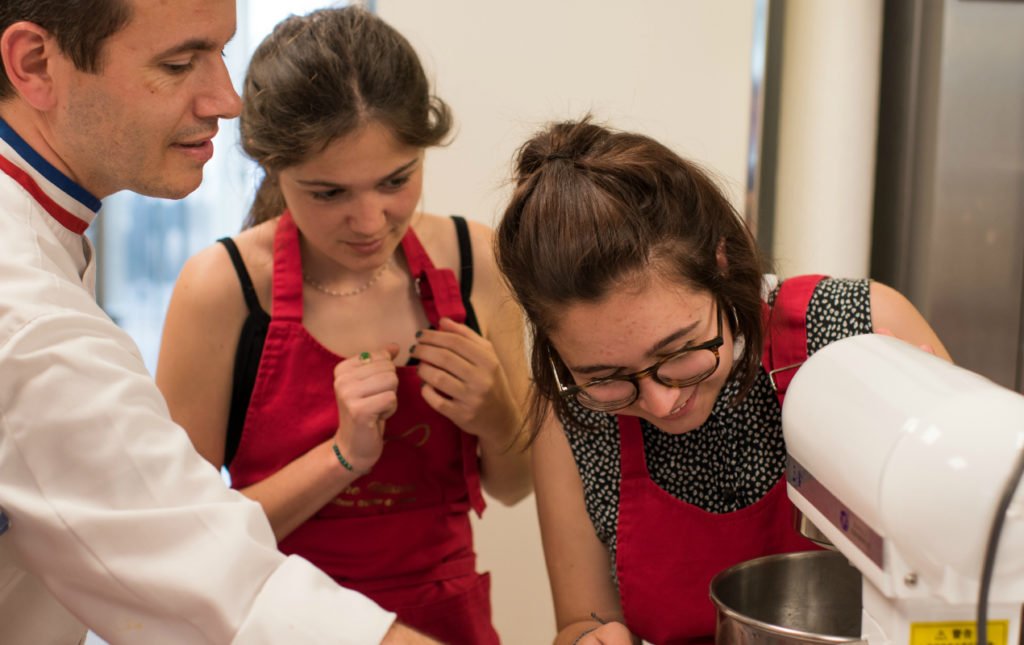 During the masterclass, Chef Rhedon not only demonstrates each precise step clearly, but when it's our turn to take to the spatula and giant bowl ourselves, he reminds us with mimed slow-motioned gestures that we simply need to repeat the stirring "like a machine".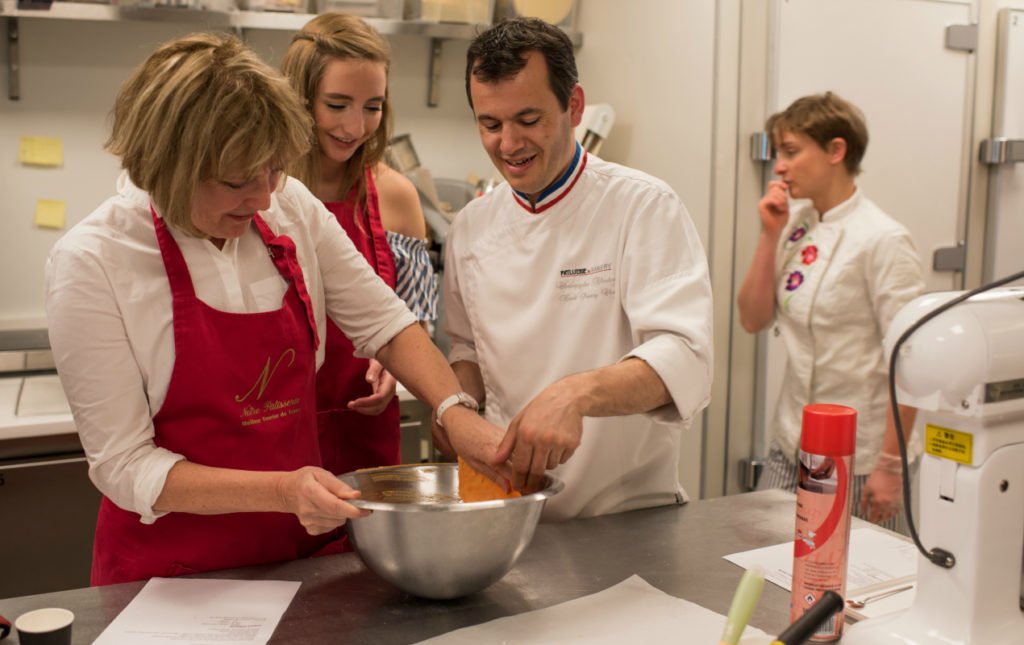 Likewise, when the piping bag moment arrives (most of the group hadn't used one before), we're reassured as he guides each one of us when to push in the batter, stop, and tail off. Push, stop, tail off…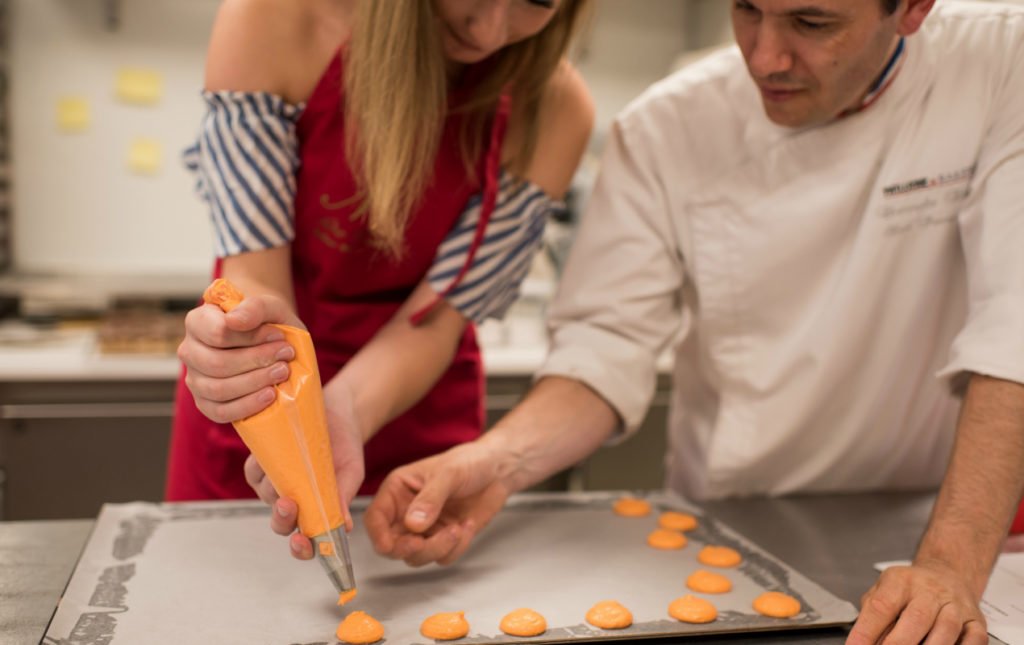 As we're perfecting our human macaron machine skills, we see the first batch rise before us in the giant oven. I still can't help wanting to jump up and down with a Macaron Dance as their pretty collared feet appear after the first 5 minutes.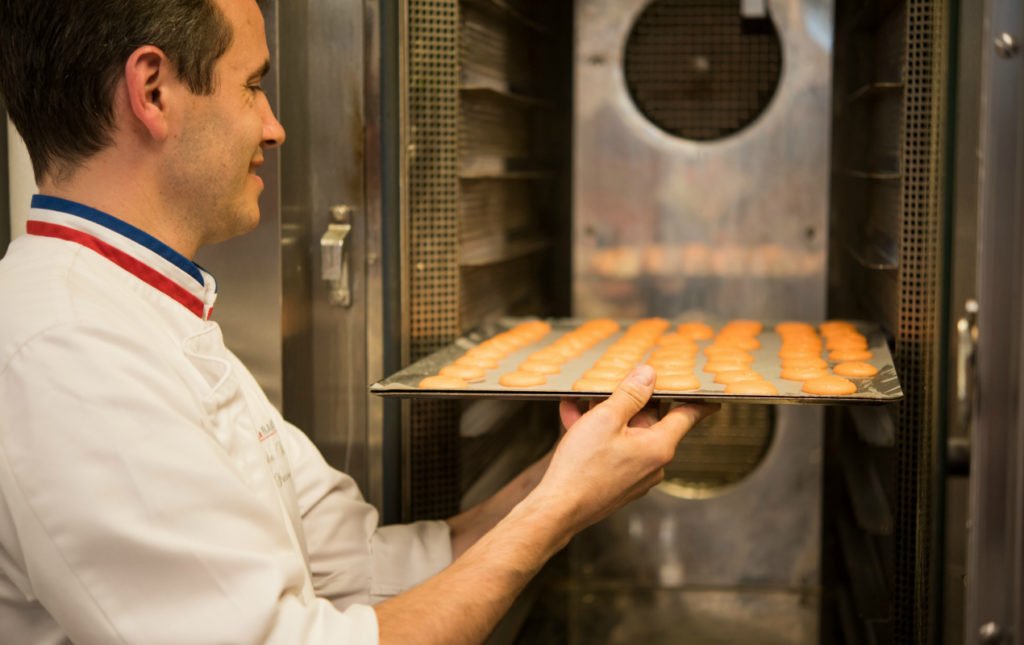 In no time, the filling is prepared and we're sandwiching the shells together like we've been doing this as a team for ages. What a production line!
In the space of just three hours, this King of Pastry not only managed to show six of us how to make the most perfect Parisian macarons complete with the tricks of the trade, but the experience was also most relaxed.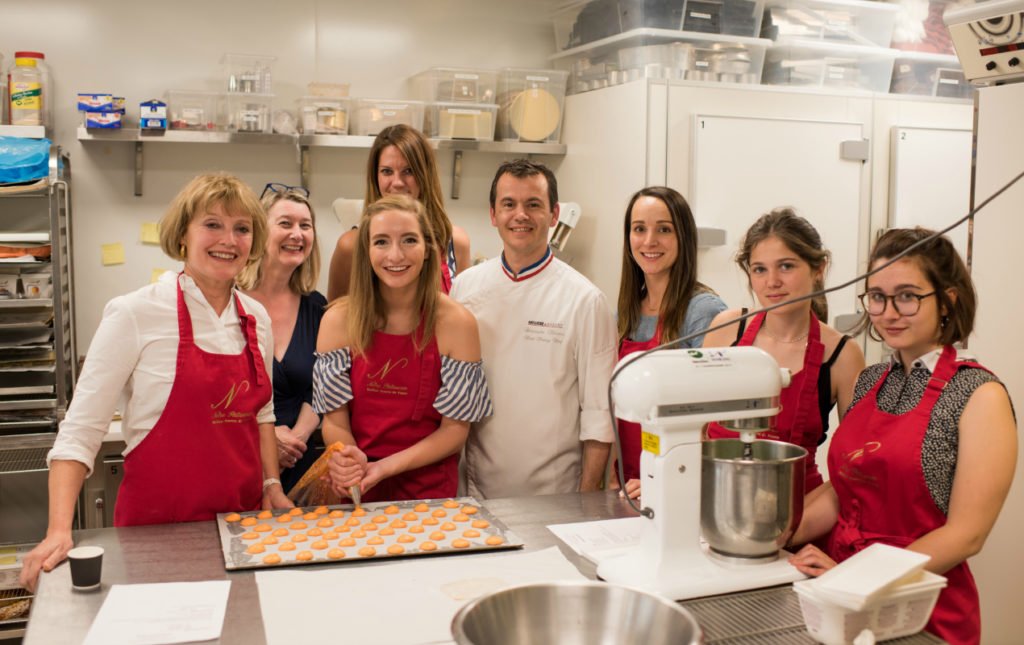 Pretty boxes of our macarons in hand, we left the most informative afternoon's class wanting to recreate the experience by making more at home tout de suite.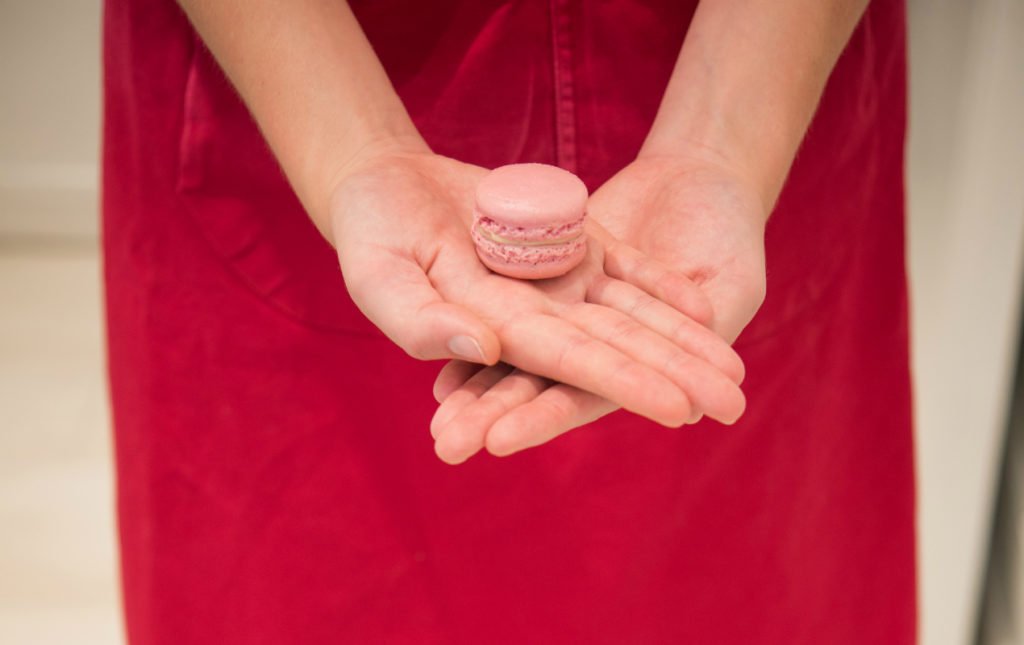 Everyone in the group was a keen amateur chef, but we had very varying levels of proficiency. I am totally "Mad About Macarons", and have lost count of how many times I have made them myself, but I could not have enjoyed this experience more and so enjoyed meeting Christophe and Francesca, and seeing them share their savoir-faire and passion with us all. Vive la France – et vive les macarons!
7 rue Amélie, 75007 Paris
Tuesday-Friday 8.30am-7.30pm
Saturday 9am-7.30pm; Sunday 9am-1pm (Closed Monday)
Weekly macaron classes from September 2017. For more details and to sign up for an exclusive session, please consult our website or contact [email protected]! Designed exclusively by Paris Perfect, our Gourmet Packages offer guests the unforgettable opportunity to work alongside top cooking professionals in their field to create memories of a lifetime. We can also help you select one of our stunning family vacation rentals, and with shopping, itineraries, tours, dining reservations, and customized private experiences! Email us today for more information.
Photos courtesy of Lindsey Kent & Michelle Waring