We were delighted when we recently launched Paris Perfect Gourmet Experiences and our handpicked cooking courses – to rave reviews. Watch this space over the forthcoming months for details of more exciting culinary courses to come, we have big plans. We're also thrilled to announce our latest partnership: it offers an irresistible opportunity to demystify the often-intimidating world of French wines. Our stellar Wine and Cheese Pairing class is a memorable experience that will allow you to take a little piece of France back home with you.
The Paris Perfect team was lucky enough to attend a class with Amber last week: read about it below and email us today to find out more or book your own private class. At only €75/person, it's guaranteed to delight any epicurean and a wonderful idea for Christmas gifting.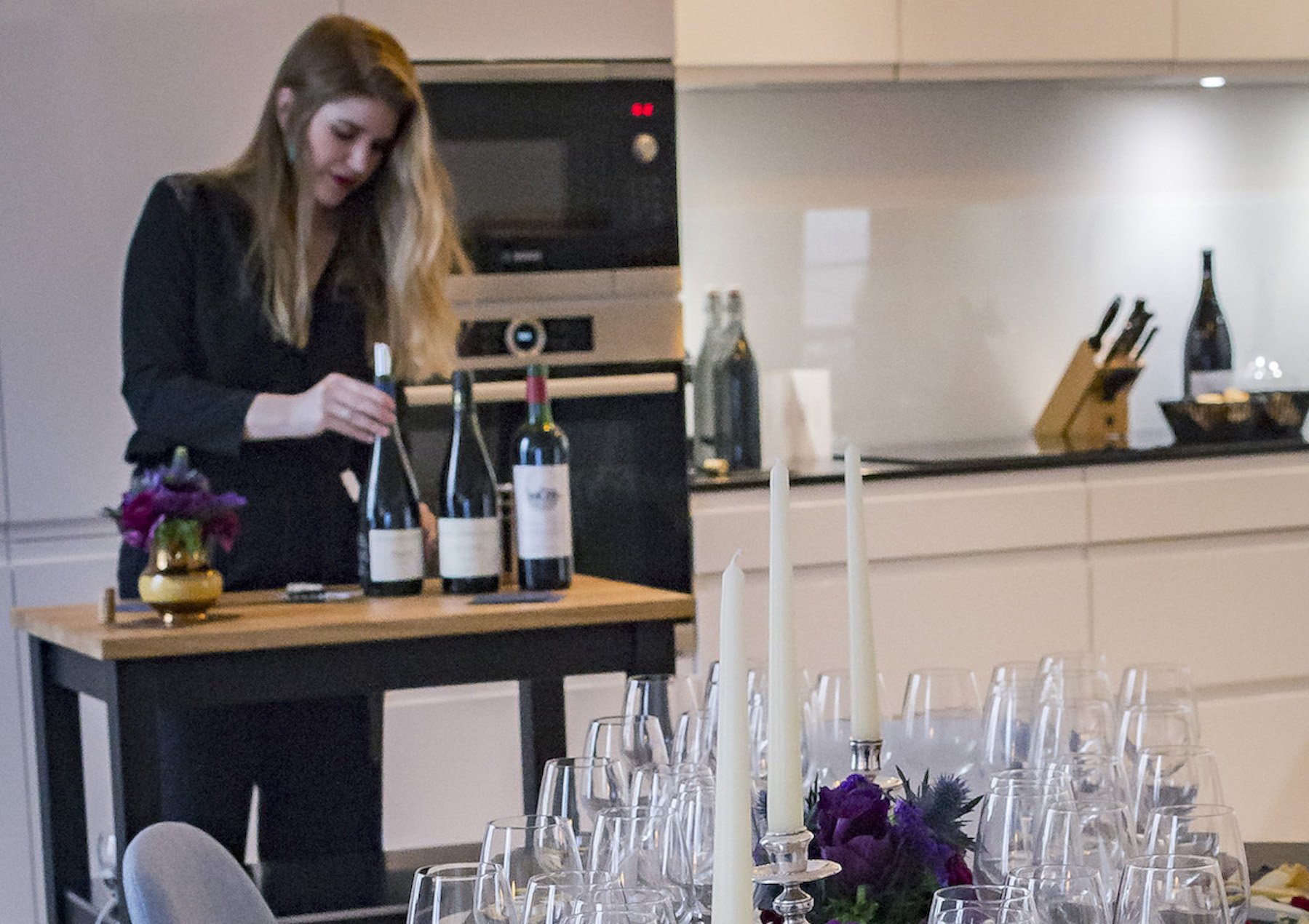 Photo credit: Adriana Parrilla Flores
Our review
Soft jazz welcomes us into the large open space, with a table elegantly laid for our party of four. It is a typical Parisian apartment situated near leafy Parc Montsouris in which we meet our host, Amber. A certified sommelier from the vineyards of Napa, California, Amber shares her handsome abode with her husband.
The interior is modern and beautifully curated; there are mixed roses and silver candlesticks lining the table. Each setting comprises six wine glasses arranged in a delicate half-crescent above a slate of regional cheeses. Bread baskets have been thoughtfully prepared with freshly-baked baguette. The individual wax-embossed menu cards to help guide us through the tasting are a thoughtful touch.
"There are plenty of wine tastings available in Paris," Amber admits, "but they're often relatively informal and might not include food pairings. I'm trying to offer something different, something bespoke. I wanted to create a high-end gourmet experience which guests will remember as a highlight of their trip."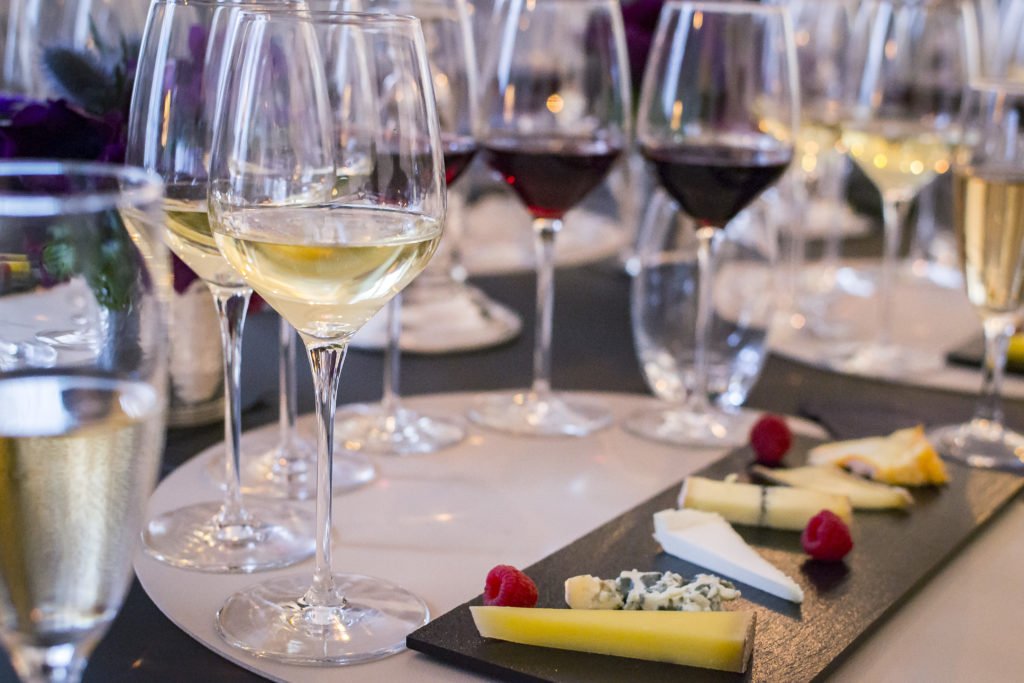 Photo credit: Adriana Parrilla Flores
Amber's story
Originally from South Dakota, Amber relocated to Napa Valley in 2012, after graduating with a Master's degree in Chemistry. As a former bartender and waitress for many years, she realized her love of wine as the perfect blend between science and hospitality. Now settled and living in Paris with her husband – a French restaurateur – Amber is the ideal guide. Expertly well-informed yet sympathetically-positioned to explain the complexities of French wine, she fields questions from the connoisseur and novice alike. "French wine is very technical," she explains. "There is a focus on regions instead of varietals which can seem overwhelming at first, but the geography is integral to the tradition."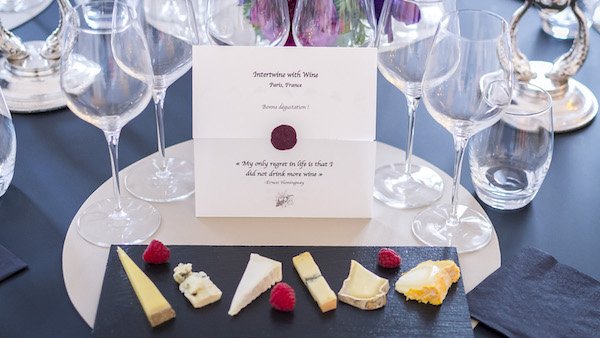 Photo credit: Adriana Parrilla Flores
The art of pairing French cheese and wine
Following a brief lesson in the history of French wine (and the science behind it), we begin our tasting. We start with a requisite santé over a glass of Deutz Classic Brut. This is paired with a subtly soft, crumbly and salty red-mould Langres: the perfect foil for Champagne. Next, we move on to a pale Riesling from Alsace, which is complemented by a delicious nutty Comté from the same region. "It's simple, pair local wine with local food," we learn.
After the Riesling, is a classic combination of white Sancerre and Selles-sur-Cher: a creamy chèvre which offsets notes of citrus and lemongrass to perfection. Then, we're onto the reds with a well-balanced pairing of Gamay Beaujolais and mellow Brie de Meaux. This is followed by a classic Côtes du Rhone. The latter is more full-bodied and is paired with a smooth Saint-Nectaire cheese. It has a pungent earthiness to it that picks up the minerality of the wine. The final red, a deep full-bodied Pomerol from Bordeaux, is heavy on the palate. It teams beautifully with a deliciously fatty Saint Albray.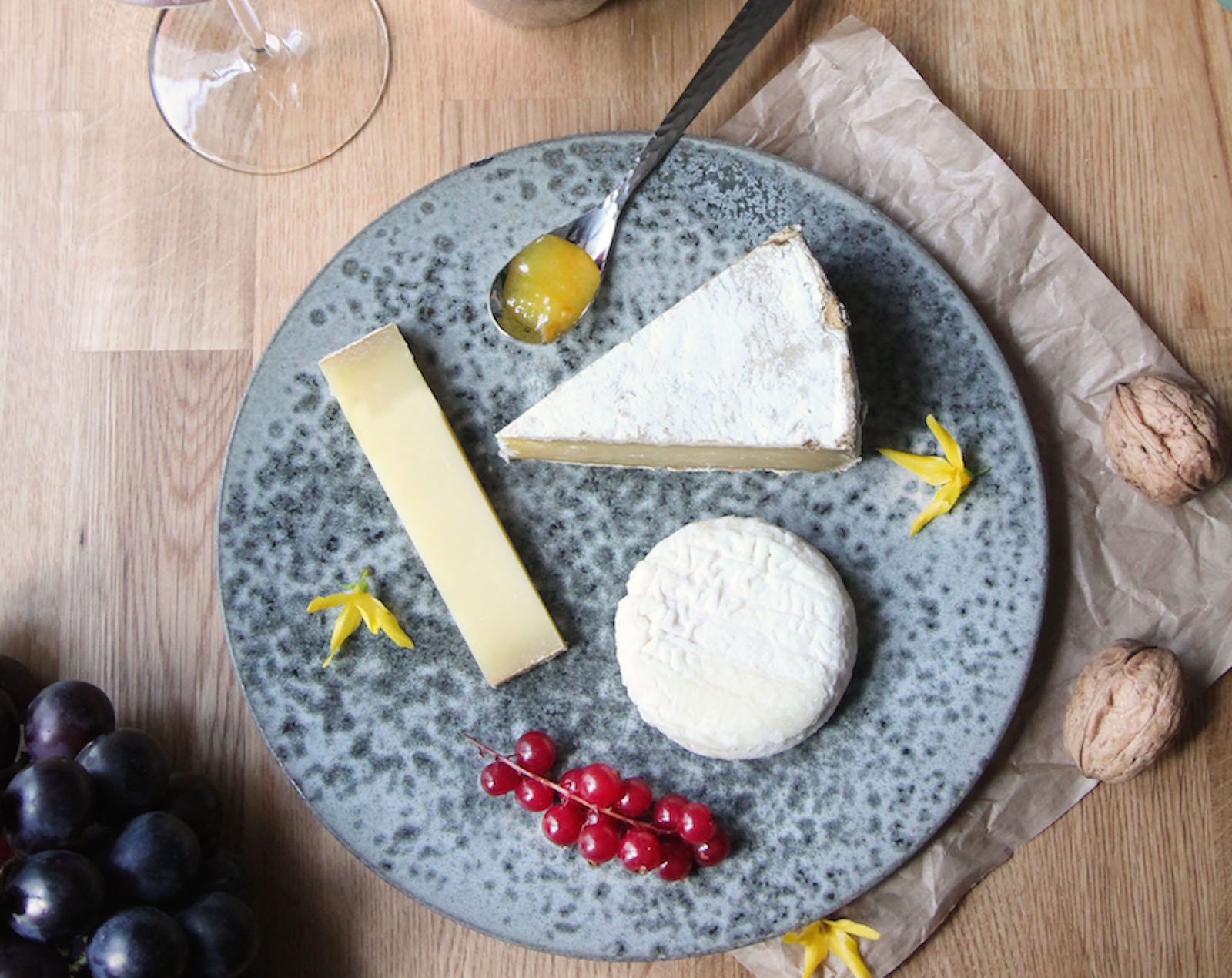 Photo credit: Etta Vee
A perfect ending
Six glasses and two hours later, we round things off with a glass of Loupiac: a dessert wine from Bordeaux. Paired with salty Roquefort cheese it cuts right through the sweetness. This is the first occasion Amber has used dessert wine in one of her tastings. She's keen to introduce more of them as we approach the holiday season. Perhaps, a festive glass of mahogany-coloured Banyuls or honeyed Sauternes? Heaven can wait.
Our intimate, informative and top quality Wine and Cheese Pairing class is a fabulous gourmet tasting experience. It can be customized and personalized to suit your needs. The location is flexible and tastings may even be hosted from the comfort of your Paris Perfect apartment. Various group sizes can be accommodated, making it the perfect celebration for any special event from birthdays to girlfriend getaways. Dietary requirements may also be accommodated through alternative pairings with chocolate or fruit. Prices start from a very reasonable €75 per person. Read more details on our website or email our Travel Design team at [email protected] to book your class today.