A perfect île flottante: a chewy meringue mountain meets a crème anglaise river.
Looking for a charming Parisian café serving mouth-watering classic French fare? Café Constant ticks those boxes and so much more. After hearing top-notch reviews about Café Constant from our guests and my Paris Perfect colleagues, I just had to try it. It looked like a cozy and cheerful destination for a leisurely lunch with my mum, on her latest trip to visit me in Paris.
Some of our magnificent apartments are located in the vicinity if you are planning on sampling Paris's gastronomic assets. For those that prefer a more guided food tour, try one of our Gourmet Experiences. There's also a varied selection of cookery classes to embark on.
Mum and daughter bonding.
First impressions: Café Constant
We arrived at the beginning of the lunch service on a Thursday. It was mid-September and were quickly seated at a little table upstairs. The first thing my mum and I remarked on was that the tables were all comfortably spaced, unlike a lot of Parisian cafés. It allowed us a little extra privacy during our meal.
We were then given our menus: mine in French, and my mum's in perfect English. After browsing, we decided to order from the set menu. We sincerely struggled to pick just one choice for our entrées, mains, and desserts, we even agreed to swap each dish halfway through, so we could taste everything!
To start
For the entrée (or starter for Americans) I ordered the artichoke salad. My mum decided on the pumpkin soup. The artichoke salad featured the most delicious artichoke hearts I have ever eaten. They were freshly steamed, coated in a light vinaigrette and served with mushrooms, croutons, and fresh lettuce.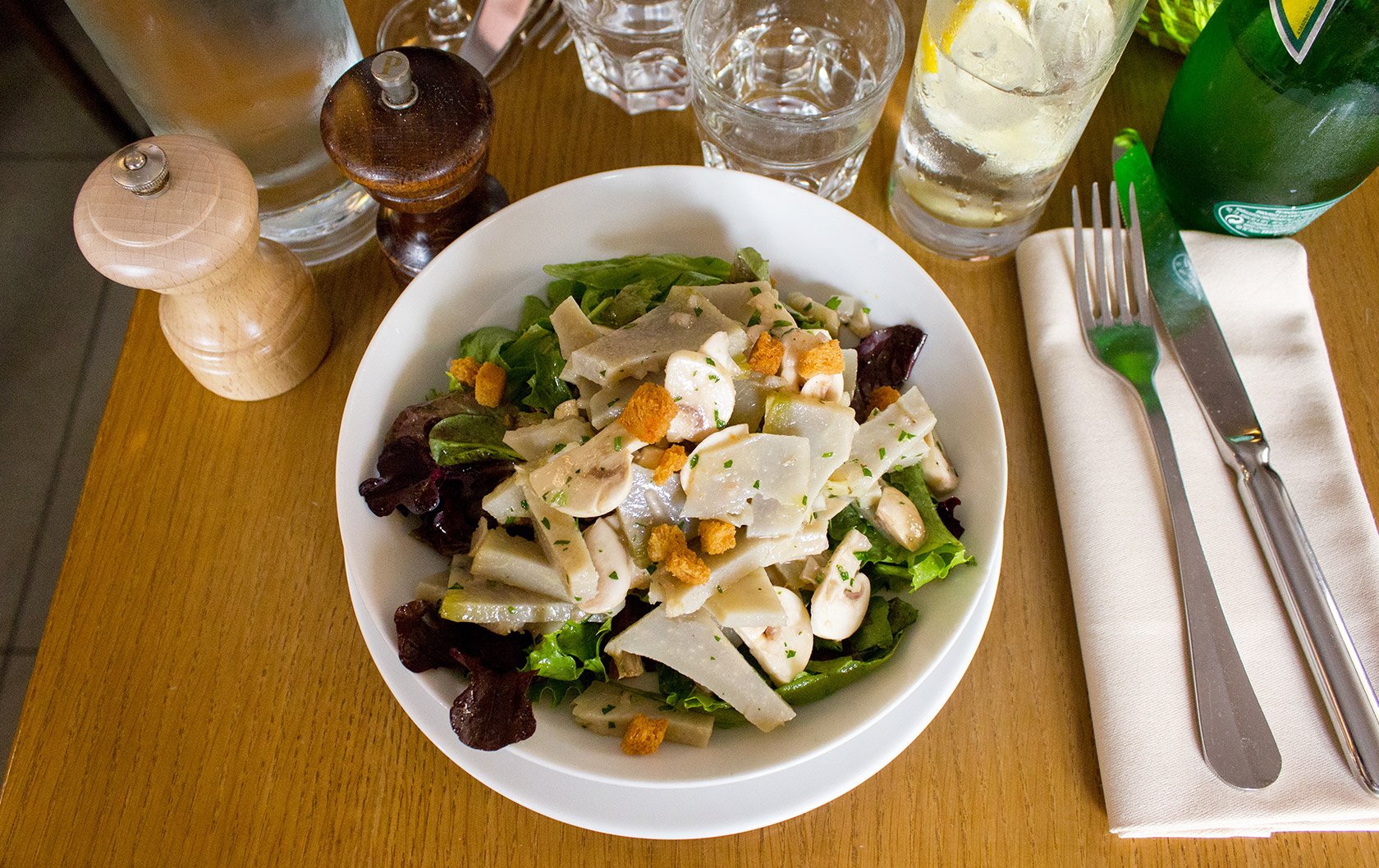 The toothsome artichoke salad.
My mum's soup featured classic French pumpkin blended with chestnuts. The server then poured the warm soup over a sprinkling of Gruyère cheese and crunchy croutons. I was delighted we decided to share our meals, as the soup was warming and velvety-smooth and the cheesy croutons were tasty.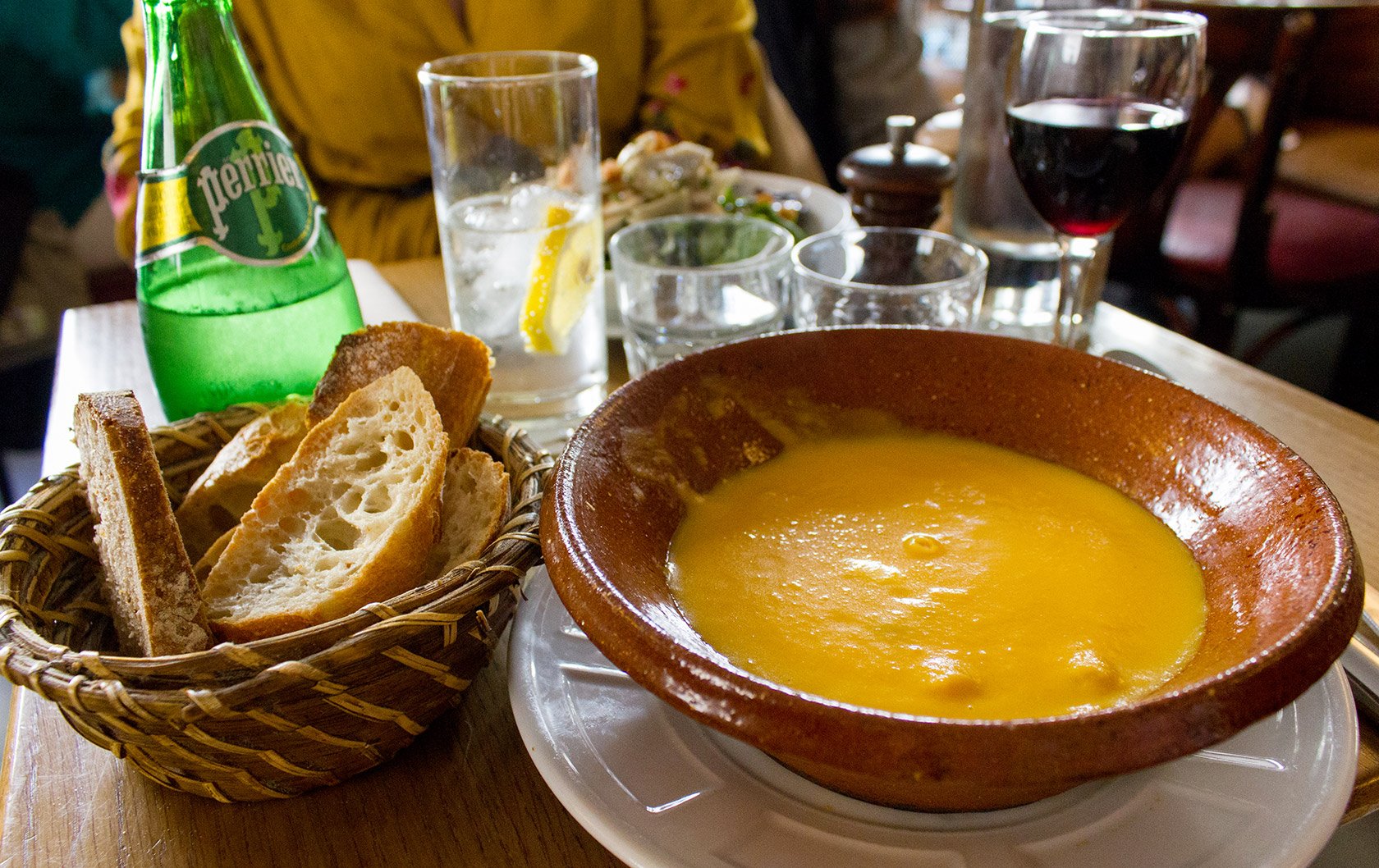 French pumpkin soup with Gruyère cheese.
The main event
For my main, I chose the joue de boeuf, a French beef stew served with potatoes and carrots. I'm not the biggest meat-eater, to be honest, but it was fork-tender and just perfect. It fell apart as I scooped it up, and it was flavorful with the beefy gravy. As one of the heavier dishes on the menu, there was ample to share and we polished it off.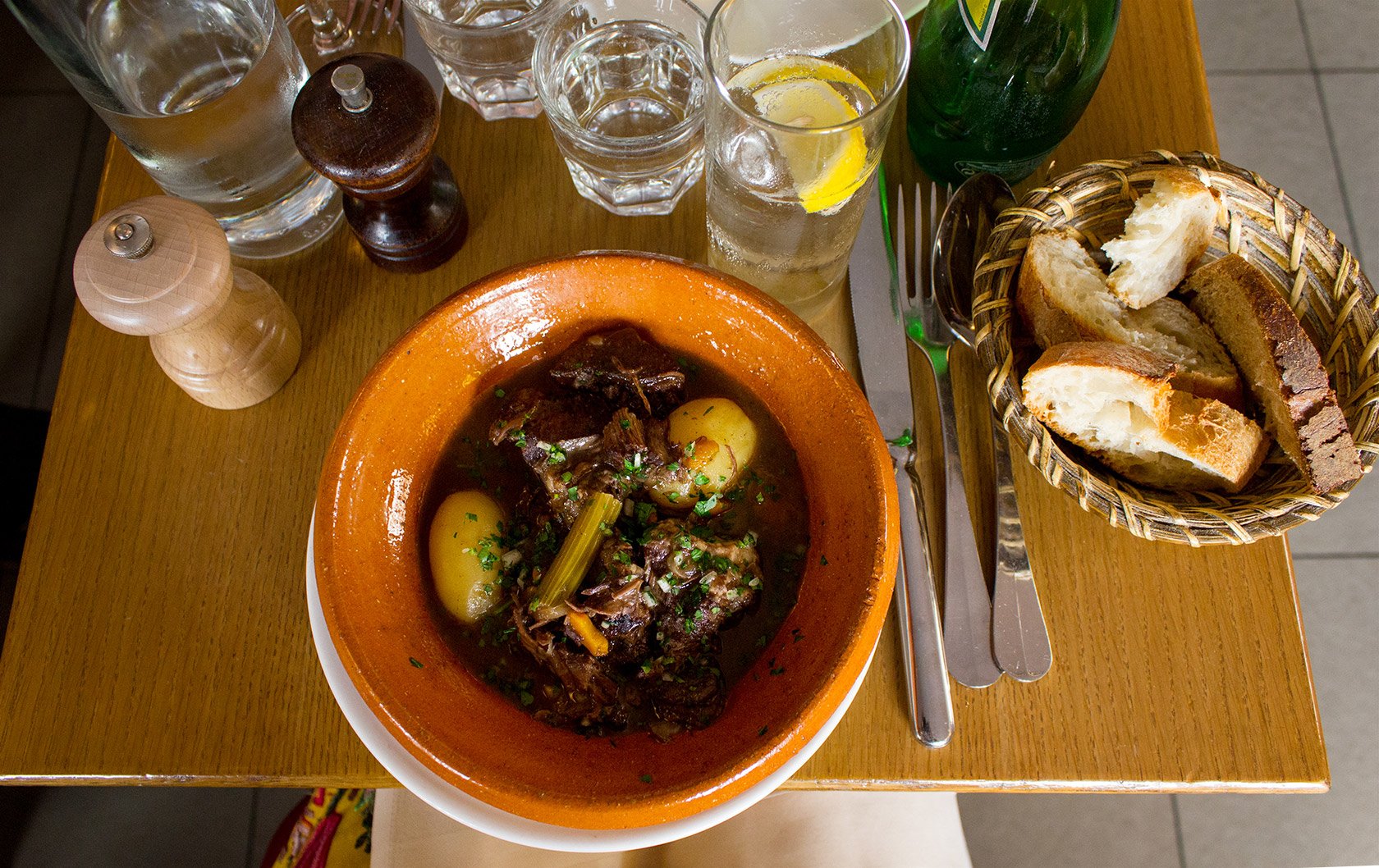 A bowl of delightfully fork-tender beef stew.
My mum ordered the roasted farm-raised chicken with mushrooms, bacon, and onion. It was cooked in a luscious herbed butter. The chicken was juicy and delectable: it was paired with a robust Bordeaux wine that complemented it well.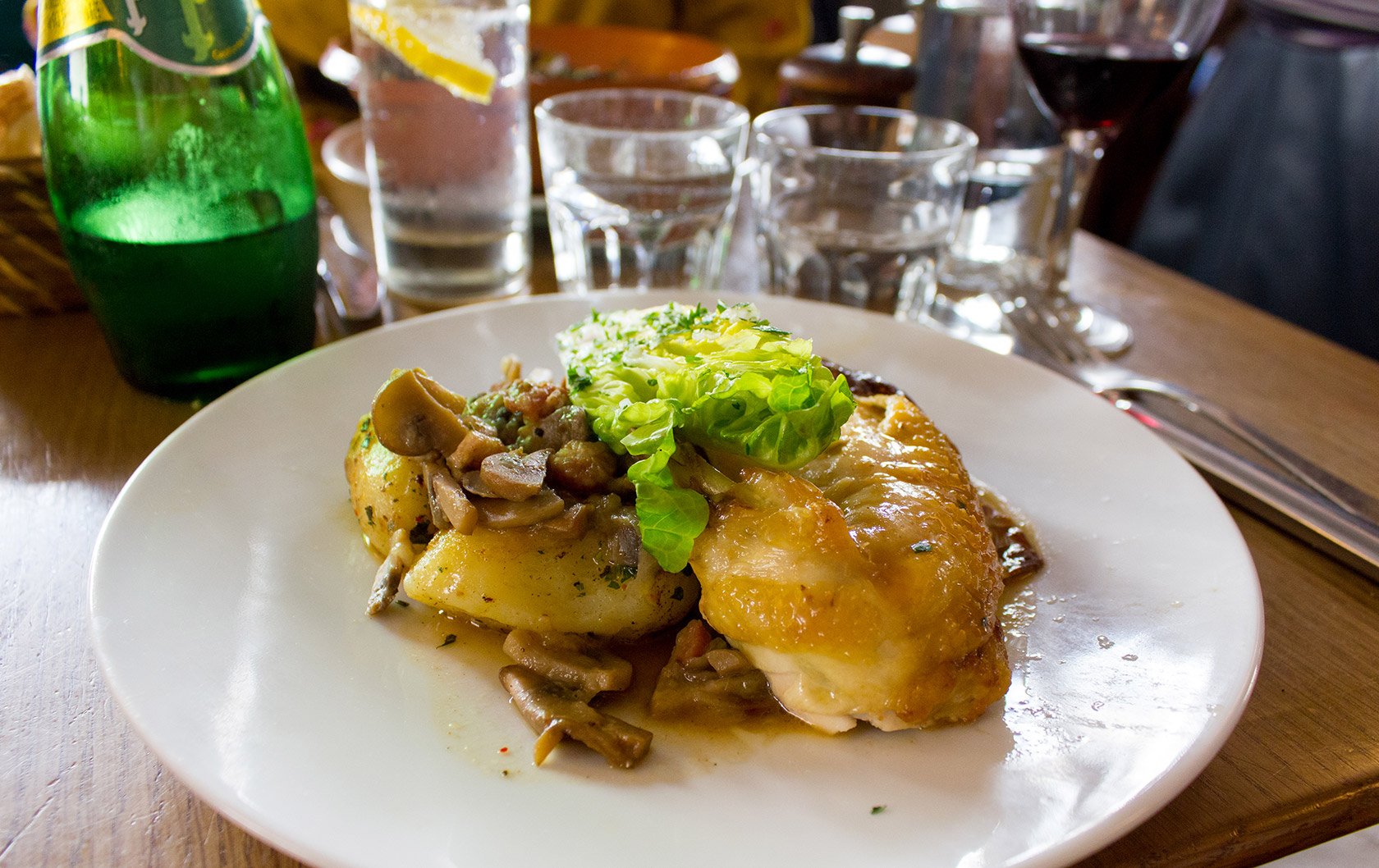 Delectable chicken in a fragrant herb butter.
Sweet treats
I have a huge sweet tooth – so I placed both dessert order – knowing that I would most likely have the lion's share of both! I tried the chocolate quenelles, a rich chocolate mousse served with a light and dreamy custard known as crème anglaise (or English cream). The dish was quite dense, but the delicate custard balanced it out and I was surprised how easily we finished it.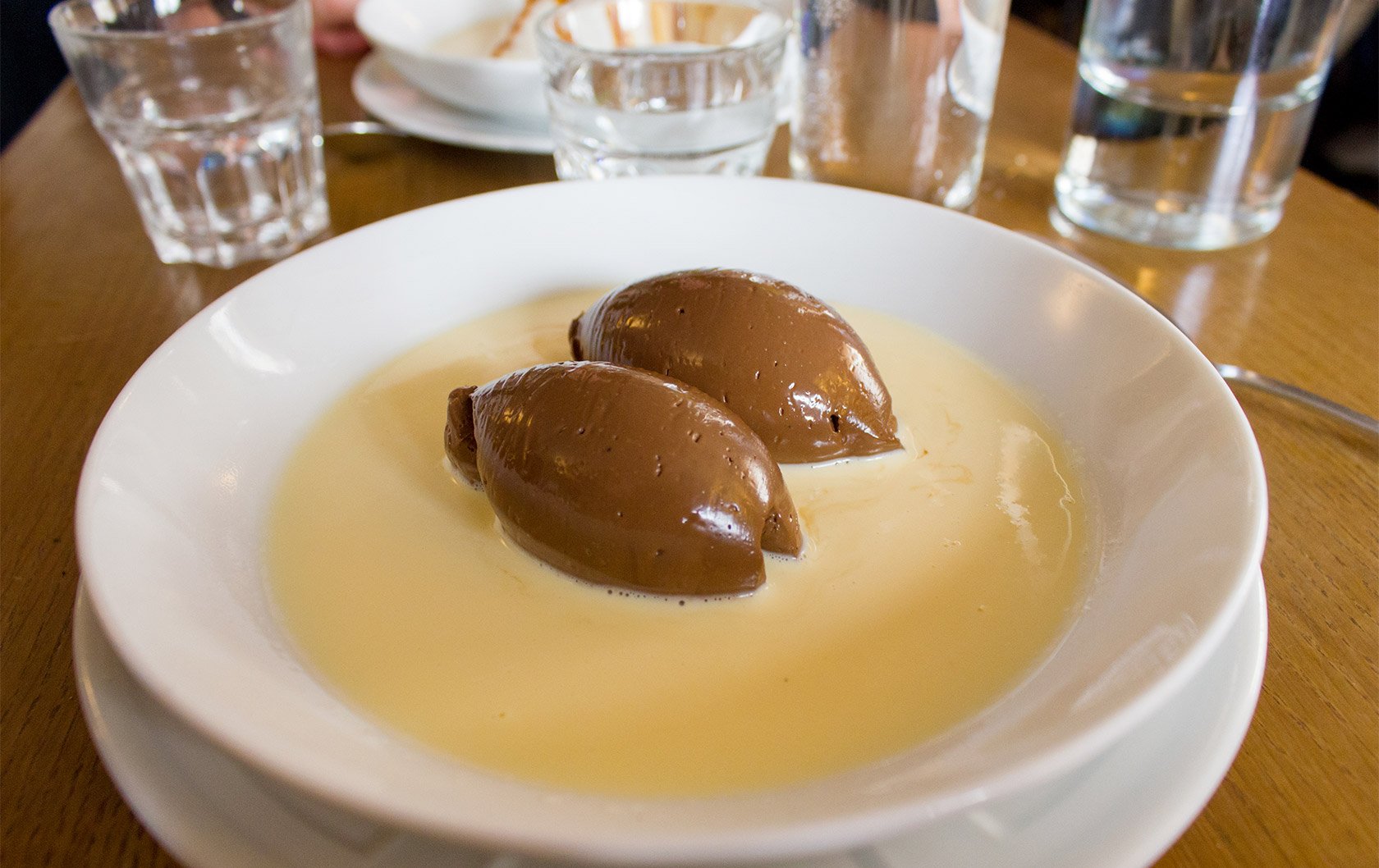 The rich and oh-so-decadent chocolate mousse. 
I insisted that my mum order the île flottante as it is one of my favorite French desserts (see photo above) and it was a lighter choice to pair with the quenelles. It's a chewy meringue dome served in crème anglaise and this version was topped with a drizzle of salted caramel and toasted almonds. It was a little sweet for my mum, but I loved it.
Our verdict?
The food was outstanding and very reasonably priced. The fixed menu is €36 per person: wine or coffee is not included but can be added. The total bill was under €100. All of the ingredients were carefully sourced and the vision of the chef was present on every single plate.
Chef Christian Constant has two other notable restaurants along pretty Rue Saint Dominique in the 7th arrondissement. He also helms the fine dining restaurant Le Violon d'Ingres and an upscale casserole restaurant Les Cocottes.  No reservations are required for Café Constant, however at Paris Perfect, we have a great relationship with Maison Constant, so we can make reservations for Les Cocottes and Le Violon d'Ingres upon request.
Michelle and her mum.
Read our blog post about Rue Saint-Dominique to discover more about this alluring shopping and dining street.
Photos: Hannah Wilson & Michelle Waring