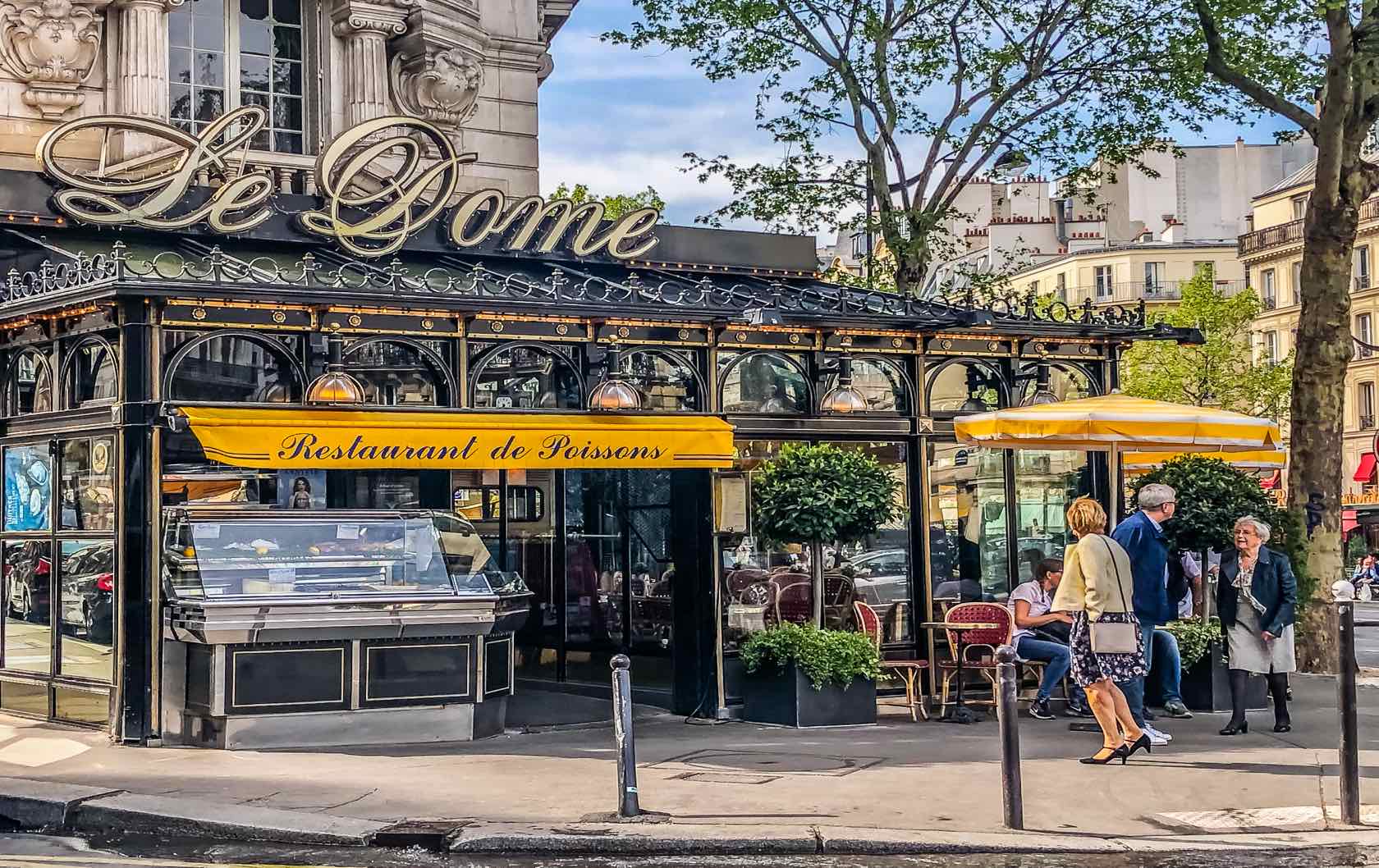 Montparnasse flies under the radar, but this vibrant, authentic neighborhood, once flocked with artists and writers, retains many reminders of its bohemian past. On the Left Bank of the river Seine, it boasts cultural sights, foodie streets and leafy parks. Skyscraper Tour Montparnasse and Gare Montparnasse station are well known. But there's much more to this thriving, effervescent quarter, as our Montparnasse guide shows. Brimming with iconic bistros and cafés, it's still alive with the free-spirited buzz of the Roaring Twenties. Use our Montparnasse guide to explore Paris' rich history in a district loved by locals.
The Perfect Montparnasse Guide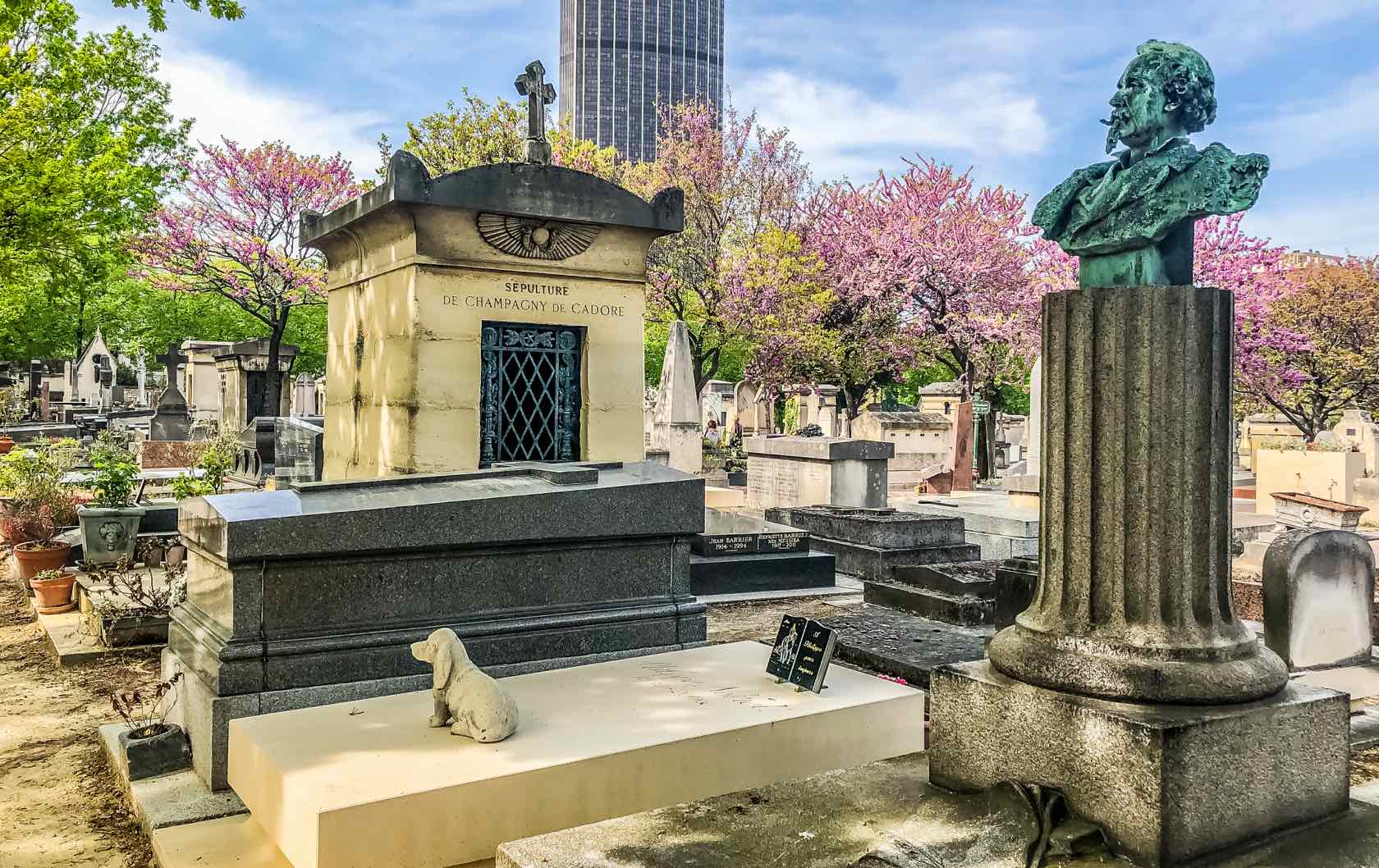 Historic Neighborhood
Montparnasse's traditional cafés, bars and bistros were frequented by some of the 20th century's greatest creative talents. Jean-Paul Sartre, Simone de Beauvoir, Ernest Hemingway, Henry Miller, Pablo Picasso, James Joyce and Man Ray all hung out in this once cheap and gritty quarter. Speakeasies such as Rosebud (11 rue Delambre) were regular haunts. Take a walk in peaceful Montparnasse Cemetery, where Sartre, Irish writer Samuel Beckett and other world-famous names are buried.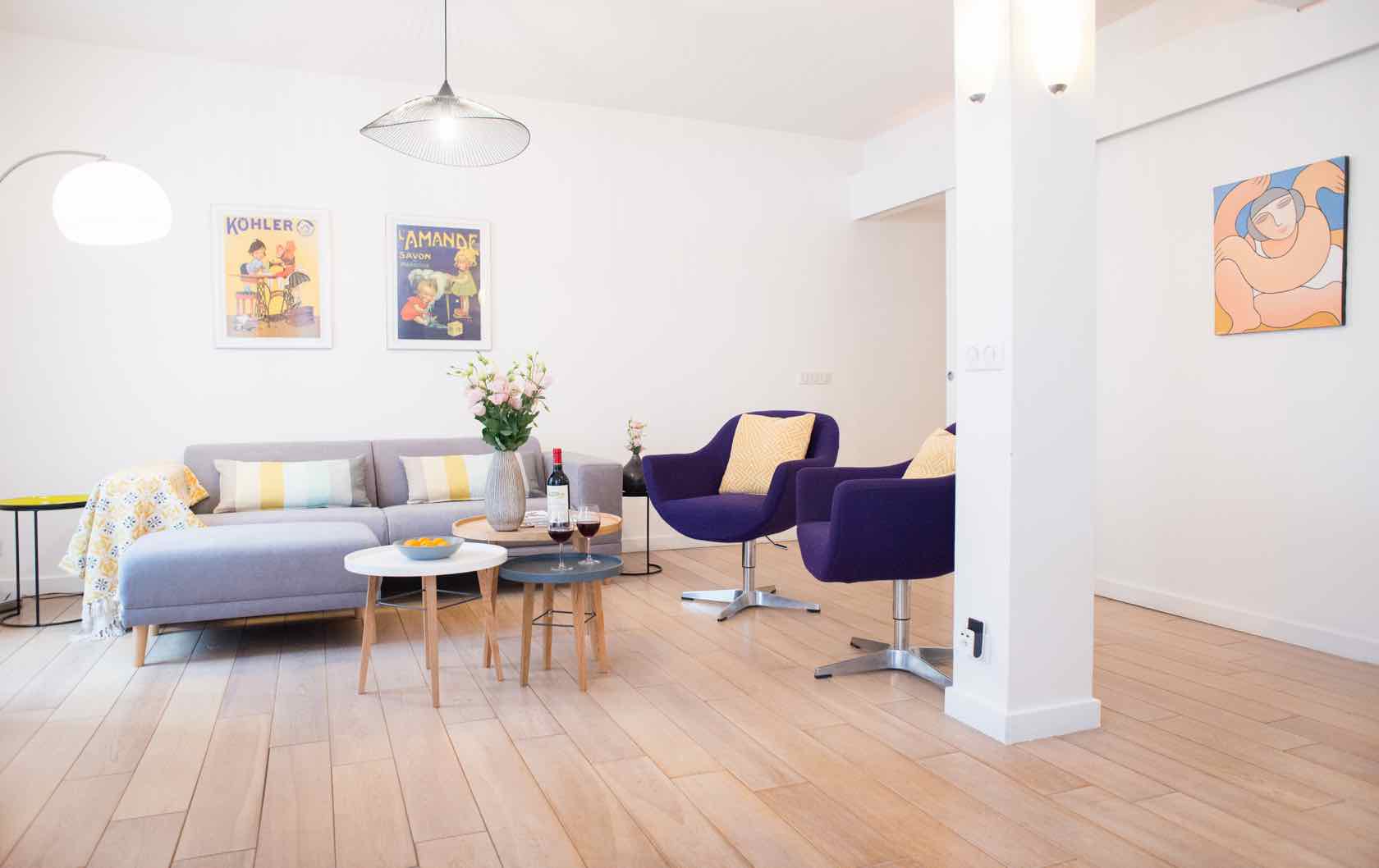 Bargain Location
South of the city center, Montparnasse falls mainly in the 14th arrondissement around the boulevard du Montparnasse. However, it borders the chic 6th and 7th districts, just to the north, handy for designer shopping. Think department store Le Bon Marché and gourmet La Grande Épicerie! Savvy travelers can enjoy a less expensive holiday in Montparnasse, as Paris Perfect's value rentals here prove.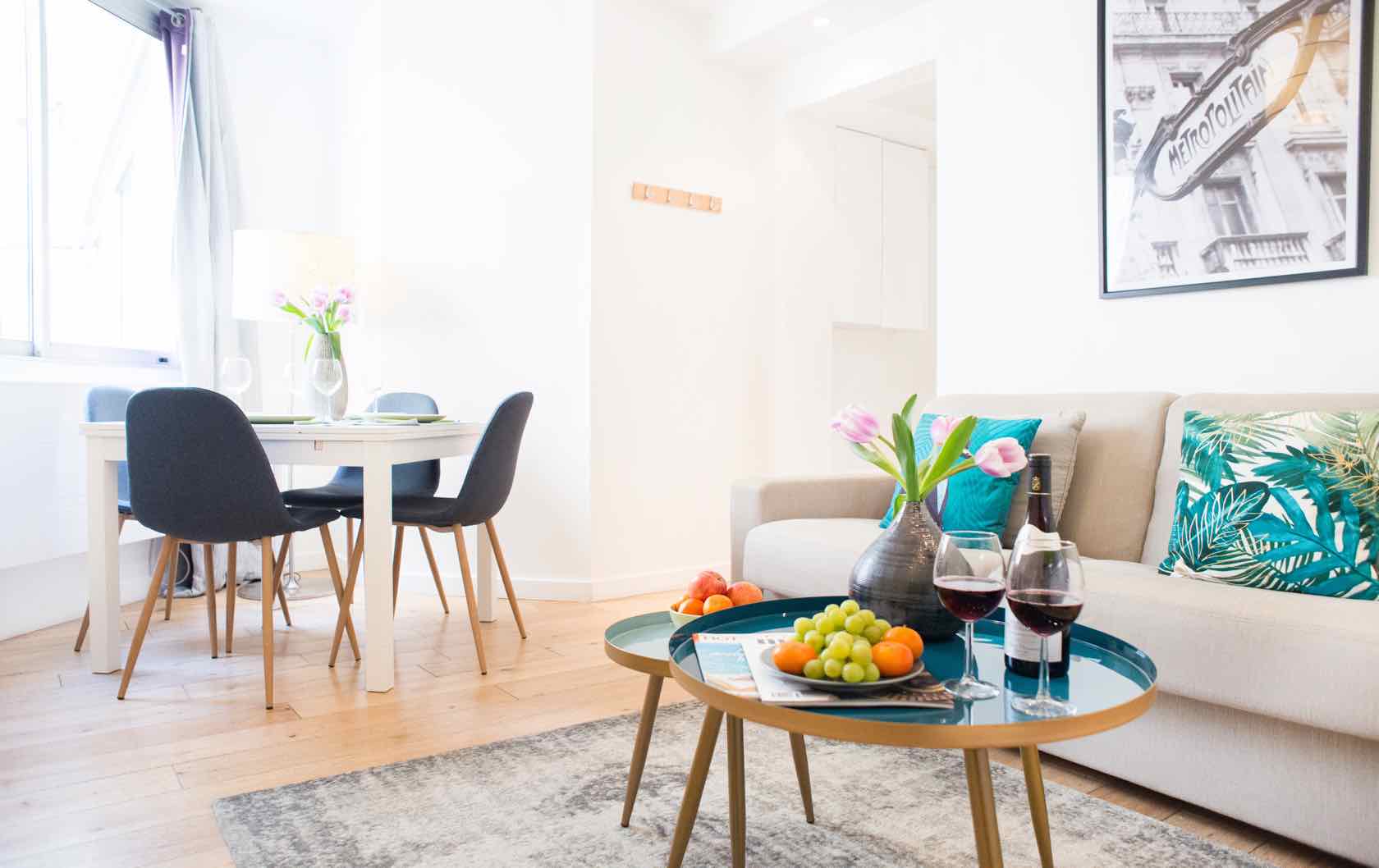 Sleep in Montparnasse
Rent our one-bedroom apartment Quincy that sleeps five, while sleek two-bed stay Aloxe sleeps five. Both great-value getaways share the same building, so suit groups. Give our team a call at 1-888-520-2087 from the USA or email [email protected]. We'll get your Montparnasse pad reserved!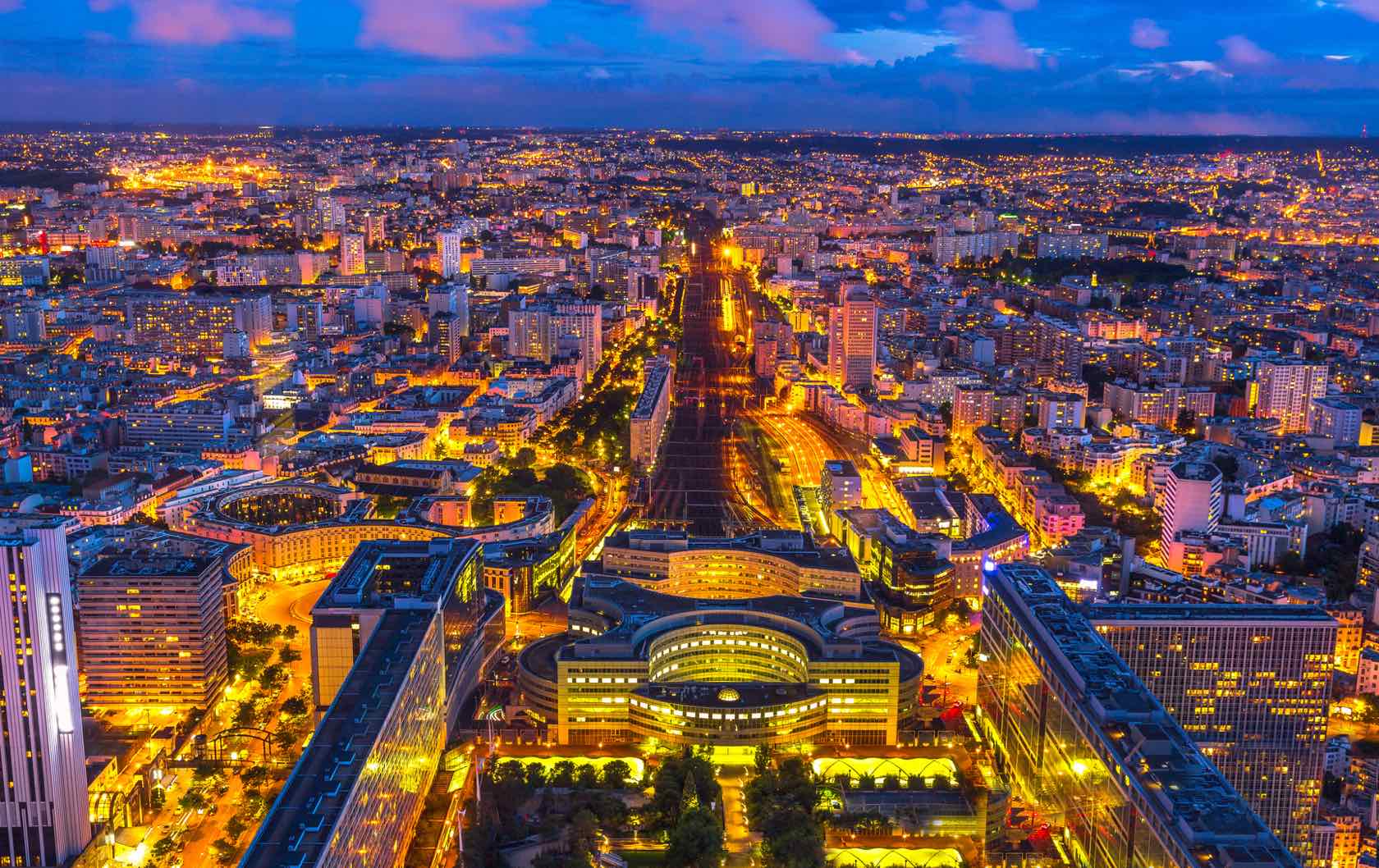 Heavenly Views 
Our Montparnasse guide kicks off with a trip up Montparnasse Tower for 360 degree Paris panoramas. It's a quick way to get orientated and Tour Montparnasse's 59th-floor Observation Deck boasts dazzling Eiffel Tower views. Rather than looking out from the Eiffel Tower, you can gaze straight at it – arguably the best view in Paris! You can even sip Champagne at the top, ideal for when Eiffel lights up hourly come evening.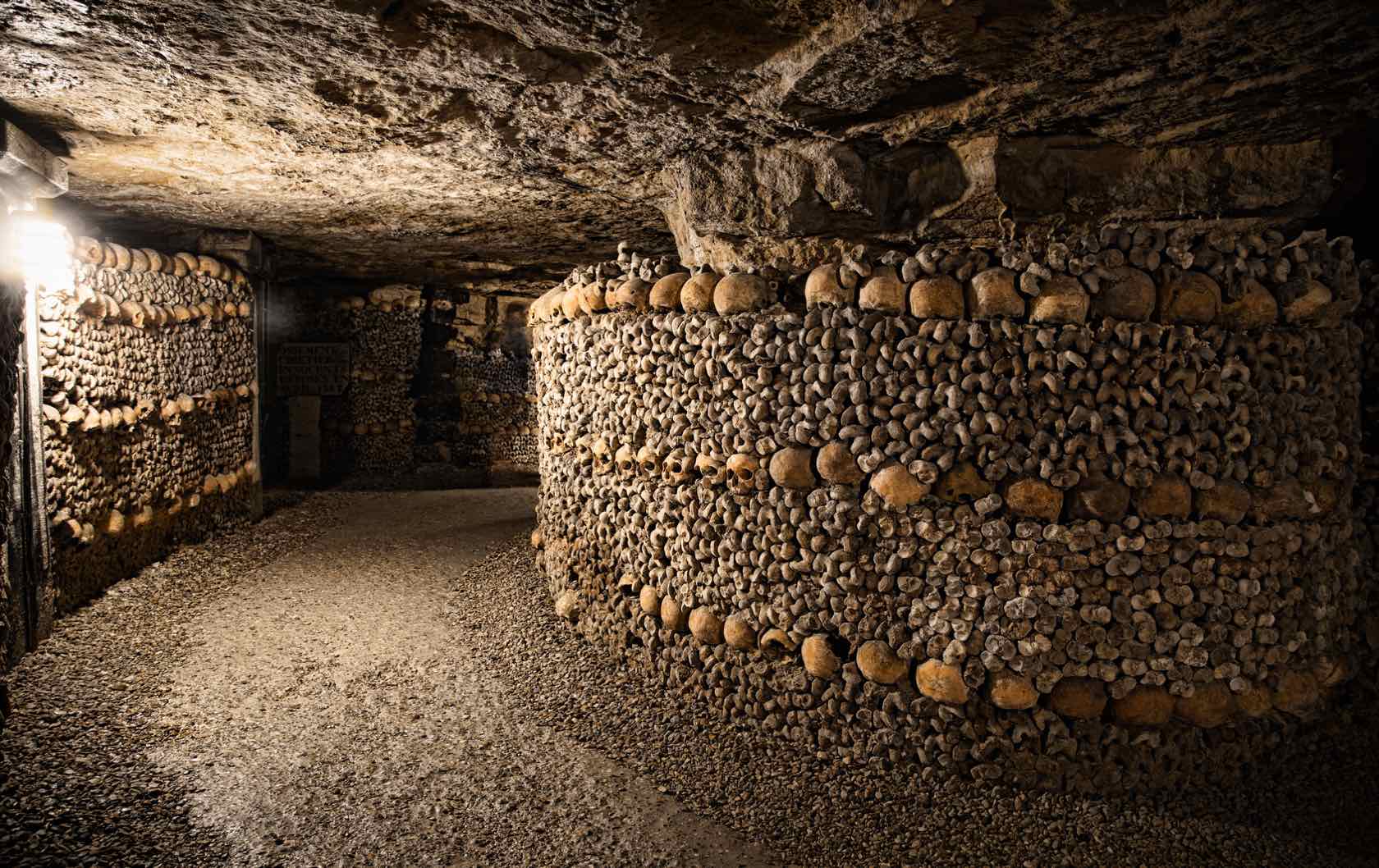 Underground Haunt
No Montparnasse guide is complete without recommending a journey into The Paris Catacombs, a spooky labyrinth of underground tunnels. History buffs can wander this 20-metre-deep maze, consecrated in 1786, which contains the bones of millions of Parisians.
Culture Hit
Get your culture fix at Fondation Cartier in the 14th. By French architect Jean Nouvel, its stunning glassy structure is all clean lines and cloudy reflections. See a contemporary art, design or photography show, or just relax at the kiosk café in the gorgeous garden.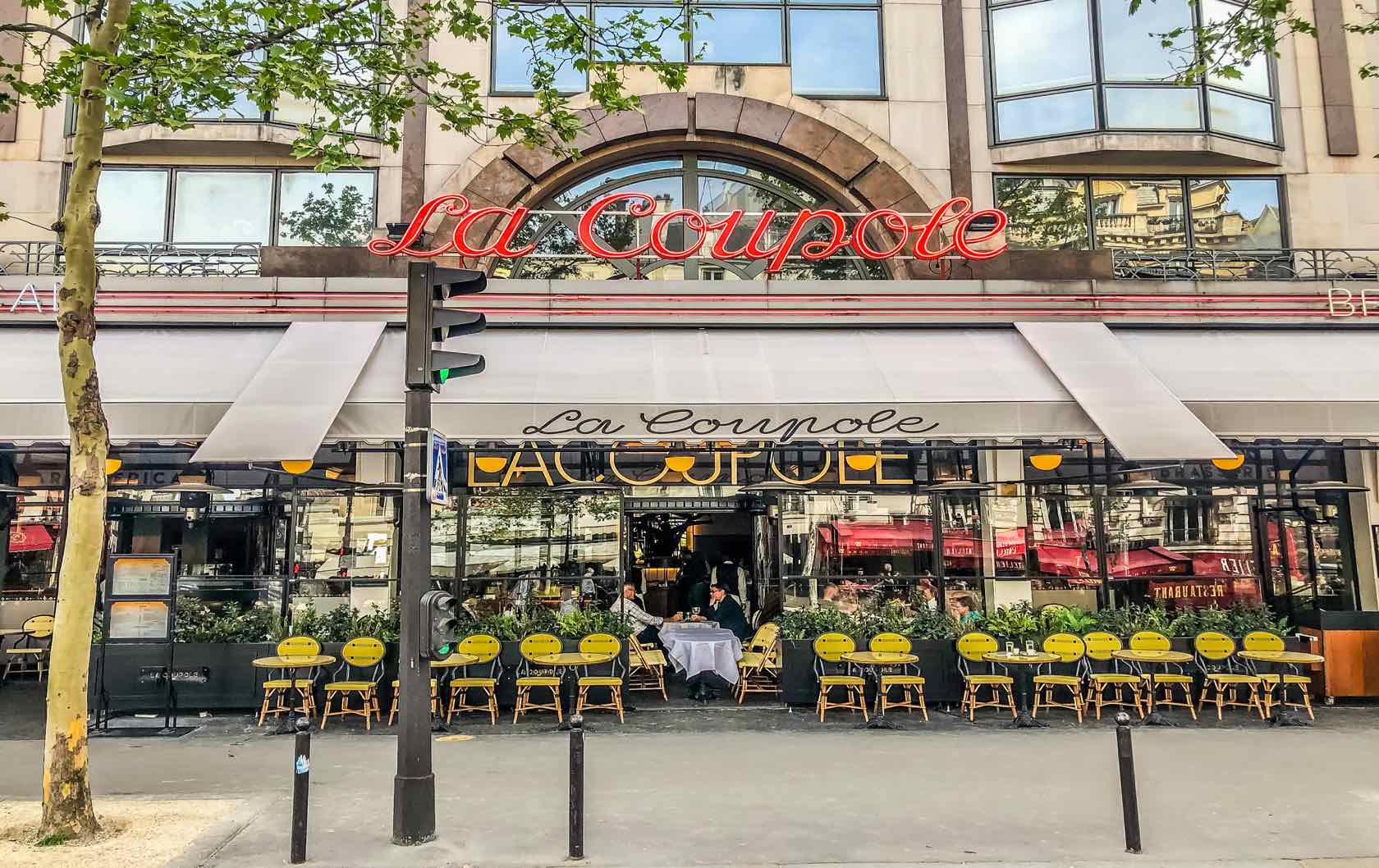 Famous Brasseries
Montparnasse's legendary hangouts have maintained their retro charm. Travel back to the Twenties at classic French brasserie La Coupole (102 boulevard du Montparnasse), elegantly decorated in Art Deco style. Le Dôme café (108), founded in 1897 and once popular with Anglo-American literati, is now an upscale fish bistro. French restaurant, brasserie and piano bar La Closerie des Lilas (171), dating from 1847, has welcomed Fitzgerald, Hemingway, Dali and Jagger.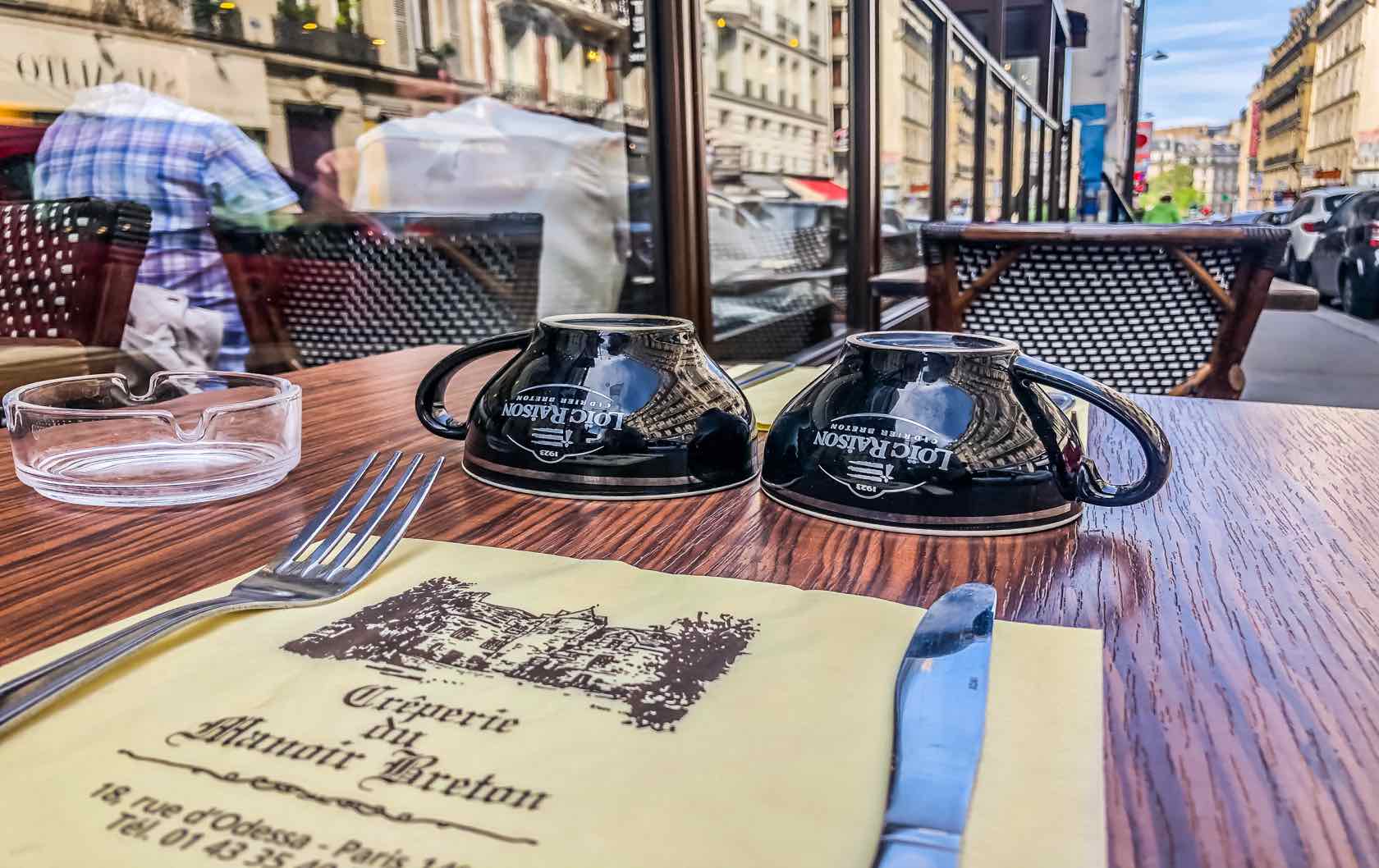 Foodie Finds
Grab a traditional Breton-style crêpe from the authentic crêperies lining rue du Montparnasse. Open-air market Marché Edgar Quinet nearby offers delicious fresh produce and hot food. For another tempting eat street, head to rue de la Butte aux Cailles, just east of Montparnasse in the 13th. It hosts French bistrot Le Temps des Cerises (18-20). L'Oisive Thé (8) serves tea and cakes. Nearby rue des Cinq Diamants is home to budget-friendly Basque restaurant Chez Gladines (30). Hilly area Butte-aux-Cailles has a verdant village vibe, with cobbled streets, Art Deco buildings and old villas. A fast-gentrifying working class neighborhood, it's an insider secret. Wander place Paul Verlaine, rue Daviel and villa Daviel. Cool off at Art Nouveau pool Piscine de la Butte aux Cailles.
Glorious Gardens
For a chilled-out afternoon, stroll the 6th's lovely Luxembourg Garden. This free, 61-acre public space is close to Paris Perfect's Montparnasse vacation apartments. A 17th-century park, Jardin du Luxembourg features French- and English-style formal gardens, statues, fountains and lakes. At the southern end, linear Jardin des Grands Explorateurs is pretty for picnics. Palais du Luxembourg makes for grand souvenir snaps. Paris' beautiful botanic gardens, the 69-acre Jardin des Plantes, is in the 5th nearby, with a small zoo.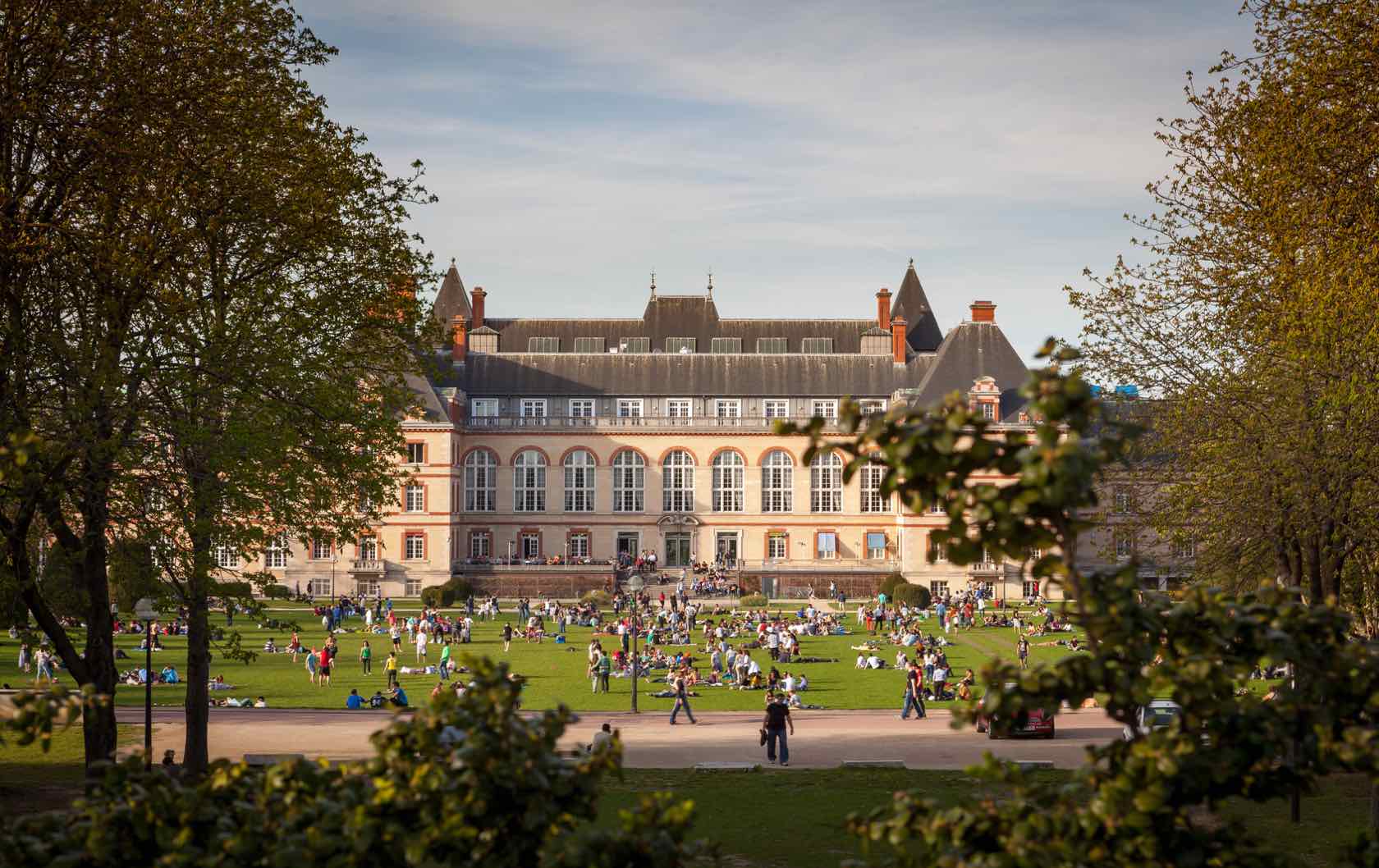 Peaceful Park
For free fun within easy reach of Montparnasse, pop down to Parc Montsouris. In the south-east corner of the 14th, it's a 38-acre green oasis with a lake, exotic trees and statues. Opened in 1869, the park is designed like an English landscape garden. Take a picnic and join students escaping adjacent Cité Universitaire. It was 17th-century students reciting poetry in this hilly area who first gave Montparnasse its moniker, nicknaming it after Greek mythology's arty Mount Parnassus.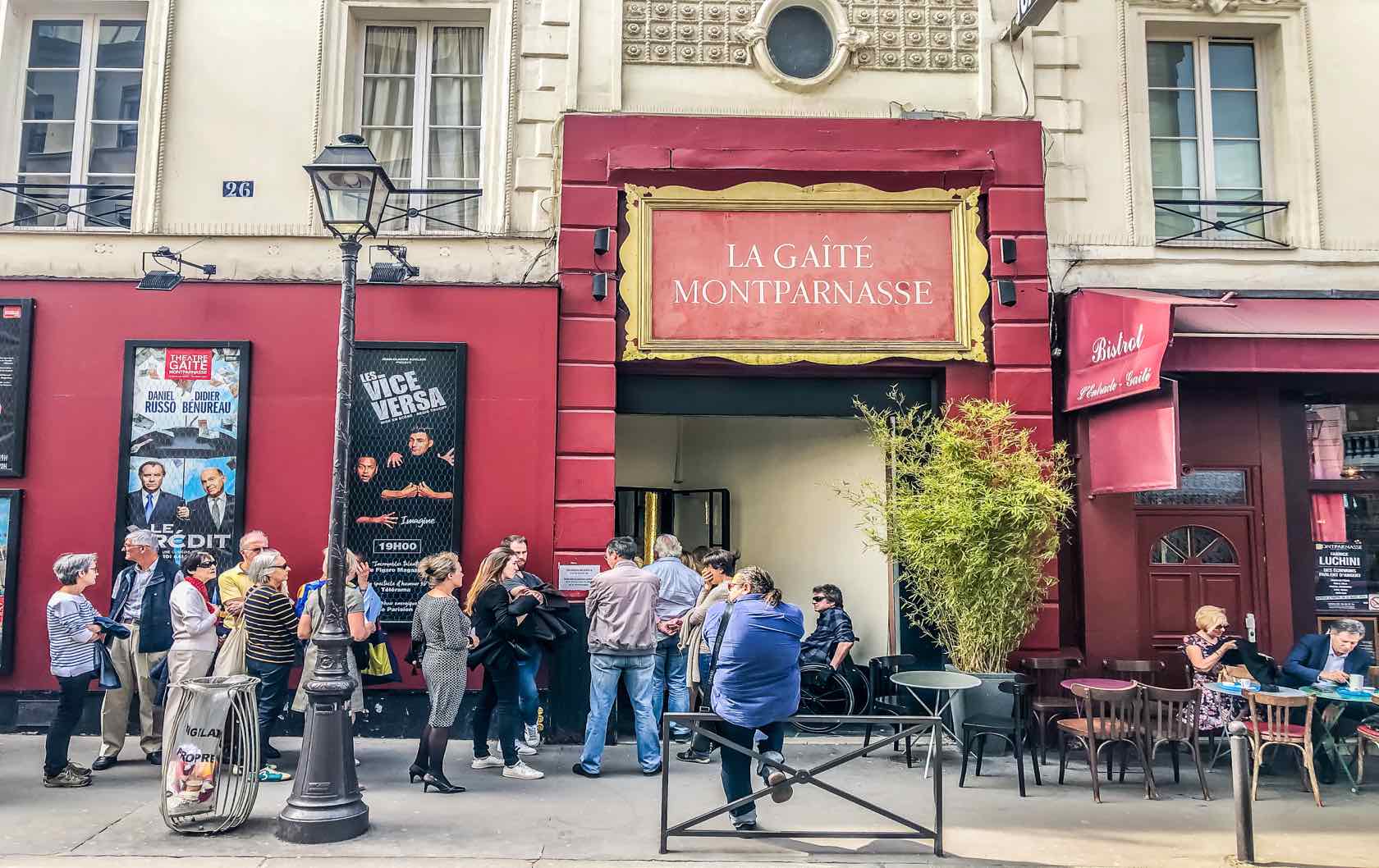 Theatrical Fun
Also making our Montparnasse guide is the 14th's charming rue de la Gaité, once famed for its cabarets. You can still catch a show at one of its small, candy-colored theaters. Book tickets for music hall Bobino (14-20) to experience Montparnasse's beguiling spirit and song.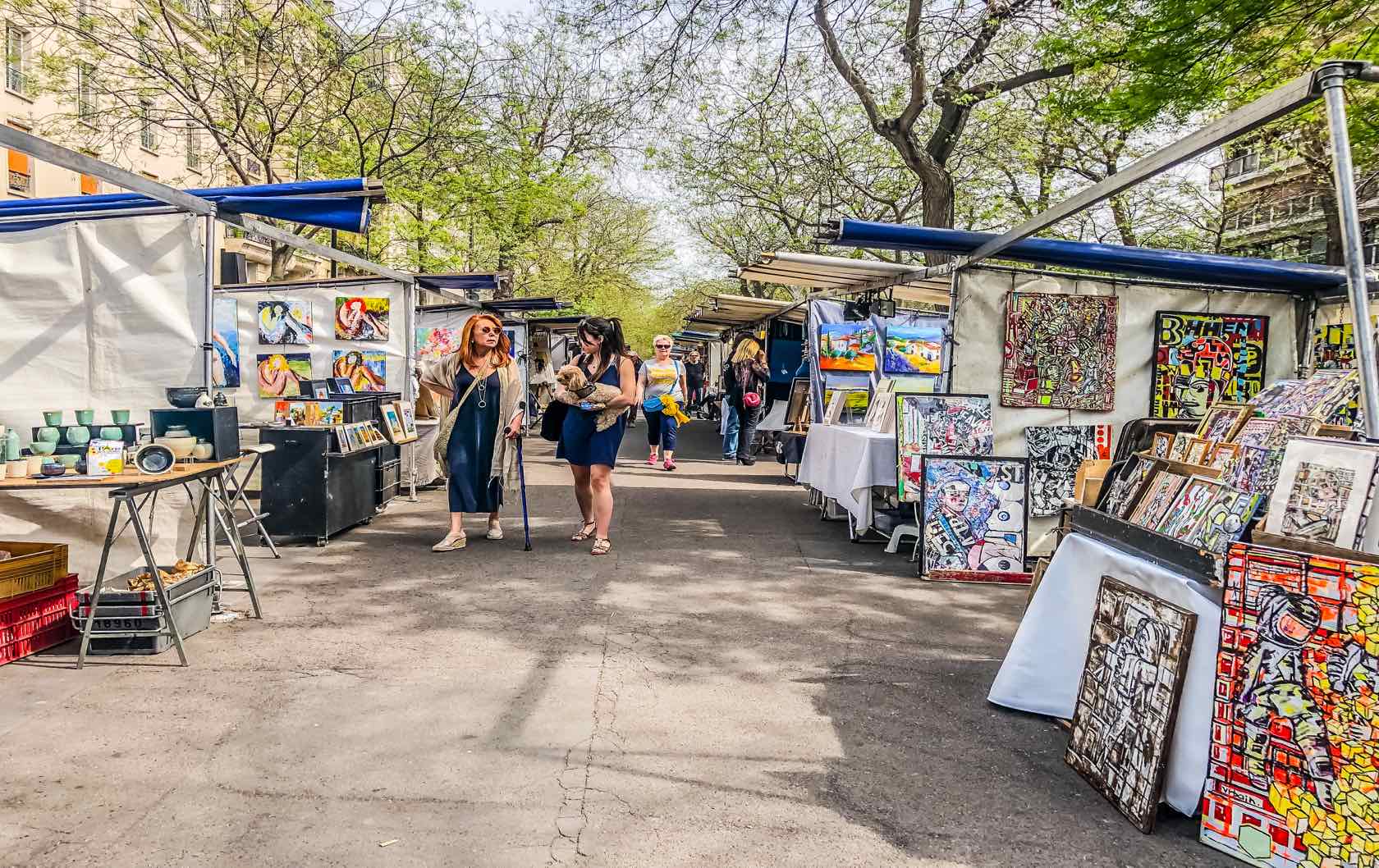 Local Shopping
Saint-Germain-des-Prés's luxe boutiques are around a 15-minute walk away, but for smart local shopping try Galeries Lafayette Montparnasse. On Wednesdays and Saturdays, visit Marché Edgar-Quinet for local products. For wonderful vintage shopping in the south of the 14th, trawl weekend flea market Marché aux Puces de Vanves. Rue Daguerre in the 14th and rue Mouffetard in the 5th offer cult food stores.