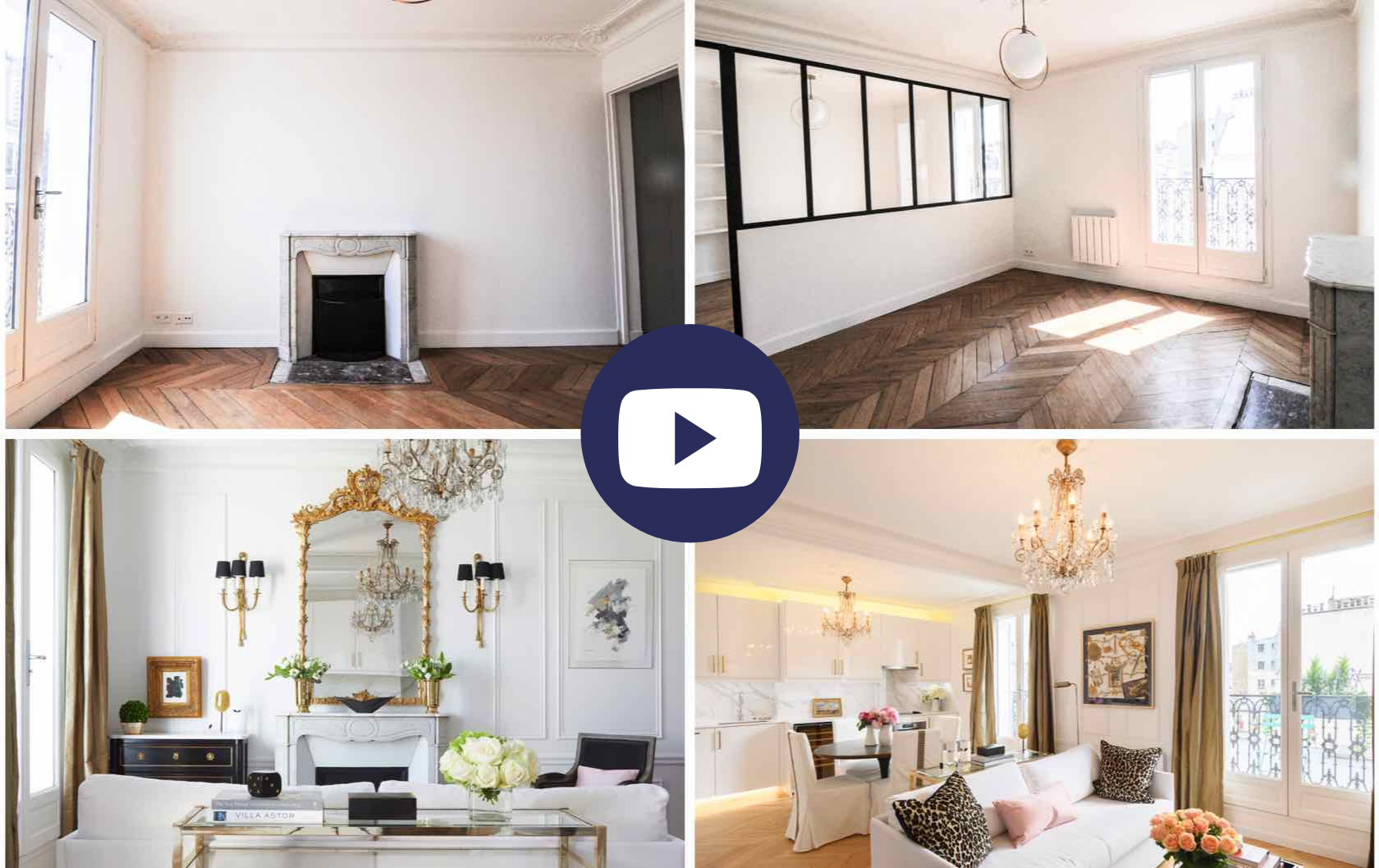 Have you ever wondered what it's like to buy and renovate an apartment in Paris? Perhaps it's your dream to own a home in the City of Light or maybe you have a general interest in real estate renovation. Either way, you'll love the videos series we've created showing the transformation process of our latest fractional offering from Paris Perfect Shared!
Buy and Renovate an Apartment in Paris
For the last couple of decades, Paris Perfect has helped locate and transform properties into the apartments of our clients' dreams. From locating to renovating to the interior design, it's a challenging process, especially in Paris. With no central real estate listing system in France, having quality contacts and being in the right place at the right time are keys to snapping up the city's best real estate. Not just any property will do, however. Everything must be spot-on, and that means an ideal location and good bones to start.
Finding the Apartment
The property featured in this video series is a happy coincidence. Maddy was having coffee with our general manager and properties director, and they were looking online at various real estate listings. "This apartment seems great, but look more closely; there is no mention of an elevator. No elevator, no way! See this here? The living room has a lot of light, but the moment you read calme then you know it's located on an inner courtyard. We want outer views of Paris streets and rooftops."
While continuing her evaluations, Maddy spotted something interesting, and it turns out that the listing agency was literally across the street from the café they were sitting in. She was surprised to see something promising and commented, "This apartment has some of the most difficult to find features that we look for: balcony, elevator, outward facing views of Paris rooftops and located on a high floor."
Agencies are tricky when it comes to identifying an apartment location, but from the photos, Maddy recognized the views and location. "If I'm right, it's in our favorite part of the 7th arrondissement. These properties never stay on the market long enough to make it to the classifieds, so there must be something wrong with it. Stay here; I'm going to visit the agency and find out more."
Leaving her coffee, Maddy walked across the street to inquire about the apartment. It turned out it had been advertised months earlier, with an offer made and accepted immediately. However, the escrow process takes months, and the buyers backed out at the last minute. The seller was desperate, and agency had just relisted it. The agent had the keys, so Maddy promptly took a visit. An offer was made, accepted and Paris Perfect received the keys a couple of months later. Even more interesting, not only does Paris Perfect manage other properties in the same building, but one of Maddy's sisters actually lived in that building years ago! Obviously, this was meant to be.
The Making of a Fractional Apartment
Guests regularly tell us that they dream of owning an apartment in Paris, but owning outright isn't feasible given the amount of time they are able to be in the city. Just as important, nobody wants the hassle and expense of unexpected maintenance and repairs. Given our position in the vacation rental space, we realized that Paris Perfect uniquely has the skills to make no-hassle home ownership possible, and thus we created Paris Perfect Shared.
Our roster of fractional apartments are carefully selected and come with four weeks per year, as well as deeded ownership. The one-bedroom Cairanne sold out in a month, with a waiting list. The two-bedroom Beaune is sold out. In the summer of 2019, we launched Crémant, a pretty, petite studio with a gorgeous Eiffel Tower view. It, too, is sold out. Then we presented the Conti, which sold seven shares prior to launch and then sold out in 48 hours. (Find out all about Paris Perfect Shared and fractional ownership.)
This fractional apartment is called the Conti and is located in the 7th arrondissement, around the corner from the Eiffel Tower, on one of the city's most wonderful streets. With one bedroom and two bathrooms, the apartment sleeps four people. It is spacious with 550 square feet, as well as has a lovely 70 square-foot balcony, a rarity in Paris. Transformed by our favorite designer, Ann Huff of Huff Harrington in Atlanta, we can't wait to show you the final results, but until then, we'll tease you a bit with this video series.
Episode 1: Introducing the Latest Fractional Apartment
In this first episode, join our marketing director, Leah Walker, as she shares a look at the apartment the day after we received the keys. It's literally a white box!
Episode 2: Construction Begins and Preview with Ann Huff
In the second episode, the apartment has been basically taken down to the studs. Interior designer, Ann Huff, takes us through the apartment and gives a preview of how the layout will be reconfigured.
Episode 3: Paris Property Insights from Maddy + a Construction Update
In episode three, Paris Perfect co-founder discusses the non-negotiables that makes this apartment so special. She also walks us through the construction zone and gives a glimpse of the new apartment layout.
Episode 4:
A Sneak Peek at the Design Elements
In the fourth episode, Paris Perfect co-founder, Maddy, and interior designer, Ann Huff, chat about the special design elements that will make the apartment pop!
Episode 5: The Apartment is Almost Complete!
In the fifth episode, Paris Perfect co-founder, Maddy, discusses fractional ownership and Paris Perfect Shared, while interior designer team, Ann Huff and Judy Stump, chat about their favorite design elements from the apartment.
Episode 6: Final Touches from the Antiques Market
In the sixth episode, interior designer, Ann Huff, puts some of the finishing touches in the apartment with finds from Paris' antiques market.
Episode 7: The Finished Apartment is Revealed!
In the seventh and last episode, the final results are revealed! In six months, we've transformed this diamond-in-the-rough Parisian property into a place worthy of being called Paris Perfect.
In this seven-part video series, we're giving a peek behind the Paris Perfect silk curtain by sharing the evolution of our soon-to-launch Paris Perfect Shared apartment.
For more information about Paris Perfect Shared, the Conti and our fractional apartments, visit this page or contact us at [email protected]