Vote for Roxanne Hembd to Win a 5 Night Paris Stay from Paris Perfect
MY PHOTO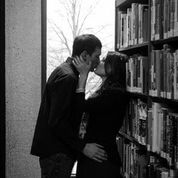 MY STORY
Matt and I met working at a restaurant together. He was a chef, I was a waitress. We worked together for 2 years before dating, since I was dating someone else and wasn't available. In that time Matt and I had become great friends, talking to each other often at work about our pasts, music taste and hobbies and families. When my relationship with my ex fell apart I knew in my heart I was meant to be with Matt. He was the one I always wanted to talk to at social gatherings, he has a calming demeanor and being around him made me feel respected, listened to, and wanted. Matt later told me that he knew he loved me the minute he met me, and never thought he could get a girl like me. He said I was the definition of his "dream girl" and he thought I was out of his reach. When I became single, he decided to ask me out, and we are to be married this spring. Matt is still my best friend, my human journal, my confidant, and the one I trust to console me in hard times, make me laugh when I am down, and share in my joys, knowing I do the same for him.
Read the Next Story
Back to All Stories
Love this Story? Leave a Comment Below
About the competition
Paris is the city of romance, and this February Paris Perfect is sharing the love by giving away a free 5 night stay in a beautiful vacation rental to the most popular love story! Read more and enter here.
Love this story? Leave a comment for Roxanne Hembd