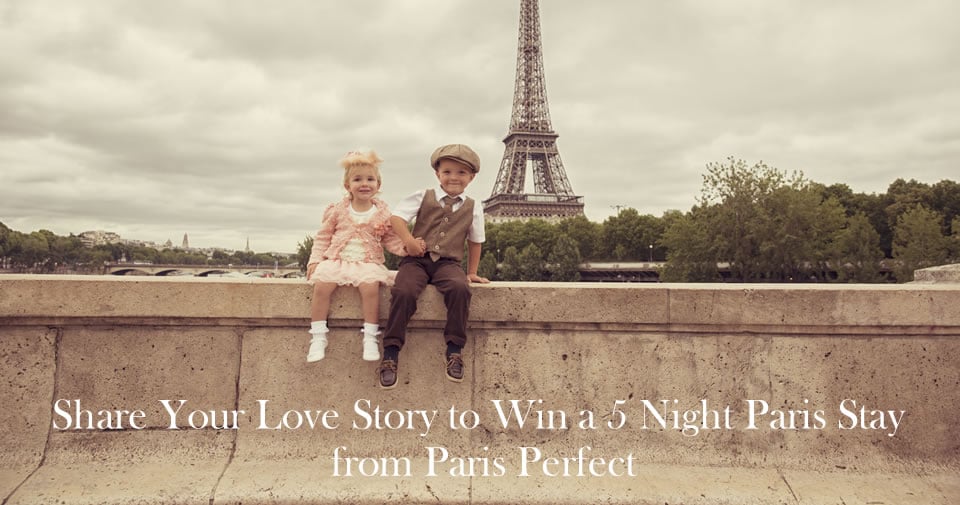 OFFICIAL RULES
NO PURCHASE NECESSARY TO ENTER OR WIN.
A PURCHASE WILL NOT IMPROVE YOUR CHANCES OF WINNING.
SPONSOR: The Competition is sponsored My Vacation Perfect
AGREEMENT TO OFFICIAL RULES: By participating, Entrants agree to abide by and be bound by these Official Rules and the decisions of the Sponsor, which are final and binding in all matters relating to the Competition. Winning the Grand Prize is contingent upon fulfilling all requirements set forth herein.
ELIGIBILITY: Paris Perfect's 2015 "Share Your Love Story to Win a 5 Night Stay from Paris Perfect" Competition (the "Competition") is open and offered to those aged 18 years of age or older at the time of entry, except employees of the Sponsor, their advertising or promotion agencies, their immediate families (parent, child, sibling or spouse) and/or household members and any other persons or entities associated with this promotion.
PROMOTION PERIOD: The Competition begins at 11:00:00 a.m. Eastern Time ("ET") on February 1st, 2015 and ends at 11:59:59 p.m. ET on February 28th, 2015 ("Competition Period").
The Sponsor's computer is the official time-keeping device for the Competition. The time of entry will in each case be the time the online entry is received by the Promoter's database, not at the time of transmission by the entrant. The Sponsor accepts no responsibility for any late, lost or misdirected due to technical disruptions, network congestion or for any other reason.
One (1) Grand Prize will be awarded from among all eligible entries received during the Competition Period.
HOW TO ENTER:
Entrants are required to upload a romantic photo with a story or caption to the Paris Perfect website. The photo that receives the most votes during the Competition Period will be deemed the winner. Entrants may share their photo on social media to increase their chances of gathering more votes.
The photo with the most votes at the end of the Competition Period will be deemed the winner.
1. Digital images can only be submitted online via the entry form on Paris Perfect's website: http://www.parisperfect.com/competitions/win-a-stay-in-paris-2015.php
2. Entries will only be accepted in the JPEG (.jpg) digital format;
3. Digital images must be high-resolution and not exceed a file size of 10mb. Entries over this size restriction will not be accepted;
4. Entries must be submitted by the original creator. A photograph created by someone other than you but submitted by you will be disqualified. You must be the sole owner of the copyright of any photograph submitted. Your submission of each photograph is your guarantee that you are the author and copyright holder of the photograph;
5. In the event that ownership of any photograph submitted is challenged in any manner by any person, the Sponsor may disqualify that photograph and will discontinue use of the photograph;
6. By entering, entrants grant a non-exclusive, worldwide, royalty-free, perpetual license to the Sponsor to edit, adapt, make derivative works from, broadcast, publish and otherwise use any or all of the descriptions and/or photographs submitted, and may use them for advertising, promotional and/or any other purpose in any and all media now or hereafter devised worldwide in perpetuity without additional compensation, notification or permission, unless prohibited by law.
7. By entering this Contest, entrants agree to have their submitted photograph used and displayed, either singularly or in combination with others and in any size, on the Sponsor's websites, social media, and print materials without any fee or other form of compensation due at any time for so long as desired by the Sponsor. Credits, descriptions or titles, if any, used with the photograph are in the Sponsor's sole discretion.
8. All entries become the exclusive property of Sponsor and will not be acknowledged or returned. By participating, you consent for Sponsor to obtain, use, and transfer your name, address and other information for the purpose of administering this Competition.
9. Multiple entries are not permitted. Use (or attempted use) of multiple names, identities, email addresses, and/or any automated system to enter, or otherwise disrupt, this Competition is prohibited and is grounds for disqualification by the Sponsor. The Sponsor reserves the right, in its sole and absolute discretion, to require proof of identity and/or eligibility (in a form acceptable to the Sponsor, including, without limitation, government issued photo identification) to participate in this Competition. Failure to provide such proof to the satisfaction of the Sponsor in a timely manner may result in disqualification.
10. The Sponsor may, in its absolute discretion, edit, modify, delete, remove or take-down any part of an entrant's entry. An entrant's entry must not include:
a. any image of any other person without that person's express consent. Entrants warrant that if any such content is included, they have obtained the express consent of the relevant person;
b. any content that contravenes any law, infringes the rights of any person or is potentially insulting, inflammatory, defamatory, obscene, offensive, discriminatory, indecent or otherwise objectionable or inappropriate (which includes, without limitation, any content involving nudity, malice, excessive violence or swearing); and
c. any literary or artistic work, or any other item in which copyright subsists, unless the entrant is entitled to do so. If an entrant has any doubts about whether they have the right to include any content they must not include it. By including any such content in their entry, the entrant warrants that they have the permission of the relevant copyright owner to do so and that this permission allows the Promoter to use the entry in accordance with these Conditions of Entry.
DRAWING AND NOTIFICATION: The potential Grand Prize Winner will be the person whose photo and story receives the most votes from among all eligible entries received by the Sponsor during the competition period. The odds of winning depend on the number of eligible entries received and votes tallied for the applicable Competition.
The Grand Prize Winner will be notified of their prize by e-mail within 10 working days of the closing date of the competition period. In the event that e-mails are not responded to or returned as undeliverable, Sponsor will attempt to re-send said e-mail up to five (5) times over fourteen (14) days. If Grand Prize Winner does not respond to said email within fourteen (14) days of its transmission or should the e-mail after five (5) attempts be returned as undeliverable, his or her rights to any prize will be forfeited and the runner up will be selected. The Sponsor reserves the right to modify the notification procedures in connection with the selection of alternate winners, if any.
PRIZES: There will be one (1) Grand Prize awarded following the conclusion of the Competition Period. The Grand Prize Winner, upon verification of eligibility, will receive the following:
A five-night stay in Paris for two (2) people at Paris Perfect's Calvados Apartment with Eiffel Tower view, subject to availability;
Macarons from the world-famous Gregory Renard shop;
Beautiful bouquet of flowers;
Airport transfers for two (2) people
The Grand Prize has an Approximate Retail Value ("ARV") of $2800.
The prize is non-transferable, not redeemable for cash, goods or services and cannot be exchanged, substituted or combined with any other special offer or promotion. Booking will be made on a space available basis. Any difference between the ARV of the prize and the actual value of such prize will not be awarded. Any unclaimed prize will not be awarded. Dates of stay are based upon availability and at the Sponsor's discretion. The Sponsor reserves the right at its sole discretion to substitute any prize of equal or greater value if the prize should become unavailable for any reason.
Grand Prize Winner is responsible for all federal, state and local taxes associated with the use of the prize and the costs of all incidentals not specifically described in the Grand Prize including but not limited to flights, departure fees and taxes, food, incidentals, optional excursions, passports, visas, insurance and any other add-ons that are not included.
ADDITIONAL PRIZE CONDITIONS:
The Grand Prize Winner and travel companion must travel on the same itinerary and redeem the Grand Prize at the same time. The five-night stay must be booked by December 31, 2015 with the stay and all prizes redeemed in full by 11:59:59 p.m. ET on the March 31, 2016. Once reservation is made, no changes, exchanges, or refunds are permitted. Grand Prize Winner must make reservations with the contact details provided to Winner.
RELEASE AND LIMITATION OF LIABILITY: Except where prohibited, by participating in a Competition, each entrant agrees to release and hold harmless the Sponsor and their respective parents, subsidiaries, affiliates, promotional partners, prize partners, providers and their respective agents and agencies, officers, directors, and employees, as well as any specific parties that may be identified in the Competition Info, (the "Released Parties") from and against any claim or cause of action arising out of participation in any Competition or receipt, use or misuse of any prize, including, but not limited to: (a) unauthorized human intervention in the Competition; (b) technical errors related to computers, servers, hardware, software, providers, or telephone, cellular, or network lines; (c) printing errors; (d) errors in the administration of any Competition or the processing of entries; (e) late, lost, or undeliverable email; or (f) injury or damage to persons or property which may be caused, directly or indirectly, in whole or in part, from entrant's participation in the Competition or receipt, use or misuse of any prize. Entrant further agrees that in any cause of action, the Released Parties' liability will be limited to the cost of entering and participating in the Competition and in no event shall the Released Parties be liable for attorney's fees. Entrant waives the right to claim any damages whatsoever, including, but not limited to, punitive, consequential, direct, or indirect damages (other than for actual out-of-pocket expenses or statutory damages) and any and all rights to have damages multiplied or otherwise increased. If for any reason an entrant's entry is confirmed to have been erroneously deleted, lost, or otherwise destroyed or corrupted, entrant's sole remedy is another entry in the Competition, if it is possible. Sponsor reserves the right in its sole discretion to cancel or suspend this Competition should virus, bug or other causes beyond Sponsor's control corrupt the administration, security or proper play of the Competition. If the Competition has been discontinued for any reason, Sponsor, in its discretion, may elect to hold a random drawing from among all eligible entries received up to the date of discontinuance for any or all of the prizes offered herein. Void where prohibited, taxed or restricted.
DISPUTES: All issues and questions concerning the construction, validity, interpretation and enforceability of these Official Rules, or the rights and obligations of the Entrants and Sponsor or the Released Parties in connection with the Competition, shall be governed by, and construed in accordance with Singapore law. Any legal proceedings arising out of this Competition or relating to these Official Rules shall be instituted only in the courts of the Republic of Singapore, and the parties consent to jurisdiction therein with respect to any legal proceedings or disputes of whatever nature arising under or relating to these Official Rules. The invalidity or unenforceability of any provision of these Official Rules shall not affect the validity or enforceability of any other provision. In the event that any provision is determined to be invalid or otherwise unenforceable or illegal, these Official Rules shall otherwise remain in effect and be construed in accordance with their terms as if the invalid or illegal provision were not contained herein. The value of the prizes set forth above represents Sponsor's good faith determinations of the ARV thereof and such determinations are final and binding and cannot be appealed. If the actual value of any prize turns out to be less than the stated ARV, the difference will not be awarded in cash.
PUBLICITY: By accepting the Grand Prize, where permitted by law, participation in any Competition constitutes entrant's consent for the Sponsor, applicable prize providers and their respective designees to use entrant's first and last name, likeness, prize information, city and state of residence, and any comments, testimonials or other feedback related to any prize or entrant's Competition experience, whether written or oral, for promotional purposes in any media without further consideration.
PRIVACY/USE OF DATA: All information submitted by Entrants will be treated according to Sponsor's privacy policy, available at http://www.parisperfect.com/privacy-policy.php. By participating in the Competition and providing any personal contact information, Entrants hereby agree to Sponsor's collection and usage of their personal information and acknowledge that they have read and accepted Sponsor's Privacy Policy.
WINNERS LIST: For the Grand Prize Winner list, visit http://www.parisperfect.com/competitions/win-a-stay-in-paris-2015.php after March 1st, 2015. The Grand Prize Winner list will be posted after winner confirmation is complete. The Winner will be announced on the Paris Perfect Blog and social media channels.