Paris Apartment Guest Reviews
Look at what Paris Perfect guests are saying about us. From our apartments and personalized services to our warm welcome, we're proud to share reviews from thousands of our guests.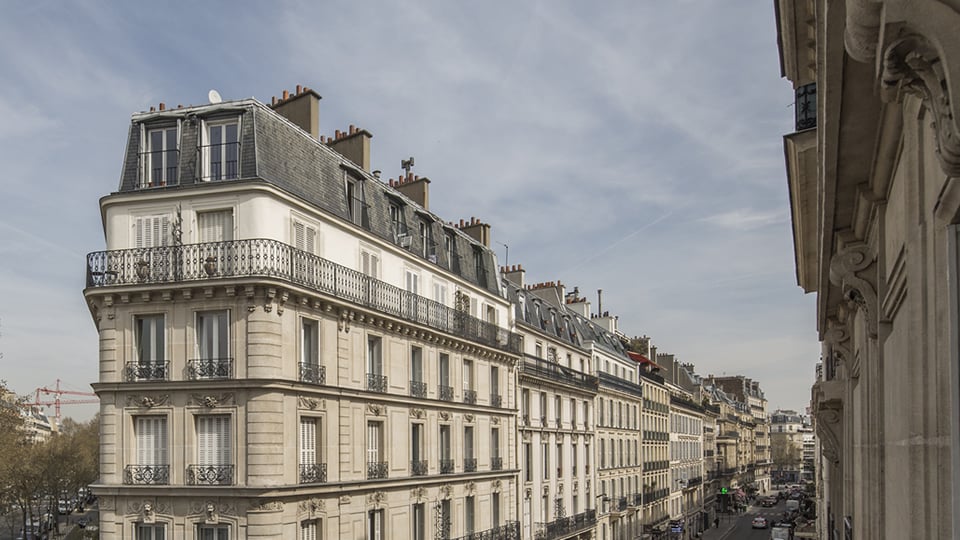 Merlot
"We stayed at the Merlot apartment in late March and completely fell in love. We couldn't tell what we loved more - Paris or the apartment! It was a true fairy tale experience. The view from the apartment (from living room and bedroom) is indescribable. When friends look at my pictures from the apartment they comment on the view more than any other pics we took. Every detail is taken care of - a beautiful welcome basket with some goodies, a thorough orientation manual with important numbers, tips, etc., and even some starter items in the kitchen to make you feel right at home. When we ran into any problems, you were immediately responsive. This unit and parisperfect as a whole is more than worth what we paid. You can't put a price tag on the memories paris perfect helped us create. Thank you, thank you!! We will be back!"
Faith and Sandor
Merlot
""ParisPerfect" is a most fitting name for the week we spent last December in your Merlot apartment. From our communication prior to the trip to Madelyn's helping me find a large street map of Paris after we returned home, everything was exactly as you promised.
The apartment seemed palatial after the hotel room in le Marais where we stayed on a ten-day trip in May. We also loved feeling a part of a neighborhood and had a lovely time each morning choosing where to buy our breakfast!

For me, though, the definitive difference in a ParisPerfect apartment was the detailed information to help us enjoy the apartment, the neighborhood, and Paris. I felt more like a houseguest (and by the end of the week not so very foreign!) than a temporary renter; it was almost like being sent out everyday with a myriad of possibilities to explore & and a personal guide to tell us exactly how to access what was most interesting to us.

I have already alerted several friends to the website, and we will definitely be back for a ParisPerfect trip.

Dawn M."
Dawn M.
Muscadelle
"Dear Philippe and Madelyn,

I just wanted to let you know how delighted we were with the apartment. It was even more charming than your site shows it to be. The view, the furnishings and the accruterments were all superior. The neighborhood, by the way, is one of the nicest in Paris.

When we decide to return to Paris, rest assured that we will contact you first to reserve our apartment.

Thank you again,"
Martin K - USA
Pomerol
"Madelyn has created the perfect vacation experience. Friends and I stayed at the Pomerol and had a wonderful stay. This was the first apartment stay for all of us. We were all a bit nervous since we did not know what to expect. It was the best choice! Madelyn made this an excellent experience starting with our first e-mail correspondence to the speedy refund of our security deposit.
The apartment had everything you could ever need on vacation and more. We couldn't have asked for better accommodations. The packet Madelyn provided was excellent and became our psuedo bible. We loved all the details. We have been back for three weeks and we are still raving about the apartment and the beautiful neighborhood.

I can't wait to stay in one of their other apartments!"
Jean D.
Merlot
"Philippe and Madelyn:

Staying in the Merlot and then the Chardonnay made our trip one to remember! All the amenities of home, but in Paris, what more could one ask? Thank you for providing easy to follow instructions for getting to and from the apartments and surrounding area - made finding our jeg-lagged way simple!


Our hats off to you for creating such a positive, relaxing experience for those wishing to enjoy all Paris has to offer. We'll be back! Maybe we'll even let our husbands come next time...


Sarah Coddington-Courchesne and


Sandra Berrios-Torres


Feb., 2004"
Sarah Coddington
Pomerol
"Your apartment was fabulous! The experience of staying at an apartment instead of a hotel was so much more French - we enjoyed going to the markets, eating our baguettes and croissants for breakfast at home and practicing our French with the very kind people in the neighborhood shops. But honestly, the best thing about our stay was the many notes that Madelyn left for us, describing everything from the neighborhood restaurants and shops, to things to do all over Paris with our teenage boys. Every detail was thought of - we couldn't think of a thing that we needed in the apartment that was not there - and the apartment itself is so comfortable but beautifully appointed that we felt welcome immediately.
I can't wait to come back!"
Mimi S.
Saint Emilion
"What a wonderful home away from home in Paris! St. Emilion couldn't have a better location or a better view of the Eiffel Tower! The day trip to Normandy is a must and being within walking distance to all the "must see" places made those visits very easy. The best part was that, in February, there are no lines. Lunch at Jules Verne was also a treat - just pick a clear day. We also had a car for the week and the parking tip is to find a spot near the Tower - especially easy once the busses leave."
Carol Gilbert
Moselle
"Absolutely wonderful cozy spot. A must when in Paris. The neighborhood is very central and the information from Phillipe makes you a local in the neighborhood. Thanks a million!"
Charles Shull
Muscadelle
"The name says it all! We have traveled to Paris many times and have finally found the location we will absolutely return to again and again. The neighborhood is quiet, filled with many great bistros and of course the Rue Cler market. The view of the Eiffel Tower is fantastic at anytime of day or night. The extra efforts in making the apartment meet our every needs were found at every turn. The kitchen is beautiful and made shopping at the markets that much more enjoyable. After long days of wandering through Paris, it was the perfect place to return home to and unwind. We have already recommended 'Paris Perfect' to several of our friends and plan on returning as soon as we can. Thanks for the 'perfect' way to experience Paris."
Gina
Moselle
"We want to add a few positive comments onto your website reflecting our recent stay in one of your ParisPerfect units. Perhaps the best way to start is to point out that you picked the right name for your booking service because our experience with the two of you, your local management team, and the apartment itself was "Paris Perfect"!! Every aspect of our arrangements was handled efficiently and professionally, including your prompt responses to our booking request and information inquiries, incredibly informative pre-arrival materials, warm personal welcome from your Paris team members, the wonderful apartment and, of course, the thoughtful goodies you left for us to get us in the Parisien mood! Although we were initially concerned over the Left Bank location of your apartment (in previous visits, we have stayed at Right Bank hotels), we want to assure all readers of our comments that they should harbor no similar concerns. The apartment is perfectly (here's that word again!) located in an area where the true essence of Paris can be felt, amidst bustling local markets, bakeries, and restaurants. In short, we can't wait to return."
Ted & Ken
Pomerol
"Dear Madelyn and Philippe
I just wanted to drop you a note to tell you how much we enjoyed the Pomerol apartment. It suited our needs exactly. We loved the location on Rue Cler and found everything we needed in your clean and beautifully furnished apartment.

Thank you so much for the welcome basket--such a nice touch after a long,tiring journey. The dvd player was so useful for the children--it allowed us to bring a bit of home on the trip and gave us a chance to rest and unwind before dinner.

We will recommend your apartments to anyone we know who is traveling to Europe and certainly will look you up again if we find ourselves in one of your cities.

Kind Regards,

Linda and Pat McNamara

Tampa, Florida"
Linda McNamara
Saint Emilion
"Dear Philippe,

We returned yesterday from six weeks in Europe, and I wanted to write and say that the stay in the St. Emilion apartment was the highlight of a wonderful trip. Everything about our experience there was first-rate. The apartment was wonderfully decorated, very spacious and had a heart-stopping view of the Eiffel Tower from the living room.

People considering Paris Perfect should compare it to a top-end hotel. A vacationer or longer-term business will enjoy having the extra rooms, great kitchen and dining space that would cost infinitely more in a Paris grand hotel. And, as someone who has stayed in the top hotels, I can say that none of them will ever come close to providing the warm hospitality that Philippe showed us.

I've traveled all over the world both personally and on business, and you have instantly vaulted into my "global top five accommodations." If Paris Perfect were a home run, the ball would have been hit out of the park and last seen bouncing through the parking lot. Bravo, and we look forward to seeing you on our next visit to Paris!"
W.W. - Newton, Ma.
Champagne
"On summer evenings on our farm in Australia, Fran and I often sit outside on our veranda, sharing a glass of wine, and looking out over miles of farmland. What an amazing and contrast from the two weeks we spent in Paris last July: to open the balcony doors on the 5th Floor of our apartment in Paris and have the Eiffel Tower, brilliantly lit, standing outside in all its magnificence. Instead of stars, the lights of the Eiffel, and the cafes and apartments on Avenue Rapp and Avenue Bourdonnais. The sounds of the street were barely audible, not disturbing, enough to remind us that here we were again in one of the most elegant and beautiful areas of Paris, the 7th. And what an apartment!

I have traveled to Paris many times during the last 30 years, but whether you're young or old, the apartment is the best accommodation I have encountered. The mix of antiques with modern furnishings, together with the charming, and most unexpected assistance, from the likes of Madelyn's manager and cleaners, taxis recommendations and the nearby shopkeepers (who all know Madelyn), made the apartment stay immensely relaxing.

We will be returning, and we will be staying in Madelyn's wonderful apartment. She had also left very detailed notes in the apartment about everything you might wish to do in Paris, whether it is museums, shopping, eating, anything but crime.

But enough, we were delighted with the apartment and with everything. We are already planning to spend some winter time looking out at snow falling on the Eiffel Tower. But that will be another story."
David R - NSW, Australia