Say I Love You in Paris!
Wedding Proposals, Honeymoons & Anniversaries
Imagine a magical scene on the balcony of our Calvados Paris apartment as 20,000 lights twinkle across the Eiffel Tower while you tell your special someone how much you love them. What better way to say "I love you" than to fly to Paris and stay in a fabulous Paris vacation apartment with the special person you love? Whether you're planning that once in a lifetime wedding proposal or an unforgettably romantic honeymoon or anniversary, Paris Perfect's I Love You Package is the ideal way to surprise your loved one from the moment you walk in the door.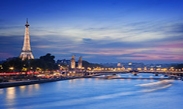 Available for €75, this special offer includes the following gourmet treats and gifts to enjoy together:
A bottle of chilled Champagne waiting in the refrigerator
Bouquet of fresh flowers
A box of delicious, award-winning French macarons by renowned Chocolatier Gregory Renard
Two tickets for a romantic sightseeing cruise along the River Seine
A complimentary consultation with our favorite Paris concierge service who will call you to help plan your Paris itinerary – from airport pickup to private tours, cooking classes and special activities during your stay
If you wish, we will be pleased to recommend one of the best photographers in Paris who can reserve a special photo shoot to capture your memories of a lifetime!
Enjoy the romance of Paris with this special package, a €145 value offered for only €75! To reserve the I Love You Package from Paris Perfect simply contact us via email or call toll free 1-888-520-2087.
* Package only available for a 7 night minimum stay and for apartments located near our offices by the Eiffel Tower. Please contact us for details and availability at your selected Paris Perfect vacation rental.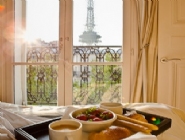 Celebrating Your Engagement, Honeymoon or Anniversary in Paris
Looking for the perfect apartment for your special occasion in Paris? Here are a few suggestions for some of our most romantic Paris vacation apartments. You'll find picture perfect views of the Eiffel Tower and a charming balcony setting ideal for romantic moments at our Cabernet apartment in the 7th arrondissement. The lovely Volnay apartment is a top choice for romance with its pretty Eiffel Tower views and great location near the Champ de Mars Gardens.
We invite you to browse our Paris vacation apartments to find the perfect setting for your romantic getaway in Paris!