Located in the Left bank in the heart of the 7th arrondissement, this holiday apartment makes the perfect central Paris accommodation. Close to the famous rue Cler market street, Seine, Eiffel Tower, Champ de Mars, Ecole Militaire, Invalides and the Métro; surrounded by cafés, shops, restaurants, and open markets.
Gaze at the top of the Eiffel Tower from the living room and bedroom.
Rue du Commerce is 10 minutes walk and a lively French neighborhood: find excellent fresh foods, loads of clothing stores and perfume shops as well as the Monoprix department store (a French Target), with supermarket on the first floor -- good quality and great prices.
One block to the Eiffel Tower and Champs du Mars. The Champ du Mars Park is a rare bonus in Paris as there are few large parks in the center of the city. Walk, run, play in 1 of 3 playgrounds, basketball court, go to the puppet theater or just sit and enjoy.
A stone's throw from the American Library, an institution in Paris where you can take out a daily membership and catch up on the news, read, work and use their internet facilities.
Seven blocks to the incredible Rodin Museum; 5 blocks to the new Museum of Ethnic Arts.
Six blocks to the golden dome of the Invalides, where Napoleon is buried, along with surrounding park.
20-minute walk to Place de la Concorde and the Bon Marché department store.
10 minutes to the Trocadéro; the Grand Palais and the Grand Couturier's on Ave. Montaigne (from Dior to Chanel, to Hermes, to the outrageous Jean-Paul Gaultier and dozens more), the Four Seasons George V for tea or 3-star dining
15-minute walk to the Champs Elysées
15 minutes to the Invalides
A stone's throw to the Seine and the famous Bateau Mouches tours
Two main buses stop 1 block away
6 blocks to Pont de l'Alma métro
Ecole Militaire métro is 3 blocks
Near the famous Rue Cler market street. 3 large open markets in the neighborhood: Pont de l'Alma, Rue de Grenelle and Ave. de Saxe.
Open Food Markets: Our neighborhood is famous for its open food markets, more than any other quartier in Paris. Find Rue Cler, one of the best and most famous streets for food in Paris. Pont de l'Alma is a five-minutes walk and has the largest open market in Paris every Saturday morning. Ave du Saxe is one of the most beautiful, with many organic stands. Merchants come from all over France with wines, fruits, vegetables, flowers, fish, Brittany lobster, pâtés, breads, even five types of escargots!
Paris Perfect
163 rue de Grenelle
75007 Paris
France
1-888-520-2087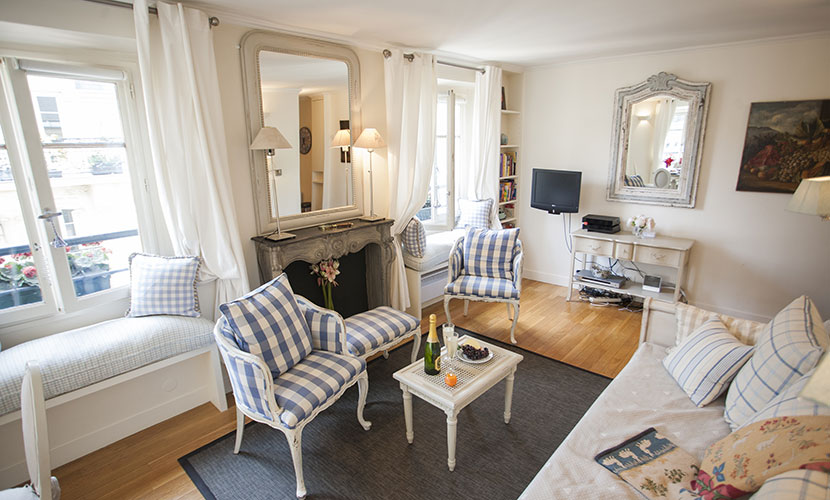 Living room with TV, DVD player, stereo and free internet
In the far left corner is a TV, CD stereo system and American-standard DVD player so you can bring your favorite movies. We have installed a free high speed DSL line so that you can catch up on work or email friends and family back home.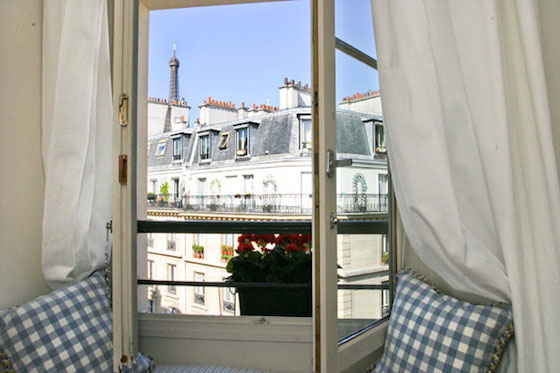 Sunny daytime view of the Eiffel Tower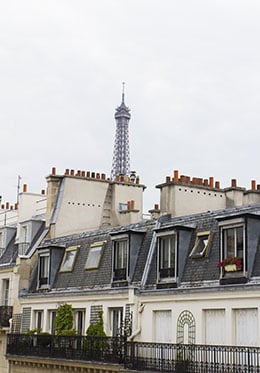 Close-up shot of the tip of the Eiffel Tower

View of the Eiffel Tower from our Pomerol holiday apartment
Pomerol is a 380-square foot Paris holiday apartment, located on the Left Bank of the river Seine. It has one bedroom, 1-1/2 baths and delightful views towards the Eiffel Tower and over the quartier's rooftops. The apartment also has a mobile air conditioner in the living room for your added comfort.
Living and dining room windows have charming window seats
Three charming window seats were built under each window of the living and dining room. The cheerful blue and beige checked cushions give the room a fresh, Provencal feel. It's fun to read on the window seats or to watch Parisian life below.
Pretty tassles on the living room windows

Curl up with a good book or plan your next day in Paris
We leave lots of Paris guidebooks for you to peruse during your stay, and the window seats in the living room provide the perfect place to sit and read.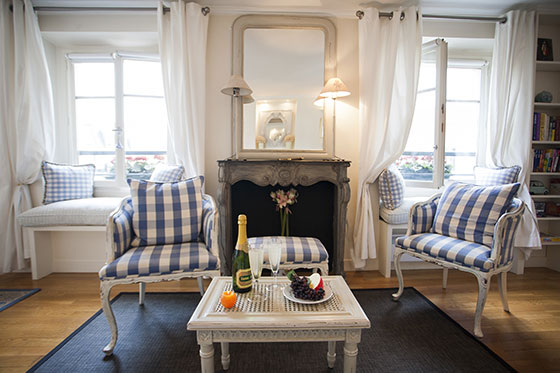 Beautiful decorative fireplace in our Pomerol Paris rental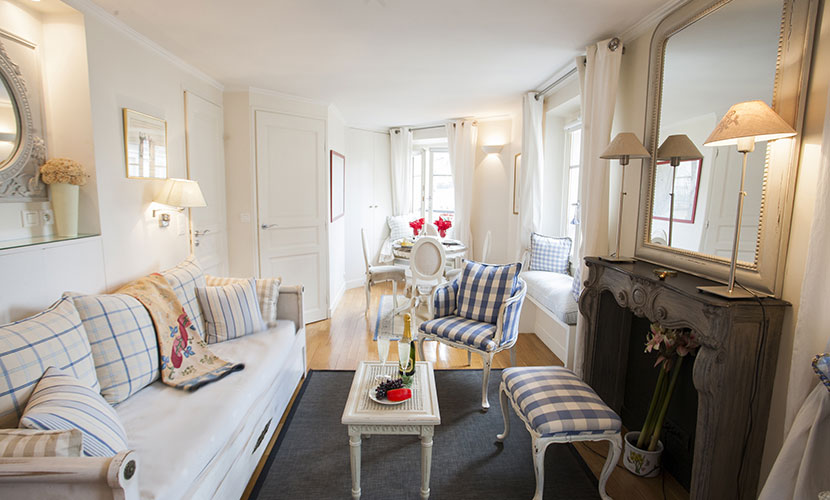 Pomerol apartment has been designed to maximise space
Our Pomerol apartment is the reason we think we have the best architect in Paris. While compact, it is beautifully designed for space, light and comfort! There is spacious seating, good storage and work space, window seats under each window and a beautiful location for the dining area - with view of the Eiffel Tower.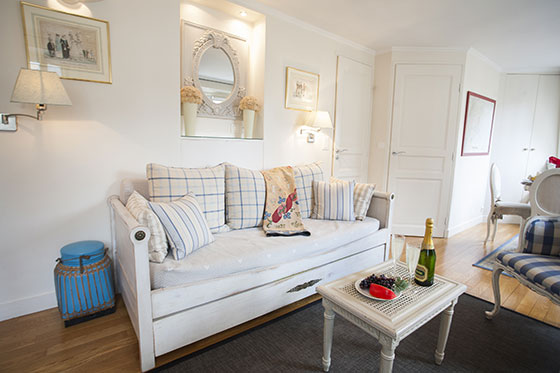 High-quality sofa bed in our Pomerol apartment in Paris

Lovely finishing touches in the Pomerol apartment

Relax with a glass of bubbles and a view of the Eiffel Tower
The window seat has a view of the Eiffel Tower and is a great place to relax with a glass of wine and savor your stay in the City of Light.
Empire-style sofa bed has a twin trundle underneath
The empire-style sofa bed is over two meters long and has a twin trundle bed which slides out from underneath, an easy solution when getting ready for bed at night. The mattresses are on wooden slats, meaning good support for sleeping and sitting. We have these sofa beds especially designed for our Paris vacation rentals and our guests say often comment on how comfortable they are.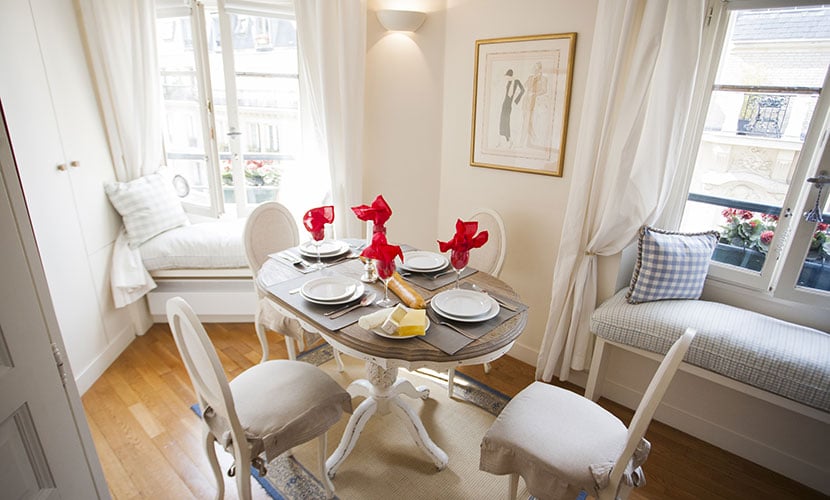 The cherry wood dining table comfortably seats four
Pomerol's dining table comfortably seats four and is positioned in front of the large French windows - we love the view! The picture of a couple dancing behind the table perfectly captures the mood of Paris in the 1930's.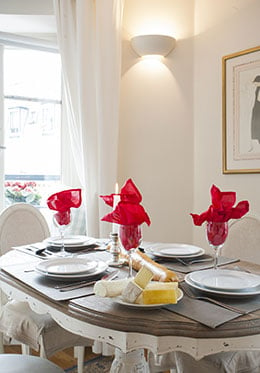 Set a romantic dining table in the Pomerol apartment rental

Unforgettable view of the Eiffel Tower from the dining table
The romantic view from the dining room table is unforgettable, especially when the sparkling display of lights begins on the Eiffel Tower, every hour after dark for ten minues.
Fully-equipped kitchen so you can prepare gourmet meals
The kitchen is on your left as you walk into the apartment. The powder room is just beyond it. It is extremely spacious and well-planned.

Enter our Paris holiday apartment to find the kitchen on your left. Our apartment is compact but has all of the appliances you might need to prepare a gourmet meal: under-the-counter refrigerator-freezer, combination microwave-convection oven, induction burners, coffee maker, toaster, Nespresso cappuccino machine. The white porcelain dishes and pots and pans are from E. Dehellerin, the shop which furnishes all good restaurants in Paris. With a full array of cookware, you can shop along rue Cler and prepare your own gourmet meals.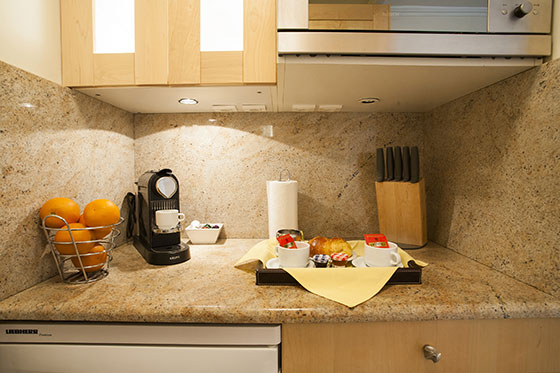 Granite bench with under-the-counter refrigerator
The granite countertops contrast beautifully with the pale sycamore cabinets. The refrigerator-freezer sits under the countertop and is the perfect size for a one-bedroom Paris holiday apartment.

Enjoy freshly brewed coffee every morning!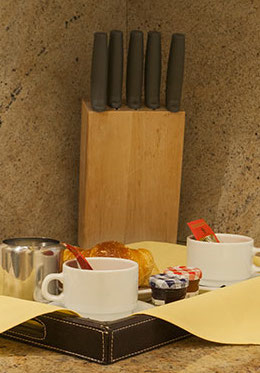 Prepare breakfast in the comfort of your own home

Large combination microwave-convection oven
The large combination microwave-convection is built into the cabinets and is fantastic for baking. One of the joys of staying in a holiday apartment is shopping for delicious food and ingredients in Paris' markets and preparing them at home. Our Pomerol apartment is special because it is located near one of the most famous market streets in Paris, Rue Cler. There are so may food shops in the area that you will want to try different breads, cheeses, meats and pastries every day.
Romantic bedroom with views of the Eiffel Tower
The bedroom has an extra-wide, queen-size bed which we imported from Italy. There is a romantic surprise for our rental guests to the left from bed, the Eiffel Tower. We think the bedroom of this rental apartment is one of the most romantic in Paris when the magic show of lights twinkles for ten minutes on the hour after dark.
Watch the Eiffel Tower light show from your bed!
The view of the Eiffel Tower from the bed at night is a memory of a lifetime.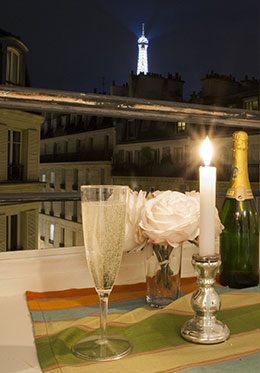 The magical Eiffel Tower light show begins!

Guests love the feeling of romance and luxury in the bedroom
Our guests love the feeling of romance and luxury in the bedroom. All of the windows are state-of-the-art double glazed, the same as used in luxury hotels. The vacation apartment is located in the middle of this bustling city, but is extremely quiet for a good night's sleep.
Beautifully designed bedroom with desk and plenty of storage
The bedroom is a masterpiece of good design and function. There are two narrow closets on either side of the desk. We built the desk under the window so guests can work or read, while looking out towards the Eiffel Tower. We have also installed free internet so you can catch up on emails or plan your next day of sightseeing. There is a small shelf underneath the desk for extra storage. The bookshelves to the left hold the alarm clock and telephone.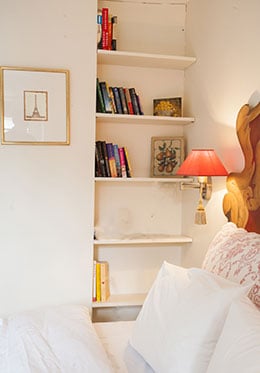 Curl up with a good book from our selection

The sumptuous bathroom with bathtub-shower, basin and mirror
The sumptuous bathroom is tiled in beige limestone and features a bathtub shower, basin, and vanity unit with mirror.
Bathtub with fixed and flexible showerheads
We believe in luxurious, practical bathrooms so we built in a bathtub with both fixed and flexible shower heads. There is an 80 gallon hot water tank, the largest you can buy for home use. In most apartments, large hot water tanks are a rarity and it took our builders several 'do-overs' to understand that even if they have to be special-ordered, we won't accept anything smaller.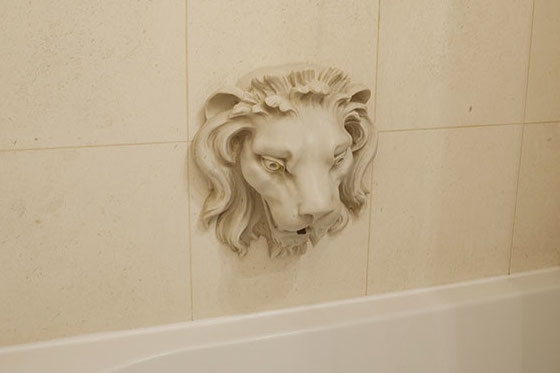 Lion head faucet adds a touch of drama and fun to bathing!
The lion's head fixture in the bathroom adds a touch of drama and fun to bathing! We found it in England and children absolutely love it.
Separate powder room with toilet, antique basin and storage
The powder room is to the left of the kitchen. It has a toilet and antique marble basin from Italy, carved as a graceful shell. We found it in a salvage yard in Italy. It was made from white Carrara marble over 100 years ago and the old marble is almost translucent. There is a cabinet underneath the sink and behind the toilet. We install loads of hooks for hanging things, something we sorely miss in other hotels and apartments we stay in.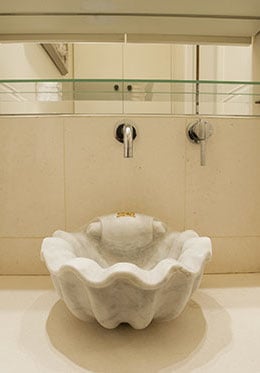 Pretty antique stone carved basin in the powder room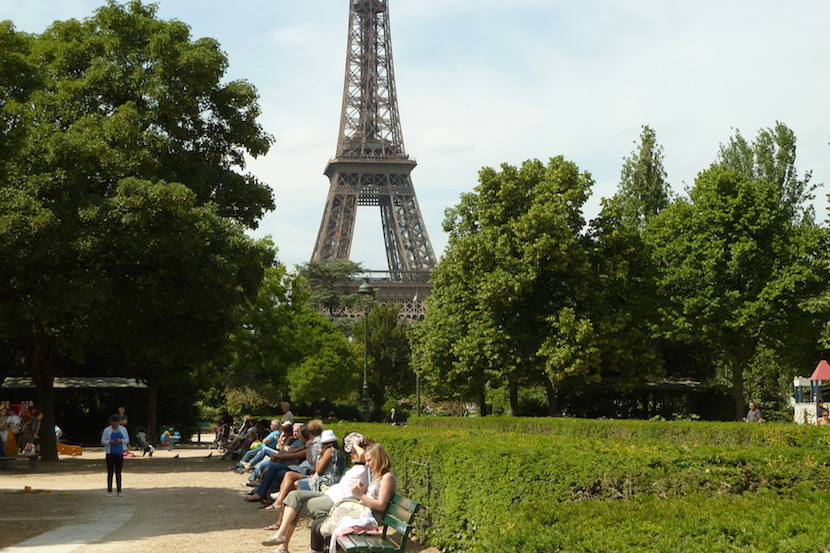 Eiffel Tower is a few blocks from our Pomerol apartment
Walk a few blocks and you can enjoy the beautiful Champ de Mars and the iconic Eiffel Tower.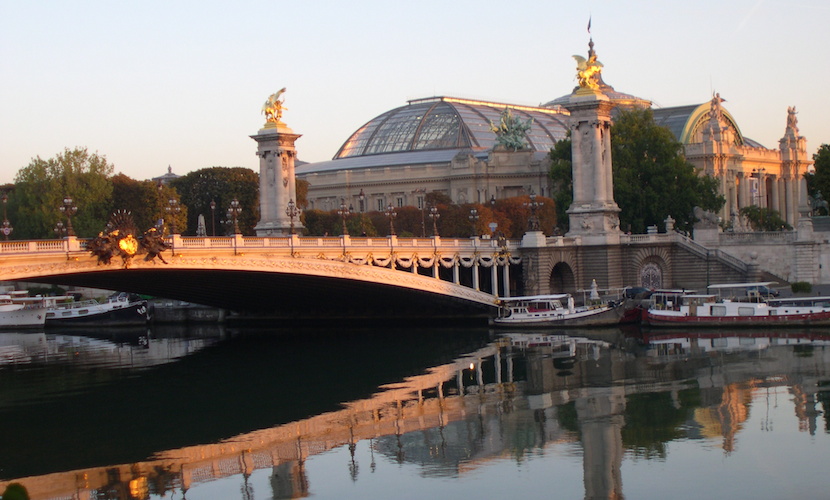 Stroll along the romantic Seine river at sunset
Stroll along the banks of the Seine river at sunset or board a romantic dinner cruise, a great way to see the sights.
Visit our favorite cheese shops on rue Cler
The choice and flavors of cheese available in Paris is amazing! Visit two of our favorite cheese shops on rue Cler - La Fromagerie and Marie-Anne Cantin.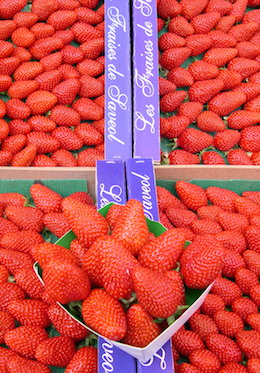 Buy fresh fruit & vegetables daily from the rue Cler market
With the famous rue Cler market street so close to your apartment, you'll find yourself buying fresh fruit and vegetables daily.
Walk to the Rodin Museum and admire 'The Kiss' sculpture
Visit one of Paris' most famous sculptures - The Kiss - at the Rodin Museum, a fascinating testament to his work. This was once his home and the grounds, which feature many of his creations, make a perfect place for a picnic.
Beautiful pastries can be found on nearly every block
Beautiful pastries can be found on nearly every block in this neighborhood, one of the advantages of staying here. Children will love picking out their desserts for lunch and dinner, and like all Parisians, you'll want to grab your fresh-baked baguette right before your meals.
Kids love the carousel in the Champ de Mars

Pedal cars near the base of the Eiffel Tower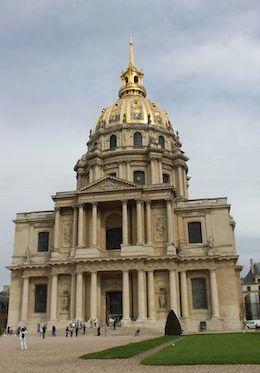 Napoleon's tomb rests under the golden dome of Invalides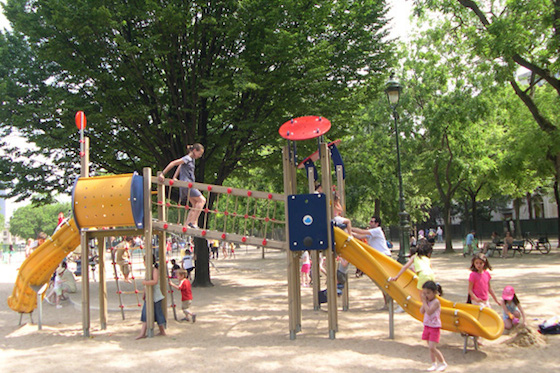 Fantastic playgrounds in the nearby Champ de Mars

"We loved the location of the apartment. Also, it was equipped with everything we needed. We especially liked the Nespresso machine! I think we're going to buy one now that we're home. The bath towels were very luxurious! If there was a place to ..."
Miguela M. Everhart , Anchorage , AK , United States
"We had a wonderful experience. We loved the apartment and location, perfect for us. So efficiently set up. Your team was great - polite, responsive and pleasant!"
Jan D , Minnesota , USA
"We loved our weeks stay in Paris Perfect Pomerol apartment. Perfect for two; Everything we required was available. Paris Perfect staff and information folders were excellent. Thanks PP for a memorable stay! Sam and Verity were excellent, courteous, ..."
Ian , Australia
"All the pre-arrival information was so helpful, especially about what is in the neighborhood. Check- in went very smoothly. We even got to get into the apartment earlier than we thought could. It made our arrival day much nicer since we just got ..."
Karen Robbibs , San Francisco , California , United States
"A highlight of the apartment is your personal view of the Eiffel Tower and the Rue Cler market/street scene below from the comfort of both the bedroom and living areas! Ideally situated, the apartment is just a short walk from excellent restaurants, ..."
Rick & Mary Garman , Hilton Head Island , United States
"Pomerol turned out to be quite perfect for our stay. We especially liked the location in the 7th and could easily imagine that we actually lived in Paris, walking up the spiral staircase to our 5th floor apartment (or using the tiny elevator). ..."
Marlene & Jerry Walters , Kensington , California , United States
"My husband, daughter and I had the extreme pleasure of spending two weeks in the Pomerol apartment in the 7th while I was working in Paris this spring. What a warm welcome from the staff! We felt instantly at home. The apartment matched the specs ..."
Jennifer Hefner , Napa , California , United States
"We thoroughly enjoyed our cozy Paris Apartment! The location was perfect for experiencing Paris and seeing all the highlights of the city. We took advantage of all of the wonderful shops just around the corner on Rue Cler, and the supermarket ..."
Mike Bridgman , Omaha , NE , United States
"We had originally booked an apartment in the 1st, but were changed to Pomerol. I was concerned this might be too quiet, but not so. The Rue Cler area was busy at the cafes every night with lots of locals.

The Metro stop La Tour-Maubourg ..."
Cheryl , Florida , United States
"An amazing trip in a perfect apartment. This was my fourth trip to Paris, but first to stay in an apartment. I stayed in the Pomerol apartment and the location couldn't have been any better. The market was 10 steps from my door and a Metro ..."
Angela Timberlake , Oklahoma , United States
"An amazing trip in a perfect apartment. This was my fourth trip to Paris, but first to stay in an apartment. I stayed in the Pomerol apartment and the location couldn't have been any better. The market was 10 steps from my door and a Metro station ..."
Angela T , United States
"We stayed in Pomerol, which was perfect for us. I thought that cooking in this unit might be a problem - especially after staying in Tavel before. But I was happily mistaken. I was able to turn out great meals in the french style daily, using the ..."
Linden & Abe G , Pasadena , California , United States
"We stayed in the Pomerol apt (not in your list) in January 2013 for 8 days. It was a great apartment for us. This is our second time staying with Paris Perfect and I would easily chose them again. The location is great - step out of the door and ..."
Andy S , Toronto , Ontario , Canada
"My husband and I loved our week in Paris and we very comfortable in the Pomerol apartment. The location was perfect; within walking distance to the Eiffel Tower, Les Invalides and the Alma metro station. It was so convenient having all the shops ..."
Maria C , Ottawa , Ontario , Canada
"MANY MARVELOUS RESTAURANTS WITHIN WALKING DISTANCE AND AN EASY WALK TO THE SEINE, MUSEE D'ORSAY,
THE LOUVRE, AND MUSEE RODIN."
PAM H , WACCABUC , NEW YORK , United States
"Paul and I loved the Pomerol Apartment. The welcome and information given to us was warm and really helpful. We had the best week in Paris. The apartment was so close to most attractions and also a great variety of places to either eat or ..."
Ann & Paul T , Sydney , Australia
"I have stayed in Paris Perfect apartments several times over the last three years and every experience has been delightful. The apartments are beautiful and the service is without reproach. Need to find a store selling phone chargers on a Sunday ..."
Katie Schwausch , Southlake , TX , United States
"Wonderful stay in Paris with a great location next to Rue Cler! We loved our evening dinners and view of the Eiffel Tower and will definitely be back to Paris again."
Laura, Jason & Shaun , California , USA
"We really enjoyed our stay in Pomerol. Having an on-site management team was extremely nice. We were very pleased with the location of Pomerol and now consider this area to be our "home base" in Paris. We often bought take away food at a deli on ..."
John & Chris Walker , Polk City , USA
"Lovely apartment and wonderful location. Pomerol was a terrific base as we toured Paris. We will definitely be back again."
Dan , Cleveland , USA
"Thank you so much for helping us book this fabulous apartment! The location could not have been better and the apartment itself was wonderful! The folks in the office were extremely professional and helpful. Once again, thanks for making our ..."
Renee Richardson
"Absolutely loved this location! We had everything close at hand. Wonderful markets, shops and restaurants. Th apartment was fully stocked with everything we needed. The furnishings were lovely and the view of the Eiffel tower was breath taking. ..."
Deborah Hill , California , USA
"We had a spectacular time. I had always wanted to rent an apt in Paris and this was the perfect way to enjoy Paris. The location was extraordinary. I loved the neighborhood and all the tips that were provided regarding where to eat and shop. The ..."
Clara Diez , Miramar , USA
"From sitting at the table eating croissants for breakfast (just purchased warm and fresh from around the corner in rue Cler) for breakfast, to lying in bed at night watching the Eiffel Tower sparkle over the roof tops....my 14 days at Pomerol were indeed perfect."
Sue Tregea , Brisbane , Australia
"The Pomerol apartment was truly "Paris perfect" for our week vacation. From the reservation process to the check-in on site at the apartment everything was handled professionally. Even Victor's taxi from CDG and back was perfect.
The apartment itself was clean, well equipped, nice towels and bedding, nicely decorated and homey, and so well located for visiting all the major tourist spots. We loved the Rue Cler market and being able to walk to the Eiffel Tower and metro. The guide to the neighborhood and Paris attractions were also very helpful...can't complain about a single thing...and such a great value!"
Richard Beck & Family , Los Gatos , USA
"We would like to thank you all very much for making our stay in Paris such a wonderful experience.

Pomerol is a lovely apartment, and a fantastic location just near Rue Cler. One of the highlights of our trip was shopping there most days - ..."
Cara, Michael, Ciaran & Lily
"We had a fabulous time during our stay in the Pomerol. The apartment is very well located in the 7th, and right on the corner of Rue Cler - absolutely amazing to be out the door and on the market street in just seconds. We must say that Christmas in Paris is a very special time."
Christopher Bolling , Santa Cruz , CA , United States
"Paris at Christmas could not be more beautiful! A perfect way to introduce our 12 year old son to Europe. Thank you for the wonderful service, accommodation and location. Our trip was everything we had hoped it would be."
Chris, Holly & Chase , Santa Cruz
"We have been coming to Paris every other year for at least the last thirty years. This is the first time we have stayed in an apartment and it has spoiled us for any other experience. But a Paris Perfect apartment is not just any apartment. Our apartment looked exactly as it was represented on the internet, no surprises. It was furnished very tastefully but even more important every possible convenience for a comfortable stay had been anticipated down to the hooks on the doors, the quality of the towels in the bathroom, the kitchen equipment and so much more."
Diane & Walter Ariker , Connecticut , United States
"We just loved our precious apt. It was a great experience because you felt like you were truly part of the parisan life style. Also it was so nice to have all the delicious cafes and bakeries right down the block. We loved paris and can not wait to ..."
Kay Roy , USA
"What a wonderful time e had in Paris at such a great location with lots of choice. Apartment was very comfortable.

P.s. thank you for the 'starter pack' and the lovely bottle of wine for our 40th anniversary."
Barry & Diane S , Australia
"Thank you for a great time!
"
Janine B , Pitt Meadows , Canada
"Loved the neighborhood. So much just outside the front door. The 69 bus is a dream. People so friendly and the food, beyond description!"
Julia M , Newport Beach , USA
"Great apartment; great location; great service from Paris Perfect."
Janice B , Brookfield , USA
"Very convenient and comfortable. Location, location location! Would recommend Parisperfect to all my friends."
Scott M , Portland , USA
"All in all, we had a great time. Your staff was helpful and receptive to our needs."
Karla P
"We had a delightful short stay in Paris on our way back from Madagascar. Pomerol was truly perfect. Not only is it very comfortable for two people, its location is great. Rue Cler is a delightful market street. The area abounds in good restaurants. ..."
Greg Farrington - San Francisco
"This apartment is a little small but very nice. We loved the proximity to the Rue Cler and the 69 bus line, arguably the best line in all Paris. Renting from parisperfect is a treat. The same high standards apply to all the apartments and the staff ..."
The Arnolds
"As always, we very much enjoyed our stay in Paris . Having lived in Les Loges en Josas (pres de Jouy en Josas & Versailles) We visit as often as possible. If the "sejour" is 5 days or more, we rent an apartment. Often our daughter & her ..."
Suzanne Roll
"We love Pomerol. The view of the Eiffel Tower was awesome. The apartment was very homey and you could not get a better location. But what was even better was the service we received from Paris Perfect. We decided last moment to go to Paris. We ..."
Diane & Jeff Cerf , San Francisco
"We had a wonderful stay at the Pomerol. The location is perfect in terms of convenience and the proximity of the Eiffel tower is really hard to beat. We had picnics there so many times and just walked home late at night after enjoying the view. Rue ..."
Luisa Moya
"What a wonderful vacation! We love France! The architecture, history, culture, people, fashion, food, everything was fantastic. We will definitely go back one day soon. We really enjoyed our stay at the apartment. It was so conveniently located ..."
M. Fernandez
"Our stay in Paris was made even more memorable thanks to our choice of Pomerol near Rue Cler. Fresh baguettes and croissants that we bought each morning with our homemade coffee and view of the Eiffel Tower was magnifique. My only disappointment ..."
Jim and Sally Ebrecht
"Stayed here in Dec '08. Super location..Grenelle and rue Cler. How much better can you get! Cute apartment with lots of charm. Plenty of closet space. The trundle bed is a great idea and most comfortable. The bath arrangement works great for two ..."
J Grace, Asheville NC
"Our stay in your Pomerol apartment was memorable for so many reasons, not the least of which was the way you took care of us from beginning to reluctant end. You gave us a home in the City of Light and made us feel as if we had friends there. You ..."
Greg
"My Fiance and I recently stayed in the charming Pomerol apartment. The location was fantastic and the extremely helpful booklet in the apartment meant that you already knew where to go to get essential supplies so no time wasted searching. The ..."
Lindsay
"So lovely... all details taken care of... a person to meet and greet us, someone on the other end of the phone for questions all week. The Pomerol was so lovely, so well situated. The place was perfect, the people were perfect, from the time we ..."
Susan Young
"How does one describe a perfect stay in Paris? We had a wonderful week at the Pomerol apartment. The apartment was everything as described on the Paris Perfect website, only better. We were delighted to find such a sweet, charming and most ..."
Tony and Pat Munden
"We stayed at the Pomerol apartment in Novemeber '05. It was a beautiful apartment, immaculately kept. The staff and owners were was very helpful and accomodating, and their recommendations were better than any guidebook. The location was ideal - ..."
Jean
"Paris has served as the book-end of 3 previous vacation trips to Europe, so when my husband and I were planning our 50th birthday/20 anniversary/no children vacation, we knew it was time to give Paris our full attention and we also knew we wanted an ..."
PJ Rosenthal
"My husband and I just returned from a week in Paris, where we celebrated our 25th wedding anniversary. We had an amazing time! We've only been in Europe once before, on our honeymoon. For this special anniversary trip, we selected Paris because of ..."
Vickie Schroeder
"My two weeks at Pomeroi are now a distant past..and it is not yet a week back in Vancouver. Thank you for selecting such functional and attractive venues to offset the normal hotel living I do 50% of the year. I will return for my morning jogs ..."
Jim and Maribeth Fletcher
"Pomerol was a fantastic apartment with a great location right on Rue Cler. It was beautifully decorated and well equipped and the management staff was extremely helpful. It made our one week Paris experience very special, one that our family will ..."
Mike & Linda Petrovich
"Bonjour,
This was my virtual 10 day trip to France. All my plans and services were selected and paid for via the internet with no knowledge whatsoever of any of the vendors.

After spending many hours on the internet looking for an ..."
Karen C.
"We loved our stay at the Paris Perfect apartments,
We stayed in the Rue Cler area, the market is great, a super area, and the apartments was fabulous Pomerol, great neighbourhood, beautiful furniture, nicely decorated, exquiste view of the ..."
Marianne
"We had an absolutely wonderful time in Paris, and a big part of that was staying in such a great apartment (Pomerol), and dealing with such great people. The location was ideal, with Rue Cler market right downstairs, and everyone associated with ..."
Scott and Pam
"Renting an apartment vs. staying at hotel was new for us. We loved the experience so much we can't go back to staying at a hotel surrounded by tourist postcards and t-shirts ever again. What a wonderful surprise it was to enter the world of the ..."
Johanna and Stephen Lindsay
"We were delighted with our Pomerol rental. It was in perfect condition and very well designed. We have rented from other companies before and there is no question this is the most professionally run organization. The owners are wonderful and could ..."
ronni
"Madelyn has created the perfect vacation experience. Friends and I stayed at the Pomerol and had a wonderful stay. This was the first apartment stay for all of us. We were all a bit nervous since we did not know what to expect. It was the best ..."
Jean D.
"Your apartment was fabulous! The experience of staying at an apartment instead of a hotel was so much more French - we enjoyed going to the markets, eating our baguettes and croissants for breakfast at home and practicing our French with the very ..."
Mimi S.
"Dear Madelyn and Philippe
I just wanted to drop you a note to tell you how much we enjoyed the Pomerol apartment. It suited our needs exactly. We loved the location on Rue Cler and found everything we needed in your clean and beautifully ..."
Linda McNamara