About Us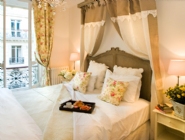 How we started: Our Paris apartments
Our company began almost 20 years ago when Frenchman and former cardiac surgeon Philippe traded in the operating room for more entrepreneurial pursuits. He met his energetic (he sometimes says 'crazy') American wife Madelyn on a skiing vacation in Switzerland. Maddy was a Partner with an Investment Bank in London after receiving her MBA from Stanford Business School. They commuted between Maddy's base in London and Philippe's in Paris for several years, and were married in the local Parish Church St. Pierre du Gros Caillou next to rue Cler in the 7th.

After discovering the delights discovering the French food gene and watching how it showed itself (Philippe calling his parents and asking what they had for lunch; starting every day with 'What are we going to eat', and long discussions about which boulangerie makes the best baguettes), Maddy had the idea to share their love of Paris and "la vie Parisienne" with others.

Your Paris Perfect experience begins with where you stay, and we offer you a warm home in the heart of Paris. Each of our apartments is carefully hand picked to ensure it meets our standards of luxury and warmth, including outstanding locations in authentic Parisian neighborhoods. Find fully remodeled kitchens and bathrooms, comfortable beds with luxury linens, exceptional locations and panoramic views. When you reserve, we open our address book and share our favorite Paris resources with you to help you plan and enjoy your stay – from excellent tour guides to cooking classes, private chefs, favorite restaurants and cafés to the best pastry shops in the neighborhood. Relax, explore, and enjoy each day to the fullest, experiencing a vacation in Paris that you'll remember for a lifetime!

We have had the good fortune to be recognized by Business Week, Rick Steves, The Fine Living Channel, The Wall Street Journal, Travel and Leisure Magazine, The Sydney Herald, to have appeared on House Hunters International and more.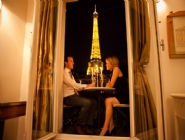 Our Philosophy
Time is the most precious asset, especially on vacation with people you love. Our goal is to offer you an unforgettable experience in the most beautiful city in the world so you will create your own memories of a lifetime.
From locations and apartments that say welcome the moment you step in the door, to our friendly and knowledgeable team on the ground. They will guide you through your vacation planning process and help you choose the perfect apartment.
When you've booked, the adventure begins! Want to explore the open air markets near your apartment, take a cooking lesson, sail down the Seine at sunset or hire a chef to cook dinner in your apartment? We happily share our resources and help book favourite tours and activities for the whole family.
Our friendly team will help you every step of the way, from recommending a driver to meet you at the airport to greeting you personally at your apartment door when you arrive.
Meet the Paris Perfect Team
We are fortunate to have the most amazing talent any company could wish for! From our Paris managers to the most conscientious housekeepers and marketing support you can imagine. We admit it, we're prejudiced. Most of our employees are women who work from home, being allowed flexible scheduling. Many are professionals who have elected to stay at home to raise children, but want to keep active in their careers. Average time at the company is over 7 years. Our team they will go the extra step to help, and not stop until a job is done.
Find out more about our friendly team.
Please contact us to help plan your Paris vacation. We are pleased to help!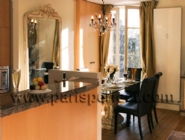 What Our Guests Say
"All I can say is perfect view, perfect location, perfect service, perfect accommodations!" – M. Goldman

"Paris Perfect was the most thorough and accommodating of any agency we have ever worked with." – Barbara DePaul

"There are other rental agencies in the city but Paris Perfect is definitely the best." – Dana Baines

"The place was perfect, the people were perfect; from the time we booked until the day we left." – Chris & Jan

"If you want to experience Paris as a local, but want all the comforts of home, rent a Paris Perfect apartment!" – Scott & Laurie

"I can't say enough wonderful things about our stay with Paris Perfect. The service was great and we wouldn't hesitate to return or recommend them to anyone." – Lisa Roday