La Place Dauphine: Eight amazing vacation apartments in the most iconic location in the heart of Paris!
Our La Place Dauphine apartments are in the very heart of Paris on a charming square in the most central location—at the tip of Île de la Cité—where Paris was founded. Place Dauphine is ideally situated by the famous Pont Neuf, the oldest bridge in Paris, and only a few blocks from Notre Dame and Sainte-Chapelle, with its heavenly stained glass windows.
At kilometer zero of Paris, Place Dauphine couldn't be more central to sightseeing, dining and shopping on both the Left Bank and Right Bank. Choose from eight beautifully restored, elegantly decorated vacation apartments – each one full of history and charm. Parisians call La Place Dauphine's the most beautiful square in Paris. Artists and historians say it's the most secret, and film directors and fashion photographers make this their stage for films and fashion shows.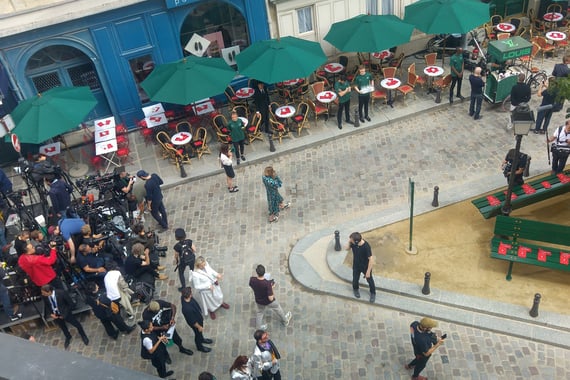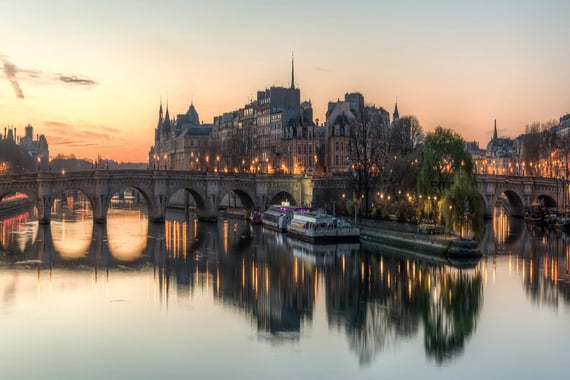 Six of the apartments are in one historic building, called La Place Dauphine. Perfect for a romantic getaway, it's also ideal for family reunions and group stays for up to 14 people by renting all six apartments. A few doors away, you'll find Pétrus and Languedoc, both stunning apartments in their own right.
On Place Dauphine you'll discover wonderful restaurants, cafes and, for something sweet, even a famous pastry school and their fresh pastries. Cross the fabled Pont Neuf to the Louvre, the Left Bank, St. Germain, the Marais – all the top spots in Paris are easily reachable on foot!
One of the most popular apartments at Place Dauphine, with high ceiling and views over this famous square.
Romantic two-level penthouse that overlooks Place Dauphine. A stunning private balcony from the beautiful apartment gives you a front-row view of all of Paris' landmarks.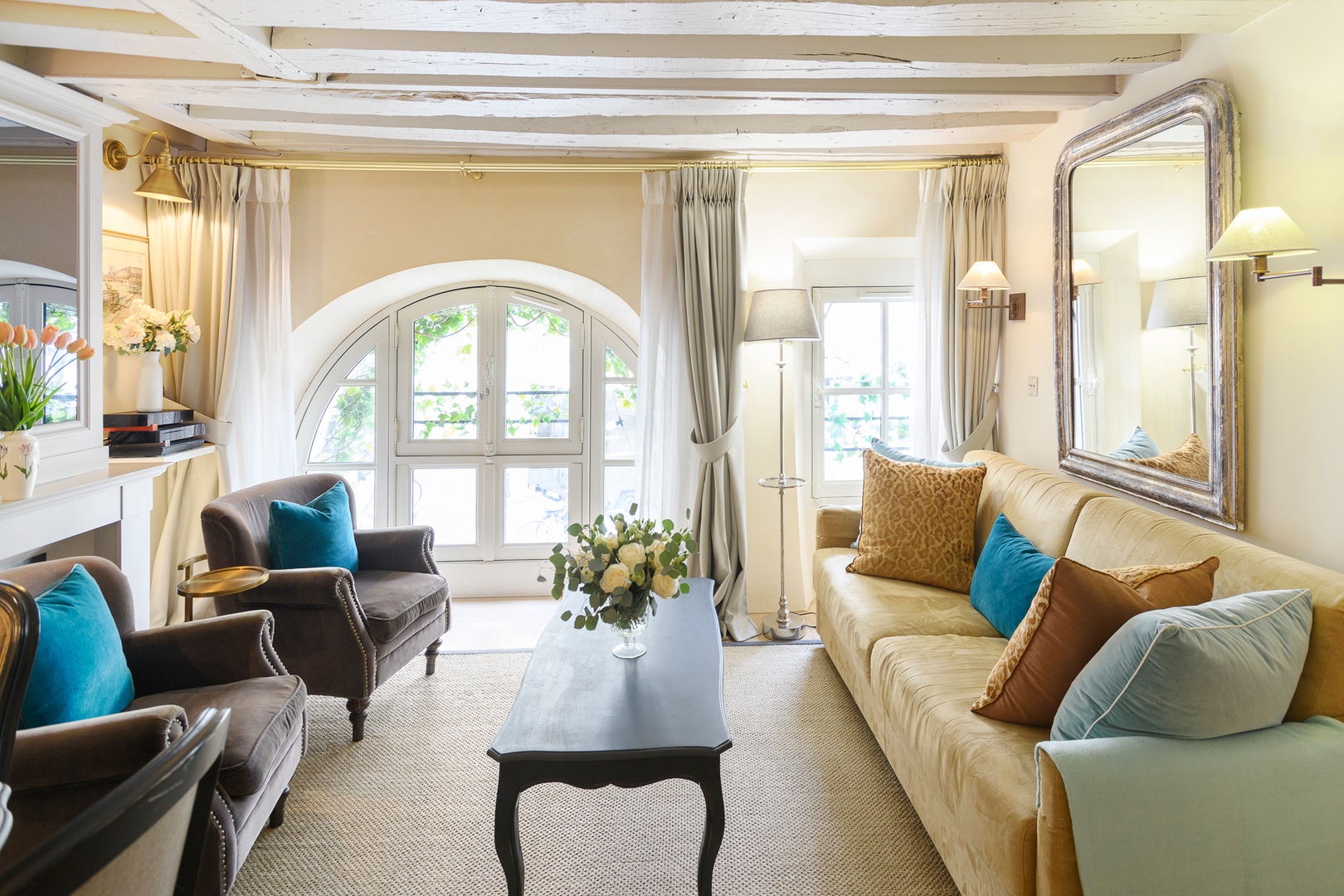 Much in demand, the Anjou apartment is a duplex which sleeps up to four in total comfort. Guests adore relaxing by the arched windows and watching passers-by and Parisian life below.
Surround yourself with history when you stay at this beautiful and cozy property overlooking Place Dauphine on the Île de la Cité! With stunning decor and every modern convenience, your stay is guaranteed to be memorable.
Plus Two More Apartments on Place Dauphine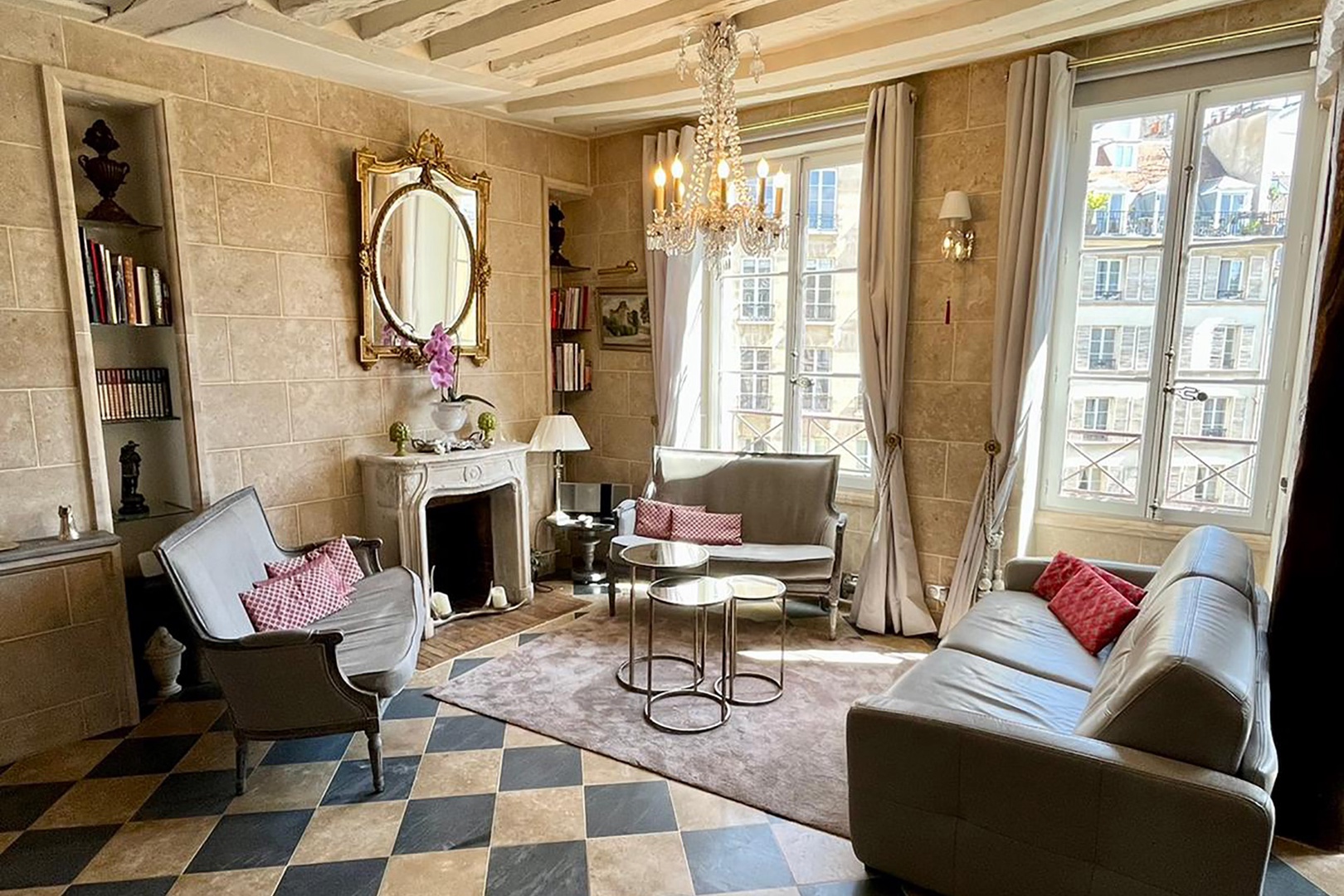 The epitome of Parisian class, this remarkable apartment has a harmonious atmosphere of old and new elegance. Enjoy a stay surrounded by luxury in this impeccably decorated apartment ideally situated overlooking historic Place Dauphine.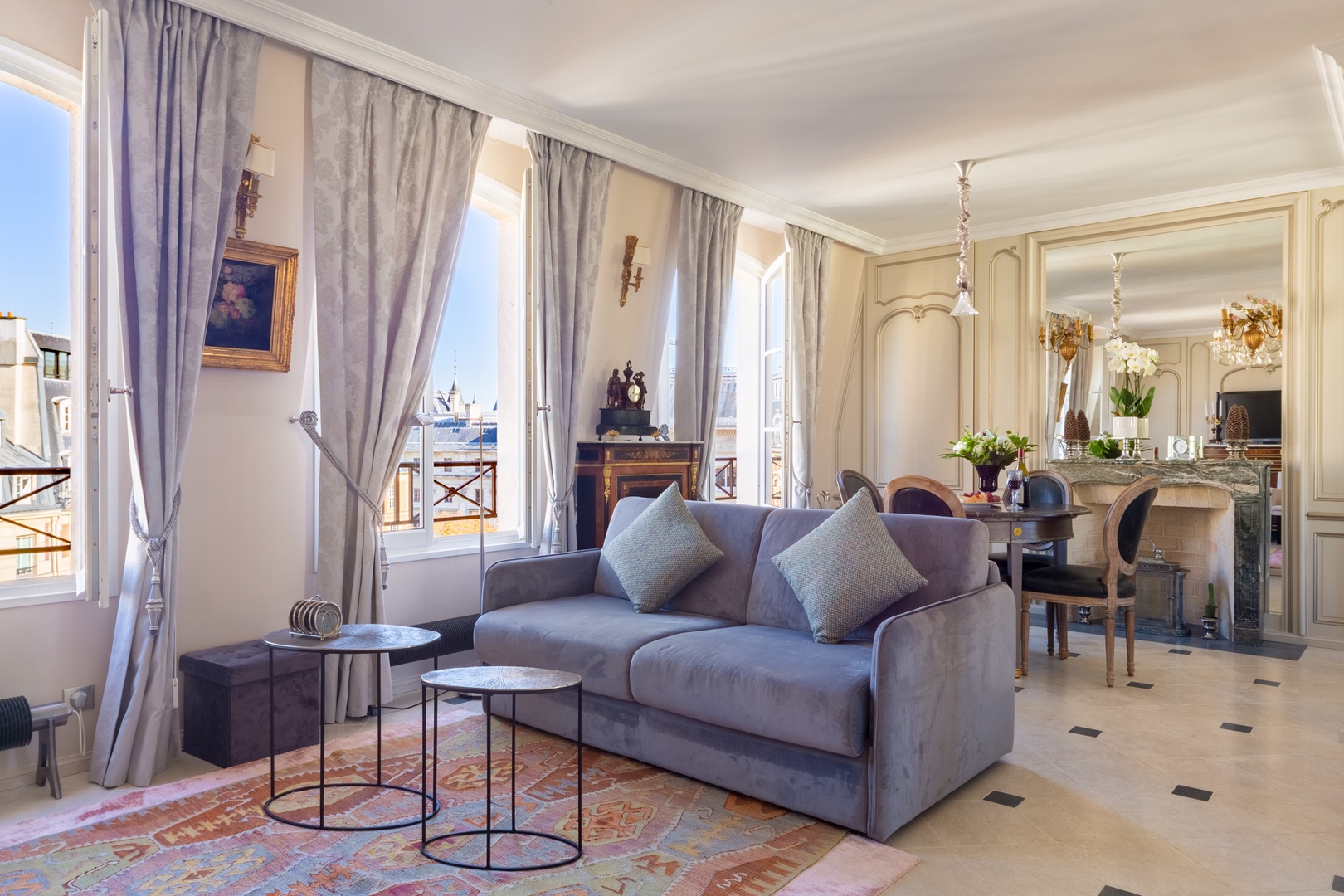 A luxurious retreat in the heart of Paris! This elegant apartment is set in a 17th-century building on Place Dauphine with large windows overlooking what is considered one of Paris' prettiest squares.

Photo by Daniel Vorndran / DXR
The Location
With sophisticated elegance on one side, bohemian charm on the other and rich history all around, Place Dauphine is nestled between the very best neighborhoods in all of Paris!
With its incredibly central location on the Île de la Cité, La Place Dauphine's location is a perfect home base for exploring Paris. From Notre Dame cathedral nearby to the glorious stained glass at Sainte-Chapelle, to the Louvre museum and the Tuileries garden on the Right Bank. On the Left Bank are the popular Saint Germain, Orsay Museum and so much more. Board a river cruise near the tip of the island and enjoy beautiful views down the Seine to reach the Eiffel Tower. You're in the very heart of the city when you stay here.
Reaching Place Dauphine and getting around Paris is easy on foot or with a variety of transportation options with Metro stations, RER train lines and excellent bus lines nearby.

History
The Île de la Cité truly is the historic heart of Paris. It is a small island where the city was founded by a Gallic tribe called the Parisii, and it has always been the very center of Paris. This is "Kilometer Zero" of Paris, where Notre Dame was built, where the Kings of France lived until the Louvre was built, where the last Templar Knight was burned at the stake, where St. Louis carried the Crown of Thorns to Sainte Chapelle, where Marie Antoinette was imprisoned at the Conciergerie. This remarkable island is where Place Dauphine is situated, making it a unique setting for discovering the history of Paris.
Located at the very tip of the Île de la Cité, Place Dauphine dates from the time of King Henri IV, who is immortalized in the equestrian statue on the Pont Neuf nearby. Built in 1607 at the order of Henri IV, Place Dauphine was named after his son, the Dauphin of France, who would later become King Louis XIII.
Remarkably, Place Dauphine was built for the emerging merchant class to purchase rather than the elite classes like Henri IV's other notable civic project Place des Vosges. The properties were quickly bought up by scientists and goldsmiths who built laboratories and shops. All leading advances in science and technology were discovered here: medical technology, photography, watch making and more. Marie Antoinette and Napoleon bought the first Breguet watches in their shop, which was located on Place Dauphine.
Sign up to receive Our Brief History of the Founding of Paris and Place Dauphine Here
History, Assassination and Invasion on Place Dauphine... sign up to receive a PDF of the story of Place Dauphine.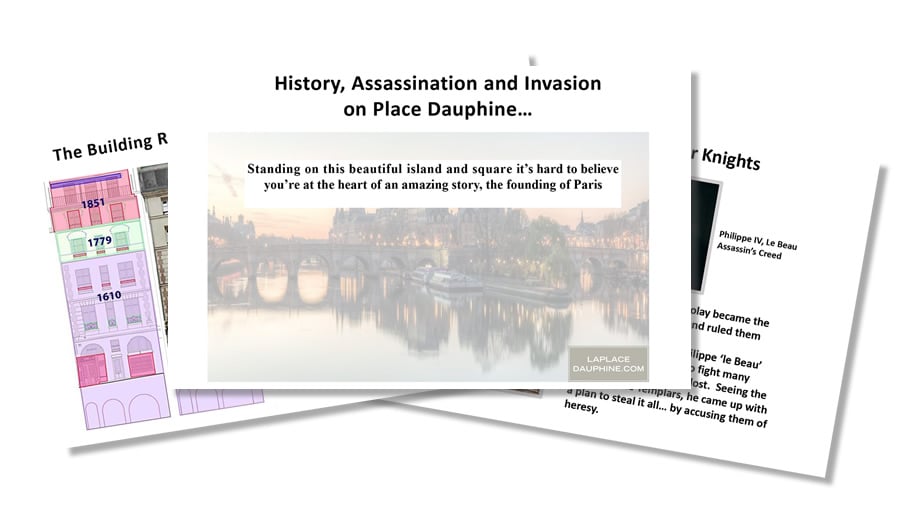 Henri IV and Place Dauphine
Place Dauphine was one of the first projects commissioned by Henri IV. After the completion of Pont Neuf in 1606, the king wanted to make use of the three acres of undeveloped land on the western end of the Île de la Cité. Plans for Place Dauphine were drawn up between 1607 and 1610, and included rows of houses with matching facades built around a triangle structure. Remarkably, this general layout has remained unchanged for over 400 years. Another rare feature of Place Dauphine is that the buildings were built for merchants and commoners rather than the elite like other architectural developments of the period like Place des Vosges.
The equestrian statue of Henri IV located on Pont Neuf near the entrace to Place Dauphine was installed in 1614, and the last of buildings enveloping the Place Dauphine were completed in 1616. These buildings were originally just three storeys tall, consisting of two ground floor shops in each unit, two floors of residential space and a small attic space. Over the years a vast majority of the buildings have been heightened and extensively remodeled, with the exception of the two noticeably shorter units located closest to Pont Neuf.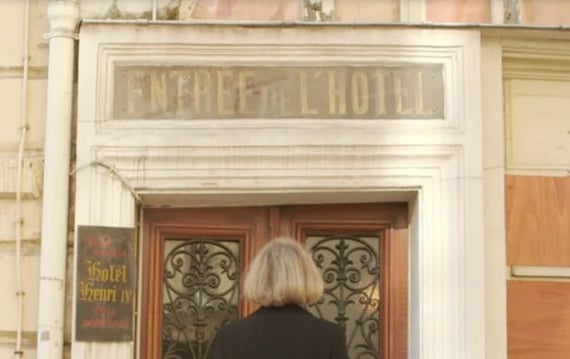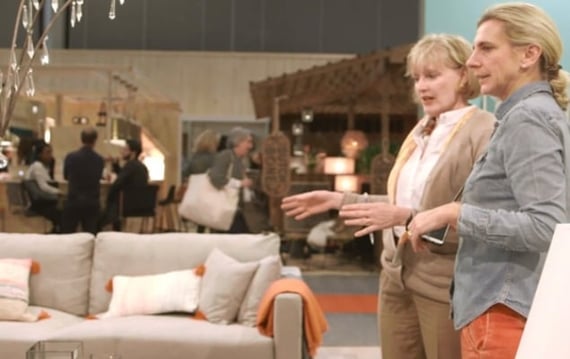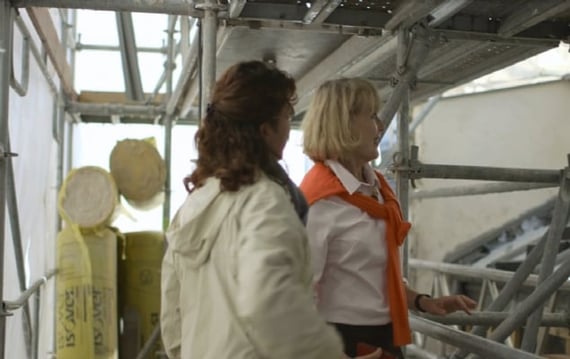 Sign up for our Vacation Perfect newsletter and real estate updates.