Paris Christmas Markets
Christmas is a special time of the year in Paris. From sipping vin chaud to browsing handmade gifts on the Champs-Elysees, we reveal everything you need to know about Paris' holiday markets.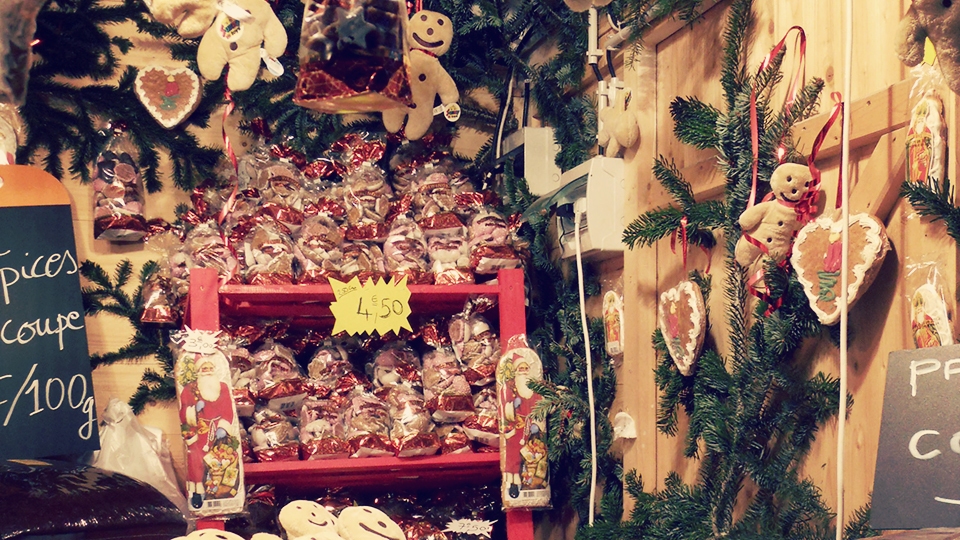 December is a special time in Paris, when days are short and you bundle up for the cold to stroll down busy streets or enjoy the lights twinkling along the Seine. Enjoy adventures from listening to beautifully sung chorals at Notre Dame, to ice skating at the Hotel de Ville to visiting the famous Christmas markets or Marche's de Noel in Paris.
The tradition of Christmas markets dates back to the 1400's where they began in the region of Alsace. Craftsmen displayed their wares during the Christmas season, fro food specialities to crafts. The tradition has lasted through the centuries and spread to other cities in France. In Paris, the largest market is on the Champs Elysées. Starting in late November, pretty little wooden chalets are set up in long rows, creating a festive holiday atmosphere. Craftsmen from throughtout France set up their wares, and you'll find everything from regional crafts to candy, artwork, and jewelry. It's a fun outing even on cold days, for you can enjoy a Vin Chaud and hot crepes as you walk alone.
The markets appear in late November in Paris and the largest ones last until 2 January. The main Christmas markets are listed below. Click here for more information on other Paris Christmas Villages.
---
Address: Avenue Des Champs-Elysees, 75008, 8th Arrondissement
Nearest Metro: Champs-Elysées-Clémenceau
One of the most beautiful sights at Christmas time in Paris is the twinkling fairytale lights along the Champs Elysées, one of the city's most famous shopping streets. The largest Christmas market in Paris is also held along the Avenue from November 15, 2016 to January 10, 2017.
---
Saint Sulpice Christmas Village
Address: Place Saint-Sulpice, 75006, 6th Arrondissement
Nearest Metro: Saint Sulpice or Saint Germain des Pres

From December 1st to December 24th, Place Saint Sulpice comes alive with its very own "Village de Noel, or Christmas Village. The market isn't overly large but there's a good selection of quality art works made from a variety of materials including wood, glass and textiles.
---
Marche Saint-Germain
Address: Place Saint- Germain Des Pres, 75006, 6th Arrondissement
Nearest Metro: Saint-Germain-des-Pres
Located next to Saint-Germain-des-Pres métro station, this market consists of twenty-five beautifully decorated and illuminated chalets selling a range of arts, crafts and local produce. It's also near many tourist attractions including the incredible Saint-Germain church and the famous literary cafés, Les Deux Magots and Café de Flore. This market lasts from November 13th, 2016 to January 8th, 2017.
---
Christmas Village at the Trocadero
Address: Trocadéro, Paris, 75016, 16th Arrondissement
Nearest Métro: Trocadéro
Held between December 8th to January 2nd, the Christmas Village at the Trocadéro is one of the largest Christmas markets in Paris. Simply stroll across the river fro 2 Trocadero christmas marketm most of our Paris Vacation Rentals and you're there!
---
Montparnasse
Address: Centre commercial, Maine-Montparnasse, Paris, 15th Arrondissement
Nearest Metro: Maine-Montparnasse
Situated at the foot of the Montparnasse high rise, this market is the place to go if your looking for fabulous meats, cheese, cakes and wine for your gourmet Christmas feast. Nearly all of the stalls offer free samples so don't hesitate to try before you buy! Open from December 5th to 30th.
---
Disneyland Paris Christmas Market
Address: Disneyland Resort
By RER: From Châtelet-les-Halles, take RER A to Marne-la-Vallée/Chessy station)
It's hard to imagine that The Happiest Place on Earth could get any happier, but Disneyland is truly one of the most magical places to visit at Christmas. The trees twinkle with lights, huge decorations line the streets and Mickey and his friends are decked out in all their festive finery. There's plenty of activities to keep the kids entertained and there's even a Christmas market for the adults.
Sign up for our Vacation Perfect newsletter and real estate updates.