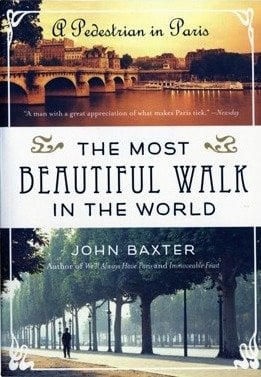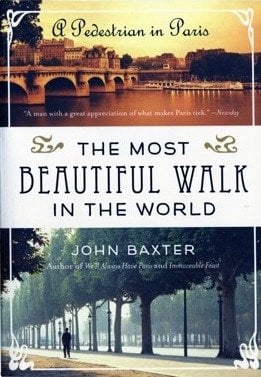 Some cities were made for walking, but perhaps none more perfectly suited to the pedestrian as Paris. Anyone who has gotten lost in the winding cobblestone streets of the Latin Quarter or strolled along the regal pathways in the Tuileries garden or walked along the banks of the Seine has likely felt that undeniable allure of Paris. In The Most Beautiful Walk in the World: A Pedestrian in Paris, John Baxter brings that something special in Paris alive through his experiences walking in the City of Light. It's in the streets of Paris that we discover Paris and its history. Baxter's natural and conversational approach encourages readers to lace up their shoes and discover those places where the essence of Paris has been preserved, sometimes in a more vivid and fascinating way than in any museum.
Baxter is an Australian writer living in Paris with his French wife Marie-Dominique in the heart of the 6th arrondissement. As Baxter describes his neighborhood, "Historical and literary associations don't simply litter the streets; one has to climb over them." Through his writing and fascination with discovering more about the history of his new quartier in Paris, Baxter almost by accident stumbles into doing literary walks in Paris. This is, of course, natural for someone who lives in the building where Sylvia Beach once lived, near the famous Shakespeare and Company bookstore she founded, and surrounded by the same streets, cafés and apartments where great literary expats once walked and lived, such as Ernest Hemingway, F. Scott Fitzgerald and his lively wife Zelda, James Joyce, William Faulkner, Gertrude Stein and scores of artists and painters from around the world. 
Baxter's tales often center around Hemingway, who walks in and out of The Most Beautiful Walk as he once did the cafés in the 6th arrondissement. Having been seduced by Hemingway's A Moveable Feast, just as I was earlier this year reading it for the first time, Baxter is especially in tune with bringing Hemingway's Paris to life. But we begin to see that all of these stories from the past form only a part of what could be called "John Baxter's Paris." There is not a single Paris, but the Paris that we discover for ourselves as we walk. Baxter's historical tales are interwoven with his own stories living and walking in Paris and other places in the world. His stories about walking in Australia and (not) walking in Los Angeles have just as much a place in The Most Beautiful Walk as do his memories in Paris. After all, wherever we walk we are there in that place, but we also carry with us—step by step—who we are and all the other places in the world we have walked before.
Not quite the guidebook that the title might suggest, The Most Beautiful Walk is a source of inspiration for every visitor in Paris to discover their own Paris. Take his words as a motto the next time you're in Paris: "And we who walk in Paris write a new history with each step. The city we leave behind will never be quite the same again." In the end, Baxter does share what is the most beautiful walk in Paris for him, and it's as personal and moving to him as your most beautiful walk in Paris will be when you discover it for yourself.
The Most Beautiful Walk in the World: A Pedestrian in Paris
By John Baxter
Short Books, 2012. 298 pp. £8.99
__________________
Find more information on The Most Beautiful Walk in the World: A Pedestrian in Paris on John Baxter's website, as well as details on going on one of his walking tours in Paris.