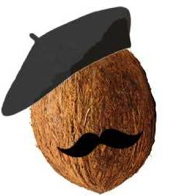 Before we publish our review of Angelina's famous chocolat chaud for the Paris Perfect Hot Chocolate Challenge, I'd like to share a story with you. It's been said the French are like coconuts … hard on the outside, but soft on the inside. To some they may seem reserved, standoffish or even cold. But I have proof this is not true! They are as soft and sentimental as anyone…once you get past the rough exterior.
My children and I were visiting Paris in January 2010 and had heard so much about Angelina's wonderful hot chocolate, we planned a visit there for our last night in Paris as a special evening to remember. I called ahead to find out their hours and be sure they were open. We plotted our bus route and while we were waiting at the bus stop, I noticed a sign advising of les manifestations.
I knew this meant strike or demonstration, but my French was not good enough to understand all of it. We hopped aboard and were on our way. What we learned the hard way was the sign was notifying riders the normal route was altered for the day and several stops would be omitted (including the stop for Angelina's) to avoid the demonstrations. I didn't figure this out until we were two stops beyond our destination, and by this time it was about 30 minutes before Angelina's closing time.
I grabbed the children, jumped off the bus at the next stop and we started running south, not sure of where we were or how to reach Angelina's, but knew it was south of us. It was cold and dark … the street lamps lighting our way as we ran…literally…through the streets of Paris, with no map or GPS, with one goal in mind … get to Rue de Rivoli and find Angelina's!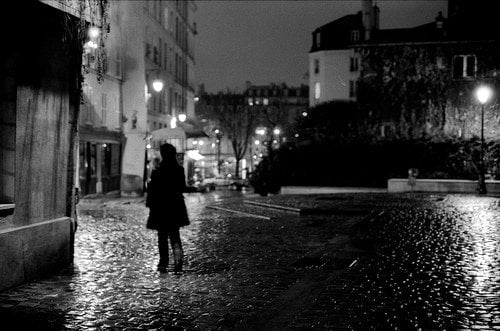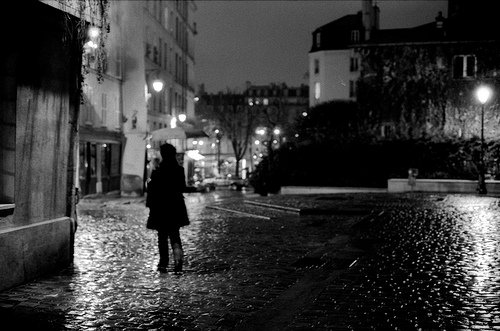 We ran down small side streets and stopped in a hotel to ask directions. The kind desk clerk let us consult his map and helped guide us. Breathless, we arrived at Angelina's 10 minutes before closing time, a bit disheveled, but ecstatically happy as we saw the bright, beautiful tea room filled with happy patrons.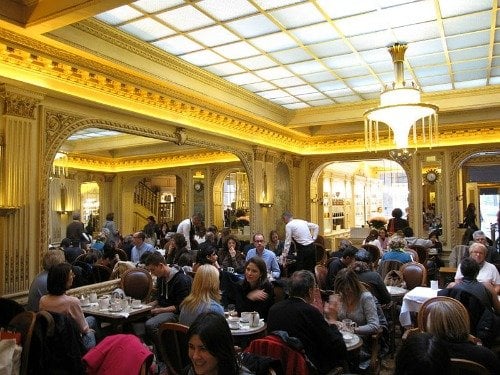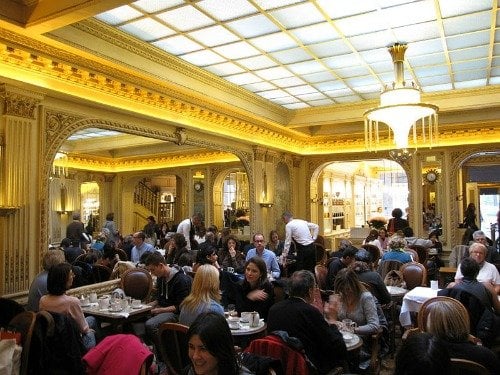 I approached the maître d', greeted him with my best "bonsoir monsieur," and politely asked for a table for three. He looked at me slightly condescendingly and replied, "Non, je regrette Madame, our last seating was five minutes ago."  Even though reservations were not required, we had just missed their last seating and he would not accommodate us.
Heartbreak!
He suggested we come back tomorrow, but I explained this was our last night in Paris and we were leaving in the morning. I begged … pleaded … groveled … cajoled … all to no avail. "No Madame, it is not possible."  I was not going to persuade this immovable Frenchman. Rules were rules, and exceptions could not be made. 
As a last-ditch effort, I turned to my 9 year old, looked down into his big, brown eyes which were now welling up with tears, stroked his cheek softly and said (loudly enough for the maitre d' to hear me) "I'm sorry, baby, we tried. We won't be able to try Angelina's famous hot chocolate."
Well, that was an emotional watershed moment for le coconut Frenchman. He said simply, "Wait here, Madame," turned abruptly and scurried off. I had no idea what he was planning, but I was silently hoping he would get permission from some unseen manager to seat us as a late arrival. We waited for what seemed like 10 minutes, and our hopes were growing dim.
To our great surprise, he returned with a large paper "to go" cup of hot chocolate with three straws, and a white paper bag with four delicate, pastel macarons. He refused any payment, and wished us bon appétit and bonne chance. We thanked him profusely, bade him au revoir, turned and left. Back out on the street, we took turns lapping up the delicious hot chocolate and shared the sweet, fragrant macarons, so happy to be in Paris on this dark, cold night in January.  Le Coconut had saved the day!
Staying tuned for the upcoming review of the hot chocolate at Angelina's … from another visit … in the next installment of Paris Perfect's Hot Chocolate Challenge!
__________
Thank you to Mary Ann Grisham for this guest post for the Paris Perfect Blog!
Photo Credits: Paris bus stop by Marko Kudjerski, Paris in the rain by Nicolas Vigier, Angelina's interior by Gryffindor, Macarons by Cocoinzenl