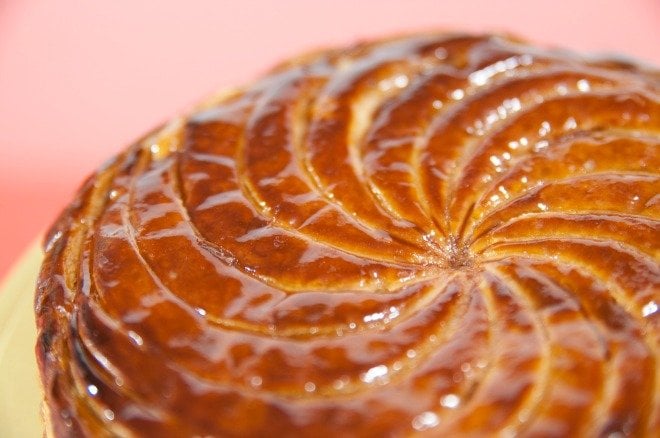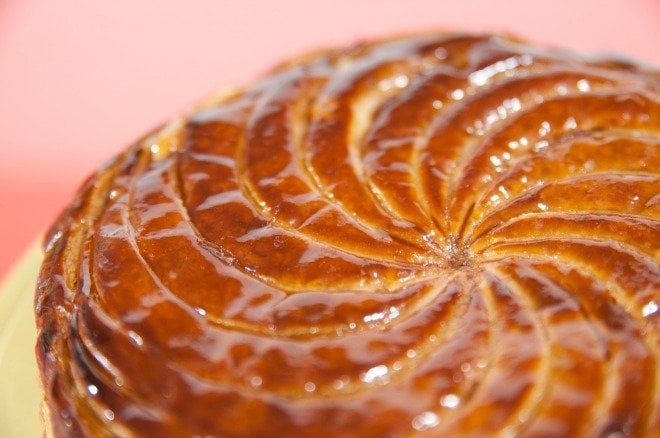 No sooner have the crumbs from the Christmas bûche de Noël been cleaned from our plates than the bakery windows in France will begin to feature les galettes des rois, or King's Cake, to be enjoyed on January 6th in honor of the feast of the Epiphany. This rich dessert, made with puff pastry and filled (usually) with almond paste, is a delight to serve, especially when one has young children. Hidden deep inside its buttery interior is a fève, a small porcelain charm. Whoever has the good luck to receive the piece of galette with the fève inside gets a crown (given with the purchase of the galette) and is allowed to pick his/her queen or king. It's good fun and a wonderful excuse to have a tea party, whether one celebrates the Epiphany or not.
The galette des rois is served warm, which permits the buttery, almondy flavor to reach its peak. Tradition dictates that the youngest child must hide underneath the table when the galette is to be served. As the hostess slices into the flaky cake, the child will shout out the name of the person who is to receive each piece. This is the fairest way to ensure that no one cheats and sees which piece holds the fève. One must then chew very carefully to avoid biting down on the porcelain charm and risking a broken tooth! As soon as someone cries "I've got it!" the gold crown is placed on the lucky winner's head, and he or she will choose a king or queen. And of course that person gets to keep the fève.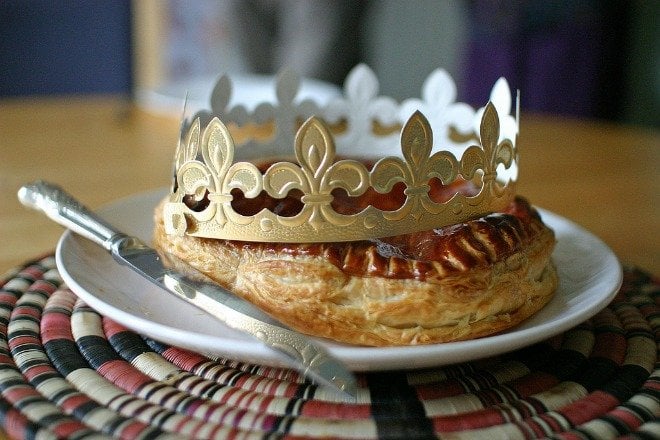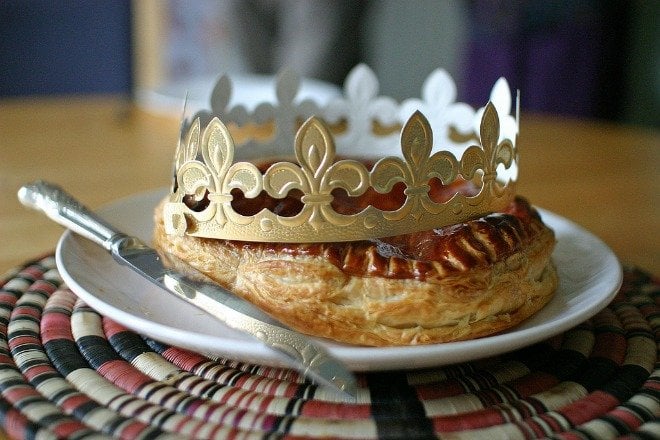 The galette des rois comes in sizes ranging from individual (but these don't contain the much-sought after fève) to larger cakes serving 8 – 10 guests. Many bakeries will have a theme to their fèves, such as little Asterix character figurines, or miniature framed works of art (I've seen the Mona Lisa as a fève!), all made out of porcelain. The high-end bakeries such as Pierre Hermé or La Grande Epicerie will have fèves that become collectibles; indeed many French families possess a special box where they keep each year's fèves, amassing impressive collections over the generations. I've seen rare or vintage fèves fetch astonishingly high prices on eBay. One of my favorite fèves came from a bakery in Normandy. It was a small, dollhouse-sized coffee grinder with a crank that turned, and made out of tin rather than the traditional porcelain.
The true galette des rois is simply puff pastry and almond paste with a golden top which features a scored pattern. You can find variations on this cake which substitute an apple or a chocolate filling. In southern France, the King's cake is not made with puff pastry at all, but is more a sweet bread in the form of a ring, with preserved fruits and large morsels of sugar adorning the top. Here's our favorite recipe for galette des rois.
For a less-pricey version of the galette des rois than those in a bakery, pick one up in the grocery store. Warmed up in the oven, they are delicious—you really can't go wrong with a product that is so buttery and flaky! Picard, the frozen food shop, also sells a delicious galette for a fraction of the bakery price.
For the Disney fans, this galette des rois has a Princess fève: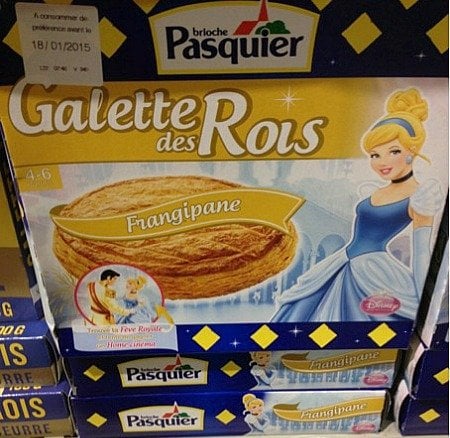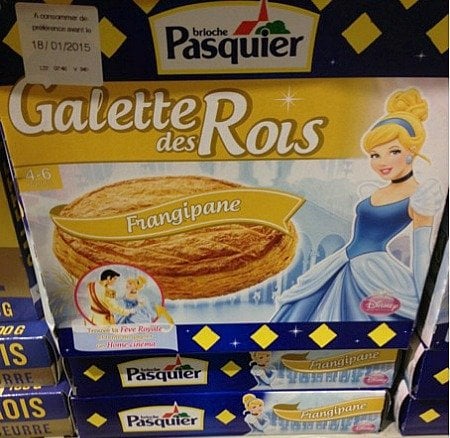 So if you are going to be in Paris during the month of January, be sure to sample a galette des rois. If you are lucky, you might get the fève and be Queen or King for the day!
___________
Shelby Ocana is Californian by birth and Parisian by choice. She arrived in the City of Light for a six-month stay when she was 20 and three decades later she is still there, working in the field of study abroad and raising two bilingual, bicultural children. Paris is her favorite subject to write about. Even after living there for so many years, Shelby continues to find one new thing in the cityscape each and every day that thrills her heart and amazes her eyes.
(Image Credits: Yuichi Sakuraba, Steph Gray, all other photos by author)