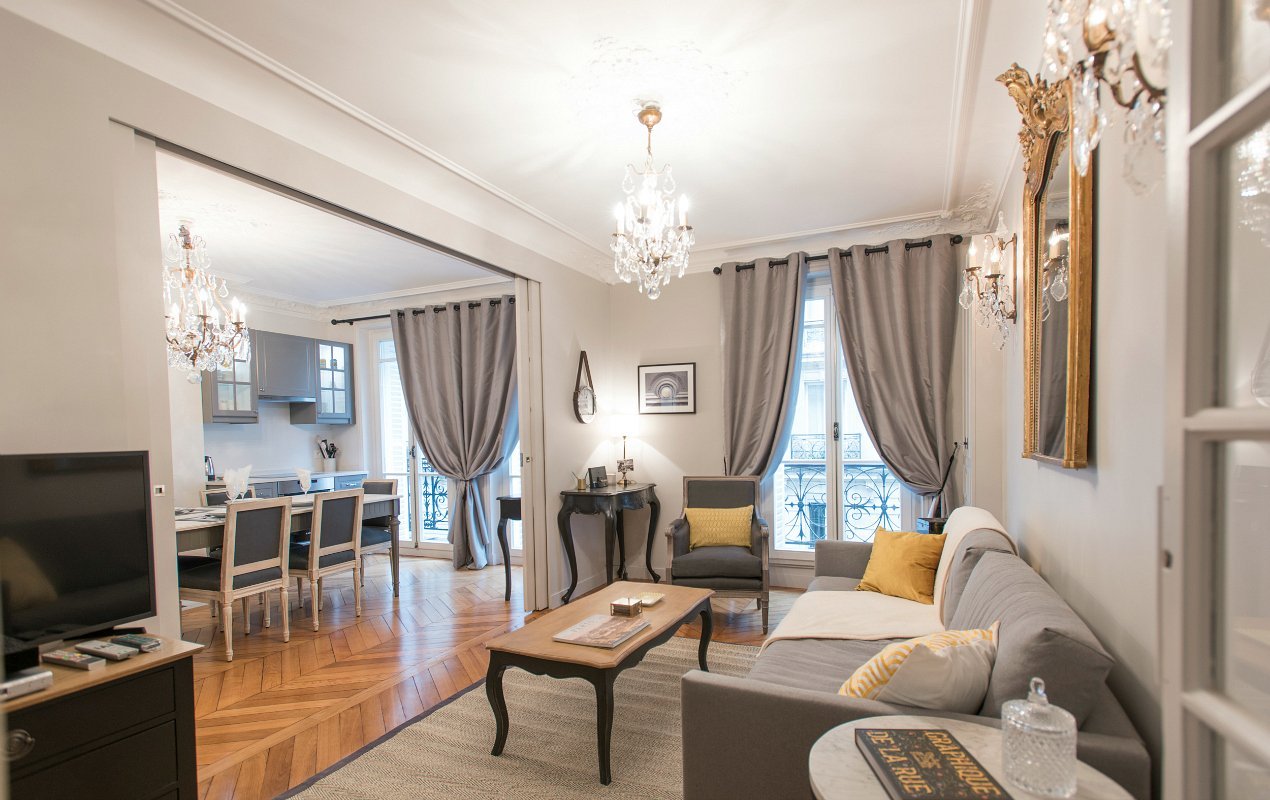 One of the things we're proudest of at Paris Perfect is the friendly community of loyal guests we've created at Perfect Experiences over the past 15 years: Paris Perfect, London Perfect and Italy Perfect. The numbers mean a lot to us – and are a source of pride: Over 150,000 families have stayed with us, of whom 35%+ return year after year, whether returning to Paris, London or Italy. Especially exciting to have them ask if we have a "Perfect" in other locations where they can experience the same welcome, standards and experiences. To us, it means we've succeeded in providing excellent value, great apartments and memorable experiences for our guests.
In terms of property owners, we've created a special community as well – most are former guests who fell in love with Paris, London or Italy and ask for help buying, renovating and managing their very own properties.
This is the story of one of our most recent additions, the Monthelie apartment. You may remember from a previous blog (Twin Paris Apartments Get Incredible, Unique Designs), we talked about how buyers are free to design their dream apartment in the way that suits them best. In this case, the Monthelie was one of two apartments purchased within a few months of each other and they both had the same layouts. The owners had different desires in terms of cooking space, bedrooms and bathrooms, and the results for each were spectacular.
We thought it would be fun to interview the Monthelie owners, to learn why they decided to purchase a Paris apartment and how they approached it.
The Monthelie is located on one of the most iconic streets in Paris, with the famous Eiffel view standing center as you walk past the beautiful old buildings. We were lucky to find the apartment thanks to a follow-up meeting with an agent, whose buyers had fallen through. The sellers had already committed to buying another apartment and were distraught to hear their property hadn't sold; they agreed to a reduction in price if our buyers guaranteed purchase.
Here's How the Monthelie Looked Before it Was Purchased:
The apartment technically featured two bedrooms, but they were interconnected. You had to walk through the master bedroom to get to the second bedroom. This wasn't a problem for a young family, but wasn't ideal for couples or families with older children.
The Bedrooms Before:
The biggest reason we think the sale fell through was because of this access problem. You can imagine how this posed an issue of privacy. Our general manager thought of a brilliant solution: create a hallway on one end of the master bedroom that would lead to bedroom 2. Since the hallway had the window, she suggested a set of glass doors to the master bedroom so it would receive the light and air from the courtyard, as before.
And Here's What the Monthelie Looks Like Now!
---
So now that you're familiar with the Monthelie's renovation journey, let's get straight to the interview with the owners, Josey and Reno.
Interview with Monthelie Owners
Tell us a little bit about yourselves. Why did you think about buying an apartment in Paris?
Reno and I met in college (NYU) and got married a number of years after graduation. Before we got married, I had spent a year in Paris going to cooking school (Le Cordon Bleu) and interning at a few restaurants (Jacques Cagna and Le Grand Vefour). Reno was jealous of my time there, since he had always loved Paris. Over the years we kept returning to the city, exploring the neighborhoods, eating way too much food and loving every trip there.
We started to dream about buying a Parisian apartment, but thought it might be out of our reach. So we considered buying something in a smaller town, maybe in Brittany or Provence, since we had heard of so many people who have done that and love it. We loved visiting the countryside, but weren't convinced we'd be happy being there for extended periods of time. We love that Paris is so cosmopolitan with so many different restaurants, markets, shops and museums. The architecture is gorgeous and we never tire of exploring (or getting lost in) the many different neighborhoods.
How did you hear about us and how did things develop?
While I considered buying a place in Paris a pipe dream, Reno was online doing research to see if and how we could make it happen. If not soon, then perhaps in the future.
We were both very impressed with Paris Perfect's operation. Their website was the most informative, and the apartments the most charming and well decorated – the kind of apartments we dreamed of owning. It took years before we were ready to actually buy a place, although we checked in often with Paris Perfect to ask if any of their owners were interested in selling their current apartments. We even recommended Paris Perfect to our friends traveling to Paris. They all had wonderful experiences and subscribed to the blog.
Once the euro dropped and the dollar strengthened, we were finally in a position to start looking seriously. So, we contacted Maddy/Paris Perfect again. They didn't have any existing apartments for sale within our budget, and I wondered out loud whether I could use the internet to do the search myself. Maddy was very supportive of this and offered to send feedback or forward any interesting listings. She warned laughingly that as experienced property investors, we might be able to find the right apartment by viewing websites and listings online, but that for most people, they end up quickly discovering the value of a search agent. I sent dozens of listings her way, most of which seemed ideal for us, or so I thought. She got back to me every single time, pointing out important things I'd missed: forgetting to check for an elevator, a location on a courtyard, a small note that there was a sitting tenant. It opened my eyes to the things you can easily miss.
Maddy referred us to a trusted search agent who did a consistently good job for clients. We agreed to meet with them a few months later, but within a few weeks of our initial exchange with Maddy, one of our friends who followed the Paris Perfect blog sent us Maddy's latest newsletter about an apartment for sale near the Eiffel Tower that would be a great addition to the Paris Perfect family.
We contacted her that day to inquire further about that apartment. She warned that several serious buyers had already shown interest and to secure the purchase meant making the offer immediately. We did so and the rest is history!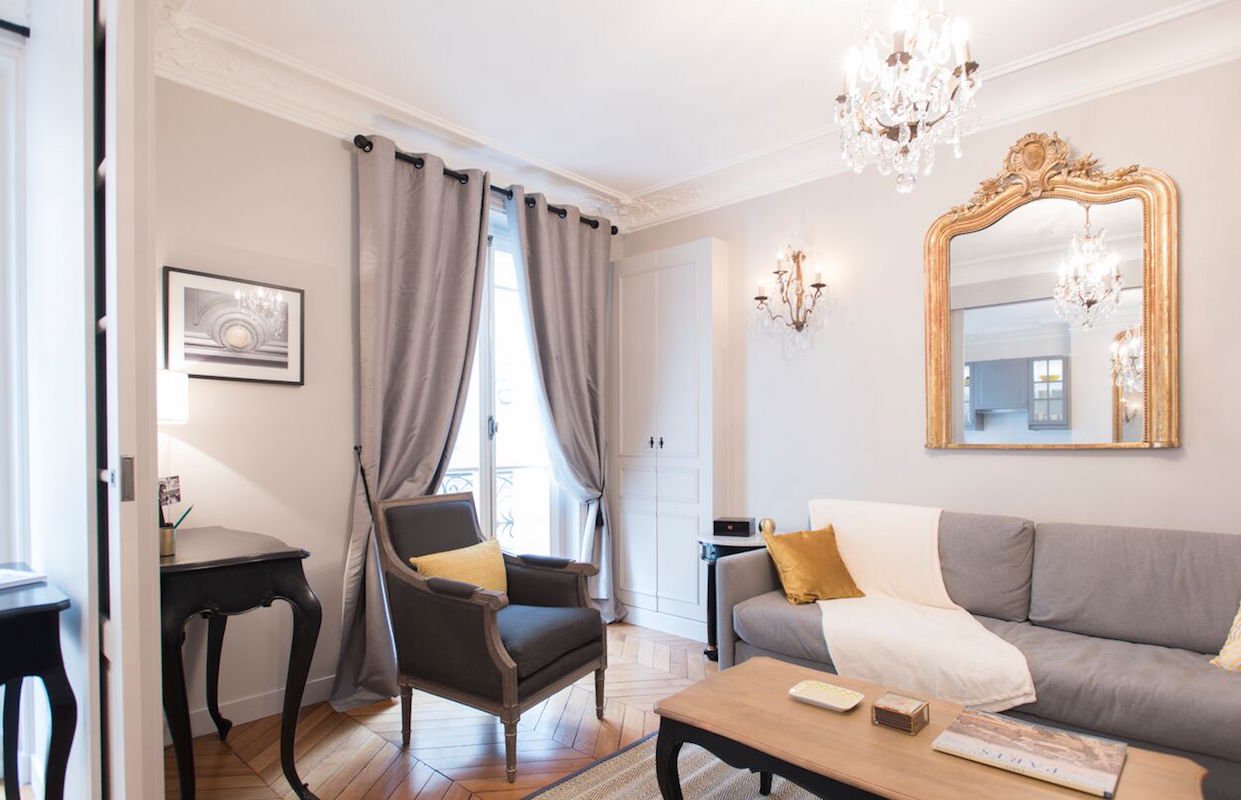 Knowing how Reno is a financial analyst, how did he feel about the idea and how much analysis did he do to factor in both personal and financial aspects of the process?
Even though we have purchased and managed a number of properties here in California, doing it abroad was a different story. Personally, we both wanted to jump right in. But we knew we couldn't let our emotions dictate such an important decision. We needed to make sure the numbers worked and that this would be a good financial decision. Reno was trying to lock down the numbers and run various scenarios to see if this investment made any sense. We held several conversations with Maddy and Philippe to better understand how the French property market worked, the implications of short-term rentals, and the historical rental and return rates. It was challenging to analyze the investment since there were several additional variables.
Plus, we had to overcome the logistics of this transaction. We had to a trust a lot of people we had yet-to-meet to help us conduct due diligence on the property, apply for a Eurodollar mortgage and act as our representative in the transaction. All this in a country where we had barely passable language skills and limited knowledge about the laws. To say it left Reno feeling uneasy would be the understatement of the year. But through all this the folks at Paris Perfect helped guide us steadily by providing expert-knowledge, experienced-referrals and hand-holding when needed.
Finding the apartment: How did it come about and what did you find most interesting?
I found the purchase process so interesting, especially the role of the notaire, who acts independently to verify the history of the apartment to make sure there isn't anything prohibiting the sale (like a lien on the property). In so doing, we saw the original Building Rules & Regulations from 1931, plus the 1981 update. What history! Plus, it was interesting to see the birthplace and job listed on the purchase documents for each buyer & seller. As you would expect, digging up all this history and information is time consuming. That is why the average escrow/closing period is 3 months in France vs. the 30 days in the U.S.
Purchase: Stories on how it worked for you and tips?
Once we were interested and made an offer (from the US), but before we signed binding documents, I flew to Paris to see the apartment in person and to meet with Maddy and her trusted notaire, Mr. Pacary. We also found a lawyer in Paris who could review all of the documents to make sure nothing got lost in translation. In the months following that trip, we were able to do everything via email, FedEx and wire transfer. We gave Mr. Pacary power of attorney to sign the final documents on our behalf. And just like that we bought a place in Paris. The next time we would see our new apartment would be a few months later after the demolition had already begun and the remodel was in full swing.
Remodeling: Being 6,000 miles away and having to design and remodel an apartment was a huge leap. How did that go?
Honestly, the apartment was such a large investment, we didn't want to put in more money remodeling it. We had lots of ideas on how to maximize space and improve the apartment, but we really wanted to start renting right away and not waste time. We figured we could always remodel later. Once we got closer to finalizing the purchase, we realized it didn't make sense to furnish the apartment as it was. If we were really going to remodel the place in a few years, the pieces we would have bought then may not have worked in the new space. Not to mention we would have had to pay to move and put everything in storage while work was being done. So we decide to move ahead with the remodel while the apartment was still empty, and take advantage of it being low season for renting.
Once we decided to undertake this project, we were committed to trying to find the balance between getting everything we wanted, exactly the way I wanted, while being there for as little time as possible since I couldn't relocate to Paris for 3 months to oversee the process. Honestly, I couldn't have done it without the internet and the PP team of Hilde (who oversaw the project and was my eyes and ears on the ground) and Darek (the contractor, who has worked on a bunch of PP apartments and knows their standards). I was in contact with Hilde on an almost daily basis. Between her sending progress photo, asking me to make various decisions, and my sending Hilde drawings and design ideas, we got the job done.
The builders and execution: How did it go? Did you notice differences between building standards and work style vs. the US?
Having read A Year in Provence by Peter Mayle, I was expecting the project to be a long and drawn out process. But Darek and his team jumped in and got it done right on schedule with great care for detail. The craftsmanship is evident in the built-in cabinets we had made, the moulding and the tile work. Their work was comparable to any really good contractor you'd find in the US.
I've never worked on an apartment, so that was new to me. I felt the constraints of the building's plumbing and working any new bathrooms or kitchens around that. Plus, I am used to walls being made of two-by-fours, not cement blocks, so that really affects how you plan your wiring and plumbing.
The hardest part of the project was the design. The plan was to marry American comforts with a classic French aesthetic, but what I didn't realize was that bathrooms in France are usually quite modern, with wall mounted sinks/vanities and not much in the way of countertop space… and don't get me started on bathtub enclosures. As any American visiting France will tell you, the French are terrible at this. At worst, there is nothing surrounding the tub at all, so the entire bathroom gets wet, especially when using the hand held showerhead. At best you will find a small glass partition, which is better than nothing, but still allows the bathroom to get wet. Shower curtains aren't that common. So, installing a proper decorative cotton shower curtain, with a water repellant liner was a bit of a challenge.
In France, I thought it would be so easy to find cute décor items with French words or phrases. I'm going straight to the source, right? Wrong! For them it's chic to have English on pillows and canisters. That wouldn't do for us. Thankfully, the US still considers French wording charming, so it was easier to buy certain things here and bring them to Paris, like our "bonne nuit" pillow on the master bed.
You have a lot of experience yourselves. Any unique ideas you used for the remodel?
I don't know if any of my ideas were unique. Our goal was to make the apartment comfortable and practical for guests (and ourselves!). The French don't really have closets the way we do here in the US – they've always relied on free-standing armoires. It was important for us to add built-in cabinets to the both bedrooms, and a small one in the living room for anyone planning to sleep on the couch. I tried to make them large enough to fit luggage, so they are out of the way. We also tried to incorporate extra storage by using dressers wherever possible, even as a TV stand in the living room.
Tips: Your favorite ideas and rooms, plus what sources you use for inspiration.
I think our favorite room(s) in the house is the open living/dining room/kitchen. I love the "wow" effect when you walk into the space. One of the first things you see are the chandeliers reflecting off of the mirror over the fireplace and again across the room off of the mirror over the sofa.
A less obvious part of the apartment I love is the sliding "French" doors we added between the living and dining room. When open, it feels like one big space, but the small side walls help anchor furniture on both sides. When the doors are closed, it gives any sofa sleepers a sense of having their own peace and quiet.
Honestly, French isn't necessarily my design style of choice, although I do like it. So it was challenging for me to decide how classic to go without feeling too cliché and how modern to go without losing the classic French aesthetic. I relied a lot on Pinterest, not only for general look and feel, but also for detail ideas, like this shot of the wall with picture frame moulding.
I just love the chandeliers we used throughout the apartment. The metal arms add a more modern touch to a French classic. And I love the moulding we added in the hallway, to the doors facing the hallway and new built-in cabinet doors. They add a nice touch of elegance. I thought about using contrast paint on the moulding to highlight them, but I'm so glad I didn't. Painting them the same color as the walls gives the room a more modern vibe, while appearing to maintain the "original" details.
What were some surprises on the way?
We didn't have many surprises, but instead we did have a big challenge – how do we carve out a hallway through the front bedroom so we can reach the back bedroom? At first we considered shrinking the bedroom on two sides, to create a hallway around the back of the bedroom, so that the bedroom could keep its window on the courtyard. We would have had to break through a supporting wall to create a new entry for the back bedroom. The problem with that idea was that it would have taken a long time to go through the process of getting permission from the building managers and other owners; we were pretty sure they wouldn't allow it.
Hilde instead came up with a great idea to put up a glass wall to create a hallway on the window side of the bedroom. It is a more direct path to the back bedroom, leaves more space for the front bedroom, and would still allow light into the bedroom from the courtyard! The only issue was that all the glass walls we saw looked so industrial/modern, and didn't quite fit with the look we were going for. Plus there was the issue of privacy.
That's when we decided to break down the problem into its components to find the right solution. For sure we needed a dividing wall to separate the hallway from the bedroom. But did it need to be all glass? If you were to only put glass on a portion of the wall, wouldn't it make sense to put the glass as close as possible to the window to maximize light? If the glass is only a portion of a wall, glass-paneled French doors would allow light and also match the architecture in the rest of the apartment. Adding a chair rail and artwork to the hallway was a good way to add some pizazz and visually break up the long and narrow feel of the hallway. This is how it turned out: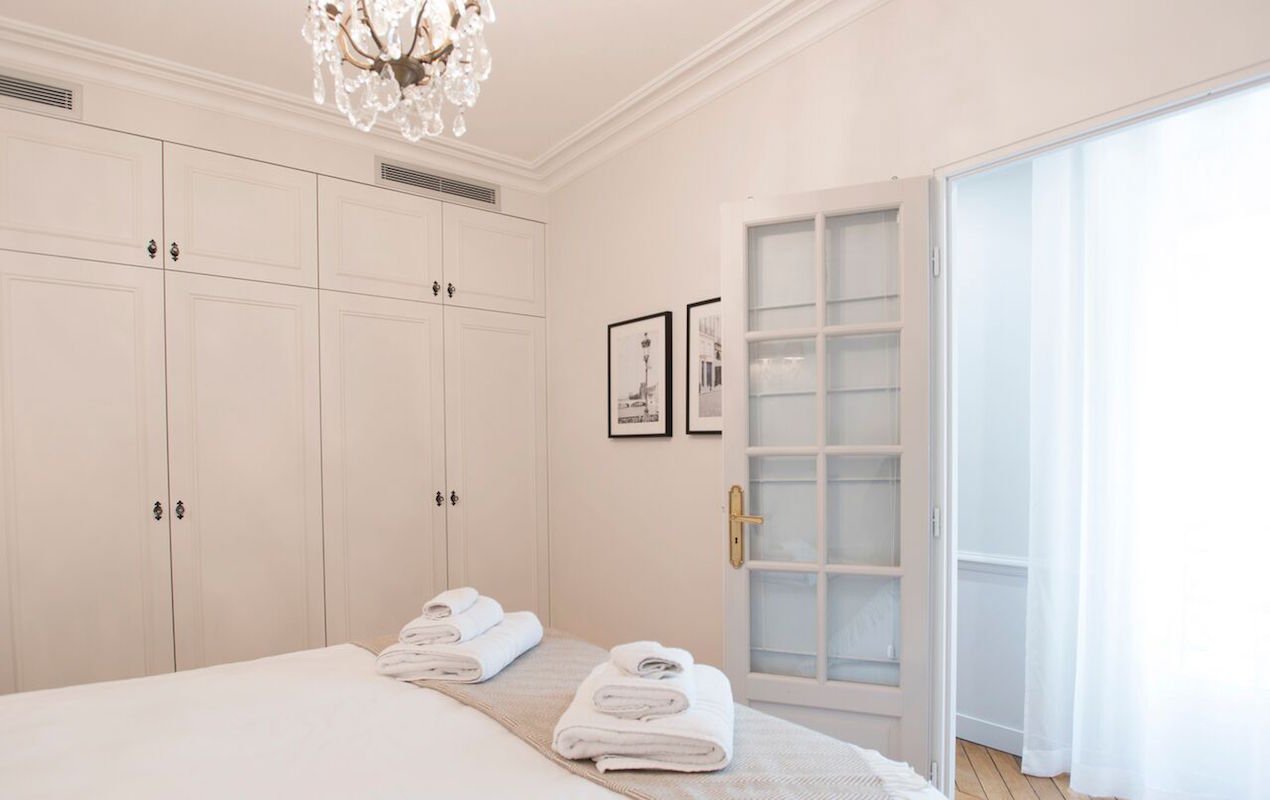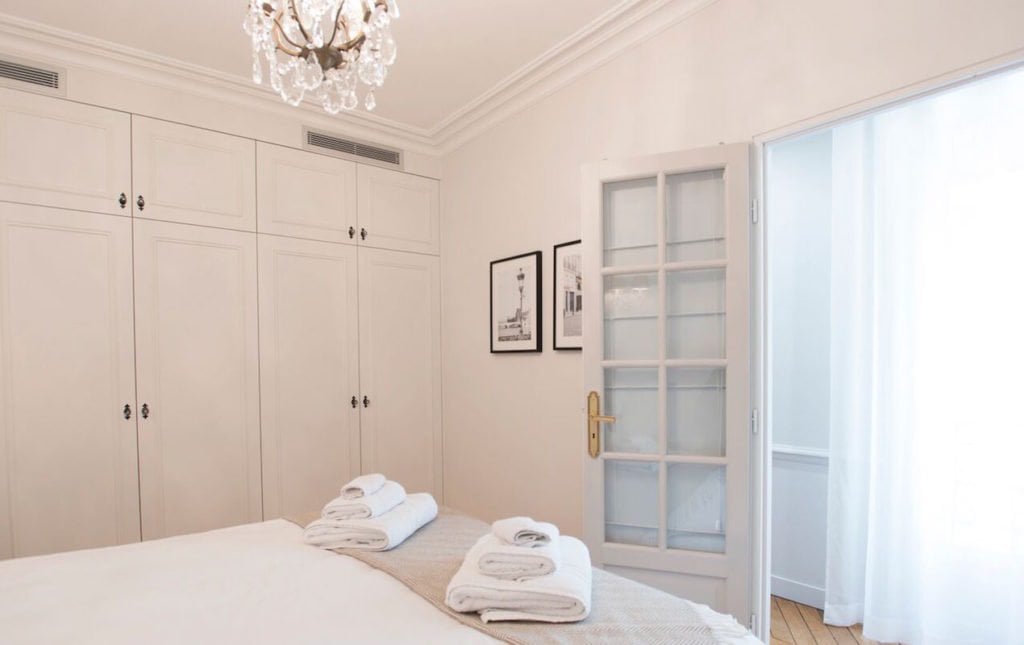 All that was needed after this, was to add some shades for privacy on the French doors.
It's almost a year later, anything you would have done differently?
Now that we've had time to live in the space there are a few things I would tweak, like moving a light switch or two or changing the way one of the doors opens, but they are small relative to the entire job. When I work on projects in the US, I'm on site every day and sometimes all day to check on the status of things and catch mistakes before they are too late and costly to change. Since I didn't have the luxury of doing that in Paris, I was a little worried. But really the results are way beyond my expectations.
Overall, has it been everything you hoped for?
On our last visit to the apartment (and our first visit seeing it completely finished), Reno & I kept saying how surreal it was to think we have such a beautiful apartment in Paris now. What began as a dream so long ago finally came to fruition. We thought maybe someday we could afford to buy a small, modest place in Paris. But thanks to Paris Perfect, we are able to rent out the apartment, which allowed us a nicer, bigger pied-à-terre, with an extra bedroom to host friends and family.
One unexpected benefit we discovered since joining the PP family is the friendships we've made. We've had the pleasure of meeting several fellow PP apartment owners. They are a remarkably friendly, interesting and diverse group of people – all with a certain je ne sais quoi (sorry to be cliché here). Many are American and all share a love of French culture. Importantly, in the process, we've gotten to Maddy and Philippe better too. They couldn't be more helpful and considerate, not to mention they're so much fun to hang out and discuss current events with.
Thank you Paris Perfect for all your help and efforts!
---
If you're interested in becoming a Paris apartment owner yourself and would like the help and services of Maddy and the Paris Perfect Team, see this page for more info.