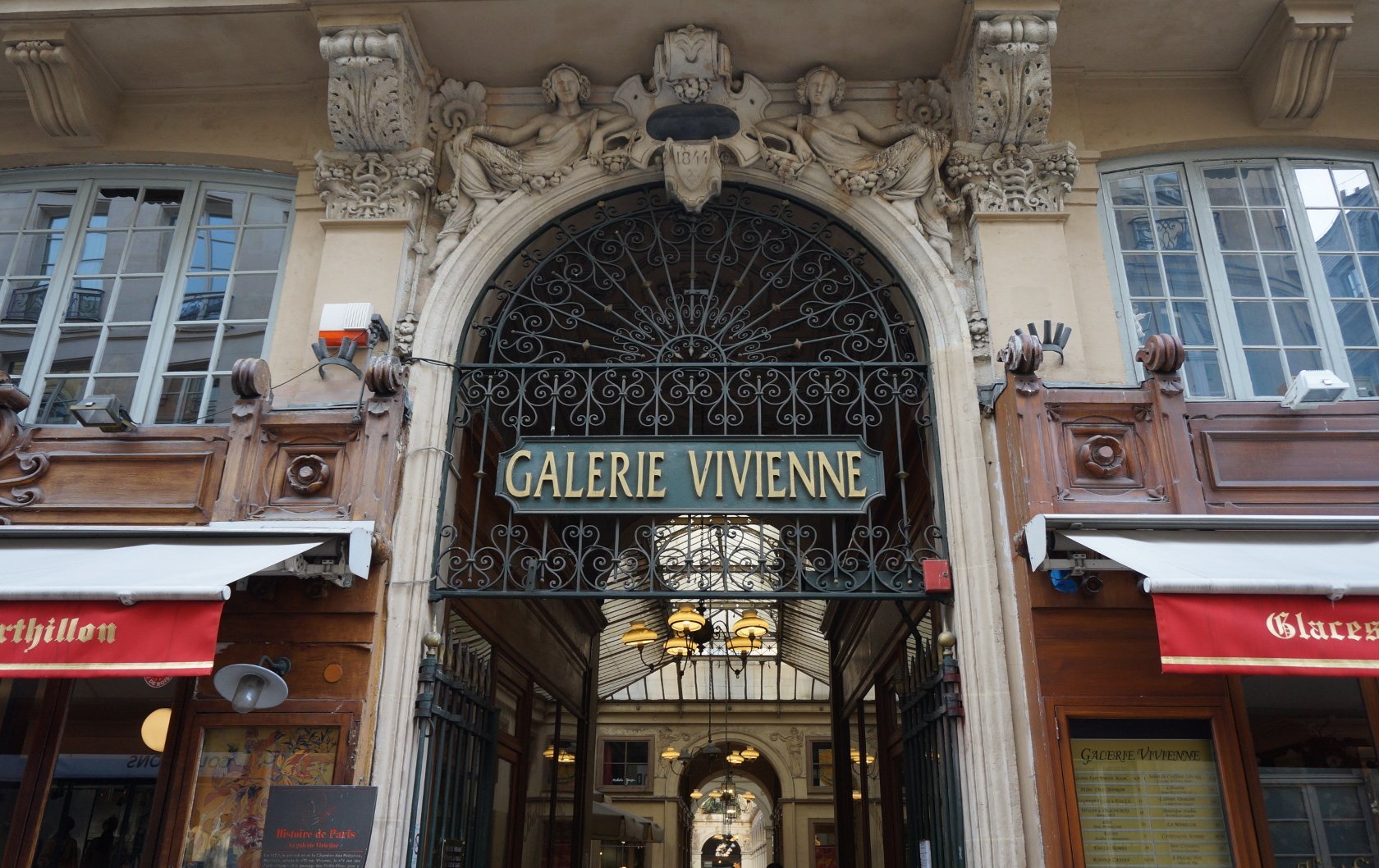 One of our favorites, the ornate Passage Vivienne with its upmarket shopping. 
As the days shorten and the weather gets colder, seek refuge in one of Paris' covered passages (passages couverts). These traditional antique shopping arcades are hidden in scattered locations across the 9th, 2nd and 1st arrondissements. With eclectic offerings from second-hand books and stamp collections to designer Louboutins, here are some of our favorite secret spots.
It's a great time to book one of our stylish apartments for your Paris trip – there's up to 50% off in stores during Les Soldes in January and February. Our Castillon apartment in dreamy Place Dauphine is an elegant choice, and well-positioned to make the most of shopping in Paris's most central arcades.
Guide to Paris' Covered Passages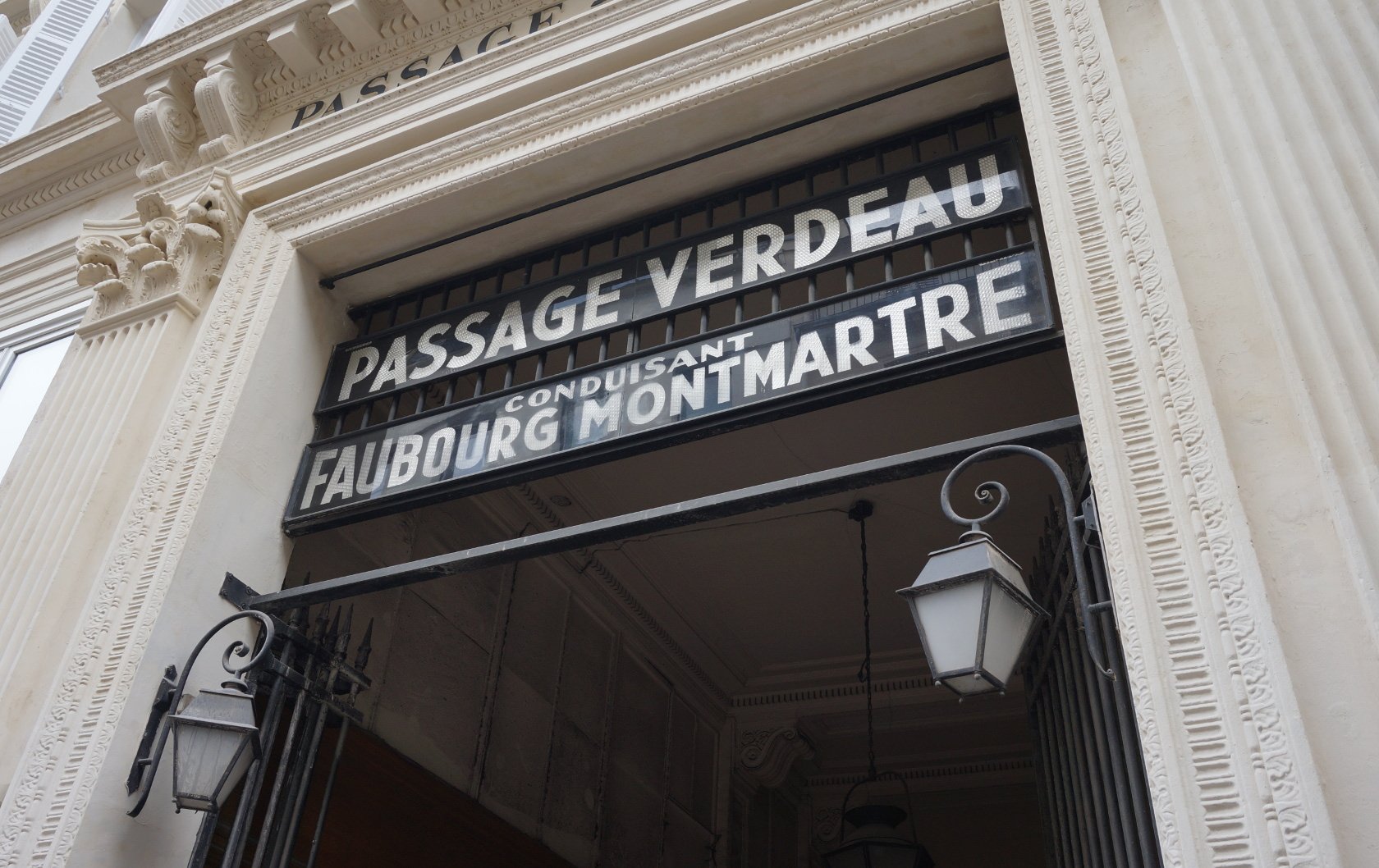 The grand facade of Passage Verdeau. 
Passage Verdeau
Enter off Rue de la Grange-Batelière for the main entrance of Passage Verdeau, one of oldest arcades in the capital. Built in 1847 with a long, narrow passageway and high glass roof, it houses a quintessentially Parisian jumble of second-hand books, art vendors, an épicerie and even a specialist embroidery store. You'll also find a bakery, brasserie, and restaurant: all tempting options and perfect for people-watching as the locals go about their business.
Passage Verdeau, 6 Rue de la Grange-Batelière, 75009 Paris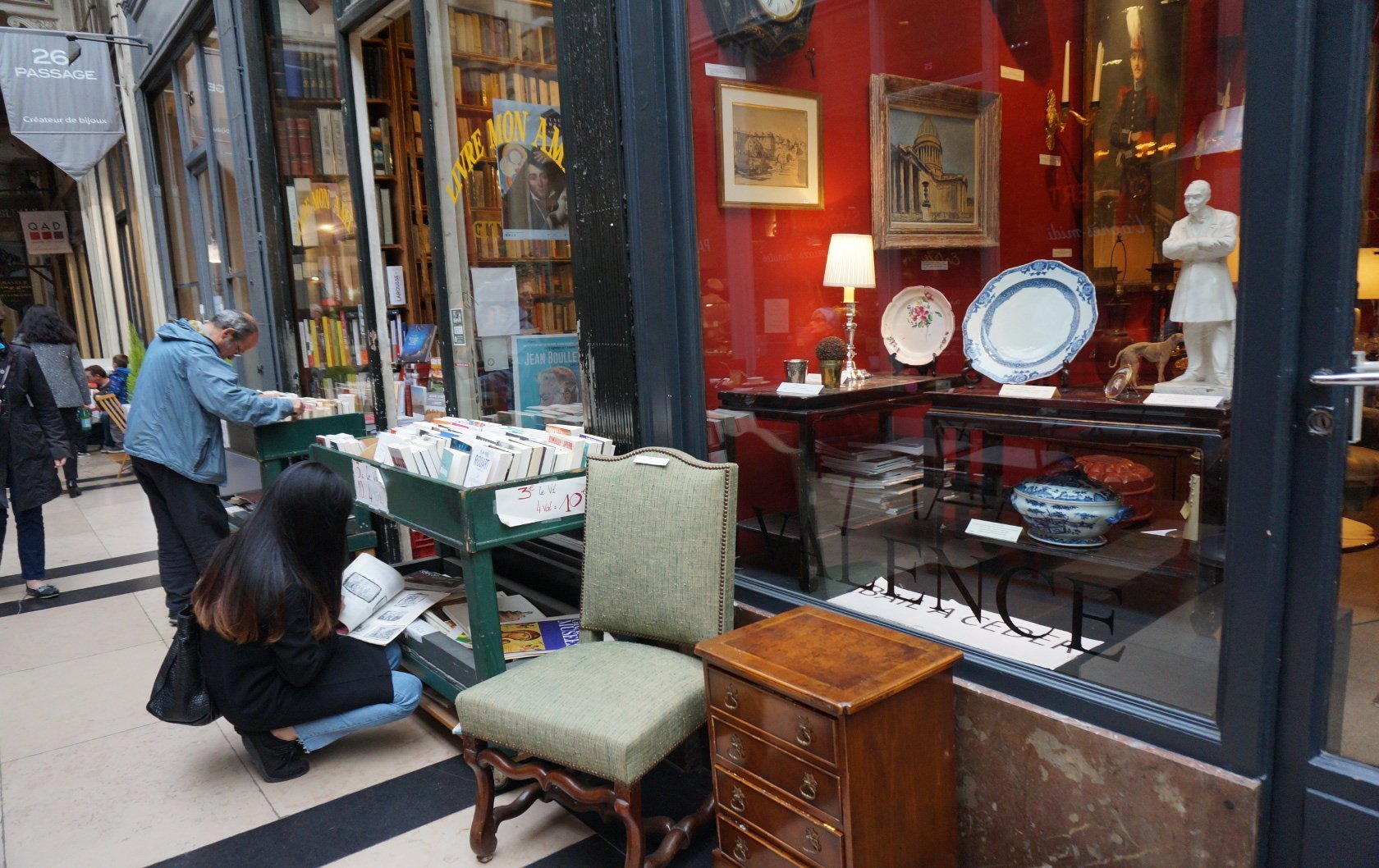 At Verdeau, visitors peruse the antique goods.
Passage Jouffroy
Built in 1836, Passage Jouffroy is the elder sibling to Verdeau and located just across the street. Continue your journey through an upmarket selection of art and bookstores, including Librarie du Passage which boasts an impressive selection of coffee table books. Kids will be glad of distraction in La Boîte à Joujoux (i.e. 'the toy box') which specializes in models and miniatures, while around the corner you'll find life-sized waxwork models in the Musée Grevin.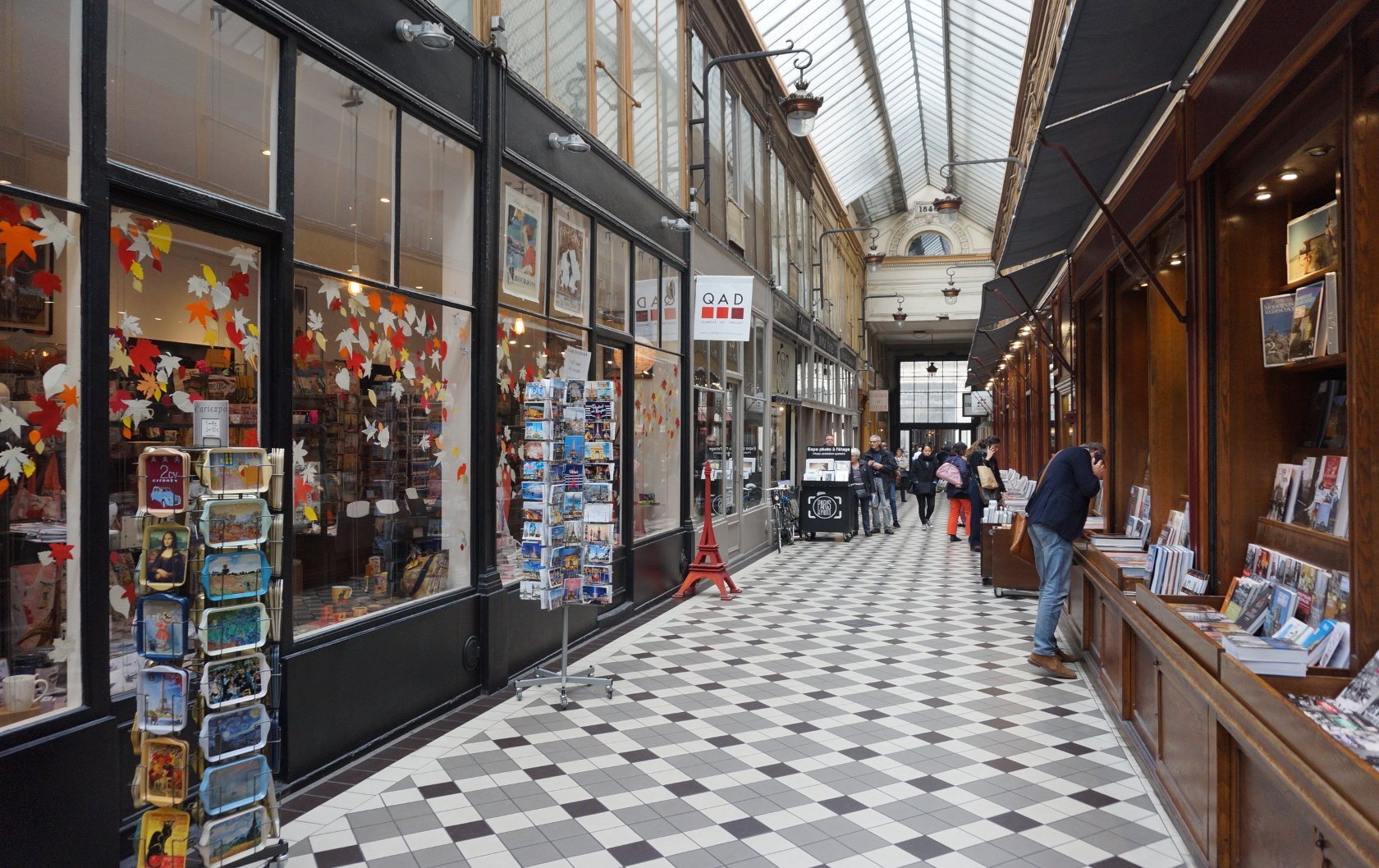 A peek at Passage Jouffroy and its boutiques. 
The passage continues incongruously as one might expect, with comic books and semiprecious figurines of galloping jade horses and rose quartz rhinos. But the real pièce de résistance, or remarkable feature, is Galerie Fayet – an eccentric waking cane and umbrella store, selling both antique and new items. Sample something sweet at Le Valentin, a charming tearoom, and chocolatier, or plumb for confit de canard and salmon tartare at Café Zéphyr: an old-style Parisian brasserie which looks out onto the busy Boulevard Montmartre.
Passage Jouffroy, 10-12 Boulevard Montmartre, 75009 Paris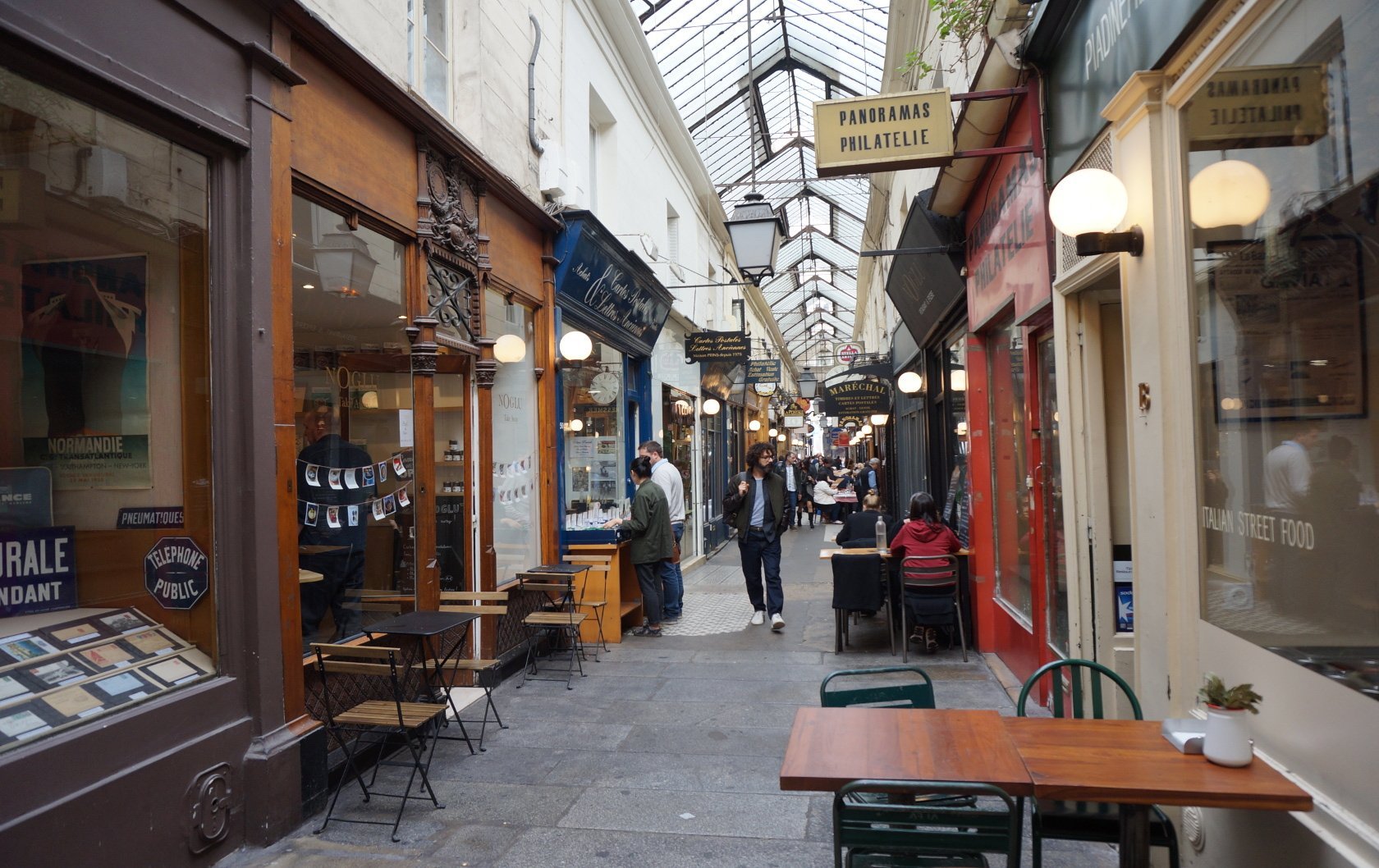 Passage des Panoramas historic food halls.
Passage des Panoramas
If you haven't filled up already on pastries and plats in the previous arcades, save your appetite for Passage des Panoramas. The eldest and original to Verdeau and Jouffroy, Panoramas makes up the trio with an entrance located just across the Boulevard Montmartre. Dating back to 1799, these historic halls house a couple of token jewelers and antique stamp stores, but the focus here is on the food.
Make your way through the bustling crowds past crêperies and bistros to gyoza bars and Argentinian empanadas. You can dine in the eccentric Victoria Station wagon restaurant or chow down on the good stuff at Canard & Champagne. Further along, you'll find Tibetan cuisine, Kashmiri, Moroccan, Lebanese, Thai, and an Italian street food and wine bar that's too good to miss. It's a true celebration of the stomach – albeit a complete nightmare for the 'hangry' and indecisive.
Passage des Panoramas, 11 Boulevard Montmartre, 75002 Paris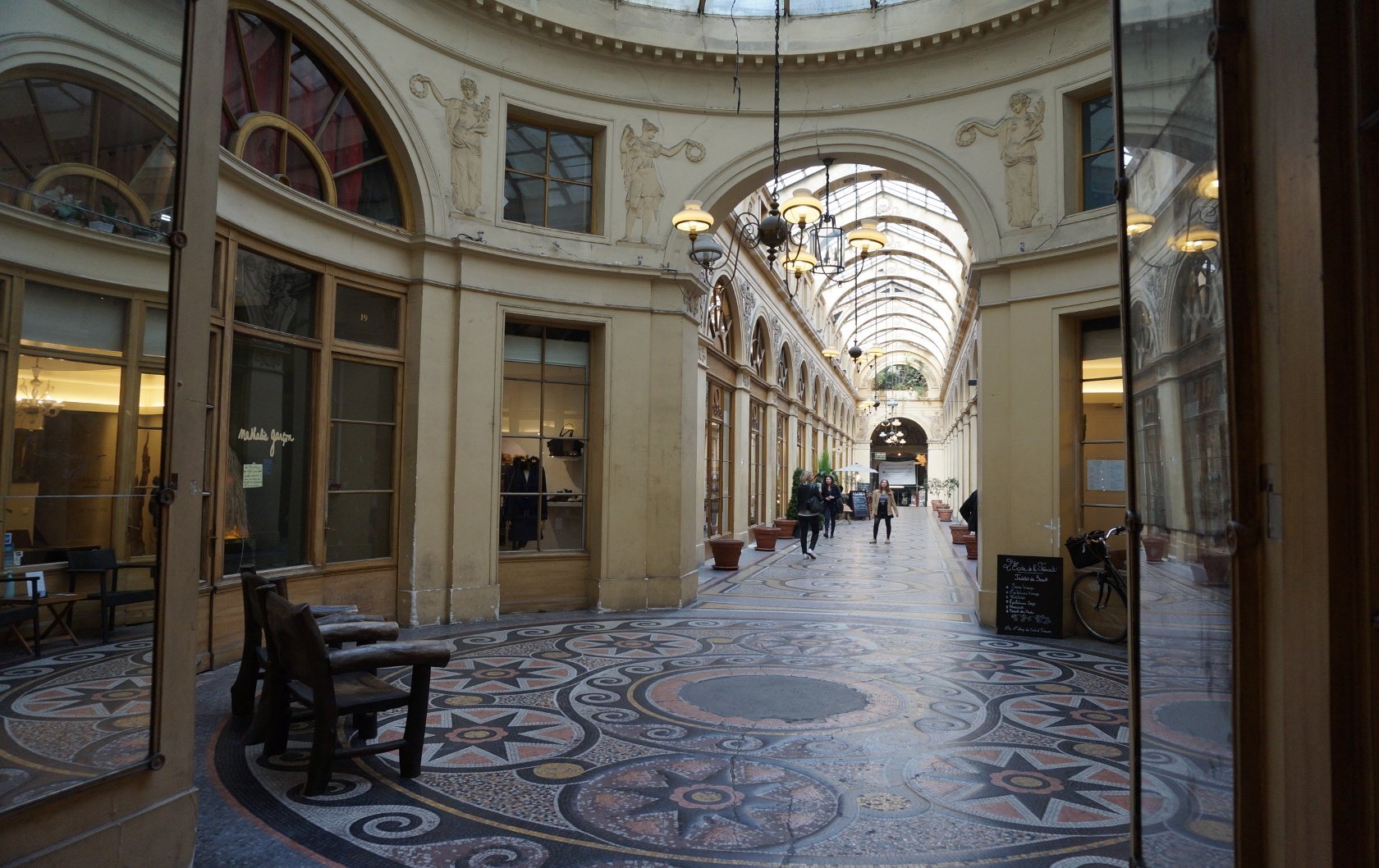 Luxury stores aplenty at Galerie Vivienne.
Galerie Vivienne
It's arguably the most well-heeled of Paris's passages couverts, Galerie Vivienne is a refined stone's throw from elegant Place des Victoires. It's also just around the corner from our beautiful Clos Jolie apartment near the Louvre, which always impresses guests with its blend of stately antiques and modern design. This place is an old-time favorite of ours with its sophisticated, sedate atmosphere and handful of luxury boutiques. Settle down at the gorgeous Bistrot Vivienne – perfect for a lazy afternoon's people-watching over a leisurely glass of Bordeaux. You'll be spoiled for choice: browse the poetic patterns of Catherine André, the colorful prints of Yuki Torii, and the bobo fashions of Nathalie Garçon – all of them heavenly and impossibly chic.
Galerie Vivienne, 4 Rue des Petits Champs, 75002 Paris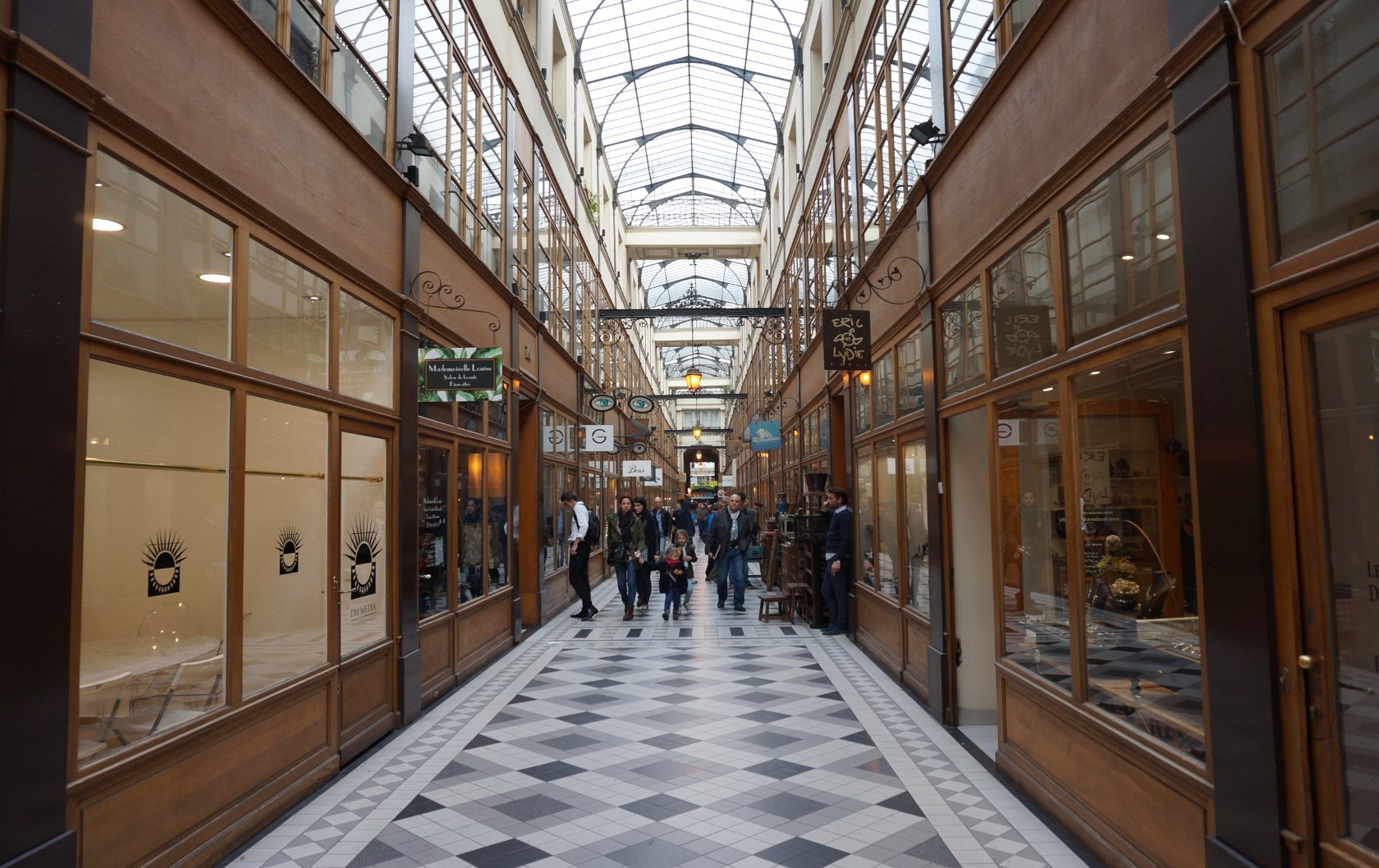 Passage du Grand-Cerf has second-hand furniture and homewares at La Petite Ourse.
Passage du Grand-Cerf
One of the tallest covered arcades in Paris at almost 12m high, Passage du Grand-Cerf (Great Stag Passage) is certainly impressive. Beneath the vaulted glass ceiling and wrought iron framework, this passage houses a typically eclectic mix of stores. At one end is a jumble of second-hand furniture with distressed wooden cabinets, old mirrors, and decorative doorknobs. Further along, a trendy glasses store offers chic frames in a variety of classic and retro styles.
Don't miss pretty homeware store La Petite Ourse with their brightly-patterned textiles, nor the aromatherapy boutique selling handmade soaps and artisanal scrubs. Finally make a pit stop at Le Pas Sage, a smart wine and tapas bar offering a delectable menu: the best place for your evening apéro.
Passage du Grand-Cerf, 145 Rue Saint-Denis, 75002 Paris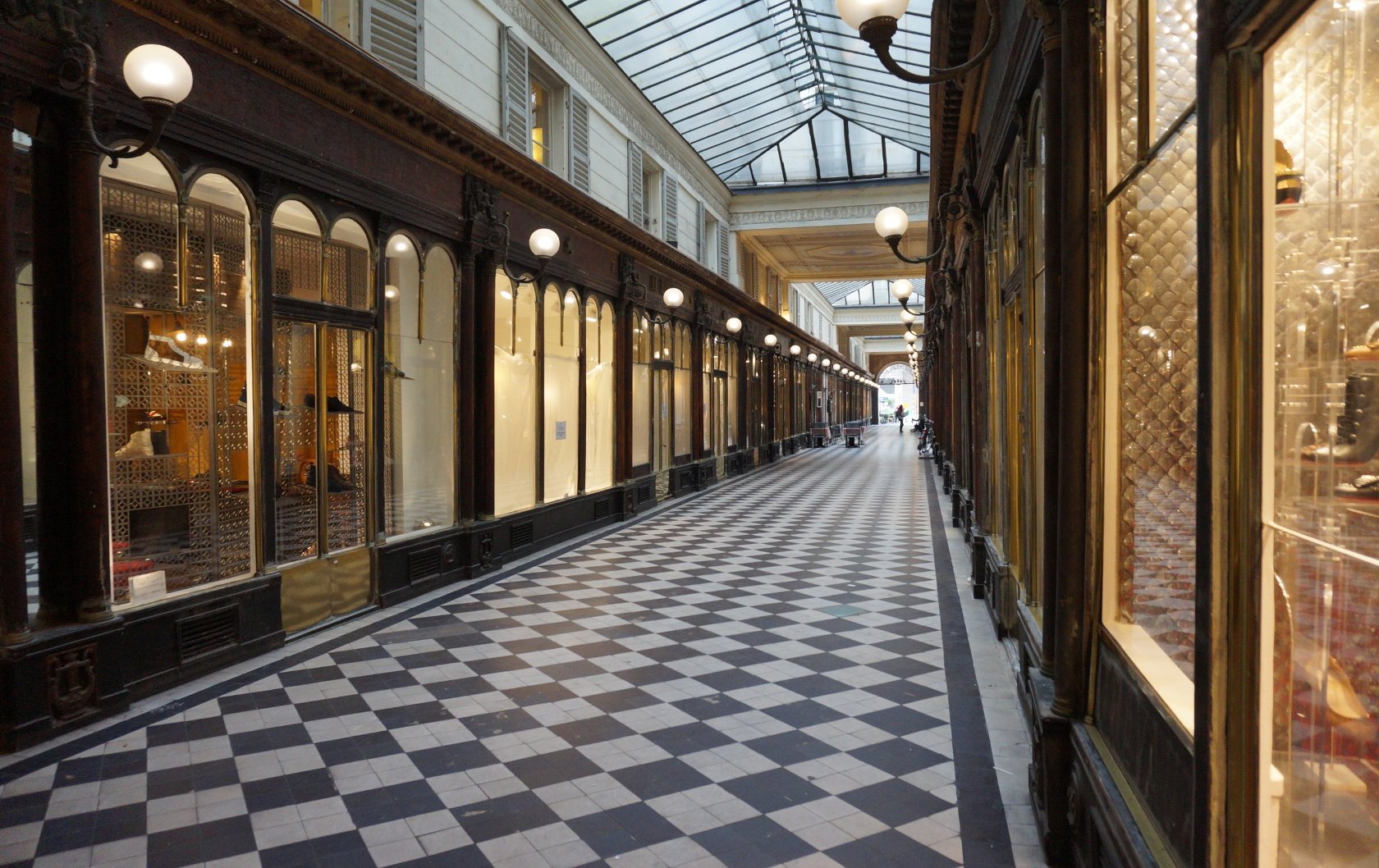 Get your Louboutin fix at Galerie Véro-Dodat.
Galerie Véro-Dodat
Painfully chic and not far from Passage du Grand-Cerf, Galerie Véro-Dodat is short but packed with style. Flagged at one end by three individual Christian Louboutin stores (men's shoes, women's shoes, and a third for perfume), this graceful arcade does nothing by halves. Between the exquisite jewelers and luxe cosmetics, stringed-instrument specialists and rare antiques, each store is carefully curated and complements the sophistication of Véro-Dodat.
Savour a taste of luxury at the eponymous Restaurant Véro-Dodat, which serves up indulgent delicacies such as foie gras and confit pork terrine. Alternatively, try Café de l'Époque at the end of the passage for an equally traditional menu including classic steak tartare.
Galerie Véro-Dodat, 19 Rue Jean-Jacques Rousseau, 75001 Paris
Want a more detailed look at Paris's covered passages? Book one of our design-led apartments for your Paris stay. Contact us today!