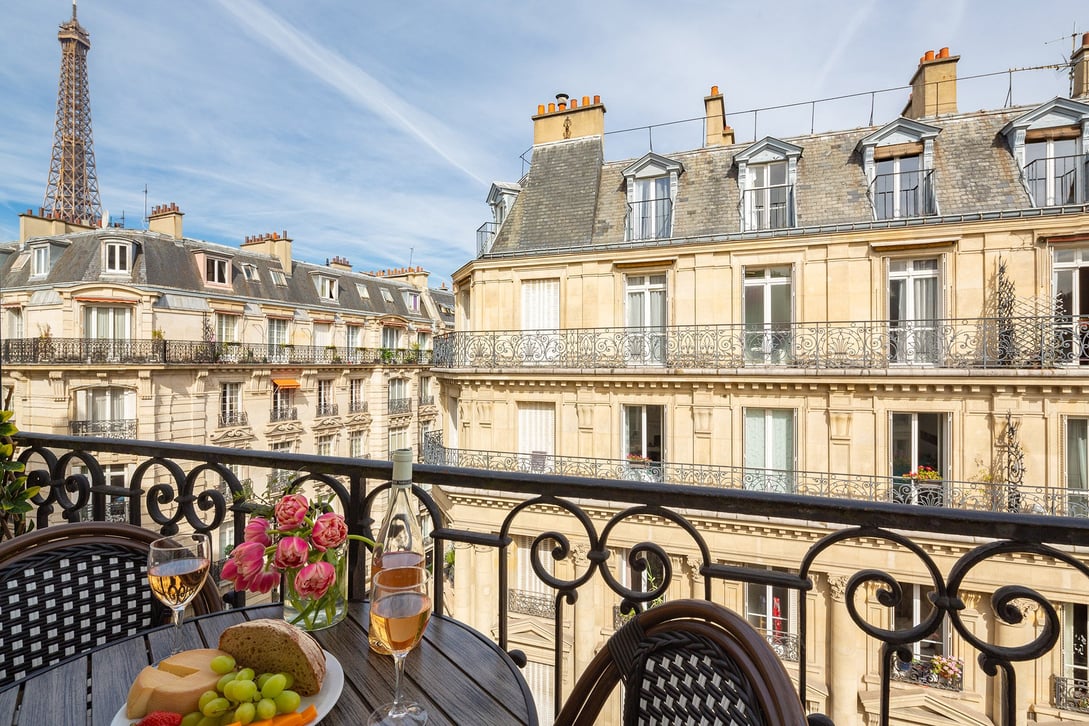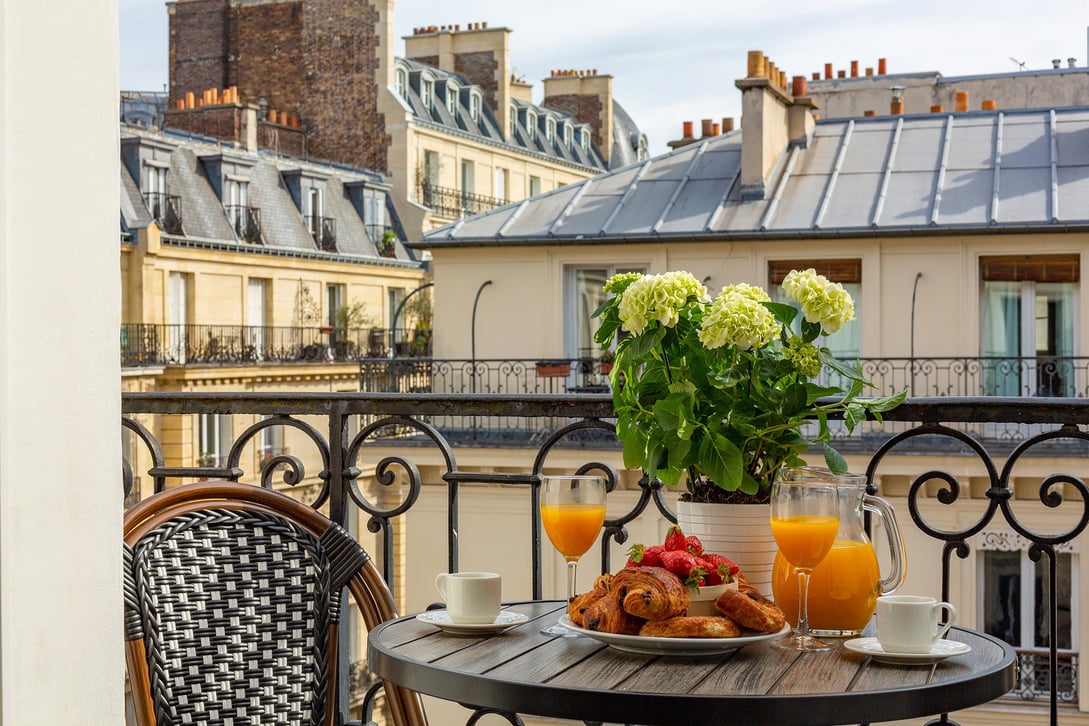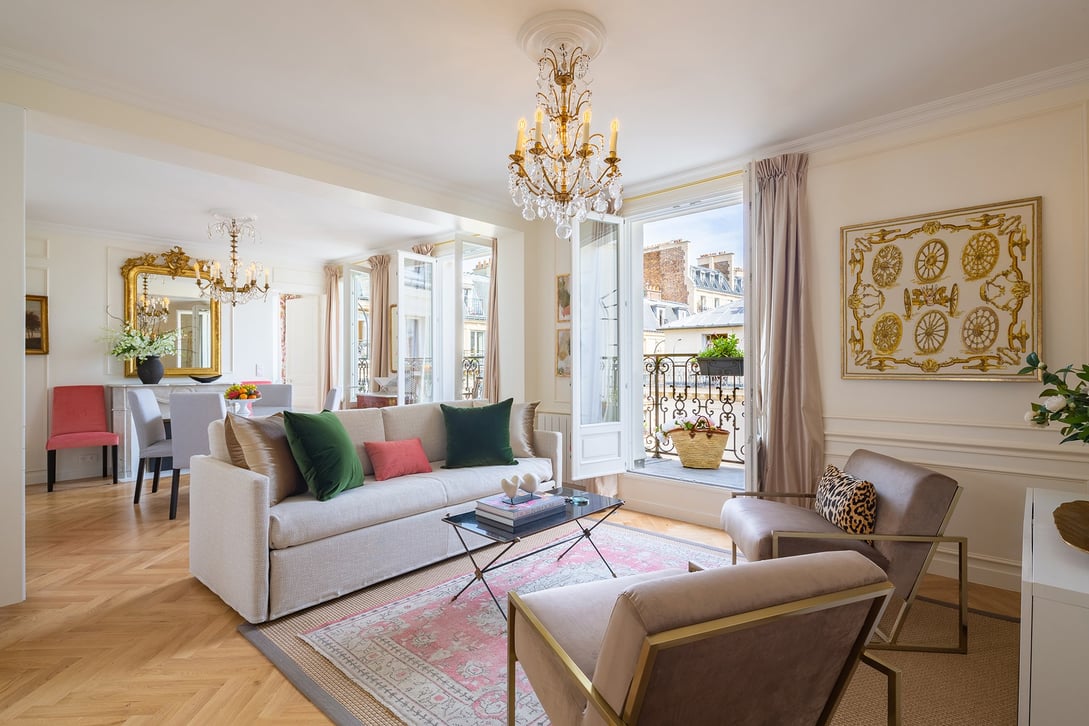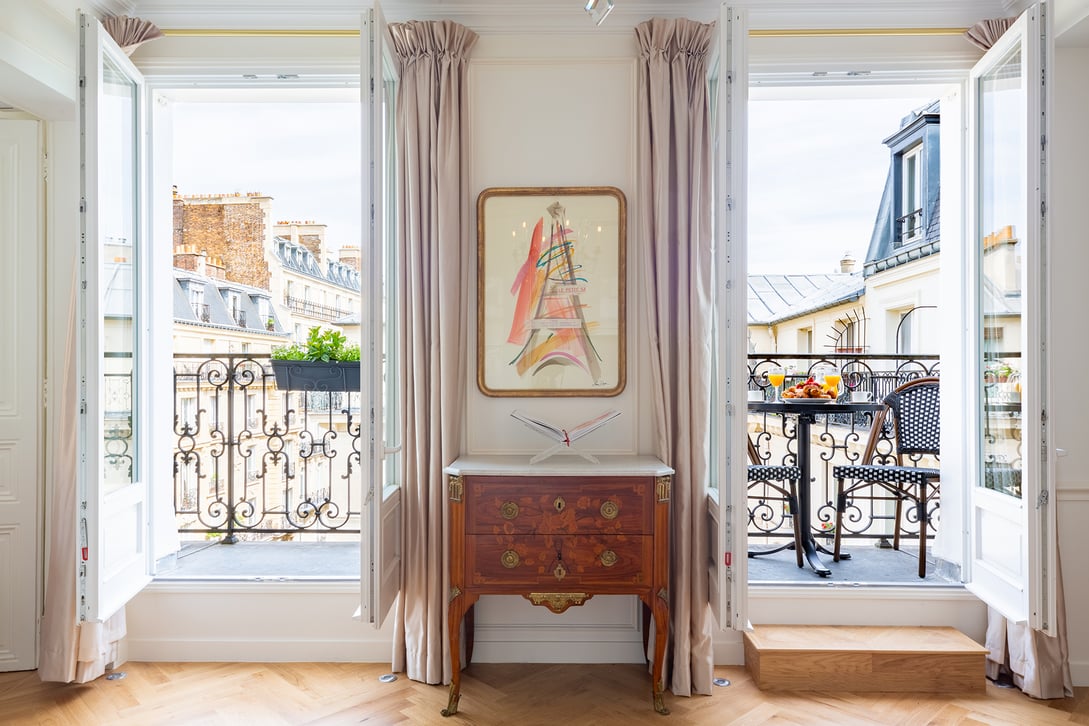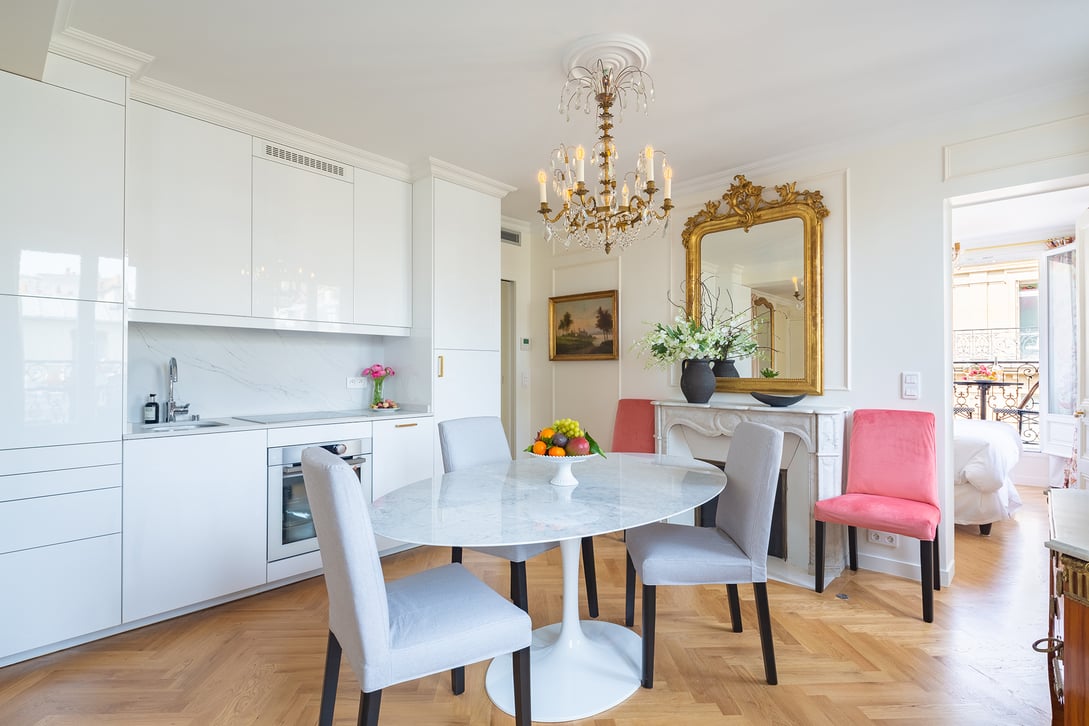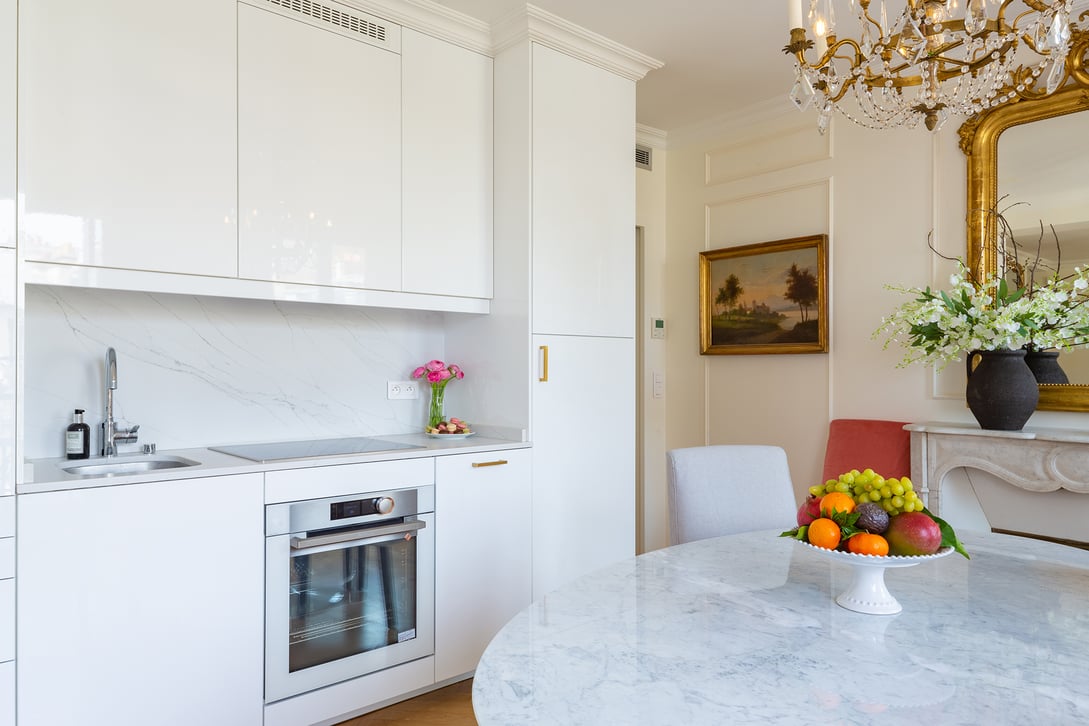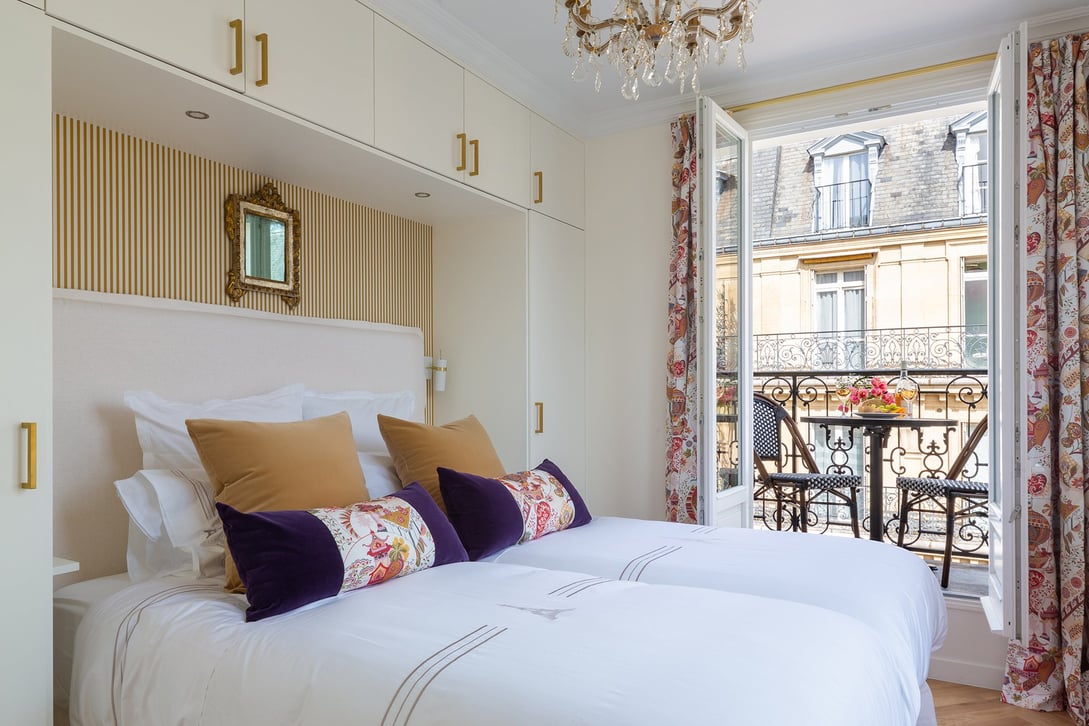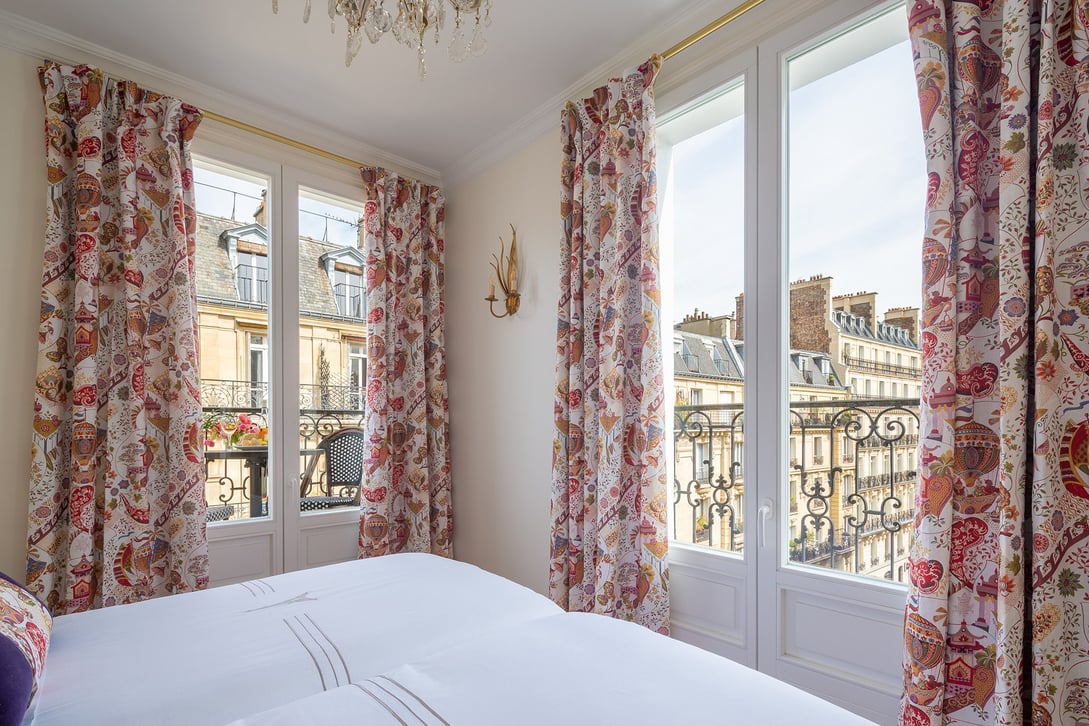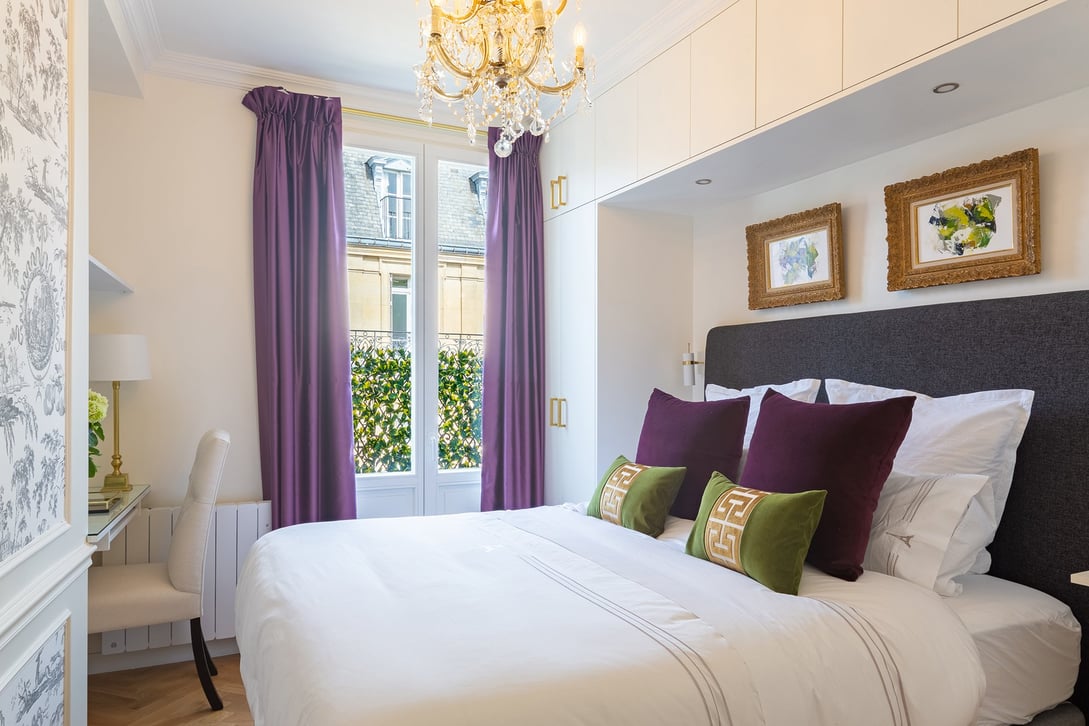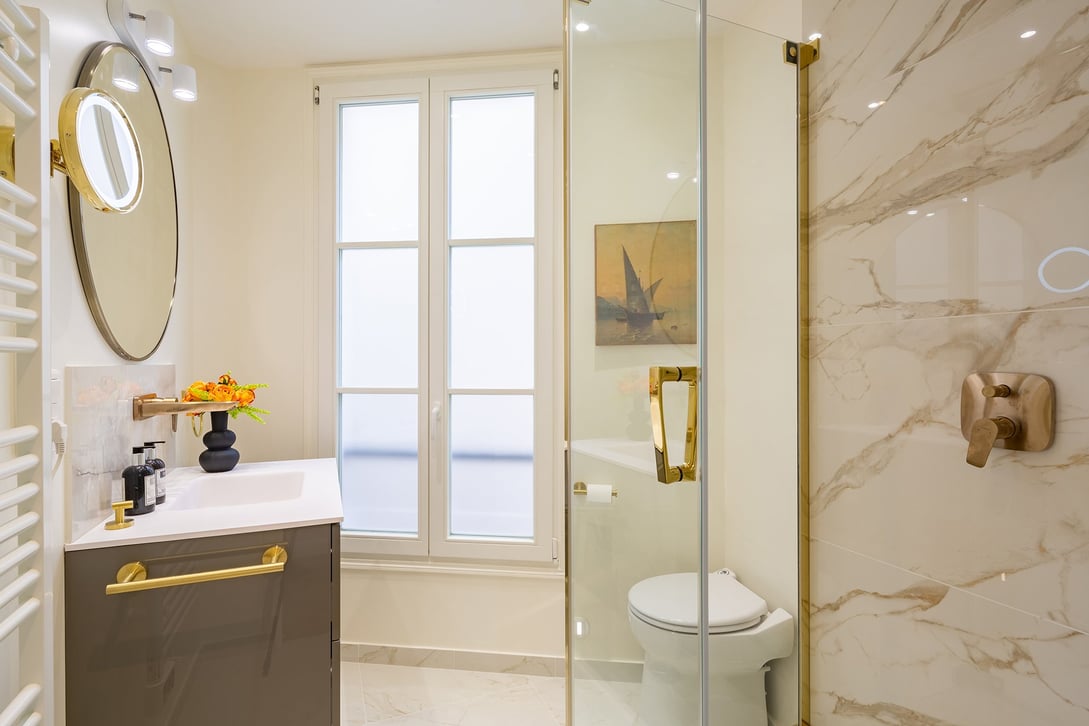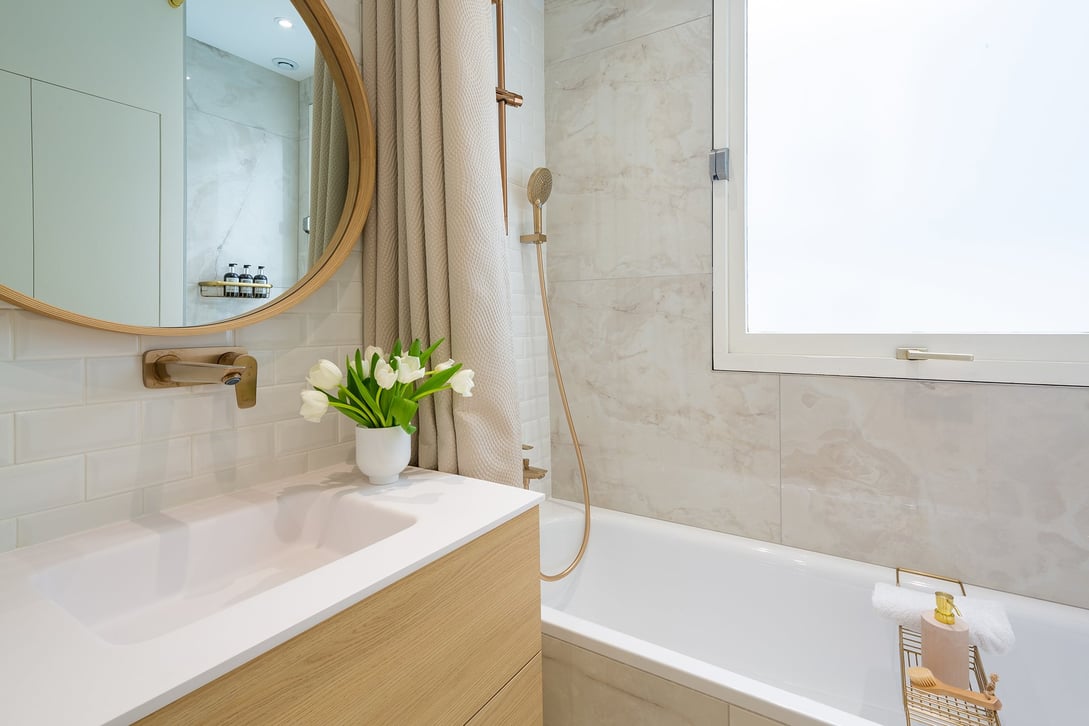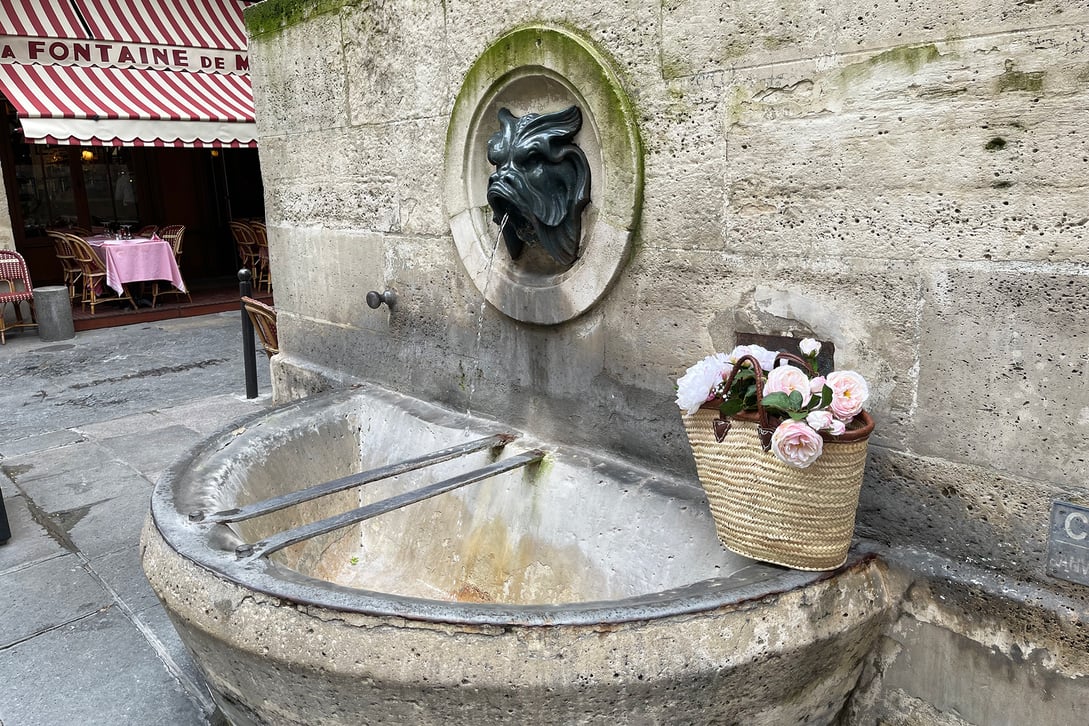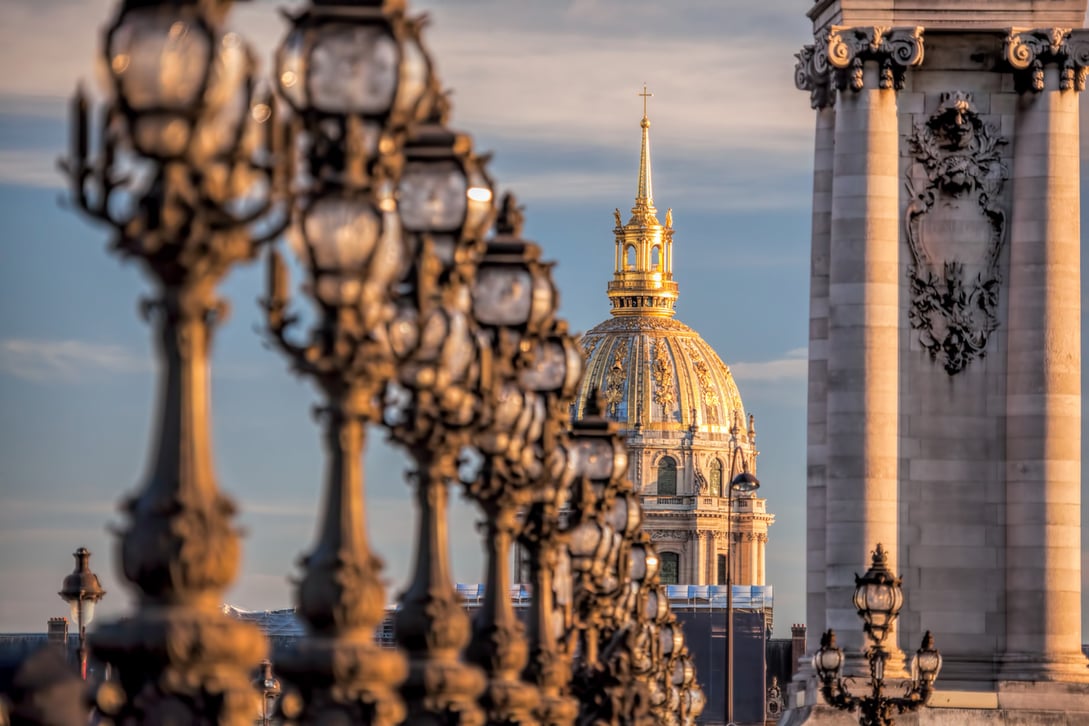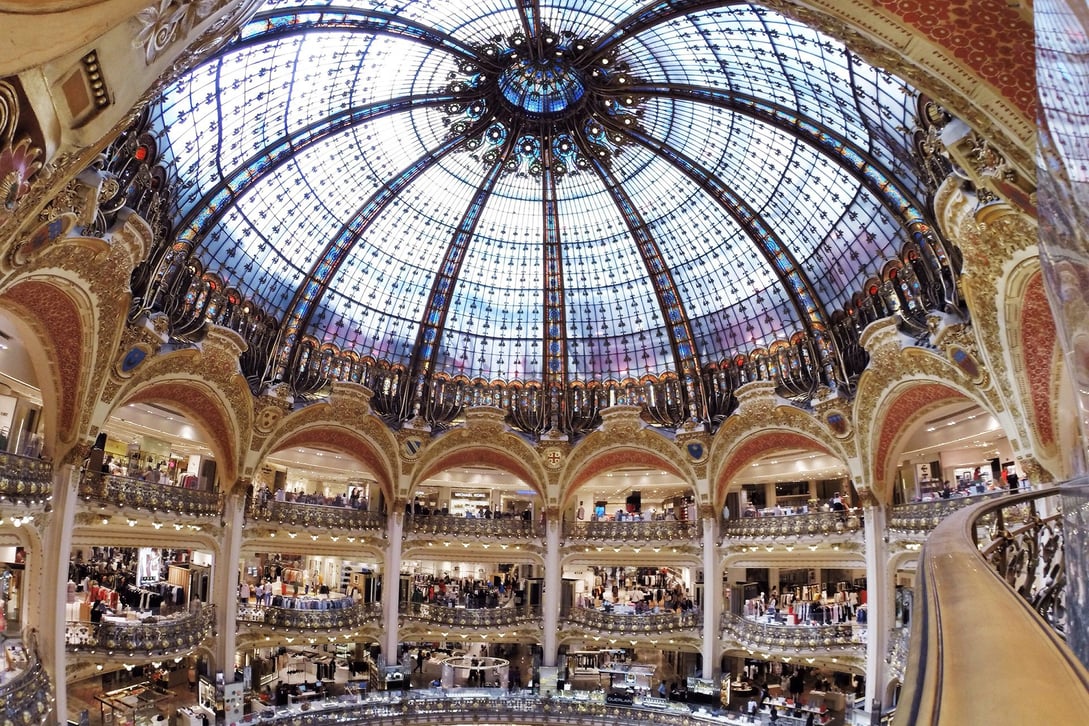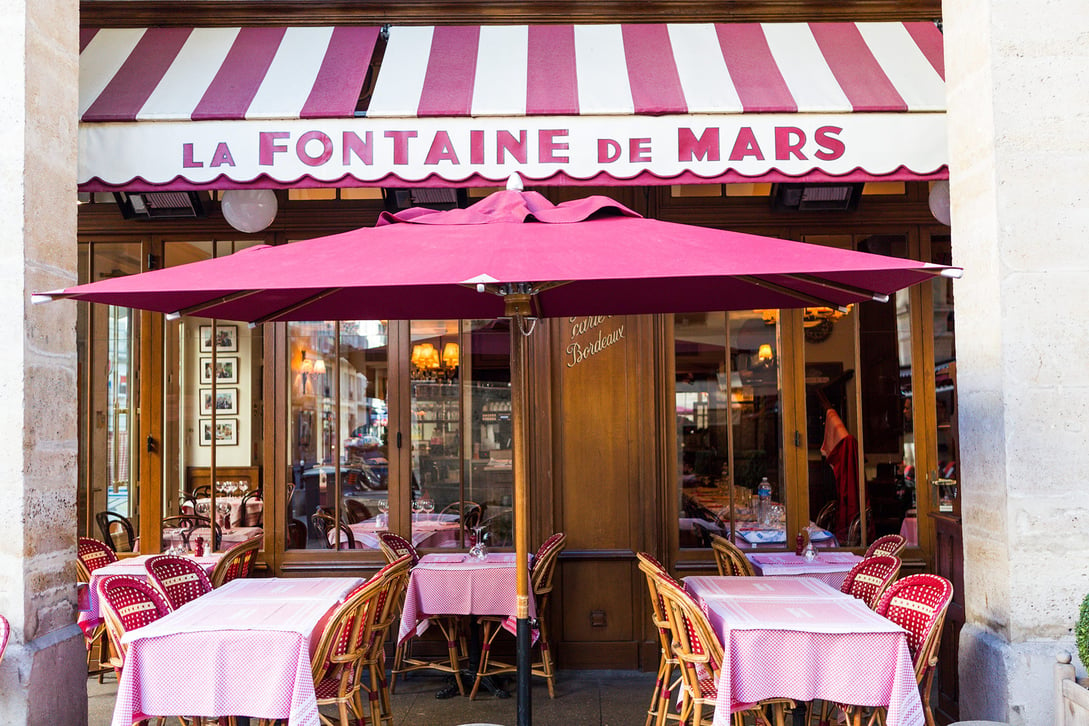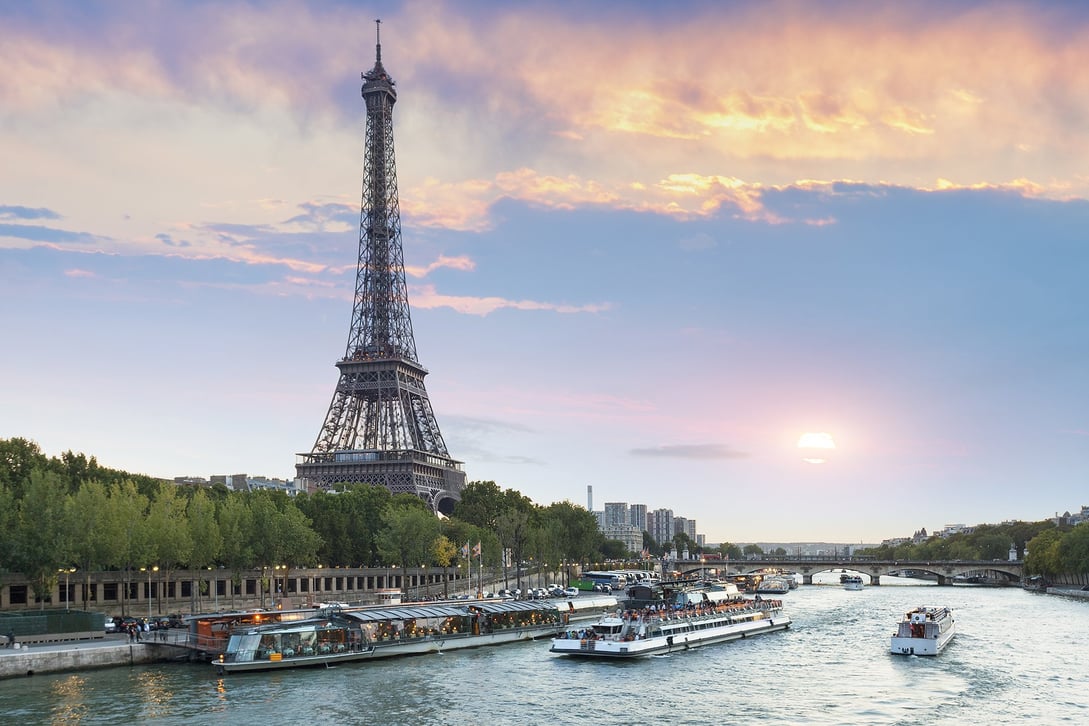 Fontaine de Mars
Perched atop a handsome 19th-century Haussmannian building, the Fontaine de Mars is what Parisian dreams are made of. This spectacular two-bedroom apartment is full of light from the impressive 6 sets of French doors that open to a large wrap-around balcony where you can sip your morning café or marvel at the twinkling lights of Madame Eiffel at night. Overlooking the charming rue Saint-Dominique in the 7th arrondissement, this fractional co-ownership apartment has been exquisitely decorated so you can relax in the beautifully appointed interiors and savor that unforgettable feeling of being surrounded by Parisian beauty every moment of your stay.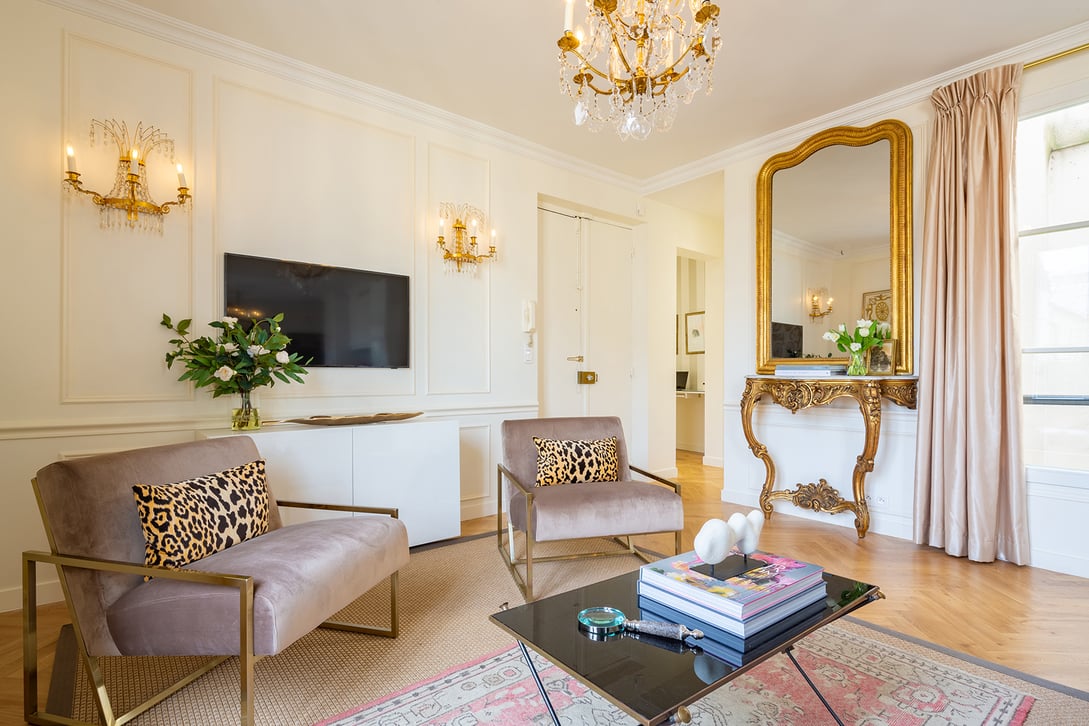 BEAUTIFULLY DESIGNED CUSTOM DECOR
Every one of our fractional co-ownership properties is custom designed to be a comfortable, stylish, and one-of-kind home in Paris. For Fontaine de Mars, this started with a complete renovation to add every detail needed to create a comfortable Parisian retreat, including central air conditioning for warmer summer days and triple pane glass windows for peace and quiet right in the heart of Paris. From the moment you step inside, you'll be greeted by beautiful light illuminating the spacious open plan living room with a dining area and crisp white, modern kitchen. With windows on three sides, the space is a perfect blend of design—by the fabulously talented Ann Huff of Huff Harrington—and captivating Paris views.
Fontaine de Mars features two luxurious bedrooms – each one with a stunning view of the Eiffel Tower. Every element was hand-picked, from the artwork and antiques down to the wallpaper and linens. Two beautiful bathrooms, two additional half bathrooms, and separate washer and dryer laundry facilities make this an extremely comfortable apartment in every way. Keeping the needs of a modern lifestyle in mind, there are two work spaces and high-speed internet for remote working.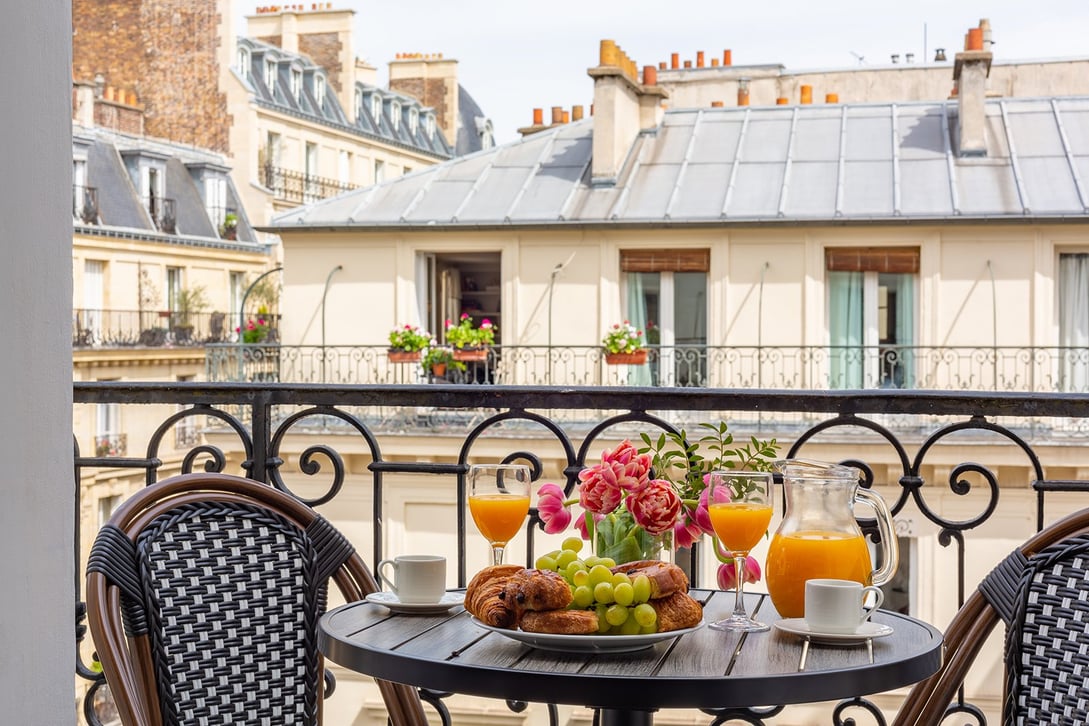 If you're familiar with Parisian buildings, you'll know finding a balcony is rare. Finding a wrap-around balcony with views of the Eiffel Tower is exceptional! Traditional Haussmannian buildings generally only have balconies on one level, which is the most coveted floor. This is where you'll find Fontaine de Mars. There is nothing that compares to waking up to see the Eiffel Tower soaring above or catching the sparkling lights at night. Simple experiences like having a glass of wine on the balcony with picture-perfect Parisian views will quickly become your favorite moments of the day.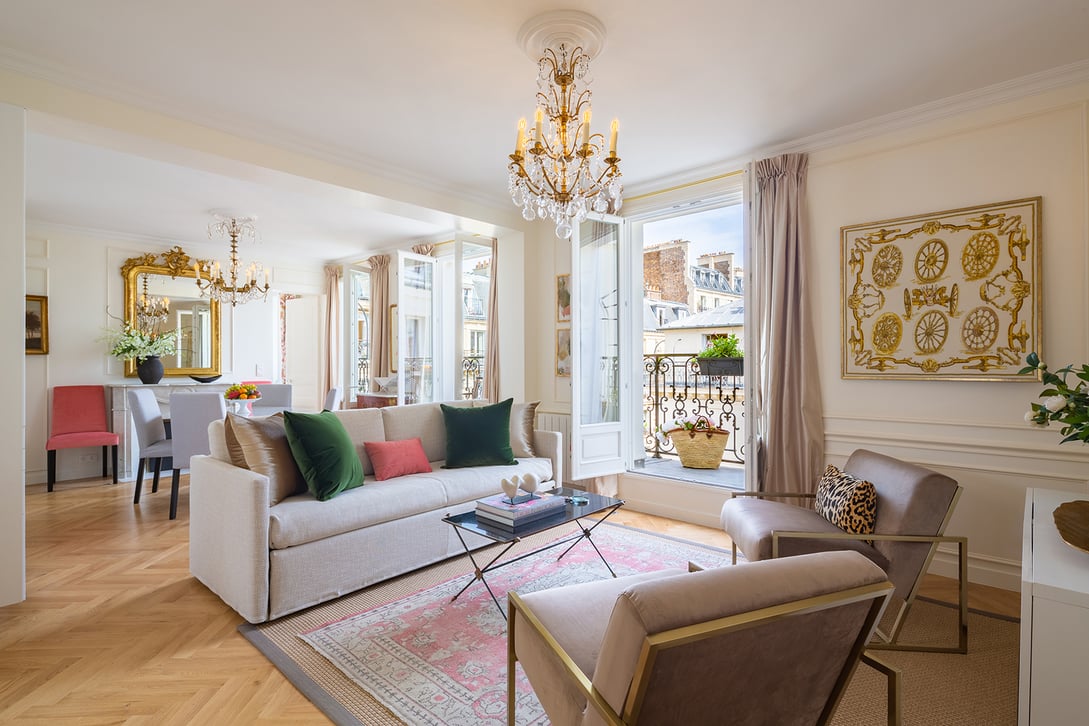 Enjoy this tour and learn more about the beautiful décor at Fontaine de Mars with Madelyn, Paris Perfect founder, and designer Ann Huff from Huff Harrington. We couldn't be happier with the final reveal and to welcome Fontaine de Mars to our Paris Perfect fractional co-ownership program!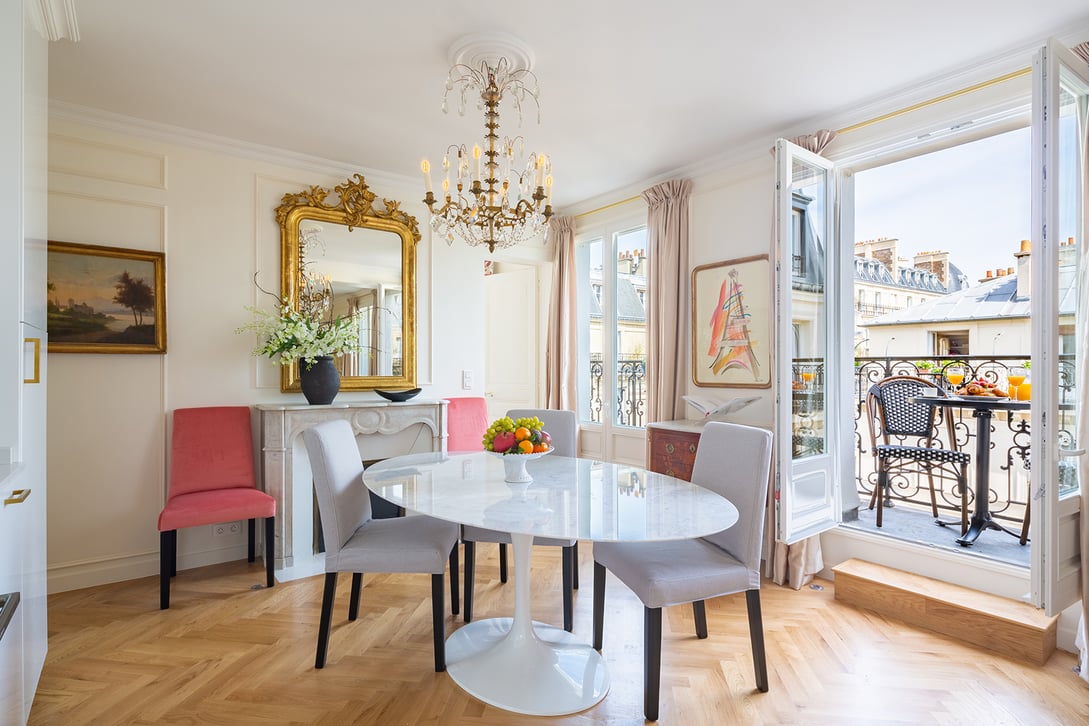 Imagine breakfast at your very own bistro table in Paris.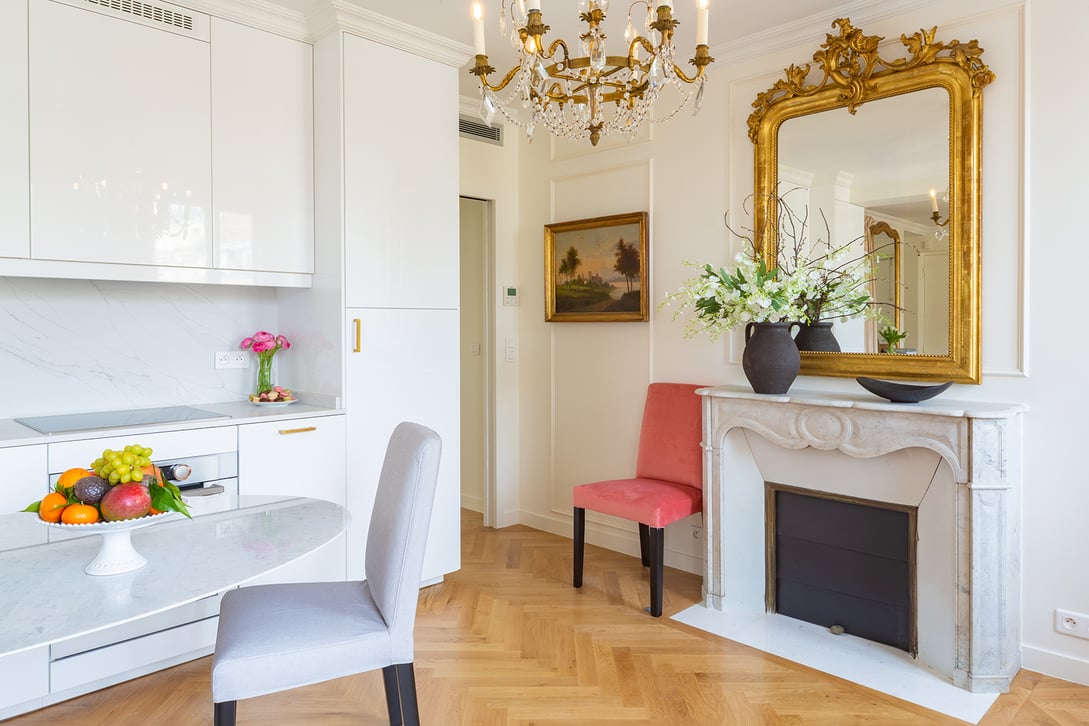 Gorgeous kitchen with marble counter and sleek white cabinets.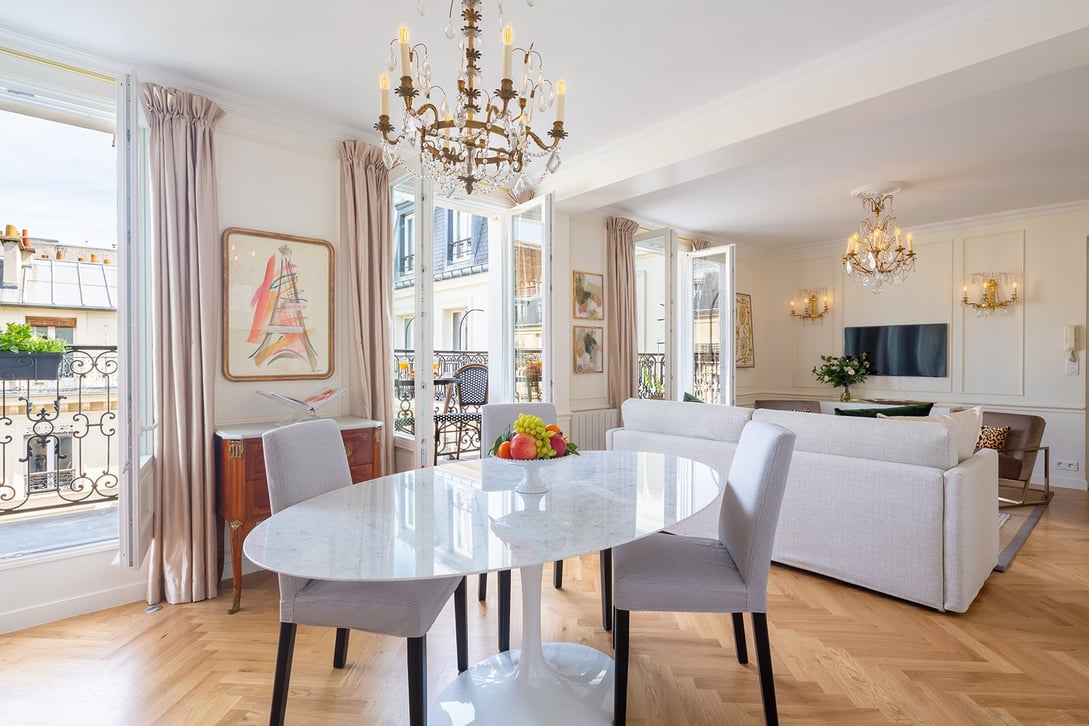 2 BEDROOMS SLEEPS UP TO 6
Bedroom 1: Extra wide queen bed (63in x 75in; 160cm x 200cm), Desk Area
Bedroom 2: Extra wide queen bed (63in x 75in; 160cm x 200cm) that can be unzipped to form two single beds (31in x 75in; 80cm x 200cm)
Living room: High-quality sofa with trundle converts into two comfortable single beds (31in x 75in; 80cm x 190cm)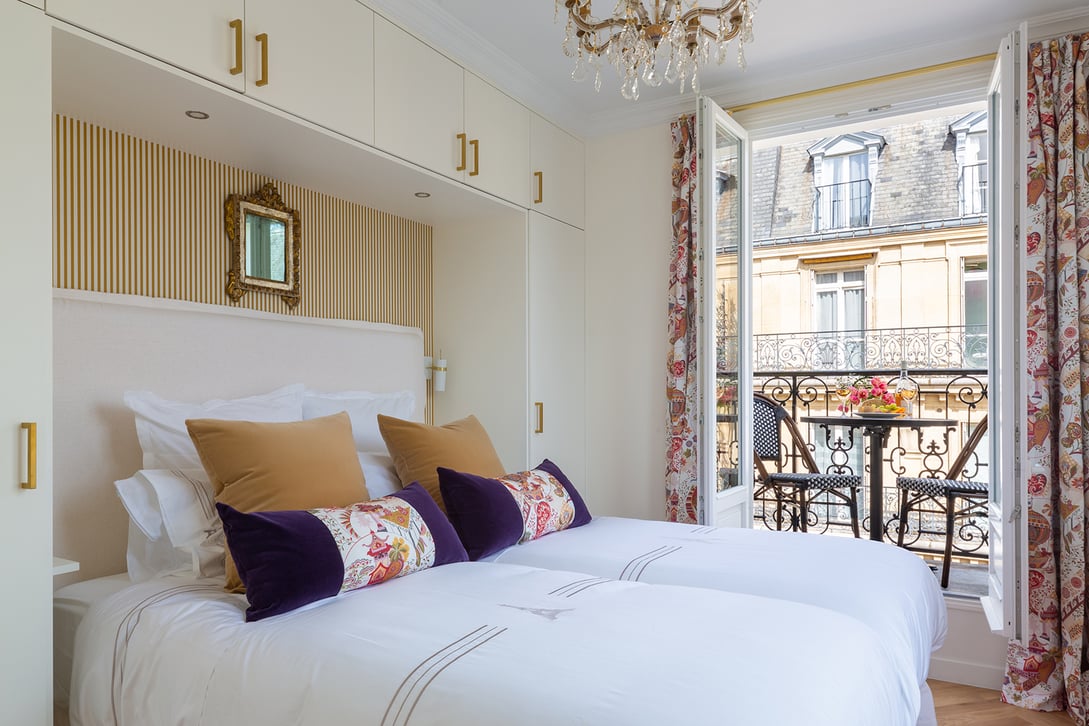 Find a second bistro table on the wrap-around balcony off of Bedroom 2 with a gorgeous Eiffel Tower view.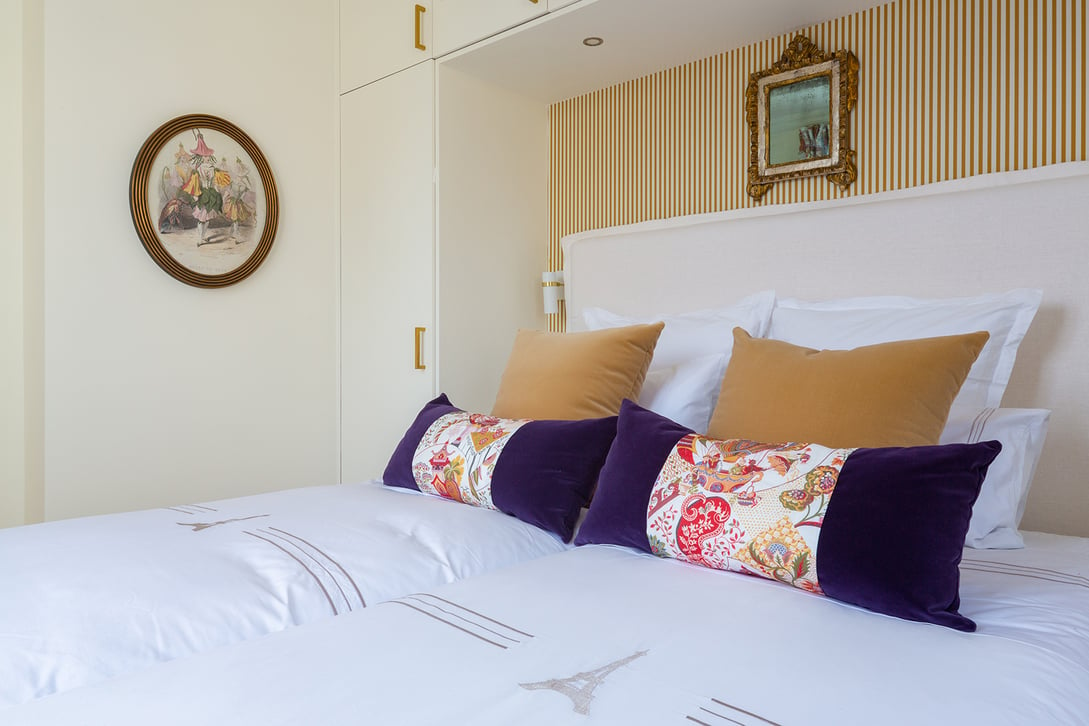 Watch Madelyn share behind-the-scenes about the gorgeous curtains in bedroom 2 at Fontaine de Mars.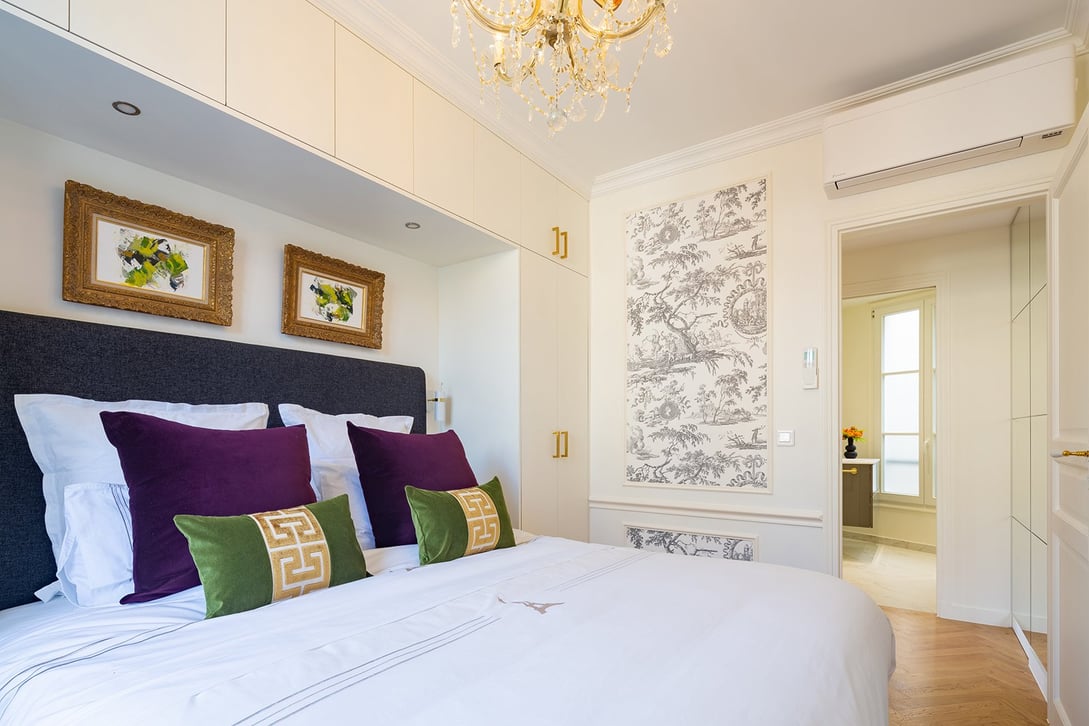 Bedroom 1 features an ensuite bathroom and beautiful Eiffel Tower view.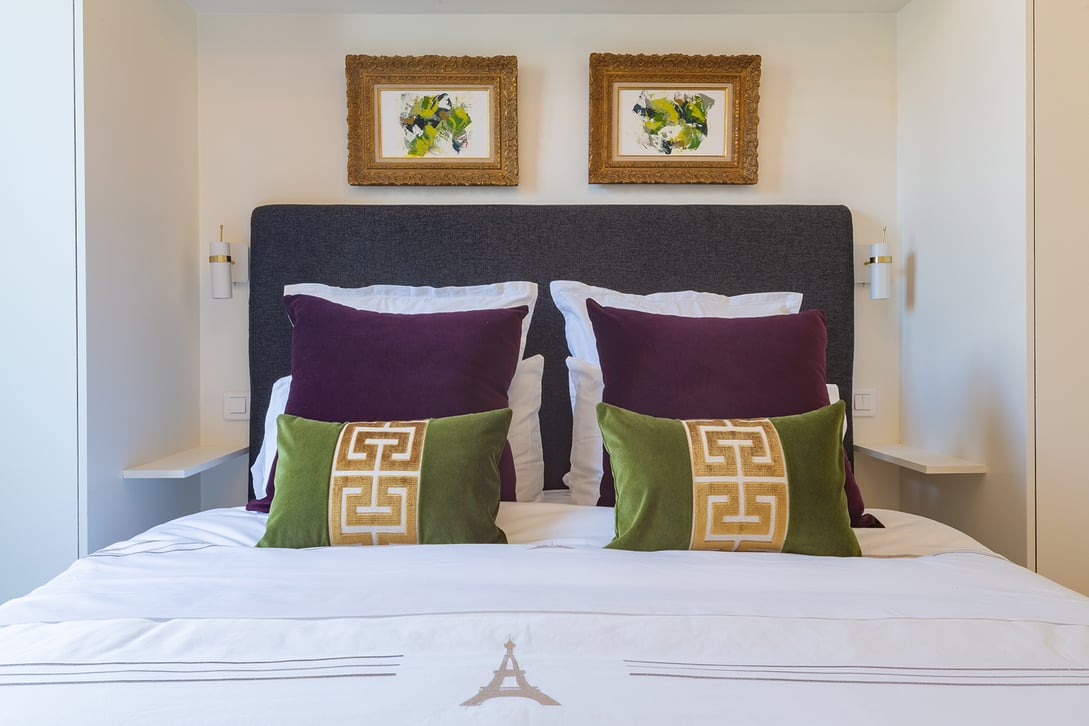 2.5 BATHROOMS
Bathroom 1 (Ensuite to bedroom 1): Large shower with fixed rainwater showerhead plus flexible showerhead, toilet and sink
Bathroom 2: Bathtub with shower (fixed showerhead plus flexible showerhead), Sink and Washer and Dryer
2 Half Baths: Toilet and sink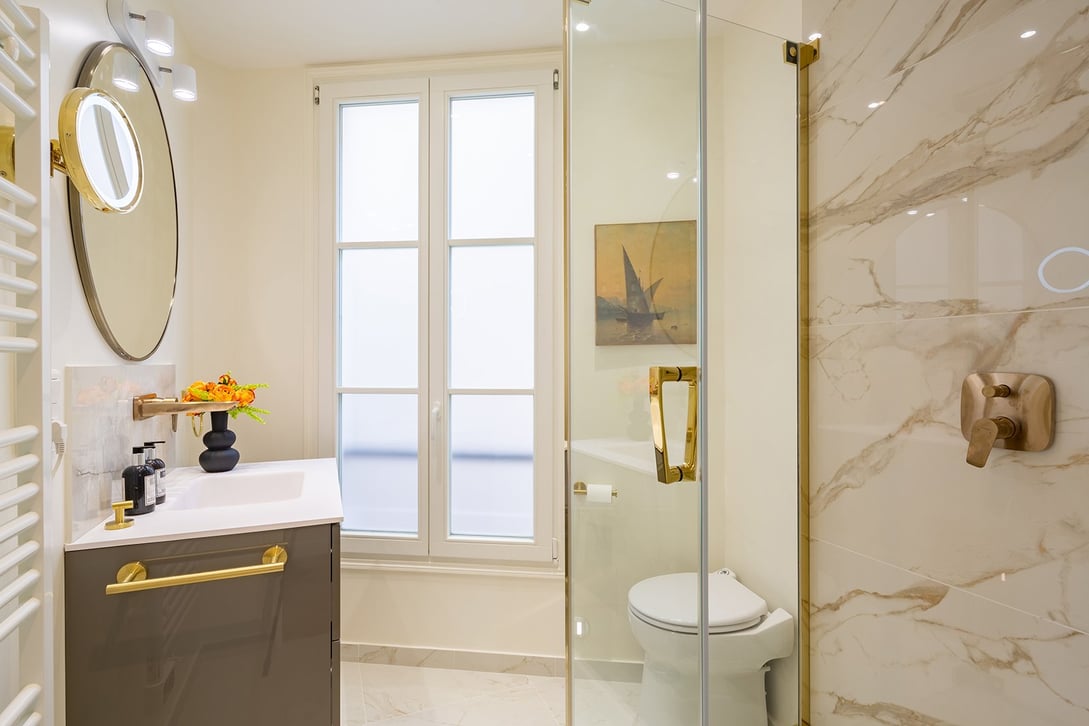 Large frosted window for beautiful light in the ensuite bathroom for Bedroom 1.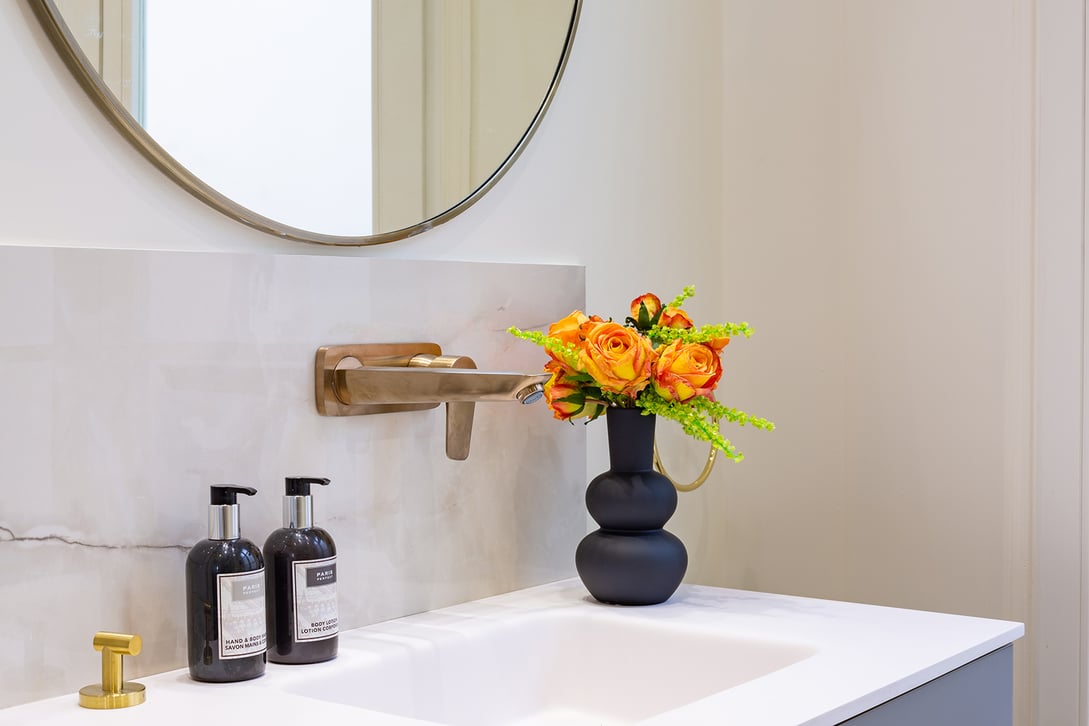 Beautifully finished bathrooms in every detail.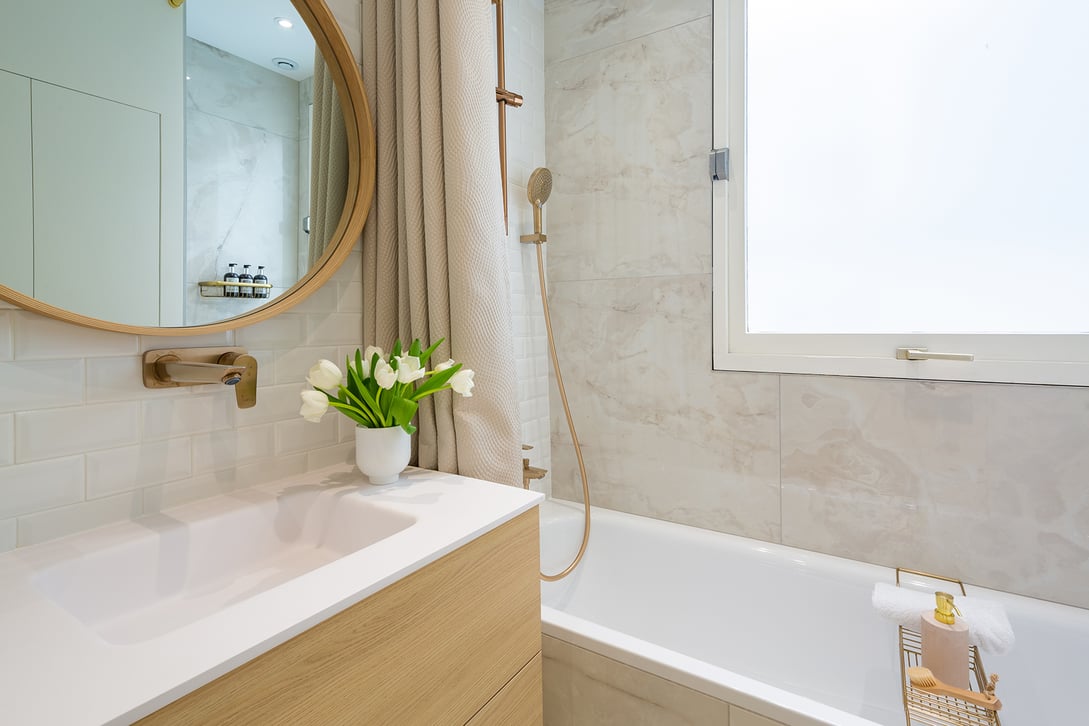 Enjoy a relaxing bath after a day exploring Paris.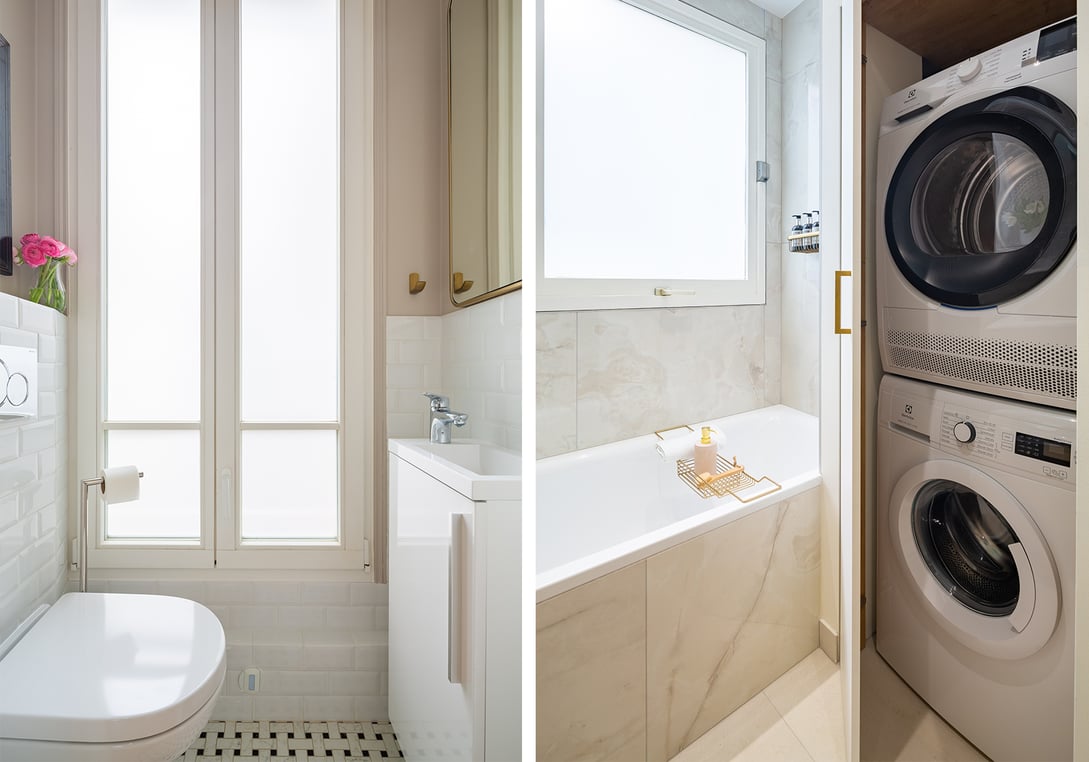 This property includes two additional half bathrooms and a separate washer and dryer.
KEY FEATURES
Located on the 6th floor (North American) of an elegant building (5th floor French), with elevator
Central A/C
Two bedrooms with sofa bed in the living room for additional sleeping
Two bathrooms plus two separate half baths with toilet and sink
Security door at street level with key access to enter the building, guests can be buzzed in with an Interphone
Shared owner storage room to leave your personal essentials
Two work spaces
KEY ATTRACTIONS ON YOUR DOORSTEP
Ideally located in the 7th arrondissement just moments from the Champ de Mars garden and Eiffel Tower. Enjoy a walk through the park or a stroll along the Seine, which is only a couple of blocks away.
Enjoy the view overlooking rue Saint-Dominique, one of the best shopping streets in the 7th arrondissement. You'll find small, one-of-a-kind boutiques along with every type of shop for French specialties. It's a gourmand's paradise!
Shop for fresh ingredients along the charming rue Cler market street or find a spot at a café terrasse for the best people watching.
Enjoy discovering all the excellent restaurants in the neighborhood. Owners love sharing their favorites!
This centrally located neighborhood makes means you can stroll to museums and sights on the Left and Right banks or hop on a bus or the Metro to easily get around Paris.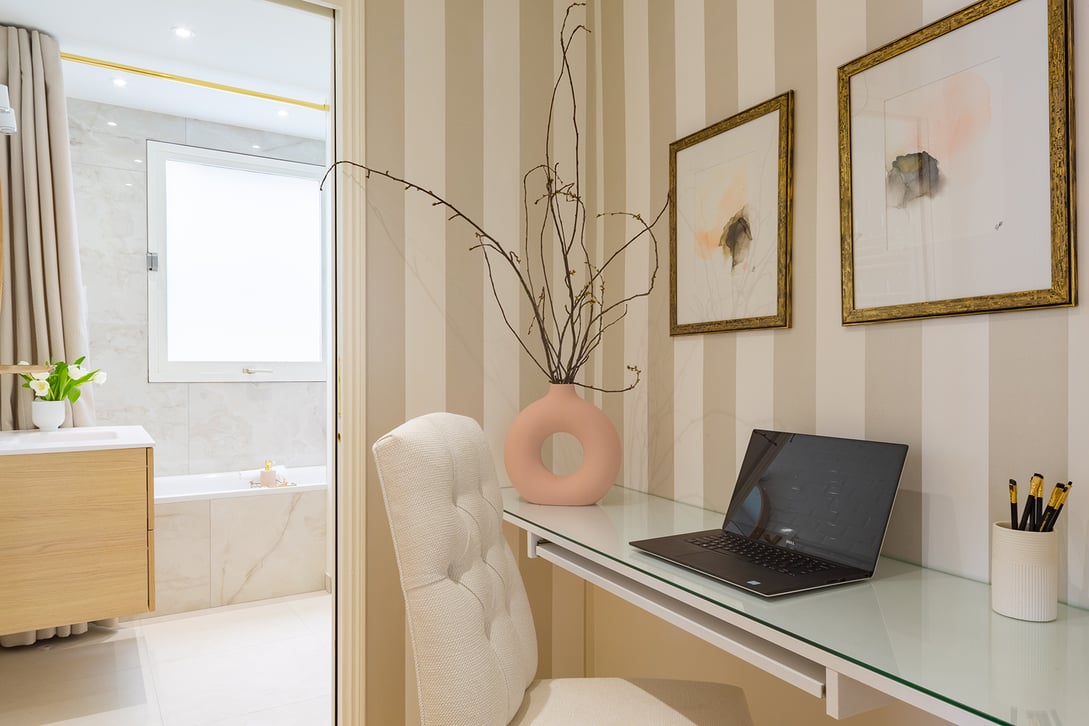 FRACTIONAL/SHARED OWNERSHIP:
Our Fractional Co-Ownership Program began in 2018 when we sold our first one-bedroom fractional apartment very quickly – within a month! Since then our waiting list of interested buyers has continued to grow. We are proud of the success of our concept and how it has allowed so many buyers to enjoy the beauty of living in Paris without any of the hassles. If you've always dreamed of living in Paris but aren't able to live there year-round, our co-ownership program is perfect for you!
Fontaine de Mars is divided into 13 ownership shares, which includes four weeks each year for every buyer. This is NOT a timeshare property nor vacation club. You physically own part of the apartment, meaning you participate in the real estate value of the apartment. Your shares are fully deeded and can be sold or passed on to loved ones.
HASSLE-FREE OWNERSHIP IN THE MOST BEAUTIFUL CITY IN THE WORLD
The idea of fractional or shared ownership was launched in the United States with substantial success. Thanks to the Internet, many owners can live and work in their favorite places for part of each year. They increasingly want to spend time in a favorite location, such as Paris, and in their own home – without the hassles and expense of full ownership of a second or third home.
It was a natural fit for Paris Perfect, a company that has been remodeling and managing apartments in Europe for decades. We are uniquely able to offer a second home in Paris, carefully managed and maintained at a reasonable cost. In fact, we've done the cost comparable research. Just take a look at our price comparison presentation to see for yourself.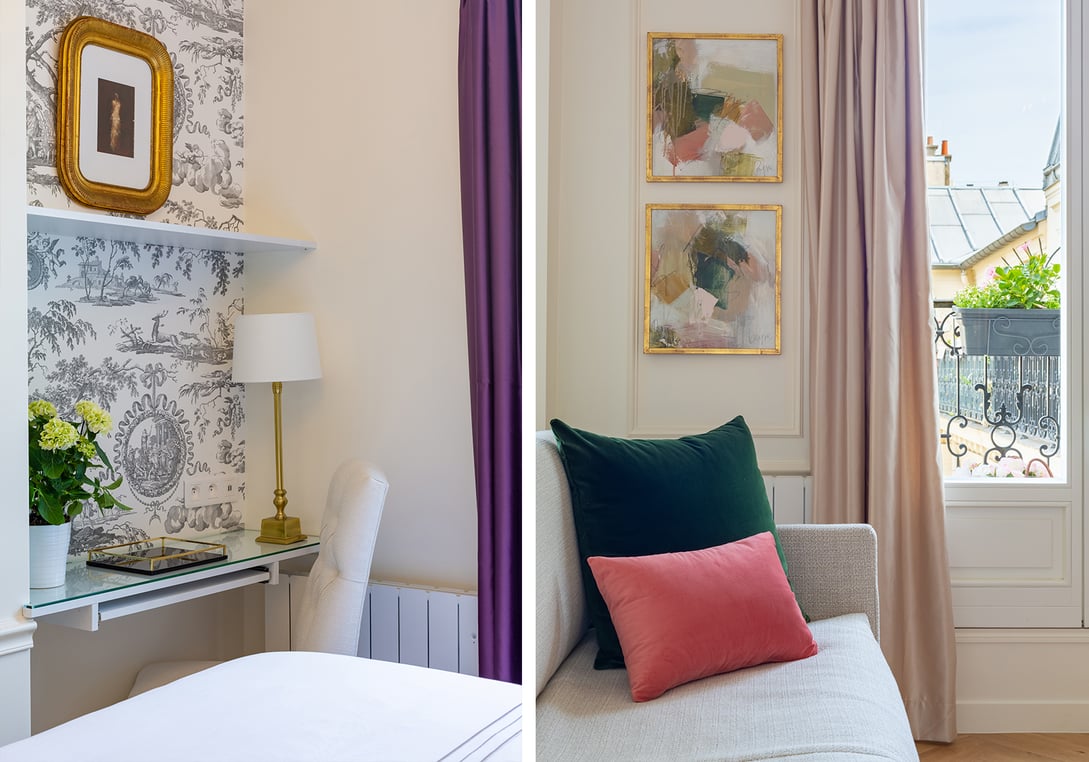 TERMS
The purchase price represents 1/13th share of the property. You will actually be an owner of the apartment, enjoying it to the fullest, without the worries and expense of day-to-day hassles.
The annual maintenance fee covers virtually everything: cleaning fees, building management, insurance, accounting, payments, banking, property taxes, utilities, supplies, linens, personal item storage and property management fees, plus a contribution toward a longer-term maintenance fund for regular updates to the apartment as well as minor building assessments. Changeover and mid-stay housekeeping are included in the annual fee.
The annual fee will not vary with the number of owners, which means you will not pay more if some of the shares are unsold.
Stays are 2 weeks + 2 weeks: Allocation of stays, two weeks at a time, is based on a rotational draft system so all owners have a fair chance for the most popular weeks. The first round of the draft locks in two consecutive weeks, and a second round guarantees two more consecutive weeks. As with other well-run properties, weeks can be exchanged with the other owners or lent to friends and family.
Complementary Third Home membership, meaning a $10,000 savings in the premier home exchange club, with luxury homes throughout the world.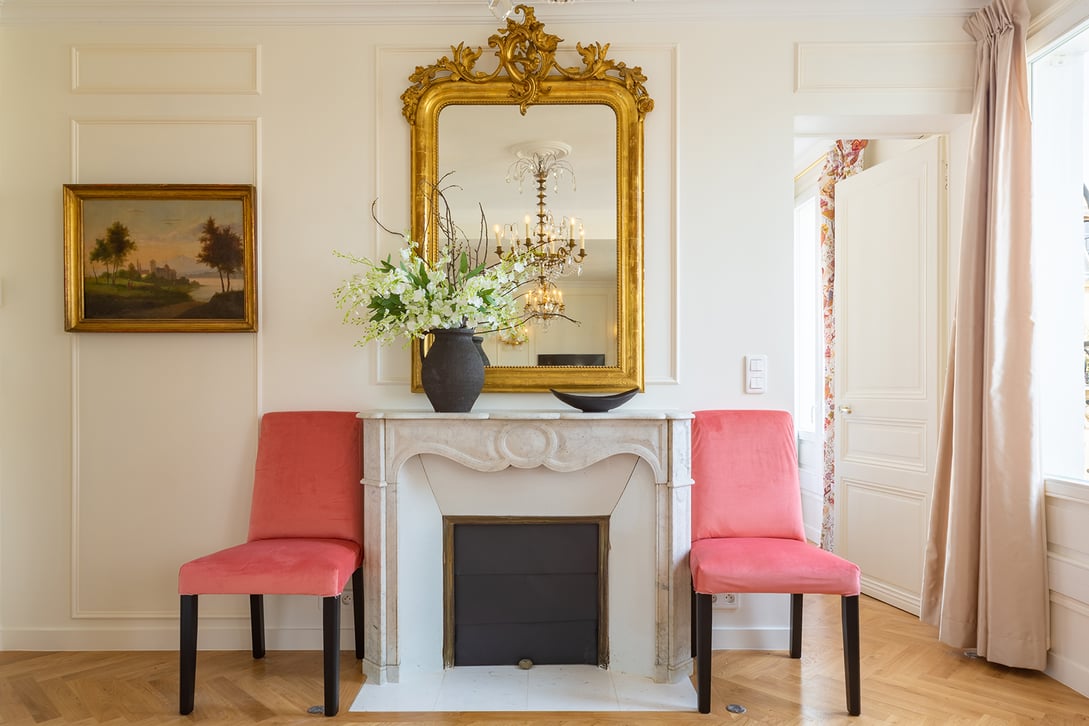 It's all in the details and every element is hand-picked to create a beautiful home.
HOW WILL I CHOOSE MY WEEKS?
This is a great problem to have as there are no bad answers! Owners have two blocks of two weeks each per year. Will I come in the summer, when life slows down and I can enjoy Paris, summer menus and activities at a slower pace? Or shall I come in the cooler months, when exhibitions, design shows and activities are in full swing and there are new menus with the freshest ingredients at every restaurant?
Click here to see why Paris is a city to love and live in for every season of the year.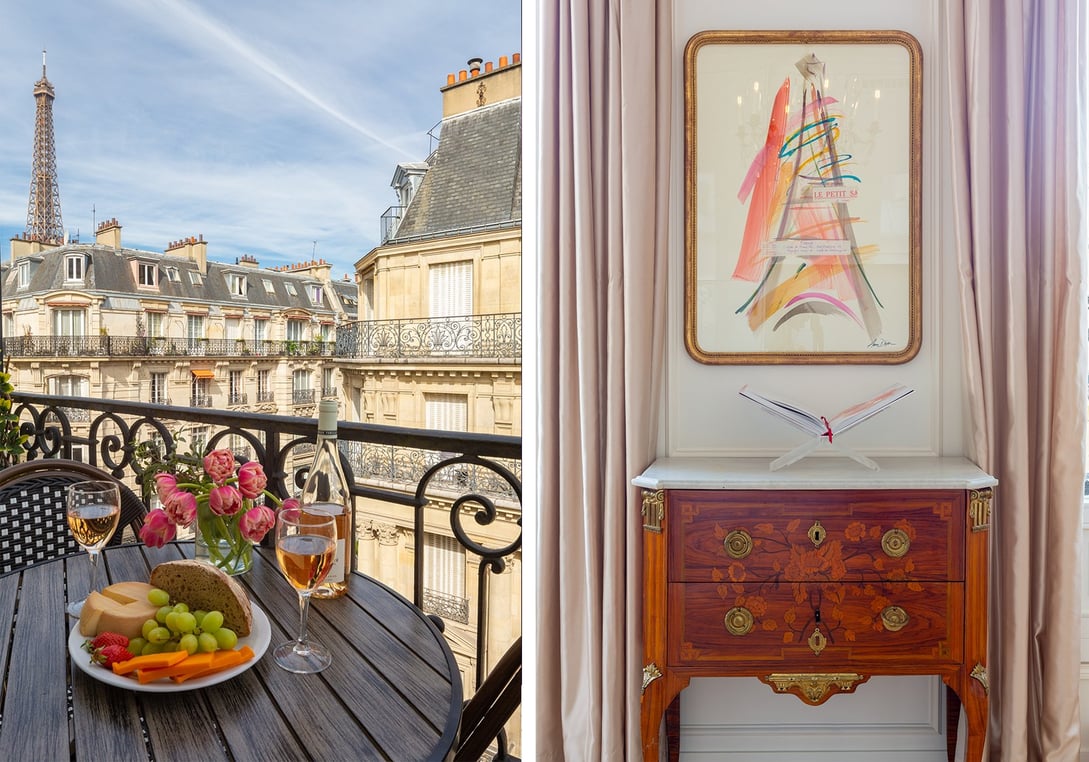 FAQS
Q: You're a well-regarded company at Paris Perfect for luxury rentals. Can you tell us why you decided to expand to fractional ownership?
A: The reason we launched Paris Perfect Shared is because we recognized a desire among many of our clients to have a beautiful home in their favorite city without the hassles and expense of full ownership. Paris Perfect has a very clear advantage: We know how to locate, remodel and manage the most beautiful homes in Europe. Thanks to that reputation, and our base of thousands of loyal clients, the first fractional apartment sold out quickly. Paris Perfect continues to offer the same excellent service as they have for over twenty years with professional maintenance, a dedicated housekeeping and linen team and an English-speaking welcome center. With our attention to detail, owners step into a beautiful, impeccably clean apartment each time they arrive.
Q: Will we need a French bank account, or be liable for taxes in France?
A: No, and this is a key advantage of purchasing fractionally from Paris Perfect Shared. The annual fees include all estimated costs and are paid in dollars to a US non-profit company that owns all the shares of the apartment. The payments are wired to the French bank account of the French SCI (like an LLC), which exclusively owns the apartment. There are no French reporting requirements and no need for a French bank account.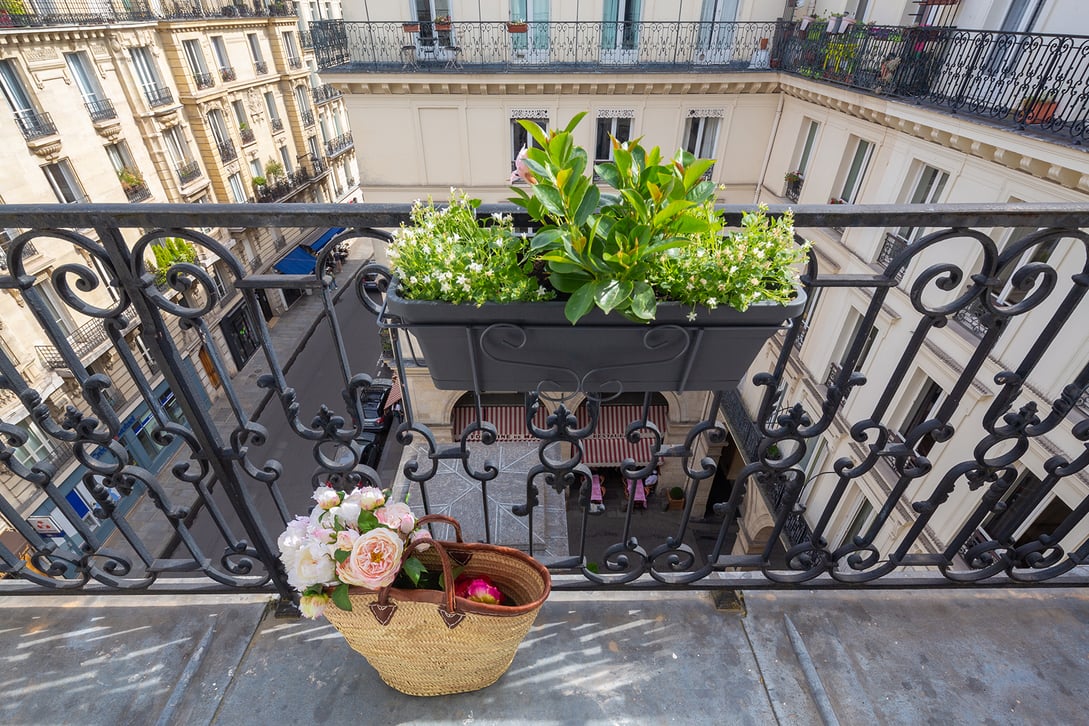 Click Here to read all the important questions you may have about fractional ownership, such as the annual budget and whether there are any additional costs – and how Paris Perfect Shared has made it such a success.
Let us know if you would like to know more about becoming a Paris Perfect Shared owner. We would be pleased to schedule a call to discuss further!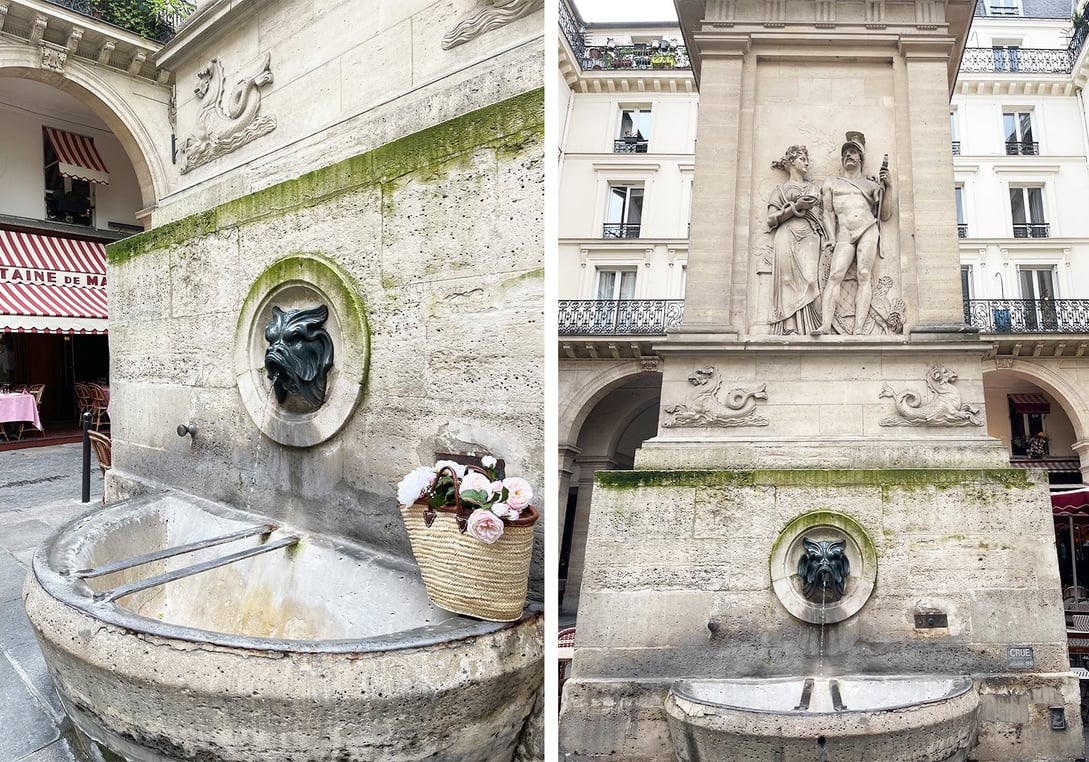 This remarkable property is named after the historic Fontaine de Mars on rue Saint-Dominique, which you can see just below from the beautiful balcony. Learn more about the fascinating history of this 19th-century fountain with a mini history lesson from Paris Perfect owner Madelyn.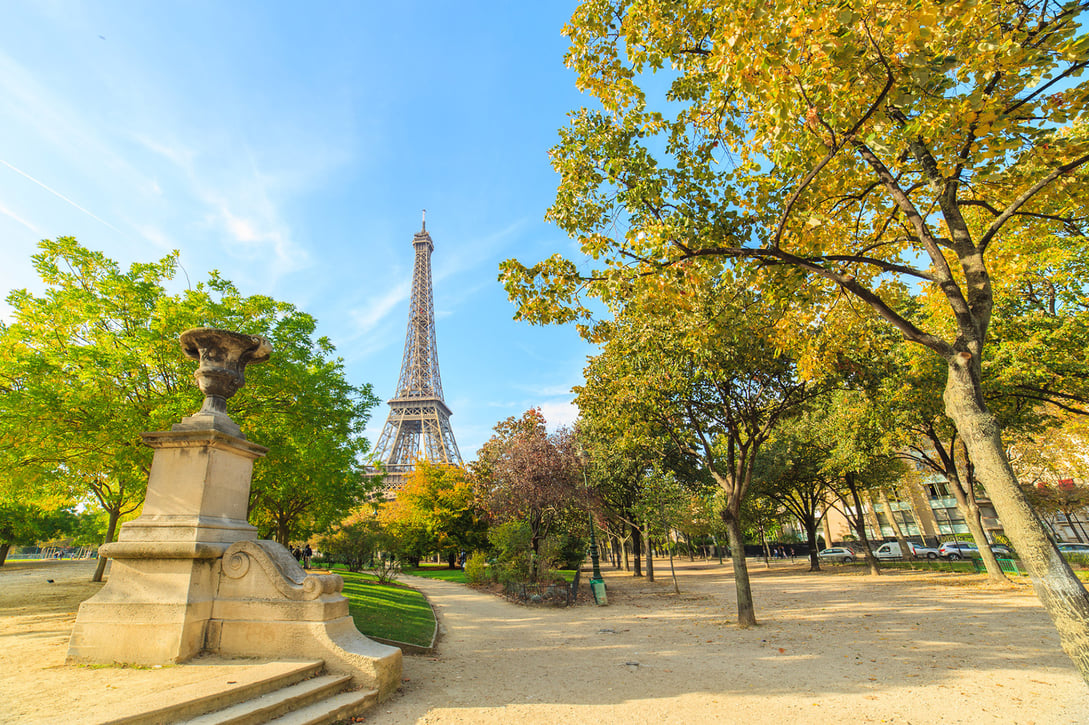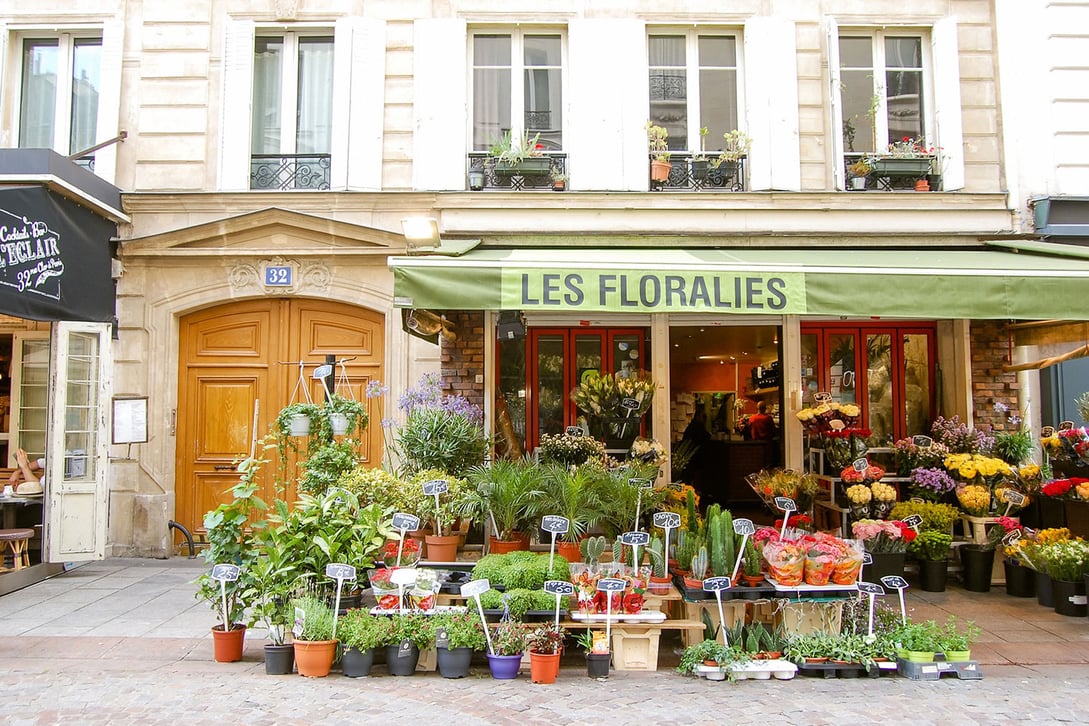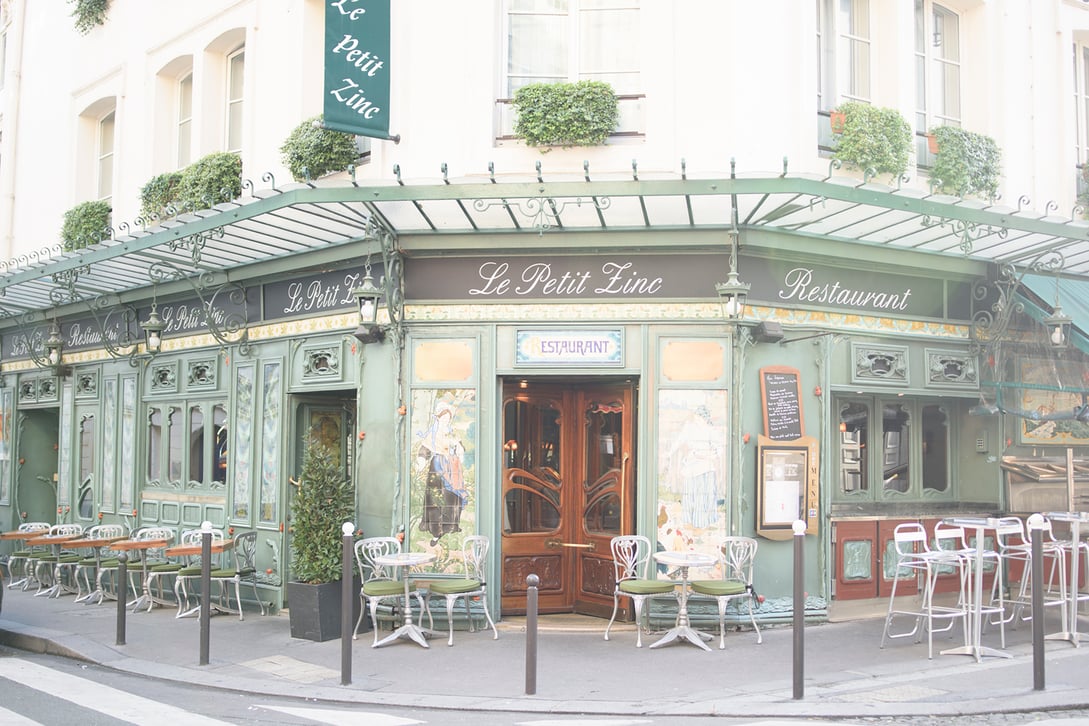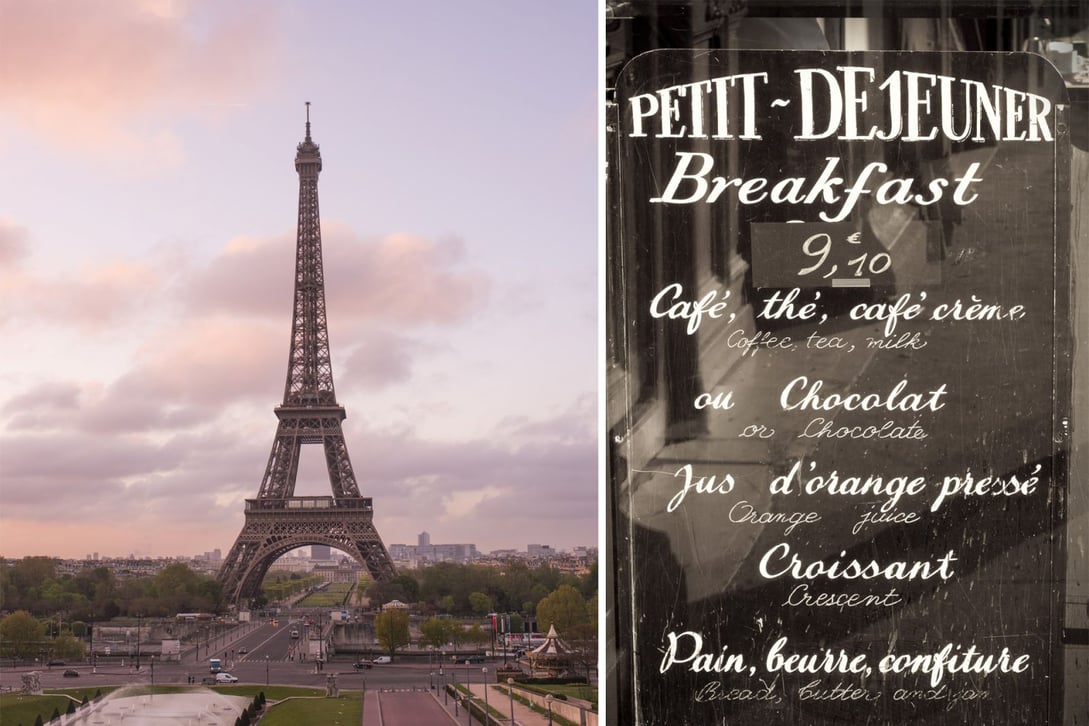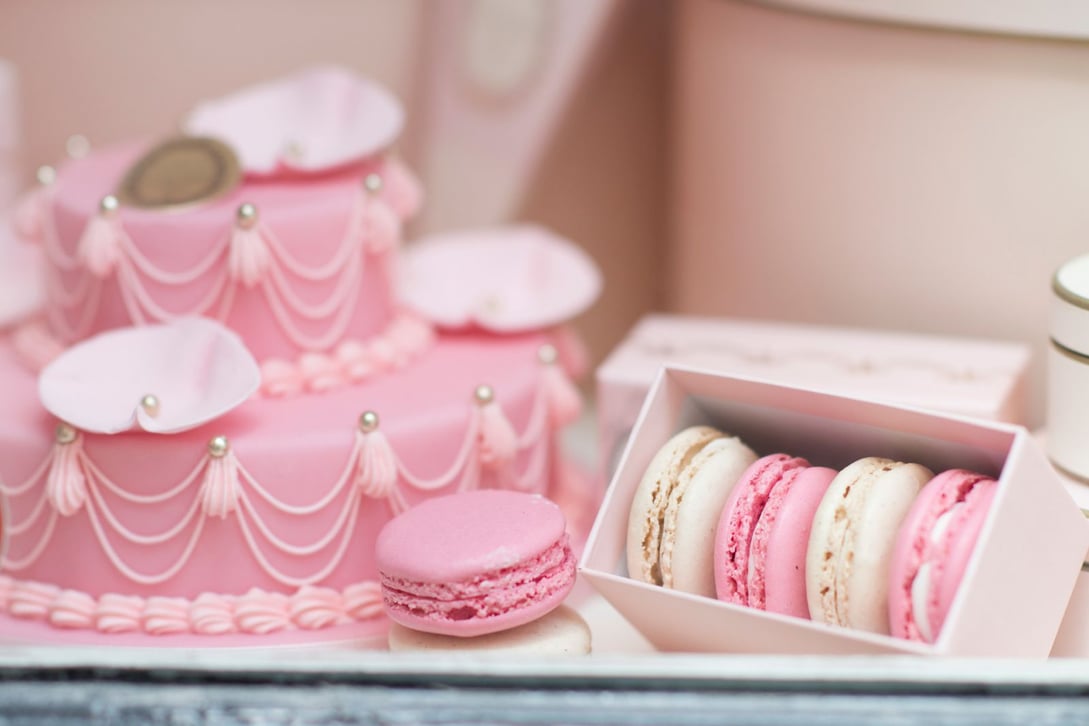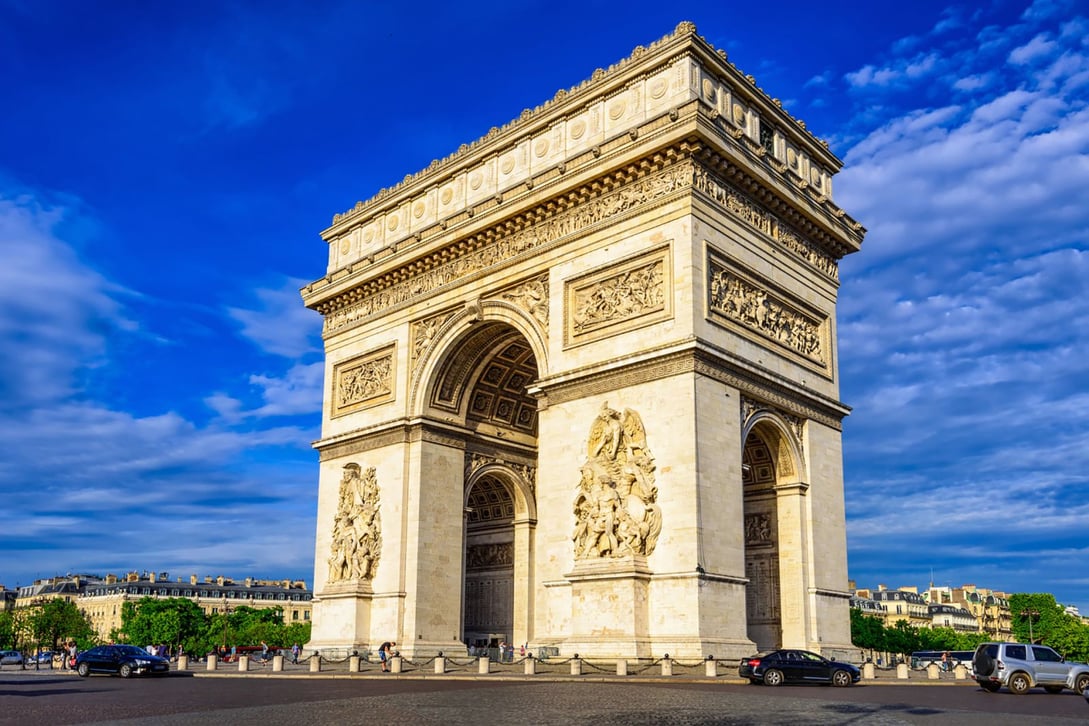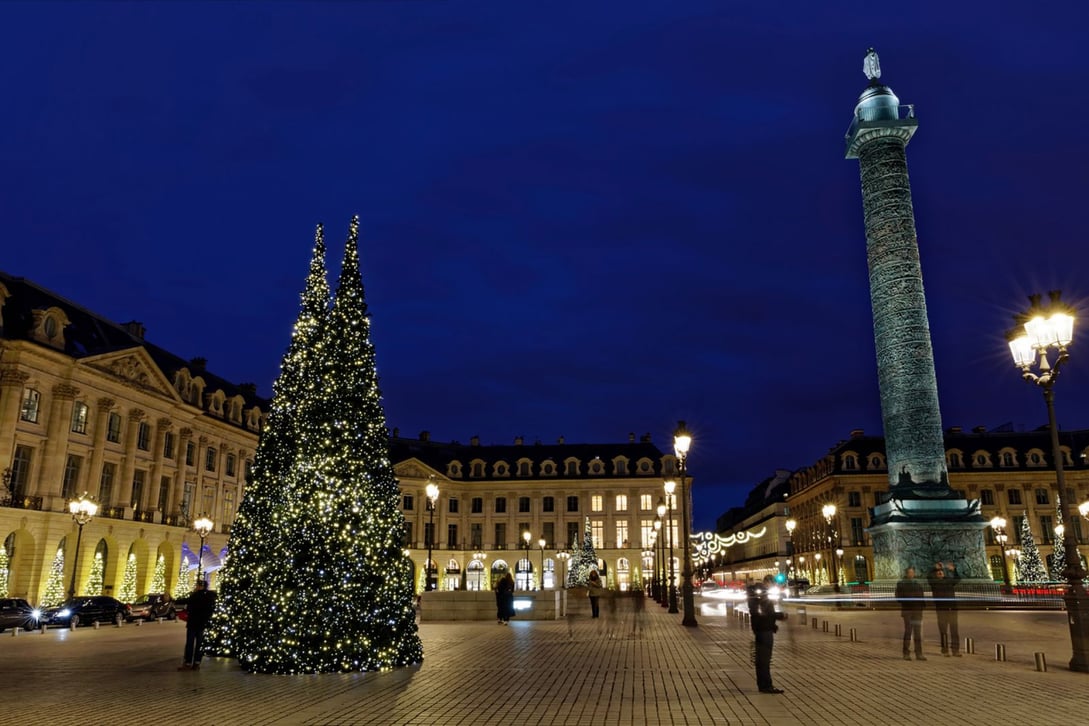 In the Neighborhood
Seine River (5 min): Stroll along the romantic Seine river at sunset
Eiffel Tower (5 min)
Champ de Mars Park (2 min): Walk, jog, play in one of the playgrounds, throw some hoops, go to the puppet theater or just sit and enjoy the beautiful gardens.
Paris Sewer Tour (5 min): Fascinating tour of limestone arches and caverns with street signs that traverse all of Paris . The Phantom of the Opera was inspired by these underground streets.
Boat Tours (6 min): Bateaux-Mouches, Batobus and Bateaux Parisiens boat tours.
Musée Branly (5 min): Award-winning Museum of Ethnic Arts.
Ecole Militaire (10 min): Napoléon attended military school here and the buildings still show signs of gunfire from the French Revolution in 1789.
Bike & Segway Tours (12 min)
Open Markets: Pont de l'Alma market is a 12 minute walk and has the largest open market in Paris every Saturday morning. Rue Cler is five minutes away and is among the best and most famous shopping streets for food in Paris.
High Fashion (14 min): Walk to the Grand Couturiers on avenue Montaigne - from Chanel, Dior, Givenchy, Valentino, to the outrageous Jean-Paul Gaultier and many more.
Four Seasons Hotel, Plaza Athénée (14 min): Enjoy tea or 3 star dining. Plaza Athénée is famous for being the venue where the final episode of 'Sex and the City' was filmed.
Trocadero (15 min)
Invalides (15 min): Napoléon's tomb rests under its golden dome.
Grand Palais (20 min): Venue for world-famous art exhibitions.
Rodin Museum (20 min)
Champs-Élysées (20 min): Walk to the Champs-Élysées, Arc de Triomphe and Louis Vuitton flagship store.
Musée de l'Armée (15 min): One of the world's finest collections of arms, medieval armor and uniforms
Rue du Commerce (20 min): A true Parisian shopping street with trendy boutiques, food stores, bistros and the Monoprix department store, like a French Target - good quality and great prices!
Musée d'Orsay (25 min)
Place de la Concorde, Madeleine, American Embassy (25 min): Walk along the beautiful river or take a nearby train.
Bon Marché, rue du Bac (25 min): Famous shopping area.
Louvre Museum (40 min): Walk along the beautiful river or go direct by bus.
Department Stores: Direct metro and bus to Galeries Lafayette and Printemps Department Stores.