The 18th and 9th Arrondissements: Montmartre and the Moulin Rouge
Montmartre, Sacré Couer basilica and the Moulin Rouge - just a taste of the dynamic 18th and 9th arrondissements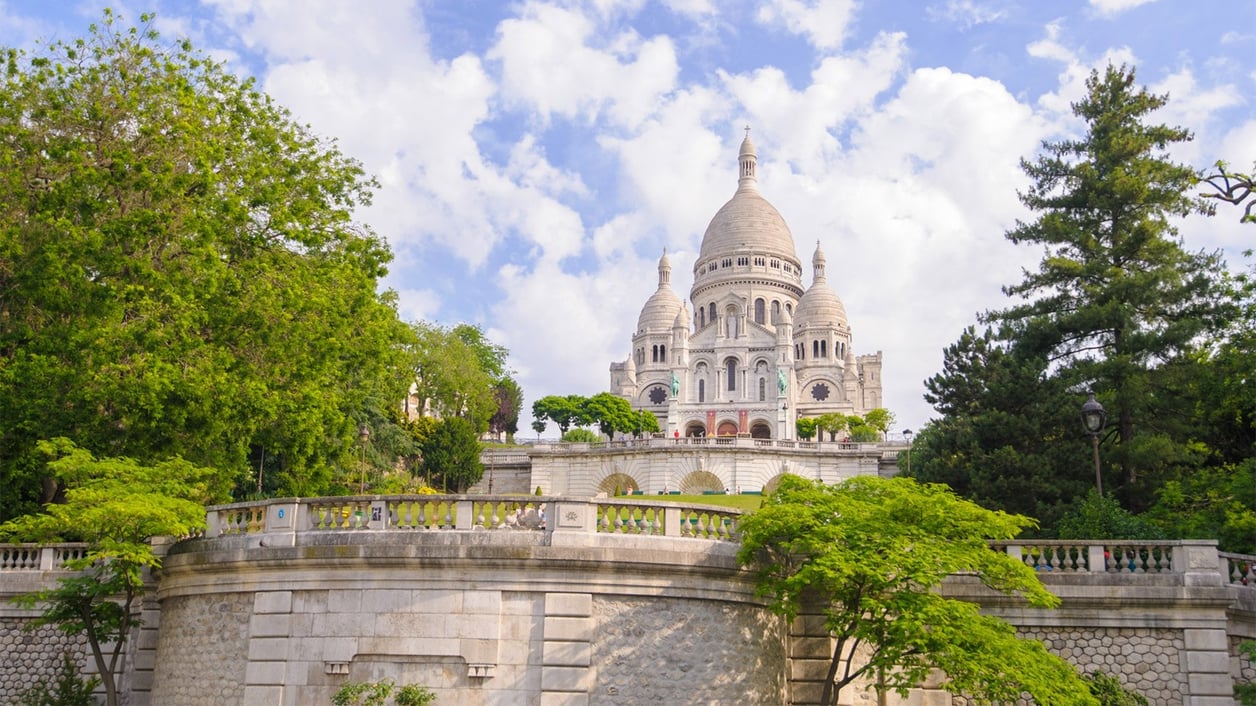 Lovers of French rom-com Amélie will adore Montmartre, Paris's pretty 18th arrondissement, home to many of the cult film's quirky brasseries, parks and cobbled streets (including Café des Deux Moulins at 15 rue Lepic).
The cherry on top of this charming, hilly northern quarter is the Sacré-Coeur Basilica, sporting lofty white domes visible from all over town. Once dotted with windmills and vineyards, this rustic neighborhood was annexed to Paris in 1860, becoming a haunt for artists and bohemians including Picasso, Van Gogh and Toulouse-Lautrec. Portrait painters still flock touristy Place du Tertre – for racier art catch a cabaret at the iconic Moulin Rouge. Glimpse the only working vineyard Le Clos Montmartre at rue des Saules or sample its wines in the local bars.
Fabled Montmartre borders the more central 9th arrondissement, which hosts the historic Palais Garnier opera house, museums and theatres. The former red light district Pigalle has reinvented itself, with hip SoPi (South Pigalle) a magnet for foodies. For classical architecture wander, Quartier de la Nouvelle Athènes, near atmospheric Musée de la Vie Romantique.
The 9th boasts upscale department stores or unearth vintage finds in the 18th's intriguing Porte de Clignancourt flea market. A stay in a stylish Paris Perfect vacation rental in the 18th or 9th also promises seductive drinking and dining.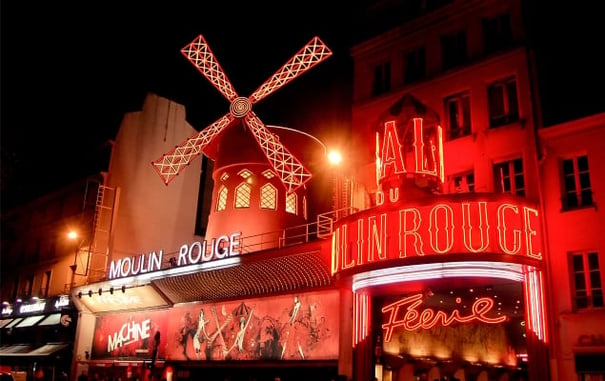 Major Attractions
Moulin Rouge
Montmartre's Moulin Rouge, near Pigalle, is famous for its decadent cabaret shows, with the high-kicking can-can dance immortalised by Belle Époque artists such as Toulouse-Lautrec and Baz Luhrmann's 2001 film of the same name. Founded in 1889, the original building burned down in 1915, but the current theatre, topped with a red windmill, is still a glam affair. Catching a cabaret here – whether a matinee or one of two evening shows (with optional dinner) – is a classic Paris spectacle. Think sequins, feathers and dare-to-bare costumes. Reservations are essential, as is Champagne!
Address: 82 boulevard de Clichy, 75018 Paris
Website: www.moulinrouge.fr
Sacré-Coeur Basilica
Perched atop the 18th's Butte Montmartre, Paris's highest hill, the bright, white travertine Basilica of Sacré-Coeur is a striking Catholic landmark. Construction of the Romano-Byzantine building began in 1875. Head up 270 steps for expansive city horizons from Sacré-Coeur's forecourt, or ride Montmartre Funicular there from Square Louise Michel park. Climb 300 more steps up the dome for a bird's-eye view of Paris. Inside admire bronze statues, the apse mosaic, grand bell, organ and crypt.
Address: 35 rue du Chevalier de la Barre, 75018 Paris
Website: www.sacre-coeur-montmartre.com
Place du Tertre
Artists cover every inch of Montmartre's village-like cobbled hilltop square Place du Tertre, where you can have your portrait painted, pay for a caricature or snap up artworks depicting Paris's scenery. Kick back afterwards at a bistro terrace.
Address: Place du Tertre, 75018 Paris
Cimetière de Montmartre
Tree-dotted Cimetière de Montmartre is the city's third largest cemetery, opened in 1825. Stroll the 11-hectare grounds to spy legendary names among its 20,000 burial plots including French novelists Émile Zola and Stendhal, artists Edgar Degas and Gustave Moreau, composer Hector Berlioz, film director François Truffaut and singer Dalida.
Address: 20 avenue Rachel, 75018 Paris
Unofficial websites: http://www.landrucimetieres.fr/spip/spip.php?article81
Musée de la Vie Romantique
Seek out the gorgeous off-the-beaten-track Museum of Romantic Life in the 9th's New Athens district below Montmartre. A literary museum dedicated to French writer George Sand (1804-1876) and other authors, its collection includes portraits, artworks and personal memorabilia such as furniture and jewelry, alongside regular exhibitions. The green-shuttered house and courtyard once belonged to painter Ary Scheffer, who socialized with Sand, Dickens and Chopin here. The popular tearoom is a branch of the wonderful Rose Bakery. Tables outside in the graceful gardens are perfect for penning love letters.
Address: 16 rue Chaptal, 75009 Paris (closed Monday)
Website: www.museevieromantique.paris.fr/fr
Palais Garnier
Enjoy a night out at ornate Palais Garnier in the 9th, created in 1875 for the Paris Opera. Catch a performance by the Opéra National de Paris, a ballet or classical concert. By day you can tour the theatre itself, including its vast Italian-style auditorium – the dazzling ceiling frescoes were painted in 1964 by Marc Chagall. Refuel at Opéra Restaurant or Bar Martini.
Address: Place de l'Opéra, 75009 Paris
Website: www.operaparis.fr/en
Museums
Small niche museums in the 18th and 9th explore art, history and culture.
Dalí Paris
This intimate museum in the 18th, near Place du Tertre, is devoted to Spanish Surrealist painter Salvador Dalí (1904-1989). Open daily, it showcases the private collection of art dealer Beniamino Levi, including over 300 Dalí paintings, drawings, sculptures, etchings, furniture designs and objects.
Address: 11 rue Poulbot, 75018 Paris
Website: www.daliparis.com
Musée de Montmartre
Montmartre's oldest building, this charming museum in the 18th was once a meeting place for artists including Auguste Renoir, Émile Bernard and Raoul Dufy. The 17th-century house hosts art exhibitions and a permanent collection of paintings, posters and drawings by Toulouse-Lautrec, Modigliani and Utrillo, channeling the effervescent spirit of Montmartre from cabarets to can-can. The gardens are dedicated to Impressionist painter Renoir who lived here between 1875 and 1877. Wrap up with treats at Café Renoir.
Address: 12 rue Cortot, 75018 Paris
Website: www.museedemontmartre.fr
Musée du Parfum Fragonard
Founded in 1926, Maison Fragonard is an esteemed family fragrance maker. This Paris museum in the 9th arrondissement will appeal to perfume connoisseurs, with free entry and guided tours. Exhibits share the history of scent manufacture and explore French fragrances. The boutique sells Fragonard's perfumes, candles and soaps. Alternatively, create your own eau de cologne at a perfumer's apprentice workshop.
Address: 3-5 square de l'Opéra-Louis Jouvet, 75009 Paris
Website: musee-parfum-paris.fragonard.com
Musée Grévin
Pose for selfies with around 200 celebrities at Musée Grévin, Paris's family-friendly wax museum in the 9th arrondissement. French and international stars of sport, politics, music, fashion, food and film are on display, as well as historical and fictional characters, including singer Edith Piaf, designer Jean Paul Gaultier and French World Cup football player Kylian Mbappé. Grab a bite at Grevin Café.
Address: 10 boulevard Montmartre, 75009 Paris
Website: www.grevin-paris.com
Musée National Gustave Moreau
This atmospheric house-museum in the 9th was conceived by French Symbolist painter Gustave Moreau (1826-1898). Once his family home, it displays his drawings, paintings and watercolors over three floors of apartments and studios. Look out for paintings gifted to Moreau by Impressionist painter Edgar Degas.
Address: 14 rue de La Rochefoucauld, 75009 Paris (closed Tuesday)
Website: musee-moreau.fr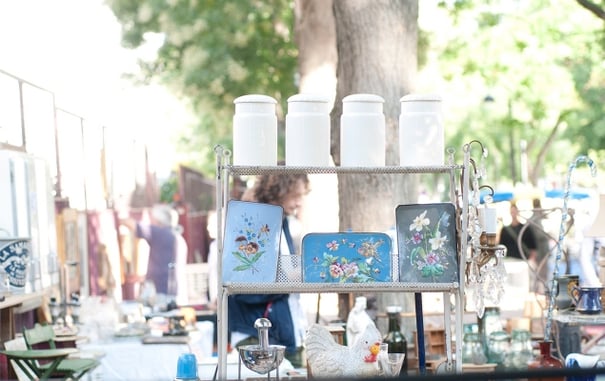 Open-Air Markets & Food Stores
Porte de Clignancourt Flea Market
Officially called Le Marché aux Puces de Saint-Oeun (Les Puces), this famous flea market near Porte de Clignancourt metro station in the north of the 18th arrondissement is a treasure trove of antiques. Come early at weekends to hunt for homewares, furniture and ceramics, with stalls and shops on and around rue des Rosiers. Discover vintage clothing, books, records, posters and art in the 14 sprawling open-air and covered markets. See Paris Perfect's guide.
Address: rue des Rosiers, 93400 Saint-Ouen (9am-6pm Saturday, 10am-6pm Sunday, 11am-5pm Monday)
Website: www.pucesdeparissaintouen.com
Rue des Martyrs
Pigalle's enchanting eat street Rue des Martyrs is home to bakeries, patisseries, gourmet delis, specialist food stores and charming cafés for coffee, brunch or tea (try beloved Rose Bakery). You'll also find florists, vintage fashion boutiques and bookstores. For more on this vibrant neighborhood market in the 9th, see Paris Perfect's blog. It's ideal for picking up gifts of cheese, jam or olives.
Address: Rue des Martyrs, 75009 Paris
Marché Anvers
At the foot of Butte Montmartre, this open-air food market in the 9th offers stalls of organic food and local produce on Friday afternoons (3pm-8.30pm).
Address: Place d'Anvers, 75009 Paris
Unofficial Website: parisinfo.com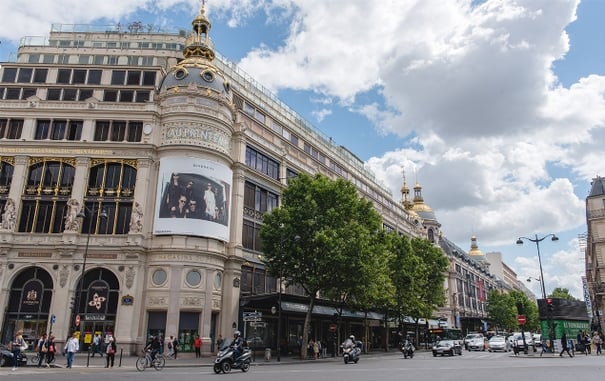 Hot Shopping
For one-stop shopping in the 9th district, make for Boulevard Haussmann's luxe department stores.
Galeries Lafayette Paris Haussmann
Launched in 1893, the 9th's chic Galeries Lafayette includes a massive women's store under its cupola, an attached men's store and a nearby outlet for homewares and gourmet food (don't miss ground-floor Petrossian Caviar for a salmon and Champagne pit stop, or La Maison de la Truffe for truffles). Take the elevators to the main store's 7th floor for La Paillote and Cube Bar's seductive dishes and cocktails with killer terrace views.
Address: 40 Boulevard Haussmann, 75009 Paris
Website: haussmann.galerieslafayette.com
Printemps Haussmann
Created in 1865, Printemps Haussmann is a listed historical monument. Shop till you drop for fashion, beauty and accessories, then hit Brasserie Printemps (Women's Store, Floor 6) under the Art Deco cupola for French bites and bubbles. Ladurée serves elegant macarons (Floor 1). For seasonal snacks, ascend to Printemps du Goût (Men's Store, Floors 7 & 8), where terrace tables offer panoramic views over Palais Garnier and the Eiffel Tower.
Address: 64 boulevard Haussmann, 75009 Paris
Website: https://www.printemps.com/uk/en/printemps-paris-haussmann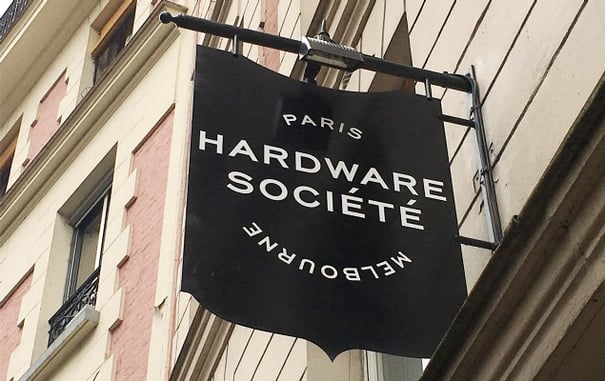 The 18th arrondissement offers delectable deli cafés, trad French bistros, hip global restaurants and chic hotels for a cocktail – perfect for treating yourself after an amble around arty Montmartre.
Our Favorite Cafés & Restaurants in the 18th Arrondissement:
Bar à Bulles: 4bis Cité Véron
Brasserie Barbès: 2 boulevard Barbès
Café des Deux Moulins: 15 rue Lepic
Chez Toinette: 20 rue Germain Pilon
Grenouilles: 55 Rue du Chevalier de la Barre
Guilo Guilo: 8 rue Garreau
Hardware Société: 10 rue Lamarck
Hôtel Particulier Montmartre: Pavillon D, 23 avenue Junot
Le Bar Terrass Hotel: 12-14 rue Joseph de Maistre
Le Coq Rico: 98 rue Lepic
Wepler Brasserie: 14 Place de Clichy
And in the 9th Arrondissement:
Belle Maison: 4 rue de Navarin
Hôtel Amour: 8 rue de Navarin
Le Bon Georges: 45 rue Saint-Georges
Le Carmen: 34 rue Duperré
Le Grand Café Capucines: 4 boulevard des Capucines
Le Pantruche: 3 rue Victor Massé
Maison Souquet: 10 rue de Bruxelles
Pink Mamma: 20bis rue de Douai
Sign up for our Vacation Perfect newsletter and real estate updates.