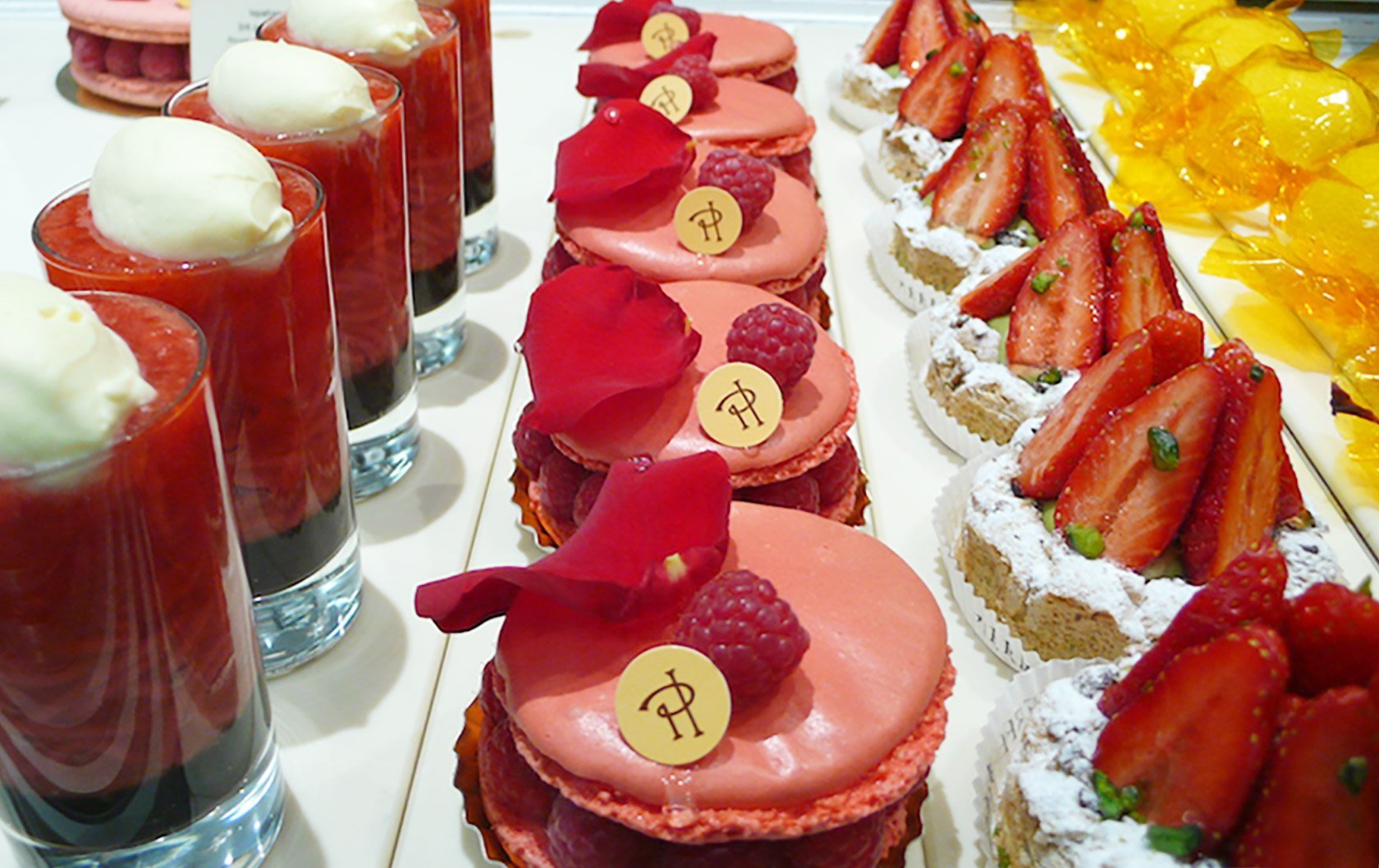 Above is Pierre Hermé's Patisserie next to Pasteur Metro.  It takes about 30 minutes to walk there from our apartments in the 7th, or take the metro in five.  But if you walk, you burn enough calories to eat one more macaron.
I used to be a Gateau a' l'Opera addict, the delicious layered concoction of dark chocolate, coffee ganache or filling, cake and dark chocolate cream.  I considered Operas to be the sumum of pastry-making, especially after taking a class in how to make them once.  After four hours of non-stop work, I threw away my notes and am delighted to pay almost any price to buy one at my favorite patisseries.
Recently, I've fallen in love with macarons and after much taste-testing, have determined that Hermé makes the best.  I spent a small fortune on macarons from all over Paris recently and will be publishing photos and my humble opinions soon. Here is a selection of Hermé's pastries and you can see the macaron theme in the pink raspberry macaron shells in the middle.   Besides the best macarons, his pastries are beautiful and scrumptious.
Below is one of my favorite Patisseries is located in our neighborhood is the Patisserie on Ave. de la Bourdonnais across from the Eiffel Tower and Champs de Mars.  It's around the corner from many of our Paris rental apartments and we tell our families to send their children out to buy warm croissants here each morning.  The business was sold to new owners a few years ago and the husband is a true pastry artist.  Their breads were always good, but now the pastries have gone to new levels of taste and originality.