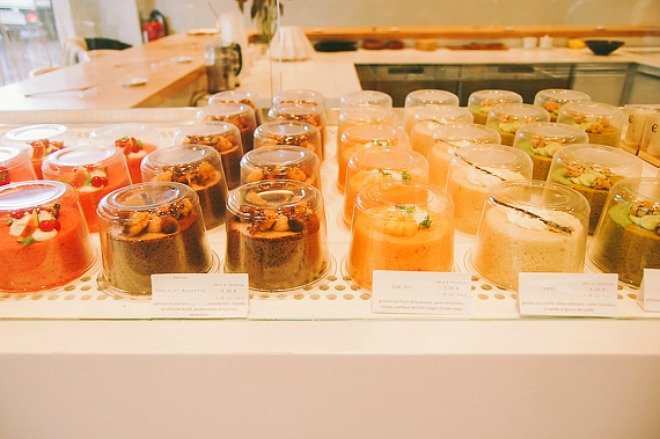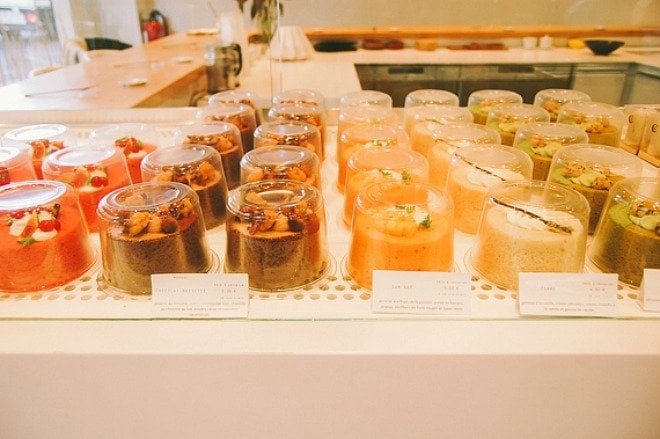 The French have mastered the art of macarons, cream puffs, éclairs, baguettes and croissants, and now they've added Angel Cake to that list. Although the French hold tradition near to their hearts, Parisians on the other hand love the avant garde and the cutting-edge. They love to be the originators of trends, never the followers. Combining Japanese flavors with the Parisian taste for beautiful presentation, Pâtisserie Ciel is bringing Angel Cake to the pastry scene.
Angel Cake, or Chiffon Cake, is so light and airy, one can almost imagine angels and cherubs enjoying it from the heavens. Originating in rural America, it's also the kind of thing you might have received as a house-warming gift from a kindly neighbor in the 1950s. It made its way over to Japan around the time of World War II, and now, in Paris, this fluffy desert is being redefined at Pâtisserie Ciel.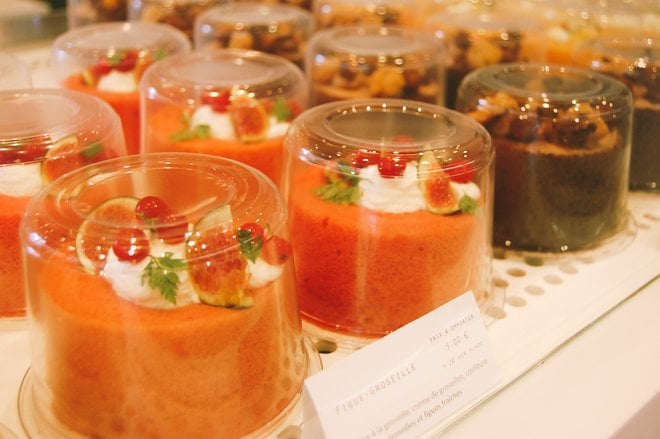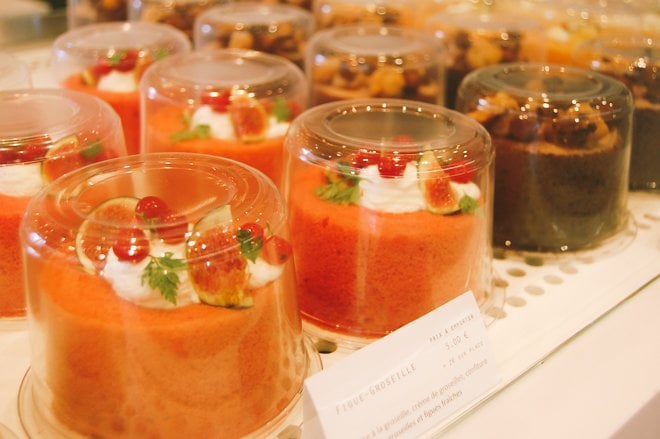 The name and ambiance of this non-traditional salon de thé certainly fits the airiness of the cake they so expertly craft. Patisserie Ciel can be translated as Pastry Shop of the Sky, and you almost feel as if you've ascended into the clouds when you enter the shop. Stepping over the threshold from the noisy street, you are greeted by a quiet calmness that instantly slows down your pulse and your pace. The entire facade is one big window facing a rather busy road of the Quartier Latin; it's this contrast between Parisian activity and Japanese zen that makes the stillness such a peculiar sensation.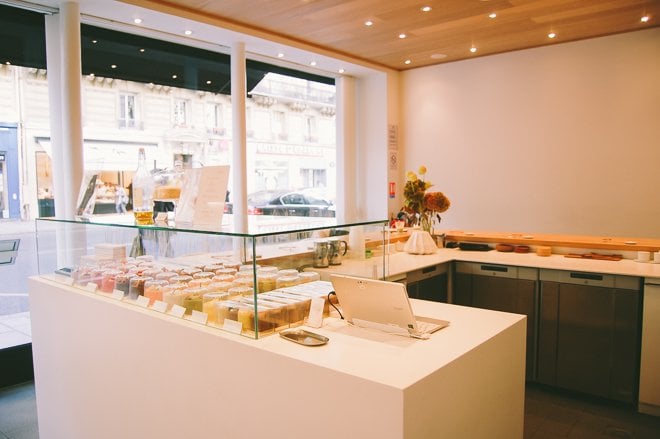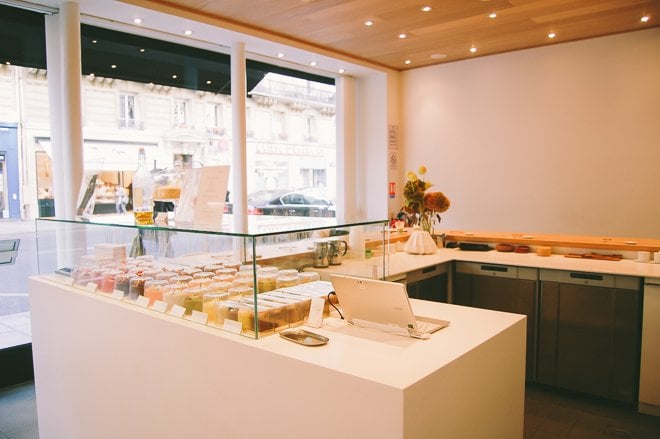 When you take a seat, you're greeted with a minimalistic table setting: an elegant long-stemmed wooden fork, beautifully designed menu, and a little white tablet that expands into a hand-cleansing cloth once hot water is poured upon it. At first I thought it was perhaps some kind of marshmallow – imagine my surprise when the shop clerk began to pour hot water on top of it!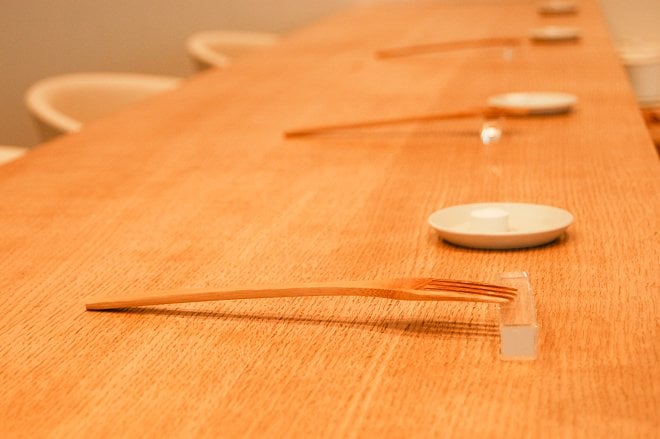 The flavor offerings range from basic vanilla and chocolate to more creative concoctions featuring passionfruit, fig, matcha green tea, black sesame and earl grey. Each individual cake is topped with a beautiful garnish and encases a delightfully creamy center. They also have a selection of Japanese teas to choose from. I went for a chocolatey-nut cake and a matcha tea. I'd have to say the best part was the creamy center. There's something so satisfying about the texture of this cake. Pressing the wooden fork into the cake causes the entire form to morph and curve like a cute cheek dimple when someone starts to smile. Arriving at the decadent center is like unearthing treasure.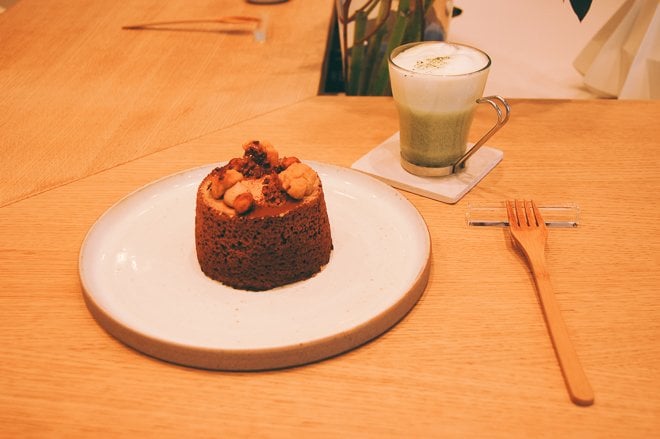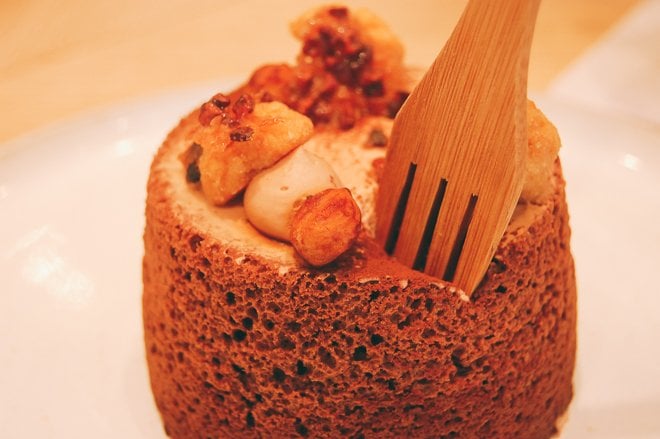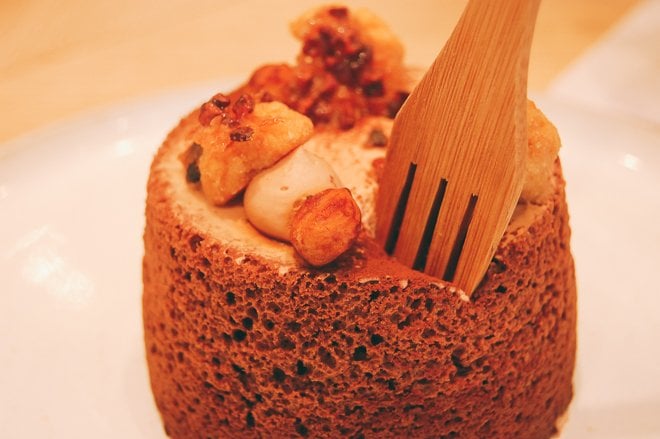 Pâtisserie Ciel, in the 5th Arrondissement, is very close to many Parisian highlights including Notre Dame, the Sorbonne, the Panthéon and the medieval Musée de Cluny. You can always take the cakes home with you sincethey come packaged in these intricate folding boxes that look like works of origami art. You won't feel heavy after enjoying one of these cakes, rather, you'll feel perfectly balanced and positively zen.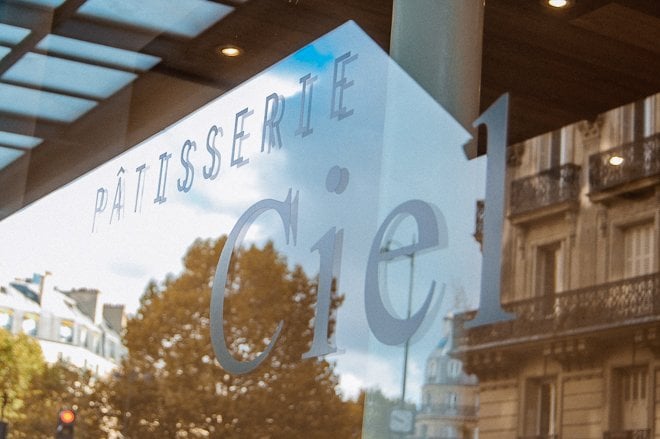 Pâtisserie Ciel
3, rue Monge 75005 Paris
Tel: 01 43 29 40 78
From Monday to Thursday & Sunday 11h-20h
Friday and Saturday 11h-22h
____________________
Hannah Wilson is a young twenty-something blogger who decided to swap the constant sunshine of her California hometown for the grandeur and charm of Paris. She loves discovering unique shops, parks, cafés and restaurants in Paris, and currently lives in Versailles with her Swedish husband. You can see more of her life at www.FrenchCalifornian.com.
(Image Credits: All images by the Author)