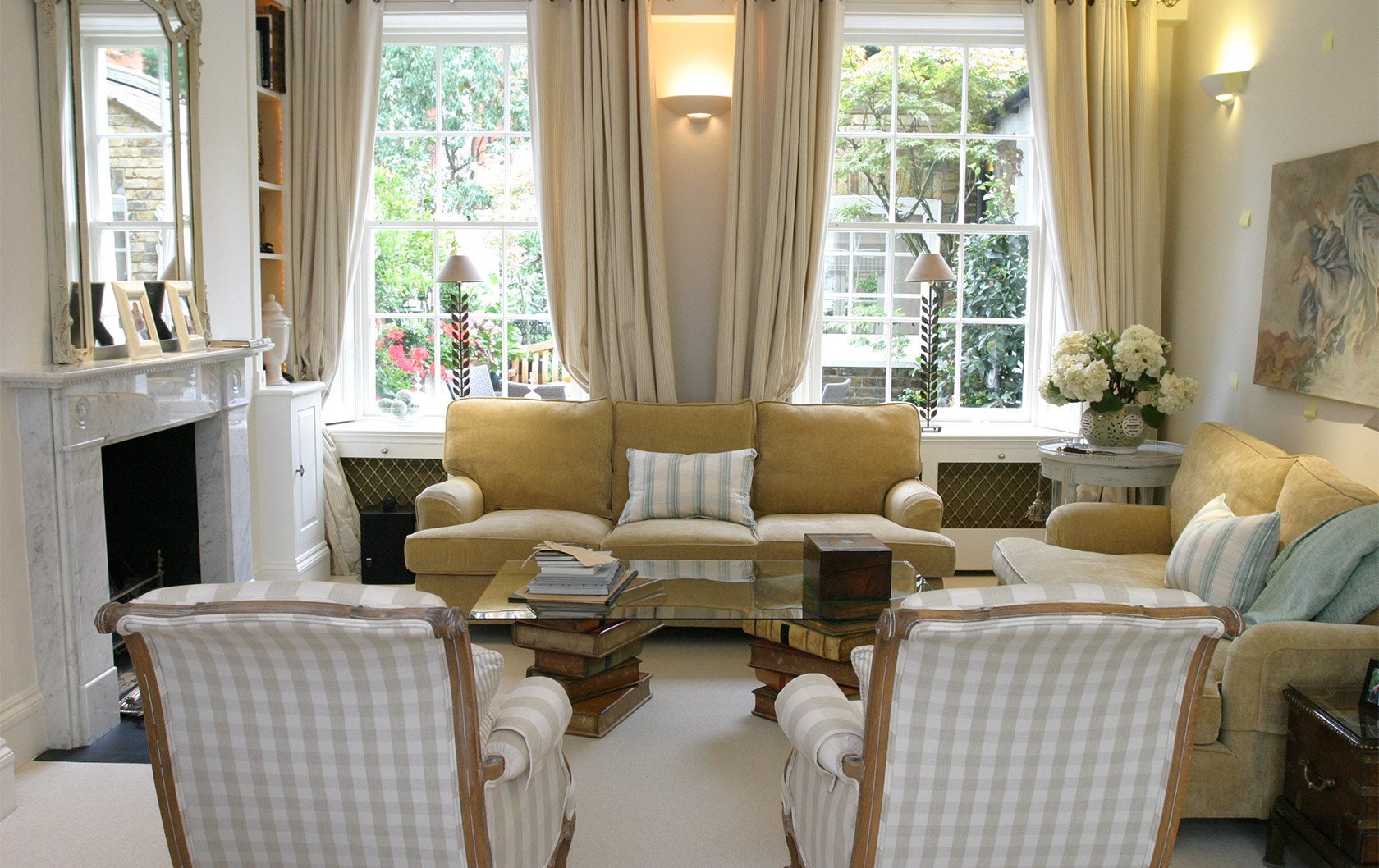 We spend so much time remodeling Paris apartments that our own living room has become neglected! I enjoyed the deep yellow textured walls with matching silk curtains for the past fifteen years, but my tastes have shifted from strong colors to a softer French country look.
Philippe protested mightily as the colors brighten up a winter's day in London, but when the silk curtains started to shred from the sunlight, the decision made itself.
First step: Antique the large French 19th century mirrors sitting on the two fireplaces!
We found the pair of mirrors fifteen years ago at the Paris flea market, or Puces. They are a rare matching pair dating from the 1800's and Philippe negotiated hard from the dealer to buy them. My mother-in-law didn'tt approve of my covering up the gold leaf, but the expense to buy new ones and time required to find replacements, then figure out what to do with this pair … merci, mais non.
I've antiqued several pieces of furniture with modest success, and learned the hard way that shortcuts don't work. I discovered a French company that specializes in decorative paint effects called Liberon. There are tons of decorative effects you can apply to wood, metal and glass!
I like the following: We simply applied Liberon's cream colored wax to the oak desk at our Sancerre Paris rental below:
Simply buy their white wax or cream-colored wax in a can and apply and buff.  If you can't find it in the US, my sister Pat simply stirred cream colored paint into a can of furniture paste wax, rubbed it on the furniture and it worked a charm.
Effet Chaule': This means whitewashed and here is an example, using a darker coat of paint before applying white on top.  Before the white is completely dry, you wipe it with a damp cloth in areas that would normally show wear, and the dark paint peeks through.  It creates a nice, aged look.
Effet Patine': Giving an old patina to a new piece of furniture using paint and wax. Requires undercoat, your choice of under-colors that peek through and a final coat in cream colored paint or other.  Then a coat of satin acrylic or lots of wax.  This is the look I wanted for the mirrors.
Materials
Undercoat
3 colors of paint:

Deep red paint
Green moss colored paint 'Vert de gris' by Liberon
Taupe/beige paint called 'Ficelle' by Liberon meaning 'String' color

Ochre-colored wax by Liberon
Optional:  acrylic satin gloss or clear wax to give an old waxed look
How to antique furniture: Step One!
Employ college sophomore son who is looking for work to tape up the glass and apply undercoat. He did a great job, inheriting dad's cardiac surgery genes. Careful job, no paint leaked onto the mirrors.
Step 2: Tips on how to create an antique look to furniture
Paint the mirrors with a water-based white undercoat.  This blocks the old paint and gold leaf, makes  next layers of paint stick. This is important; I made the mistake of applying paint directly to other furniture and the paint doesn't stick or comes off in patches, when you're trying to wipe off the final layer.
Step 3: Creating a French country look to furniture
Lightly sand mirror to remove globs of undercoat.
Step 4: How to give your furniture that antique look
Red Paint: Old mirrors have a layer of red under their gold leaf.  Apply a deep red layer, especially to all angles and corners.  Dry for 2 hours.
Step 5
Paint green moss-colored paint all over.  Liked it so much that I repainted to lights in the entryway in the same 'vert de gris' or sage green color.  Brass was a stylish finish in the mid 1990's, but I decided it was time for a change. Why buy new lights, when we can simply repaint the old?  Use a layer of undercoat first, then the color you want to show — from dark browns, to creams, greens, blues, yellows or other.  Dry for 2 hours.
Step 6
Ok, that was the green layer of paint and now back to the mirrors.  Apply the cream or beige colored paint for your final layer.  Apply carefully, everywhere. Be careful with your color choice.  I tested several colors and was going to go with a cream until I tested it.  Way too pale.  Tried the darker 'ficelle' or taupe color and although the sample sheet looked very dark, it worked beautifully.
Step 7
Important:  As soon as the paint is dry to the touch, about an hour and a half later, get a wet cloth and start to rub off the paint on all corners and wear points.  Don't wait too long or you'll be doing a lot of rubbing.  Try a little bit after an hour and if too much paint comes off on the rag, re-apply to that spot and wait another half hour.
Aging the furniture:  Use a damp cloth or sponge and rinse frequently.  Rub along the edges, which is where furniture gets most of its wear and tear.  The earlier paint colors start to show through; reds, green coats painted earlier.  Rubber harder and the gold leaf started to show through in a few places.  Not too hard I learned as even the gold started to come off!  The furniture had finally taken on an antique finish.
Step 8
Streak ochre colored wax sparingly in between curves to add a touch of dirt and age.  Be careful to add sparingly; step back and see how you like it.  This is one of the secrets of how to antique furniture  – look at the before and after pictures of the carved detail. The color contrast was nice, but a little too stark until I added the ochre wax and rubbed it in.
Step 9
Wait overnight.  Wax and polish your furniture or apply a water-based satin varnish to give a soft, rubbed luster.  I've tried to apply wax for that soft aged shine — and rubbed like crazy, reapplying frequently — but some of the paint rubbed off and I could only get the sheen after applying a coat of water-based satin varnish.
Step 10
Stand back and admire the finished product!  With the tests of paint colors for the walls and electrical wires running along the walls, it's hard to appreciate new look until we've finished painting the living room. I will post final pictures when the living room is finally done!
The living room begins to take shape….tried loads of paint samples on the back wall.
Several months have gone by and the living room still isn't finished, but it's getting there!  We used a calico cream color by Dulux on the walls and a darker color by Farrow and Ball in the bookshelves.
What a transformation! Looking at the before picture, I really overdid the deep colors and patterns. Philippe didn't want anything to change because the room felt warm and welcoming during the cold, dark days of winter. But I tried too hard. Things like the pink polka dot armchairs — lovely fabric by Jane Churchill — were charming, but the look tires quickly. Same with the contrasting striped cushions.  This room had a lot going on!!
We didn't want to spend money buying on new furniture, so kept the sofas and simply changed cushions. We re-covered the beautiful French armchairs in a pale beige check by Ian Mankin. We used the fake wooden books which used to serve as side tables — as bases for a new coffee table, to lighten the feel. Had a big place of glass cut  and a new coffee table was made. As the English say, 'Bob's your uncle!'  Used cotton ticking in beige and white for the curtains; prefer the big eyelet style curtains to the fancy ones we had before. We definitely need to add more color via cushions and accessories, but I think Philippe will be able to take long winter naps in the new look living room as well!