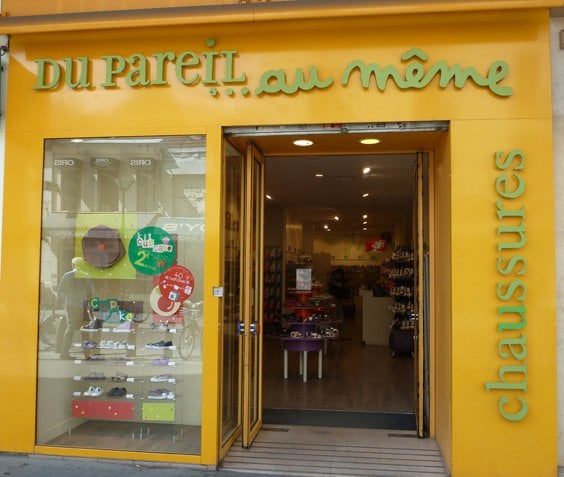 The birth of my first child last year has brought many things into my life:  happiness, sleepless nights, and an addiction to children's clothes!  I've gone from window shopping the haute-couture stores along Avenue Montaigne to staring longingly at a €180 woolen coat that I'm sure my precious offspring needs for survival during the bitterly cold winter months (ok, so I'm still trying to convince myself that the price was justified!)  Although I didn't get the coat, it did prompt me to ask my friends what the best fashion boutiques for children were.  Here are their suggestions!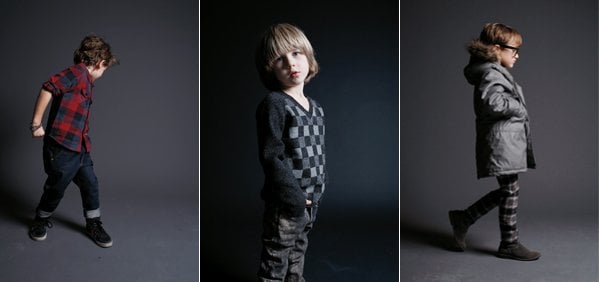 Located in 3rd Arrondissement in the trendy Marais district, Finger in the Nose is definitely one of the coolest kids clothing brands in Paris (and possibly the world!)  They stock an unbelievable range of jeans in dozens of different fits, colors, washes and treatments. They're also known for their funky graphic tees, high-quality knitwear and down jackets, a must-have in any child's winter wardrobe.  Jeans are priced around €75-80 and the down jackets can range from €130-190 depending on style and size.
Website: www.fingerinthenose.com
Store: 60  Rue de Saintonge, 3rd Arrondissement, Paris
Hours: Tuesday – Saturday, 11am – 7pm
Nearest Métro: Files du Calvaire
Sonia Rykiel Enfant
Nathalie Rykiel, the daughter of French fashion designer Sonia Rykiel, launched the label's first line for girls in 1983 while pregnant with her own daughter.  Nearly 20 years later, they're still creating incredibly stylish clothes that are loved by young fashionistas worldwide.  Be aware though, style does not come cheap with simple dresses often costing over €150!
Website: https://www.soniarykiel.com/en/collections/enfants
Stores: 4 rue de Grenelle, 6th Arrondissement, Paris
Galleries Lafayette, 40 boulevard Haussmann, 9th Arrondissement, Paris
Catimini
Born in 1972, Catimini is a French fashion label that is aimed at parent's looking for something a little different for their children, but still very high quality.  There are now over one hundred Catimini stores worldwide, with six stand-alone stores in Paris plus concept stores in both Galeries Lafayette and Printemps. If you're staying in our Vouvray Paris vacation rental, there's a Catimini store at 10 rue Vavin which is a short 10 minute walk.
Website: www.catimini.com
Stores: 10 rue Vavin, 6th Arrondissement.  Open Monday – Saturday, 10am – 7pm
For the complete list of Paris stores and opening hours, please visit www.catimini.com/en/stores/
Baby Dior
I still can't believe they have couture clothing stores for babies!  Find everything from dummies and booties to casual wear for girls and boys.
Website: https://www.dior.com/en_gb/baby/kids-fashion
Stores: 26-28 avenue Montaigne, 8th arrondissement.  Simply stroll across the river from our this charming one bedroom Paris vacation rental … and you're there!
Galeries Lafayette, 40 boulevard Haussmann, 9th arrondissement
Bonpoint
This Parisian clothing house is well-known for combining chic and glamorous children's fashion with beautiful fabrics and quality workmanship.  Popular among celebrities including Brad Pitt, who took his children to the Bonpoint store on one of their visits to Paris.  Their flagship store measures over 1,000 square meters and it's worth a visit just to admire the beautiful building and décor.  I'd also recommend having a look at their adorable website, there's something about it that just makes me feel happy!
Website: www.bonpoint.com
Store: 6 rue de Tournon, Paris, 6th arrondissement
Hours: Monday to Saturday, 10am to 7pm
Jacadi
Jacadi's clothing and shoes is inspired by the French tradition but mixed with a contemporary feel and is suitable for children aged from 0 to 12 years of age.  Their website is in English so you can easily browse through their huge range which includes shirts, polos, cardigans, sweaters, skirts, dresses, accessories, and so on.  They also stock a range of nursery items, including everything you need for the first few years of your baby's life.
Jacadi has several stores located throughout Paris and more than 270 shops worldwide.  The stores listed below are located near the majority of our Paris Apartment Rentals:
Website: www.jacadi.us
Stores: 73, rue de Sèvres, 6th arrondissement, Paris
26, rue Vavin, 6th arrondissement, Paris
256, boulevard Saint Germain, 7th arrondissement, Paris
107, rue Saint Dominique, 7th arrondissement, Paris
For a complete list of stores in Paris, use the handy online Jacadi store locator.
IKKS
French brand IKKS was launched in 1987 and now has over 200 outlets worldwide.  Known for its cool but casual ready-to-wear designs for adults, teenagers, boys, girls and babies.
Tartine et Chocolat
One of Paris' finest high-end children's boutiques, the Tartine et Chocolat brand has been around for over 30 years and is easily recognized by its exclusive Garada motif and strip set.  Their beautifully decorated stores are filled with clothing for both boys, girls and babies, and you'll also find a selection of fragrances, soft toys, nursery items and furniture.  If you're looking for a truly special outfit or gift for a love one, Tartine et Chocolat is the place to shop!
Website: www.tartine-et-chocolat.fr
Store: 266 bd Saint Germain, 7th arrondissement, Paris
From Madelyn:
I loved shopping at Tartine et Chocolat, Dior, Jacadi for our children when they were little. When they outgrew them, I saved the nicest outfits for their own children one day!  Since they outgrew them quickly, I always waited until the sales started in January and July and shopped then.  In between, I found fashion and value at the many childrens' stores on the famous rue de Commerce.  They included the big Monoprix at the corner of Blvd Grenelle and rue de Commerce, Cyrillus, DPAM or Du Pareil au Meme and Petit Bateau.  If you're staying in one of our Paris Perfect apartments such as the Vougeout or Picardin , it's a short walk across the park to get there!