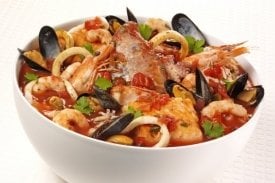 We learned to make this delicious fish stew last summer when we took Italian cooking lessons by renowned Italian chef Franco Taruschio … who lives  in Wales!
This is the fish casserole of the Italian region of Le Marche. For centuries it was the dish of the fishermen to use up the fish not wanted by their customers. It evolved into a more refined but still robust dish, over the years. There are many ways of preparing this dish according to which seaside town one hails from, great arguments are to be heard as to which is the best method with saffron or without- with vinegar or without and so it goes on. Originally Brodetto always had 13 different types of fish corresponding to the number of people present at The Lords Last Supper. Nowadays less are used but never 12 as this is considered an unlucky number, reminding them of the traitor Judas.
RECIPE FOR BRODETTO (FISH CASSEROLE)
SERVES 6
INGREDIENTS
1.6 kilos fish, a mixture of red mullet, monkfish, whiting, gurnard, sole, mussels and Dublin bay prawns as available
425g squid
1 onion very finely chopped
1 clove garlic finely chopped
3 tablespoons extra virgin olive oil
6 ripe plum tomatoes, peeled, seeded and chopped
150ml dry white wine
White wine vinegar
425g fresh tomato passata
3 tablespoons finely chopped parsley
Bruschetta
STEPS
Clean the fish and cut into largish chunks. Clean the mussels and prawns but do not shell the prawns. Discard any mussels that are damaged or open. Clean the squid and slice thinly.
Fry the onion and garlic in olive oil in a shallow pan (preferably one with 2 handles) until golden. Add the squid to the pan and cook for 3-4 minutes.
Stir in the chopped tomatoes, wine and a few drops of vinegar, the tomato passata and a little salted water to the pan. After a few minutes, add the 2 tablespoons of parsley, prawns and the thicker pieces of fish. Leave to cook a few minutes, and then add the remaining fish and the mussels.
Cover the pan and cook over a medium heat until the fish is done, shaking the pan from time to time, so that the fish does not stick. Remove the pan from the heat and leave to rest, covered with the lid, for 2-3 minutes.
Serve sprinkled with the remaining parsley and the bruschetta.
INGREDIENTS FOR MAKING TOMATO PASSATA
You can buy Passata at most supermarkets or alternatively make from scratch. Makes 900ml
1 kg very ripe plum tomatoes
2 tablespoons finely chopped onion
2 tablespoons finely chopped garlic
2 tablespoons extra virgin olive oil
Salt and freshly ground black pepper
STEPS FOR PASSATA
Roughly chop the tomatoes.
Gently fry the onion and garlic in the olive oil until soft and golden, add the tomatoes and cook until soft.
Season the sauce with salt and pepper.
Pass the tomato mixture through a vegetable mill and you have your passata.  It freezes nicely.