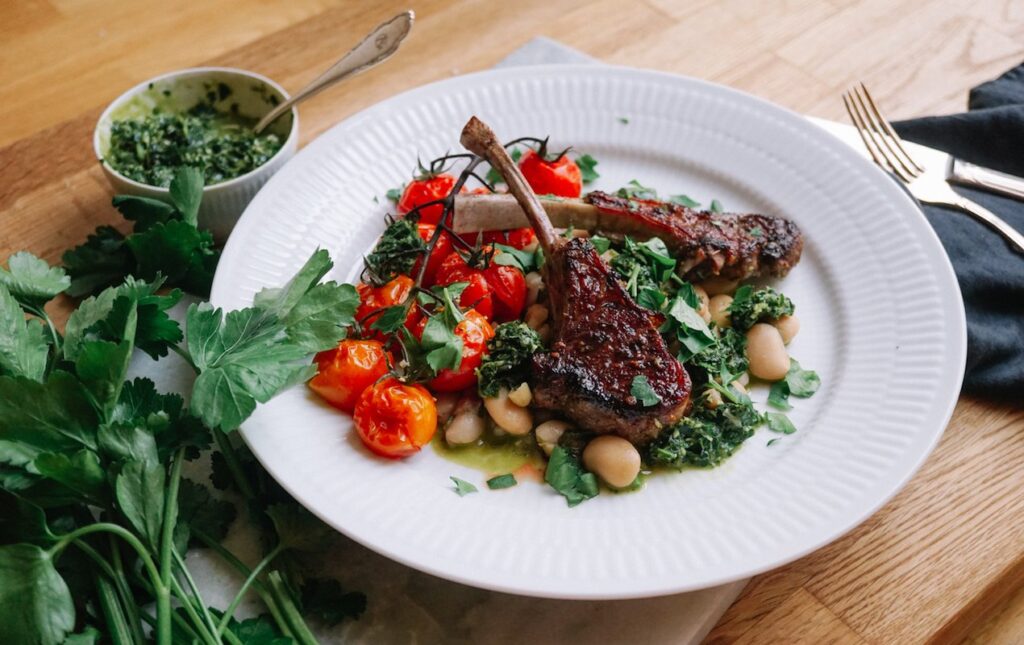 Savor the last days of spring with this wonderful recipe. The French love preparing lamb as a traditional Sunday family lunch.
In this recipe I used lamb chops, which were quickly marinated in garlic and herbs and then fried, served together with a warm white bean salad and oven-baked tomatoes. To finish it off, I served it with a persillade, which is a simple dressing, made out of fresh parsley and basil, garlic, lemon and olive oil. (Perhaps this dish should come with a warning: If you don't like garlic, steer clear!) Persillade can be found in many Mediterranean kitchens, especially in Greece, but it's also similar to the Italian gremolata.
This recipe serves four people. The portions aren't huge, which makes it perfect if it's part of a dinner with starters and desert. If you are just serving one course though, you might want to add some roasted potatoes or bread.
Garlic Lamb Chops with a Warm Bean Salad & Persillade
Prep time: 15 minutes
Cook time: about 30 minutes
Total time: 45 minutes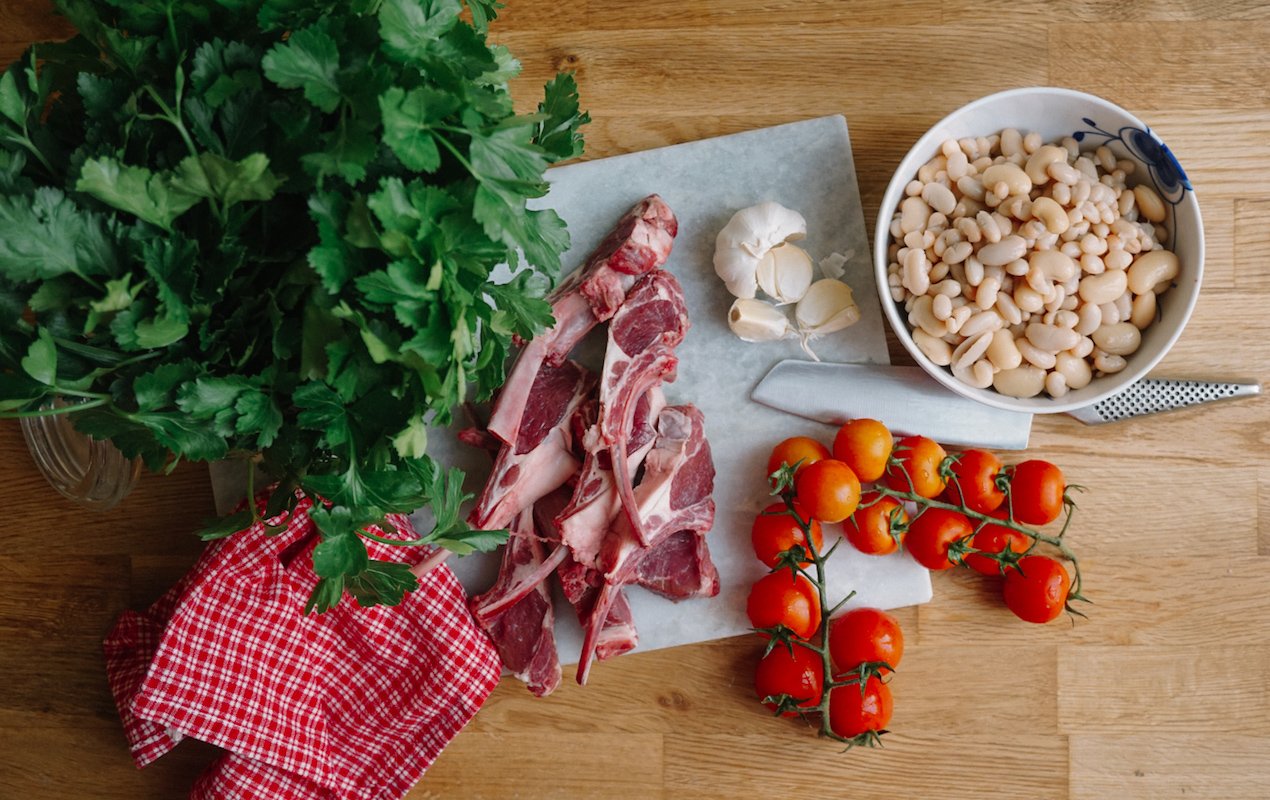 Ingredients
For the marinated lamb chops:
2-3 lamp chops per person
1 1/2 tbsp of olive oil
1 garlic clove, crushed/pressed
1/2 tsp oregano
1/2 tsp thyme
Salt and pepper
Butter for frying
For the bean salad:
1 garlic clove, finely chopped
½ of a red onion, chopped
2 tbsp olive oil
3 tbsp dry white wine
1 cup chicken stock
2 cans of white beans, drained and rinsed
1 tbsp of red wine vinegar
2 tbsp of chopped fresh parsley and more to serve
Salt and pepper
For the tomatoes:
A little under 1 pound cherry or grape tomatoes, preferably still on the vine
Olive oil
Salt and pepper
For the persillade:
A big bunch of parsley
A small bunch of basil
3 garlic cloves
The juice of one lemon and the zest of ½ a lemon
3 tbsp of olive oil
Salt and pepper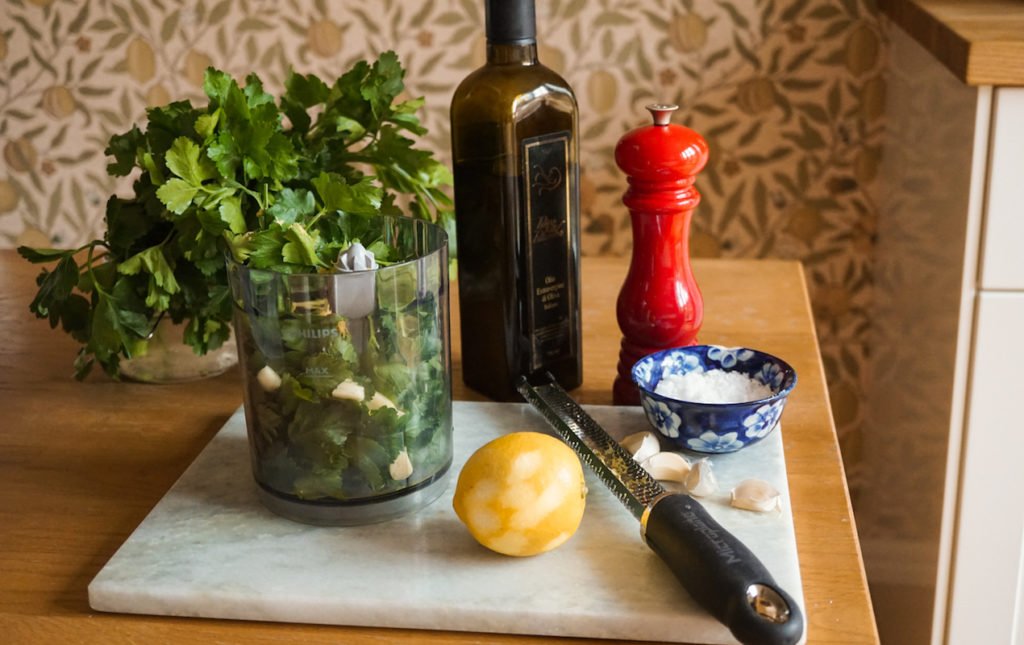 Instructions
Preheat the oven to 400°F (200°C).
Mix all the marinade ingredients in a bowl. Put the lamb chops in a freezer bag and pour in the marinade. Lightly massage the bag so that the marinade coats the lamb chops all over. Marinate for at least 10 minutes (or overnight if you wish).
When the oven is warm, place the tomatoes, just rinsed but still on the vine, in an oven dish, drizzle with a little bit of olive oil and sprinkle on some salt and pepper. Place the oven dish in the middle of the oven. The tomatoes should soften, which takes about 15-20 minutes.
Put every ingredient for the persillade in a blender or food processor and mix. Taste and add more lemon, oil or salt and pepper if you desire. Set aside.
For the warm bean salad, heat the olive oil in a pan, add the chopped garlic and red onion and let it soften for a minute or two, but don't brown it. Add the wine and let it simmer until it's reduced to about half the amount. Add the chicken stock and salt and pepper and simmer for about five minutes.
Meanwhile, brown the lamb chops in a separate hot frying pan with the butter. It takes about 2-3 minutes on each side. Put the lamb chops on a plate and pour over any liquid from the frying pan.
Add the beans to the hot onion and chicken stock and let it simmer for a few minutes. Add the parsley and red wine vinegar.
When the tomatoes are about five minutes from being done, you can add the lamb chops to the oven dish. Though please check the inner temperature before you put the lamb chops in the oven. Lamb chops should have an inner temperature between 145 and 158°F (58-70°C), which means that sometimes this step is unnecessary, especially if you prefer your meat more on the rare side.
Spoon some warm bean salad on a plate, add one vine of tomatoes and the lamb chops. Lastly, sprinkle some parsley on top and add a few teaspoons of the persillade on everything. Serve.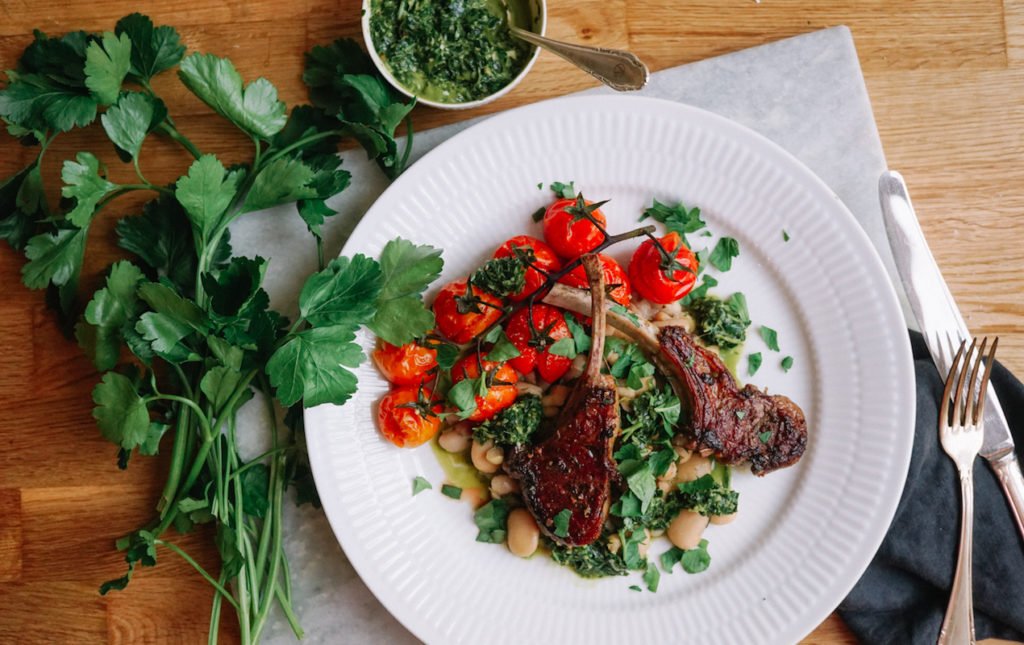 Bon appétit!
Come to Paris Perfect for more recipes like this, or join in one of our cooking classes!
Summary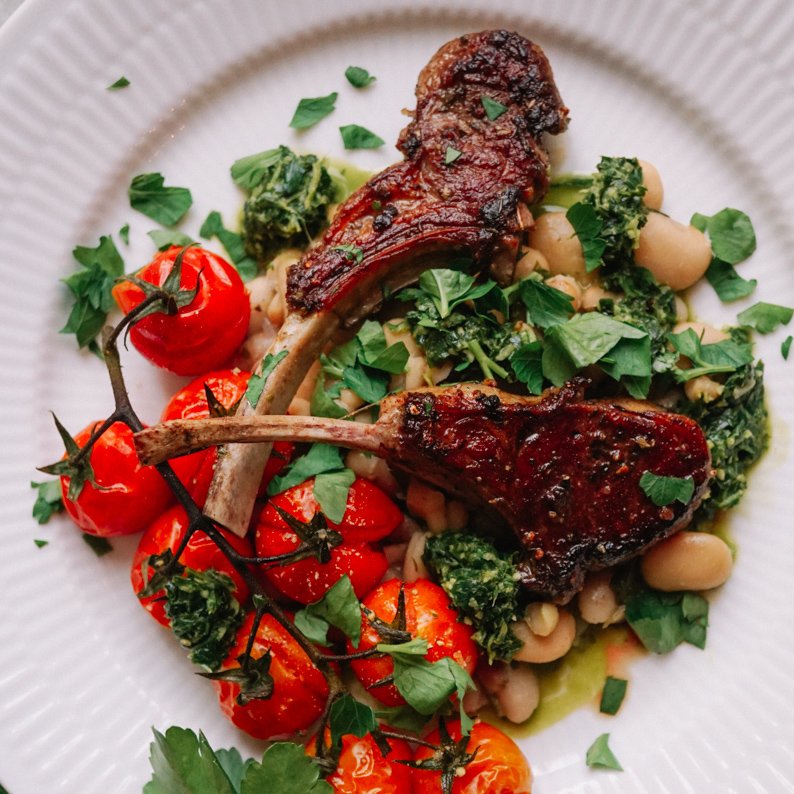 Recipe Name
Garlic Lamb Chops with Bean Salad and Persillade
Published On
Preparation Time
Cook Time
Total Time
Average Rating





Based on 241 Review(s)