It's just about that time again when France celebrates French National Day, or Bastille Day, on July 14th. This historic celebration dates back to 1880 and commemorates the birth of the French Republic and modern France. Similar in spirit to Independence Day on the 4th of July in America and Canada Day on July 1st, Bastille Day features patriotic events, parades and one of the most outstanding fireworks displays you'll ever see.
Even though it's a national holiday, there are still plenty of fun things to do, including the chance to see a grand military parade that starts at the Arc de Triomphe and passes down the Champs-Élysées to Place de la Concorde. Many museums stay open for the holiday, and the Louvre will be open for free entrance on Sunday, July 14th. Just be prepared for crowds! In the evening action centers around the Champ de Mars gardens in preparation for the fireworks display, which takes place at 11PM and will last about a half and hour. To entertain the crowds gathering for a good view, there will be a concert in the Champ de Mars by the French National Orchestra and the Radio France Choir from 9:30-11PM.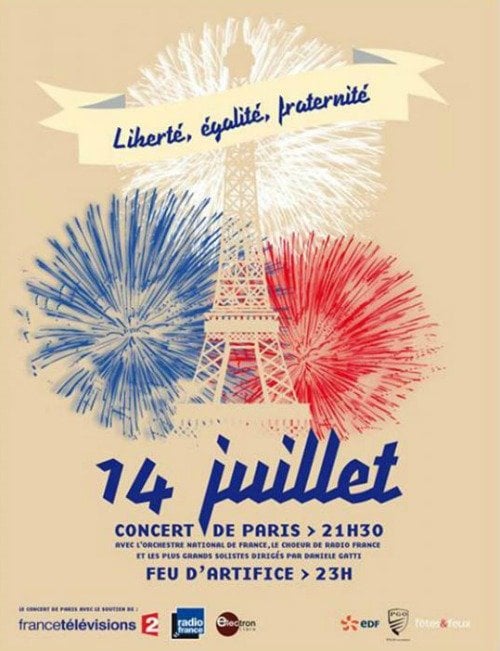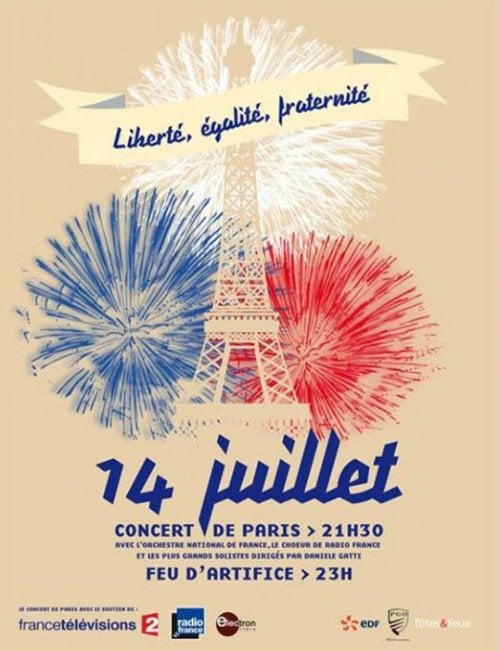 One the most spectacular events of the year in Paris is the huge fireworks display around the Eiffel Tower for Bastille Day. The fireworks will be launched from the Trocadéro just across the Seine from the Eiffel Tower. There will be over 25,000 fireworks shot off, of which over 4,000 will be grand fireworks to fill the night sky over Paris. The Eiffel Tower will also play a part of this year's theme and will be illuminated with fireworks evocative of the French Revolution. There's a theme for the Bastille Day fireworks every year (last year was disco!) and this year's theme is "Liberty, Equality, Fraternity, Paris celebrates the Republic." If you'll be lucky enough to be in Paris this year, here's a sneak peek at what's in store for you on Sunday night.
Read more about all the fun things to do on Bastille day in Paris on the Paris Perfect Blog. You can also find the full program for the events this year (in English!) by clicking here. Whether you're joining the crowds in the Champ de Mars or sitting on your Paris Perfect apartment balcony, we hope you'll enjoy the marvelous fireworks display and have a fun and happy Bastille Day in Paris!
Image Credits: Eiffel Tower Bastille Day Fireworks by margory.june