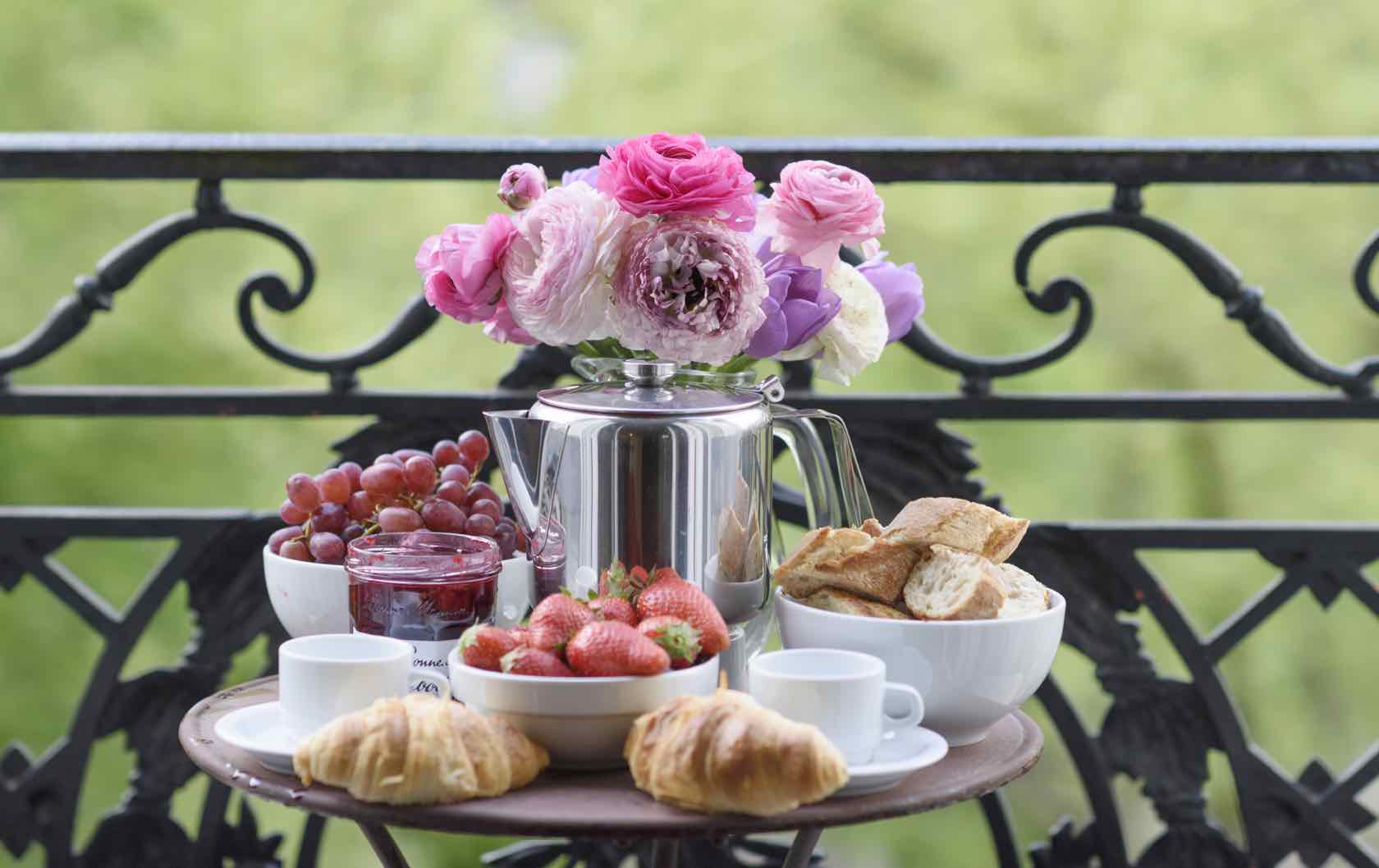 Paris is made for lovers. There's something in the very essence that tugs at the heart. Even when you think you know the city, you'll come around the corner and see the colors of sunset weaving their way magically across the Seine. Stop for a moment in the middle of the Luxembourg Gardens and it'll wash over you all again. Paris is a city that's easy to fall in love with and is particularly, if not peculiarly, well-adapted for romantics. Just think of the writers, artists and poets who have tried to capture that special essence of Paris. Yet it's there–just escaping around the corner of a cobblestone street or dancing across the rooftops at sunrise–right when you think you've grasped it. Paris opens your heart and this is why it's perfect for lovers.
Valentine's Day in Paris
Romantic any time of the year, but Valentine's Day in Paris is especially sweet. Spend the day seeing Paris without peak season crowds (or prices!), warm up with your loved one in a little café on rue Cler and discover the romance of the City of Light together. You'll want to see the Eiffel Tower, of course, but here are our insider tips for how to spend the most romantic Valentine's Day in Paris this year!
Romantic Eiffel Tower Tour
Even if you've been to Paris and have already visited the Eiffel Tower, it's still undeniably one of the most romantic and impressive spots in the City of Light. What is not romantic is standing in line, so make sure to book a skip-the-line tour or book your reservation at Le Jules Verne.
Get in the Mood … Artistically!
What did you think we meant? Not only is Paris one of the most romantic cities in the world, but it's home to some of the finest museums, too. While strolling hand in hand through the Louvre Museum might only seem romantic to the art historians out there, you can spice things up a bit by taking your loved one to see Psyche Revived by Cupid's Kiss by the Italian artist Antonio Canova. One of the most sensual, intense and romantic sculptures ever created, it's the perfect spot for a Valentine's Day kiss.
Want to score bonus points impressing your sweetheart? Check out the Louvre Museum's A Closer Look at Psyche Revived by Cupid's Kiss to do a bit of wowing with your knowledge of all things Canova and good.
Looking for a romantic spot that's a bit more intimate? Then head to the Rodin Museum this Valentine's Day to see Rodin's beautiful and romantic sculptures like The Kiss or The Cathedral. After visiting the museum, enjoy a walk through the sculpture garden where there are plenty of places to steal a kiss of your own with your loved one!
Say "I Love You" in 250 Languages
Whether or not you aced those French exams in high school, show off your language skills by taking your sweetheart to see Le Mur des Je t'Aime, or the I Love You Wall, in the pretty Place des Abbesses in Montmartre. Here you'll find a huge wall of glazed tiles with "I Love You" written 311 times in 250 languages. If that's not enough to show your love, then spend the afternoon strolling through the charming streets of Montmartre and watch the sunset over Paris from the steps of Sacré-Cœur Basilica.
Champagne & Parisian Sweets at "Home"
While a intimate dinner on Valentine's Day in Paris is a must, we think one of the most romantic ways to end the evening is by creating your own Champagne and Parisian sweets tasting at your Paris Perfect apartment rental. Why's that? Well, just picture a romantic setting, Eiffel Tower views, popping open a bottle of Champagne and taking your time sampling your selection of tempting sweets, pastries or chocolates (or all of the above … pourquoi pas?). Sounds perfect!
It's Not Too Late for Valentine's Day in Paris this Year!
With our fabulous last-minute sale you can score a huge savings while enjoying a Valentine's Day you'll never forget. Thinking of proposing this Valentine's Day? Why not do it in Paris?! Or would you just love to treat your sweetheart or spouse to a special Valentine's Day this year? Go ahead … they deserve it! Check out our sales and Contact Us – we'd love to help you plan the most romantic Valentine's Day trip to Paris this year.
(Image Credits: Psyche and Cupid by nothingtosay, Eiffel Tower heart by prittii, I Love You wall by PhOtOnQuAnTiQuE)