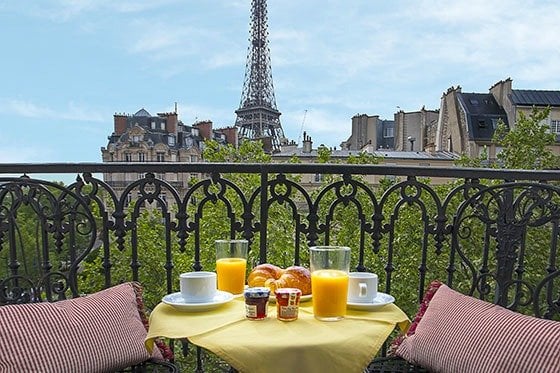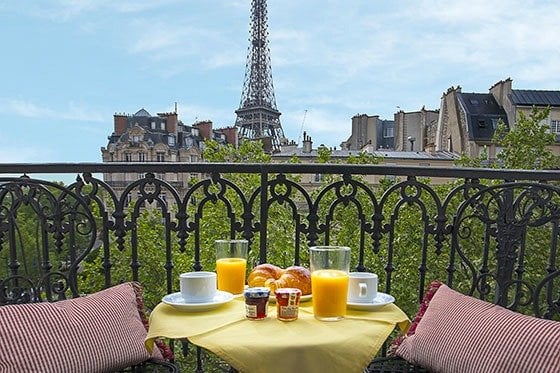 Have you ever dreamed of living in Paris? Waking up each morning and stepping out onto the balcony to see the soft colors of morning across the rooftops as the City of Light wakes up? Not having to feel rushed to see and experience everything as the days of a holiday–which never seem to be enough–pass by too quickly? Having the time to try the baguettes at all your local boulangeries until you find the one that is absolute perfection for you? Strolling leisurely along the Seine or popping in and out of boutiques without a hurry. Falling in love with a garden and watching the seasons change. These are the moments where Paris really captures your heart and you can savor them again and again.
If you are considering spending more time in Paris, then we know just the place for you. How about a gorgeous and beautifully decorated two bedroom apartment with a picture perfect Eiffel Tower view? We know just the one that is available for rentals of 3 months or longer.
LONG TERM RENTAL PRICE:
Rentals starting September 1, 2014 for minimum 3 months:  €3,945 per month plus utilities.
Rentals starting January 1, 2015 for minimum 3 months:   €4,595 per month plus utilities.
Rentals from May 1, 2015 for minimum 3 months: please enquire below

Utilities are very reasonable, less than €120 per month including heating, electricity, internet and TV.
Contact us for more information at [email protected].
Go ahead … dreams really do come true!
Photos of long term Paris apartment rental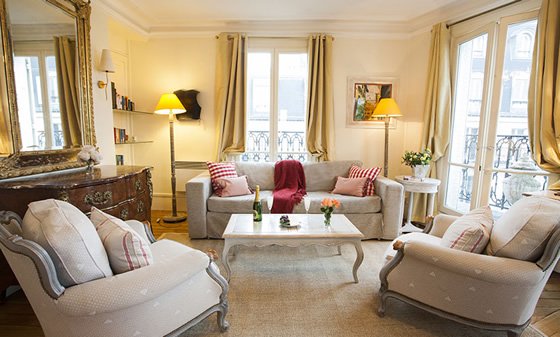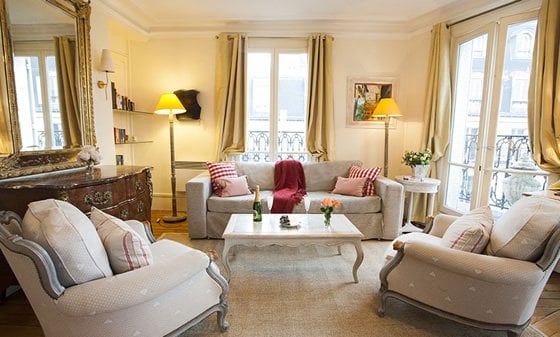 Beautiful antiques and curios throughout the apartment
A large antique chest of drawers and mirror reflect the period of this beautiful apartment and contrast with the modern coffee table and accessories. Sink into the sofa and armchairs and enjoy peaceful moments of daily life right in the heart of Paris.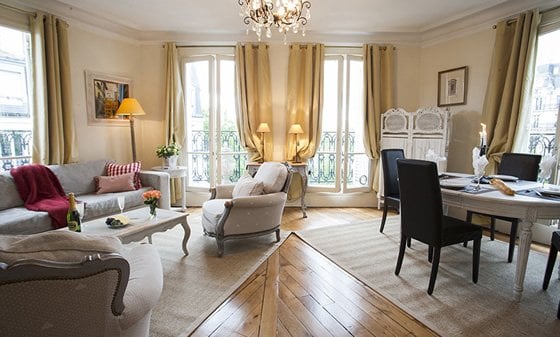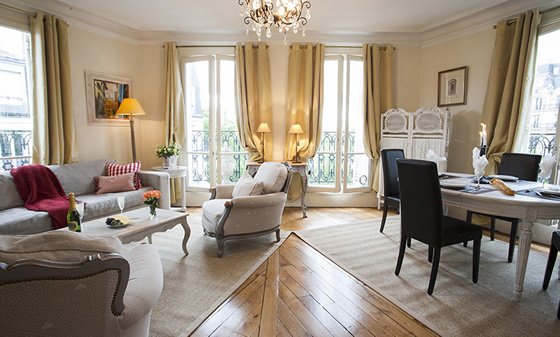 Living room French doors open onto large balcony
The apartment is on the fifth floor (sixth floor American and with elevator) and is bathed in sunshine throughout the day. It is elegantly furnished and newly redecorated, offering our guests a truly memorable stay in the City of Light.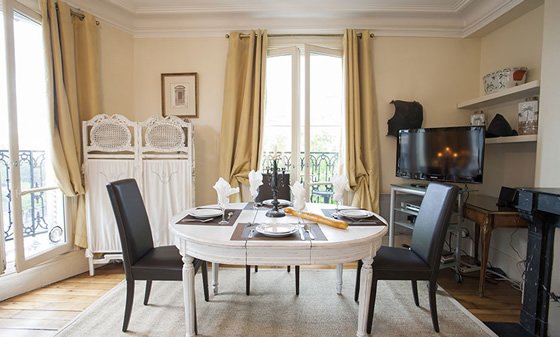 Dining table seats four for dinner
Imagine doing your daily shopping at the little shops in the neighborhood or strolling down rue Cler. There are also several wonderful open-air markets just a short walk away! You'll love cooking at home and enjoying all the French delicacies during your time in Paris.
Paris rental has a Large kitchen with modern appliances
The apartment rental kitchen is large by Parisians standards, with double sinks, microwave-convection oven combination, large refrigerator with freezer, four-burner cook top, toaster, coffee pot, electric teapot, and a Nespresso maker, for real style. The combination washer-dryer is top-of-the-line by Miele, as is the Leifheit refrigerator.
Master bedroom has an ensuite and balcony with Paris views
The Paris apartment's master bedroom features a queen bed, en suite bathroom and balcony. Step onto the balcony and enjoy a south facing view of the top of the Invalides dome, where Napoleon is buried and home to a fascinating military museum. Enjoy the expansive views of blue sky and Parisian rooftops; you know instantly that you are in Paris.
An important note: all of the windows are state-of-the-art double glazed, the same as used in luxury hotels. The apartment is located in the middle of this bustling city, but is extremely quiet for a good night's sleep.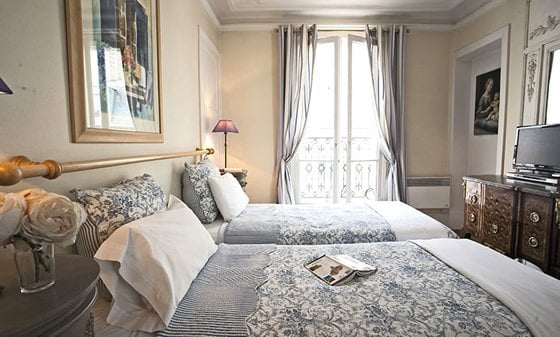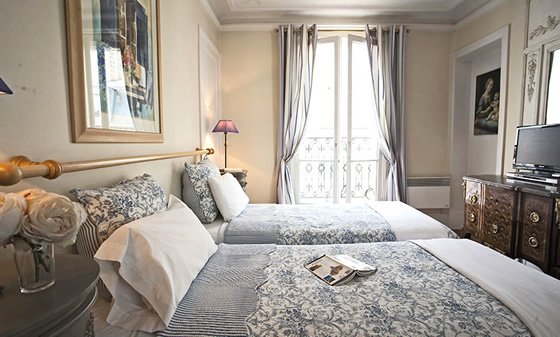 French provencal-style second bedroom with two single beds
Continue down the hallway to the second bedroom of our Paris apartment rental, on your left. This is a charming room, decorated in French Provençal-style, with elegant blue Toile de Jouy fabric bedspreads on twin beds. Built-in closets mean good storage along with bookshelves and a dresser. You'll also find a flat-screen TV with cable channels plus a dual-standard DVD player for your entertainment.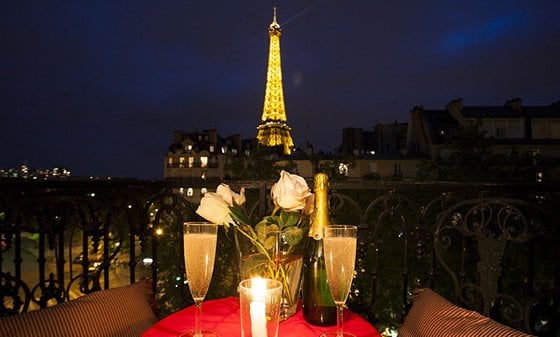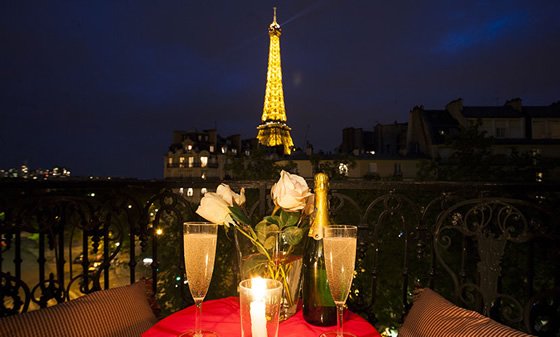 Enjoy dinner and drinks at the most romantic table in Paris
We think the bistro table on the balcony of our apartment rental is one of the most romantic and dramatic tables from which to dine in Paris, as you can view the Eiffel Tower and its magic show of lights every hour, listening to your favorite music on the stereo. The magic of Paris is all yours in this beautiful and welcoming apartment rental in the 7th arrondissement!