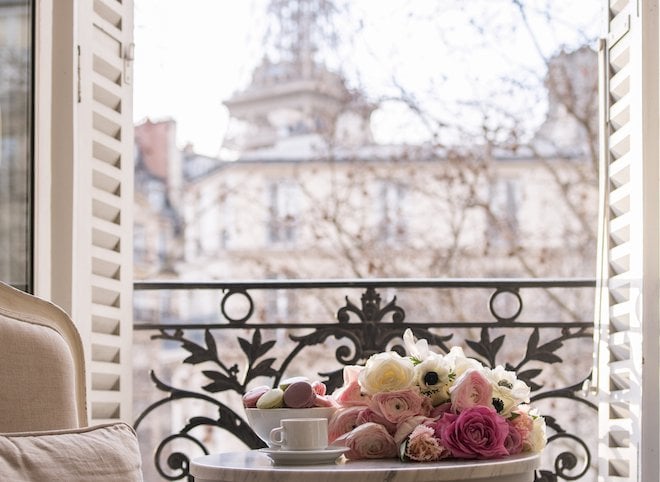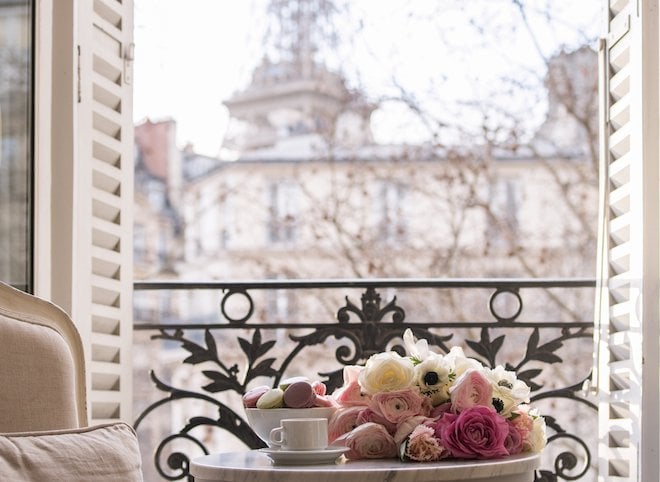 Photographers see the world through a different lens, both literally and figuratively. They see the potential for beauty everywhere and pay special attention to the details. Some of the best photographers can impart a magical aura to an otherwise ordinary scene – although there is nothing ordinary about this Eiffel Tower view! We were so pleased to welcome Georgianna Lane to the Jasnieres apartment last winter, and we're so glad we did! She captured some extraordinary moments during her stay.
The Jasnieres boasts one of the most beautiful views of the Eiffel Tower hovering over a row of classically Parisian buildings. The French window, with its ornate ironwork, frames the view like a picture hanging on the wall; you almost don't believe it's real. As the light changes throughout the day and night, you see the colors transforming like a Monet painting, whose studies of light temperature on color at the Cathedral of Rouen are famous. In the day, all is light, bright, and airy, the tower having the air of elegant lacework. In the evening, as the sun begins to dip below the horizon, the tower glows, warm and golden, above a mosaic of lights from neighboring buildings. In the night, the tower shines brilliantly, like a torch lighting the way of every person in Paris.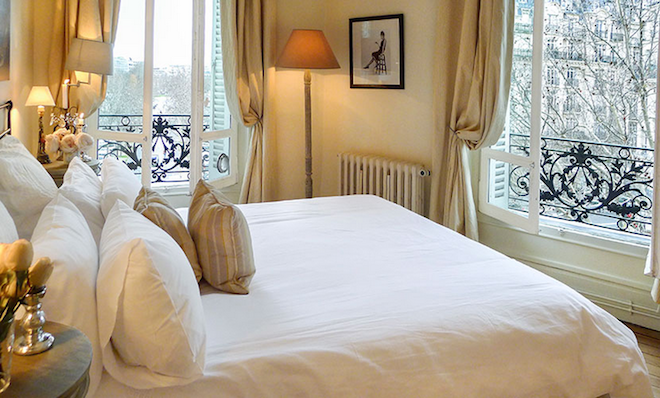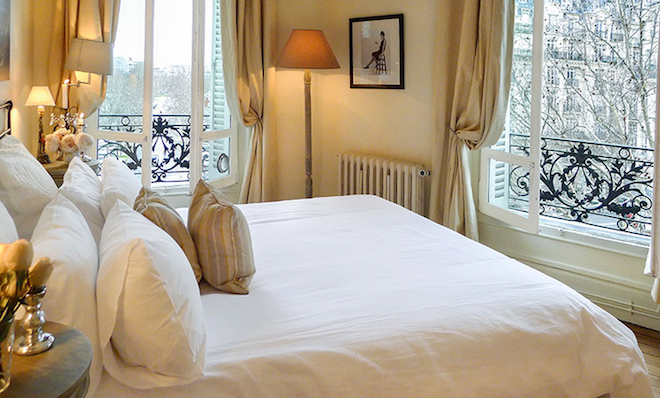 The views don't stop at the living room, however. You can see the tall, slender beauty of the Eiffel Tower directly from bed! How amazing to both awaken and retire in its splendor. Even the beautiful iron railing follows you throughout the entire apartment, sheltering you like an intricate blanket.
A special thanks to Georgianna Lane for taking such beautiful photographs! You can see more of her work on her website, and keep an eye out for an occasional photo from her on our Instagram account!
Book your stay at the Jasnieres apartment rental now! See the apartment page here.