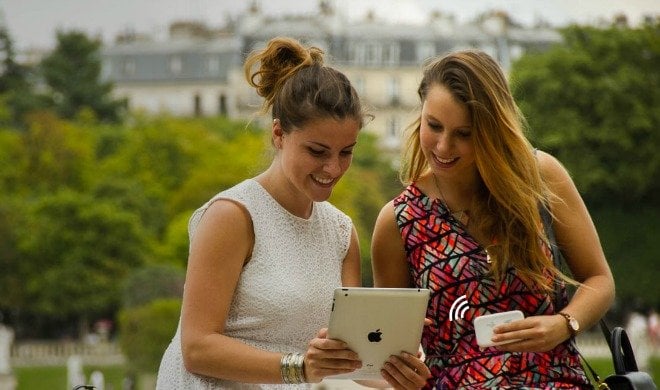 You've packed the perfect Parisian style wardrobe, planned your days and are all ready for your trip to Paris, right? But before you head off to the airport, there's one more thing you need to do in advance, especially if you're fond of those oh so handy smartphones and tablets while traveling. You simply need to book your hotspot with Travel Wifi! While all of our vacation rentals include free wifi, this clever and extremely portable device gives you wifi access for your phones, tablets and computers anywhere in France.
Travel Wifi in Paris
With Travel Wifi in Paris you can forget about expensive data roaming costs to keep in touch with family, friends or work back home. Even better is that it's super simple to use and very affordable! Just take a look at the features:
Starts at only €6 Euros per day – a huge savings when compared to data roaming on multiple devices!
Quick and easy to book in advance online
Have your Travel Wifi waiting for you when you arrive in Paris!
Simple to connect to phones and devices just like connecting to any wifi network
Take advantage of unlimited data and 4G speed
Connect up to 10 devices simultaneously – perfect for families!
Convenient pocket size makes hotspot easy to carry while sightseeing
Works everywhere in France
Before you go home, simply return to Travel Wifi in prepaid mailing envelope
Use promo code parisperfect at checkout to receive a 5% discount.
Check maps while out and about, use your favorite Paris apps, look up addresses or find information while sightseeing all without worrying about big roaming fees. Enjoy the convenience of accessing the internet, social media, email, Skype, Facetime and more just as you do at home!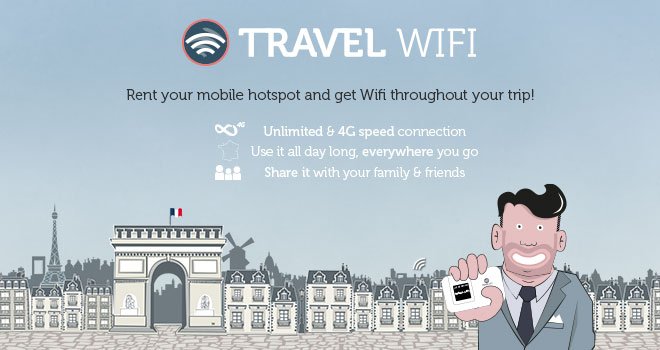 When you open your Travel Wifi package you'll find everything tucked away neatly in a little box, including your mobile wireless hotspot, charger, instructions (with pictures … yay!), prepaid return envelope and even a cookie. Now isn't that sweet?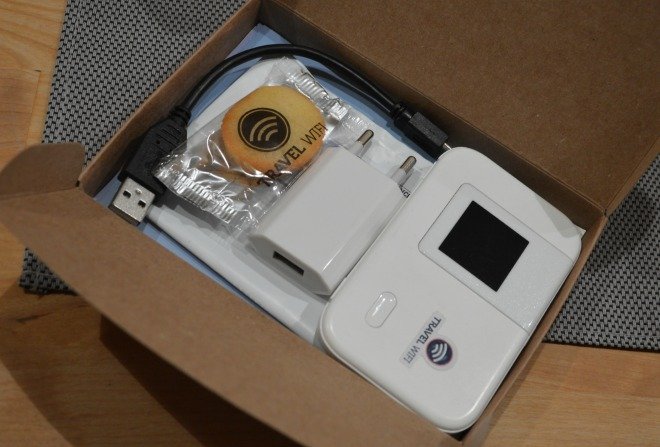 You simply turn on the hotspot and connect to the Travel Wifi network and enter the key on the hotspot. Super easy! To give you an idea of the size, you can see the hotspot next to an iPhone 4 in the photo below. It's really not cumbersome at all to carry around with you wherever you go in Paris. Yes, that does mean you can make your friends jealous of those gorgeous Paris shots on Instagram in real time!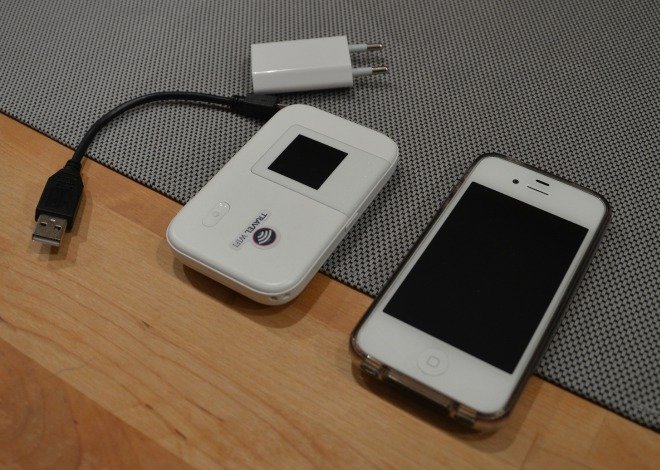 After your trip, simply place the hotspot and charger in the box and pop into the prepaid mailing envelope. We even provide the closest mailboxes to your Paris Perfect vacation rental in the handy apartment info guide, so you'll know just where to drop it off before you head home.
Travel Wifi offers friendly customer service and will be happy to help you with any questions. We've been searching for a company to recommend to our guests for reliable, fast and affordable wireless while traveling in Paris. We're thrilled that Travel Wifi is on the scene and impressed by the wireless and their excellent customer service. We simply can't recommend it enough!
Use promo code parisperfect at checkout to receive a 5% discount.