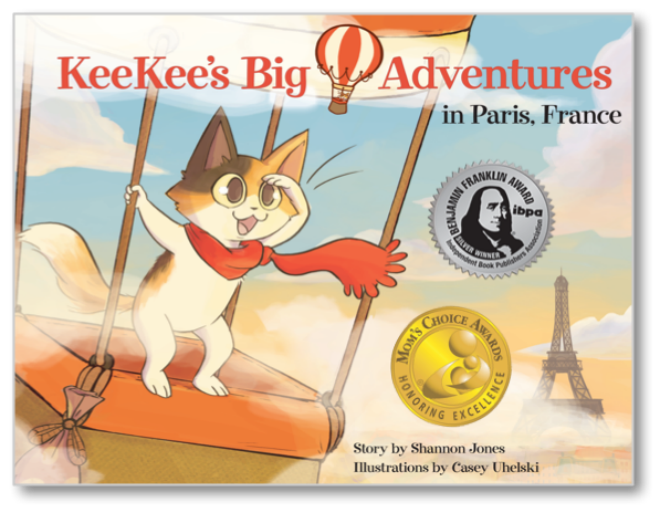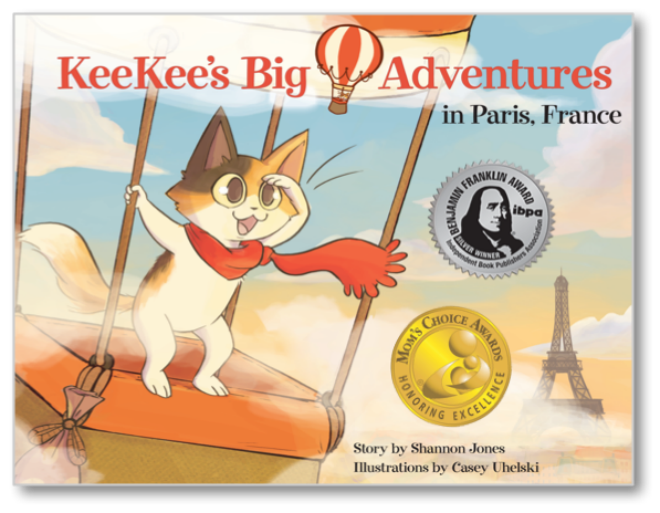 If you love Paris and are eager to introduce the next generation to its magic, then you'll enjoy the charming KeeKee's Big Adventures in Paris, France by Shannon Jones with vibrantly fun illustrations by Casey Uhelski. As KeeKee floats through the clouds in her balloon, she bumps into something tall and pointy. Yes … the Eiffel Tower!
She has dreamed of visiting the Eiffel Tower, Notre Dame Cathedral and seeing for herself the famous Meowna Lisa, and she sets off to discover Paris while meeting new friends along the way. Elliot the seagull takes her to the Tuileries where they meet Odilia the duck, the quite talented gardener at the Tuileries, who takes them on an adventure to see the gargoyles at the top of Notre Dame.
Their journey takes them to the Louvre to see many things and track down the famous Meowna Lisa. When KeeKee learns it's a painting of a lady and not a cat like she thought, a new friend at the museum takes her to Montmartre to have her very own Meowna Lisa portrait painted in Place du Tertre.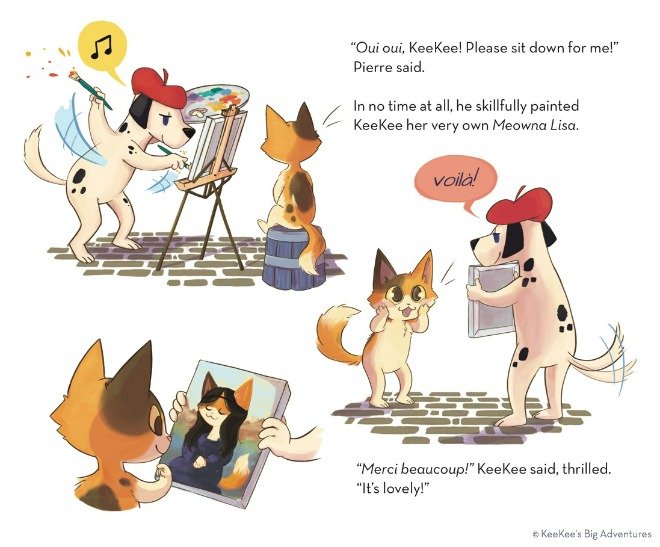 A sweet and fun story, KeeKee's Big Adventures in Paris shares many little facts that serve as a great way for kids to learn about Paris. I enjoyed how French was naturally incorporated throughout the story as well as details like the 387 steps to the top of Notre Dame mentioned and all the different types of crepes KeeKee and friends tried in the Tuileries.
At the end of the book there's a Pronunciation Guide & Glossary that gives the pronunciation and meaning of the French words used throughout the story. A list of the places visited explains the sites mentioned, how to pronounce their name and just the right amount of history. It's handy for introducing kids to French … as well as being a good cheat sheet for anyone reading!
If you're looking for a surprise for the littlest Paris lovers in your life (or their Paris loving parents!), then do check out KeeKee's Big Adventures in Paris, France. It's part of a series, so you can also follow KeeKee's adventures in Paris, Rome and Athens. It is never to early to introduce children to the marvels of travel and all you can discover around the world!
Buy KeeKee's Big Adventures in Paris, France here
Visit KeeKee's Big Adventures: www.keekeesbigadventures.com and on Facebook