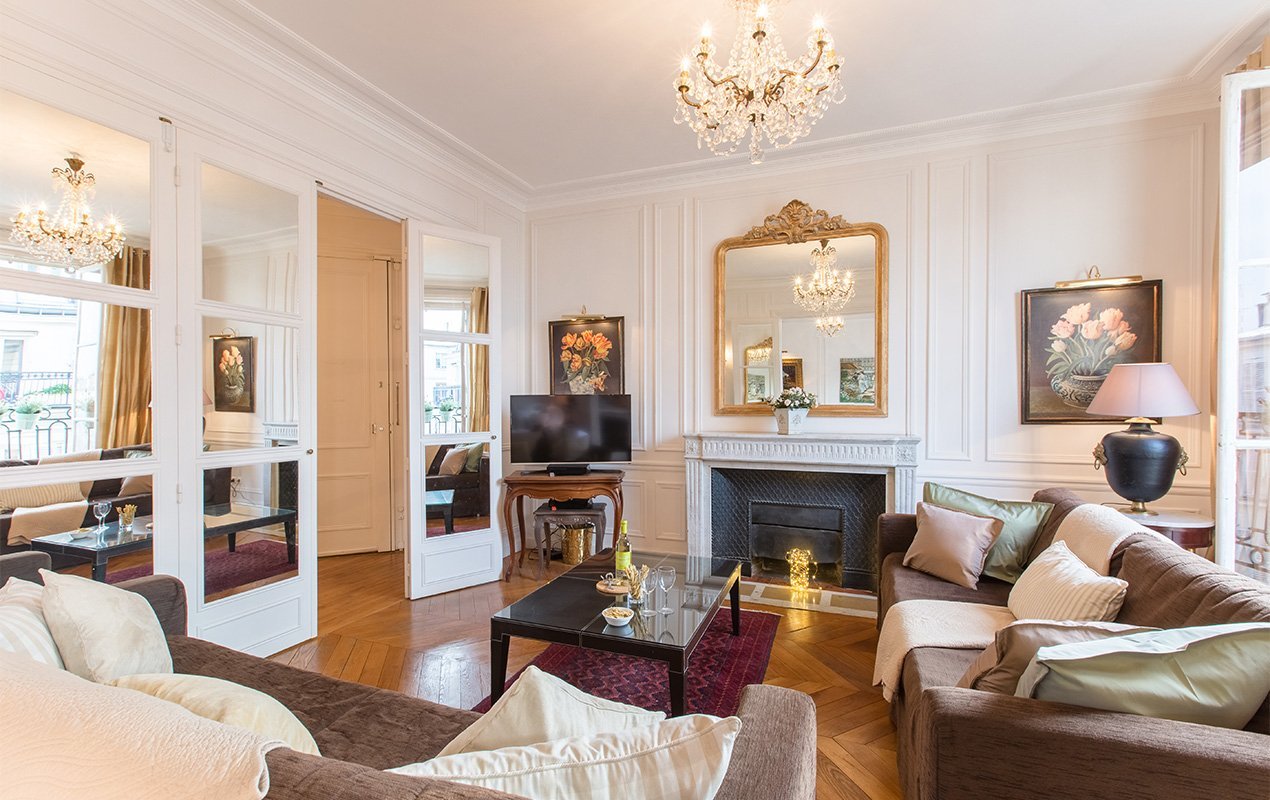 Every winter our General Manager, Hilde, reviews each apartment with a notebook, camera, and measuring tape in hand to see what improvements can be made, or to suggest changes in colors and décor. This past year was particularly busy with everything from small to major remodels, touch-ups, and most of all 'les grands menages' – or major 'spring cleans.'
We captured some fabulous before and after pictures and look forward to sharing them with you over the next month as part of our winter renovation series.
The Châteauneuf Apartment: Ideal for a Group of Women, Family Reunion or even Four Couples!
One of the first remodels we tackled was our beautiful Châteauneuf rental, a spacious apartment which accommodates up to 8 people and offers a rare 3 bathrooms and 3 bedrooms. With views of the Eiffel Tower and an ideal setting in the 7th arrondissement, this apartment is perfect for a family, a group of women, two families traveling together, or even four couples! It offers loads of space, a gorgeous kitchen, living room, and is across the street from the many playgrounds of the Champs de Mars and Eiffel Tower. Better yet, the fabulous rue Cler market street and one of my favorite patisseries are just a few doors down.
We Converted the Den into a Bedroom
Châteauneuf has amazing "bones" – from elegant ceilings with the original crown molding to crystal chandeliers, large windows and original parquet floors.
However, as our Tours & Services division has grown, so have the requests from larger groups and families wanting to take advantage of the many unique activities we offer including gourmet cooking classes, market tours, antique shopping trips, and French lessons. In order to accommodate these groups we set about converting the den into a comfortable and pretty bedroom with twin beds.
Our first challenge was to make sure new beds would fit and make modifications in lamps and the wiring so the TV would move to the living room.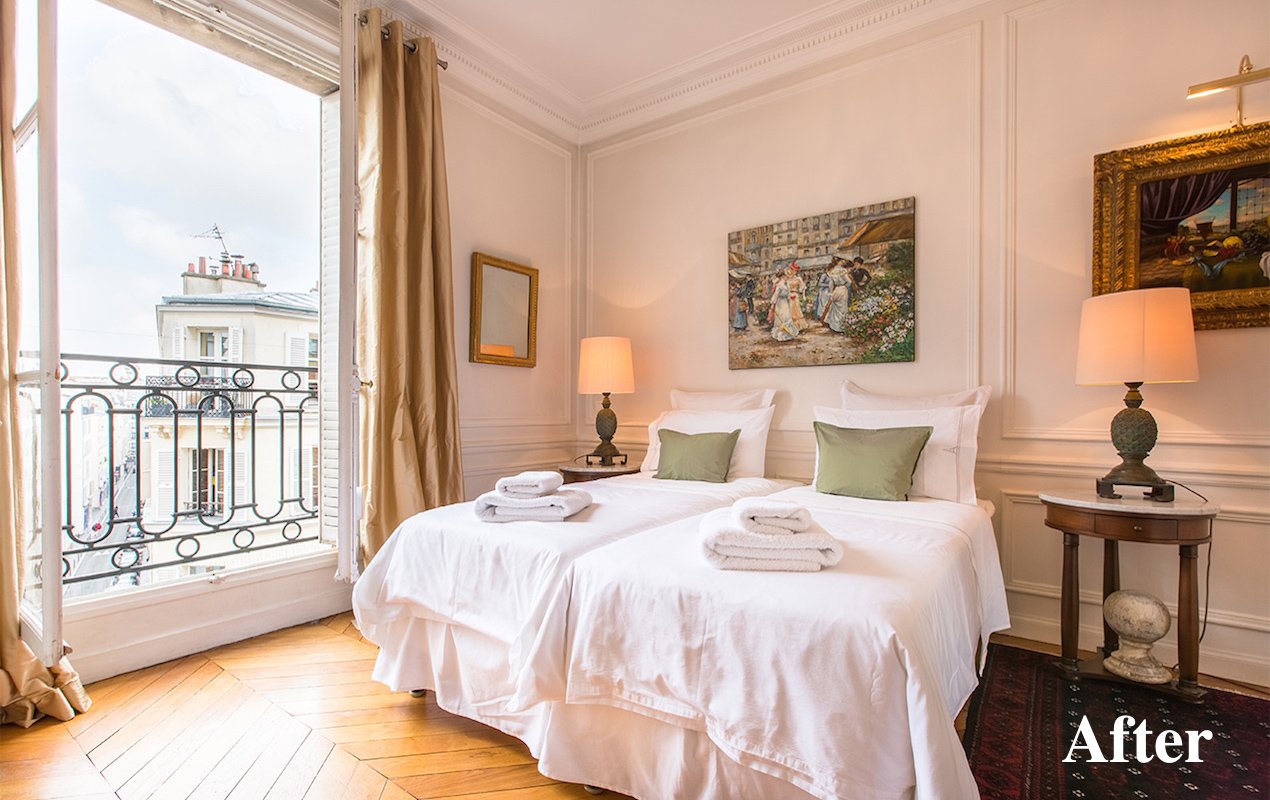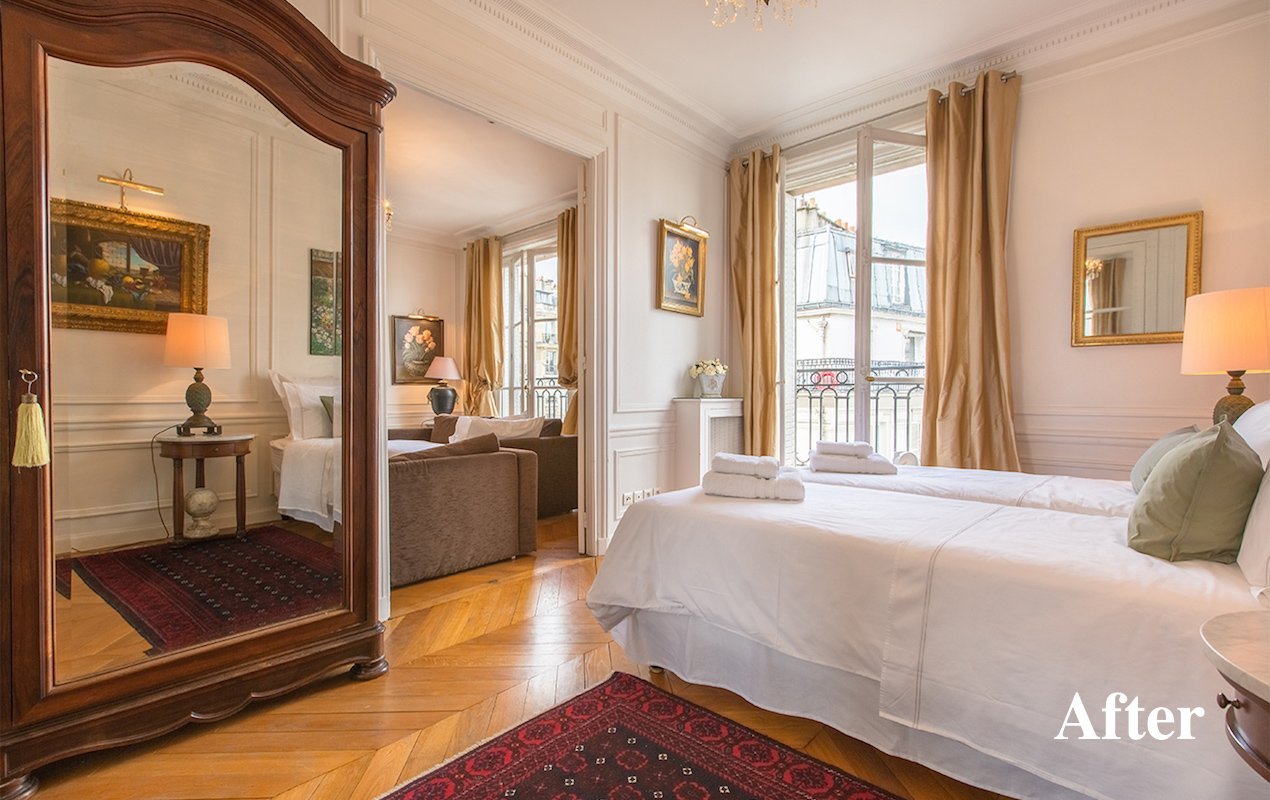 We Added a Dual-King Bed to the Master Bedroom

Next was the master bedroom; it didn't need much, but we thought it was time to offer guests the option of a dual-king, which many request — both for comfort for different kinds of sleepers and to split into singles as required. We changed the curtains and, voila, a fresh new room with a large bed! We simply love the Italian painted headboard and matching yellow-and-tan dresser; it really adds a lovely French feel to the room.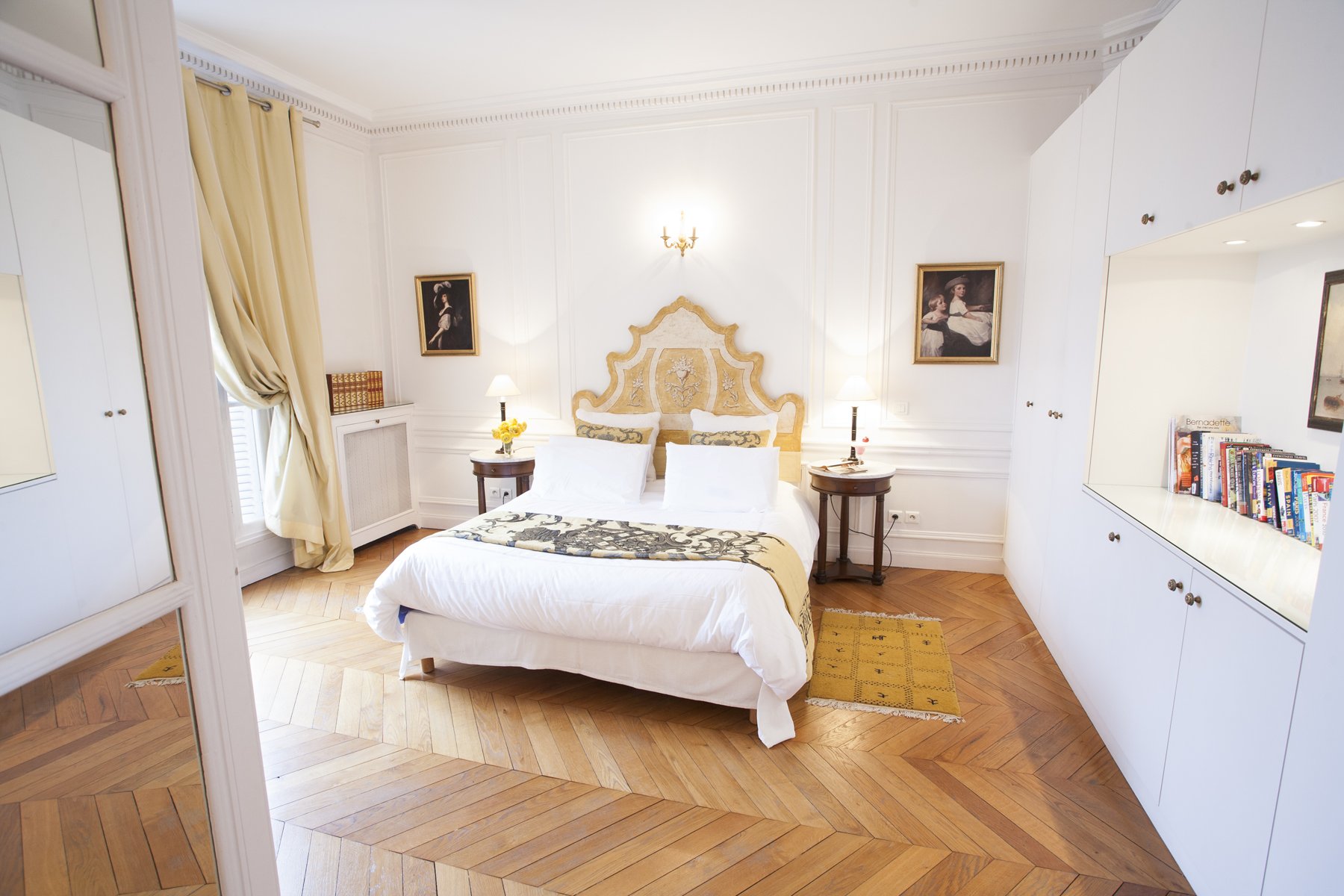 The Kitchen & Bathrooms Were Perfect…So We Made No Changes!

The kitchen is impeccable — lots of room, clean look, and beautiful granite counter tops.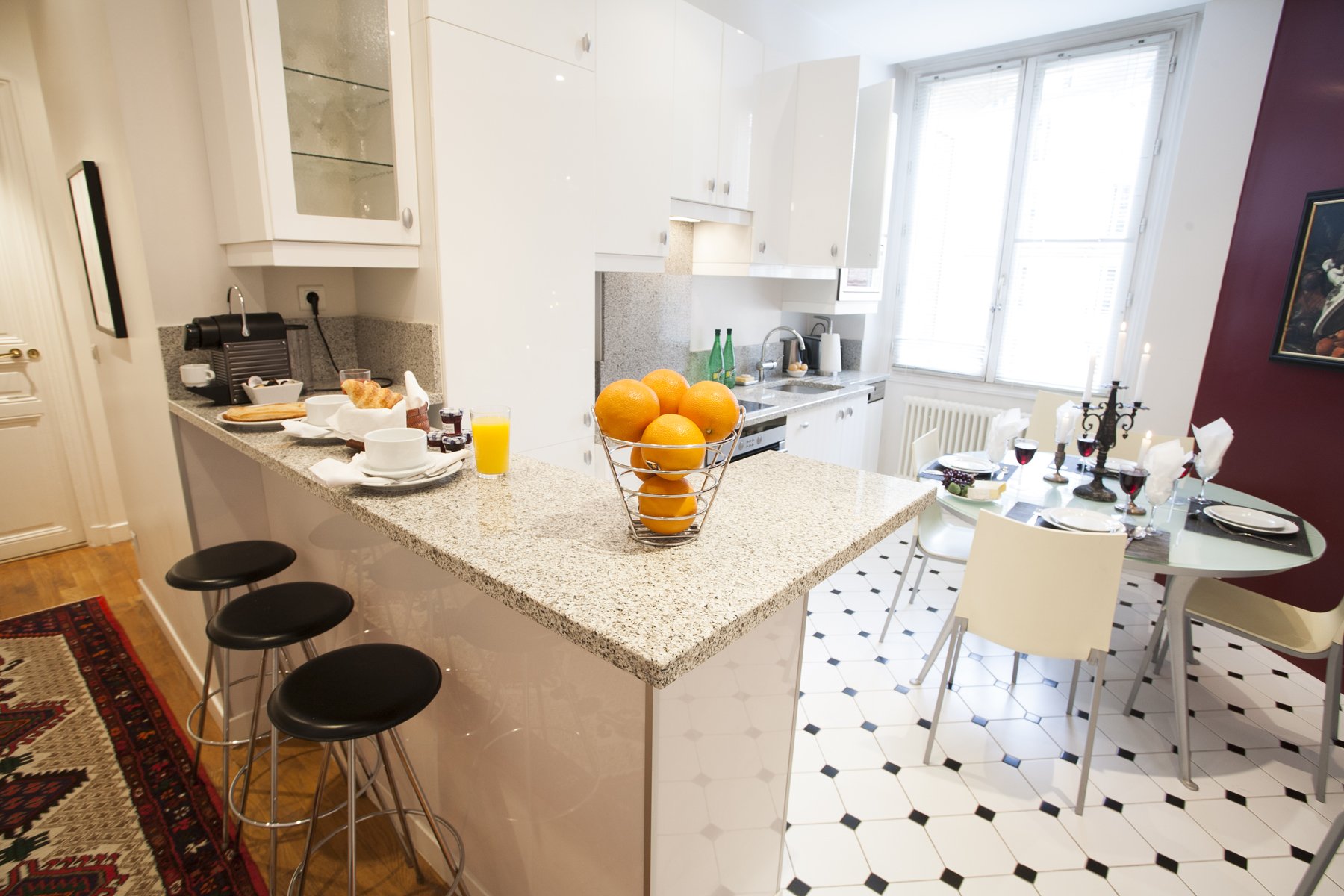 There are three bathrooms in the Châteauneuf rental plus a separate toilet for extra convenience. It's almost unheard of in Paris, where living spaces are small and especially where the French don't think of bathrooms in a one-to-one ratio with bedrooms.
One Final Change and the apartment is complete!

The third bedroom is at the end with two charming single beds and pretty Venetian painted headboards. A new Provençal style chest of drawers is being delivered soon to add the finishing touch to this room, and voila, a beautiful refreshed apartment!
Want to stay in our stunning Châteauneuf rental?

At prices ranging between €528 and €1036 per night, with the luxury of a hotel such as the George V or Plaza Athenee — the value is simply unbeatable for groups or large families.
For more information or to book your dream trip to Paris, please submit an online enquiry form, email [email protected] or phone our friendly, English-speaking team on +1-888-520-2087.