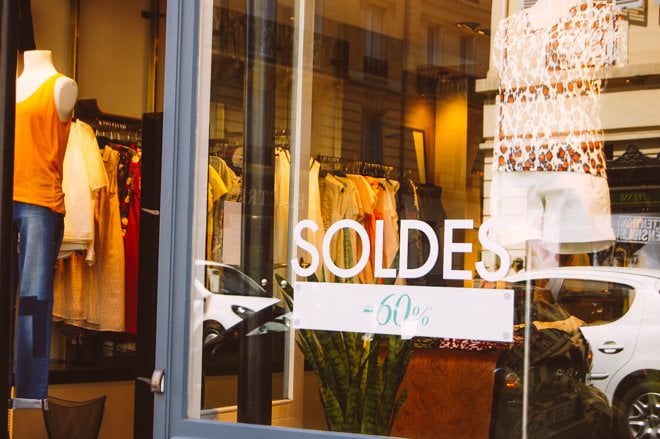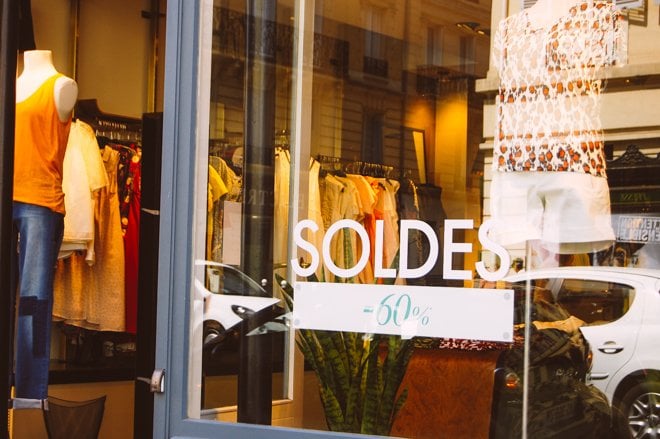 The Summer Sales, known to all in France as Les Soldes d'Été, are in full swing, and we all know what that means – shopping spree! Sales of this magnitude don't come around often, twice per year to be exact, and all the Parisians seriously stock up. Since the sales are government-mandated, stores are only allowed to offer large discounts once in the winter and once in the summer, so take advantage while you can!
From June 24th until August 4th 2015, you'll see signs like this plastered all over shop windows: SOLDES JUSQU'A -60%! In English, this means that you'll find items up to 60% off their regular price! Anywhere you see those magic words, have a look inside. While you're browsing, verify that the items you're admiring are marked with a sticker or tag of some sort, since most stores will often include a display of their new collection at full price.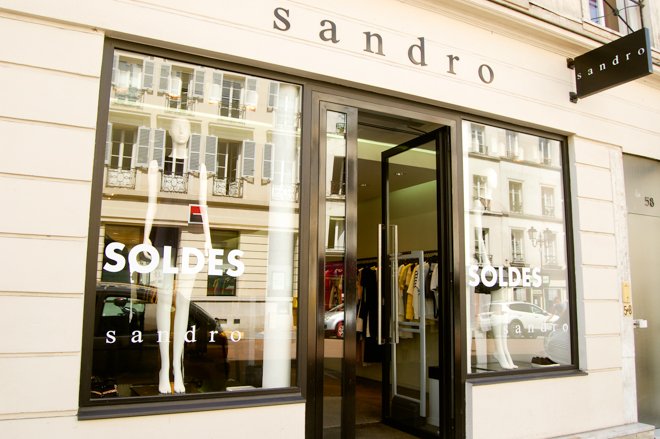 Keep in mind that the discounts get incrementally larger as the sale period progresses. There will be higher discounts in late July, but the selection may be much more limited. It's a fine balance, to shop when there's still a significant amount of stock to choose while still finding excellent deals. For some helpful tips and tricks, see the bottom of this blog post: click here. Regardless of the science behind finding the best deals, why not try your luck and see what kinds of scores you can make!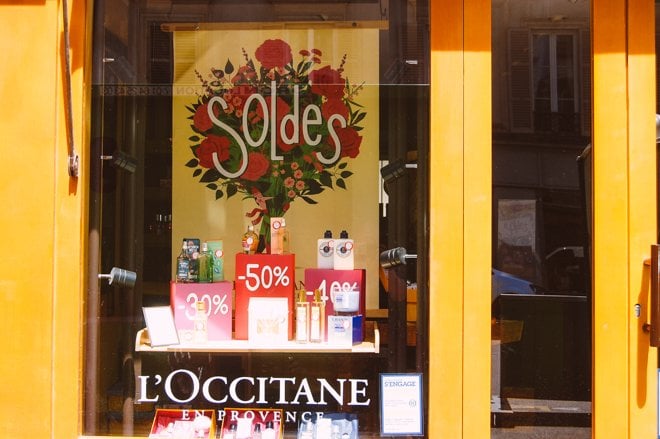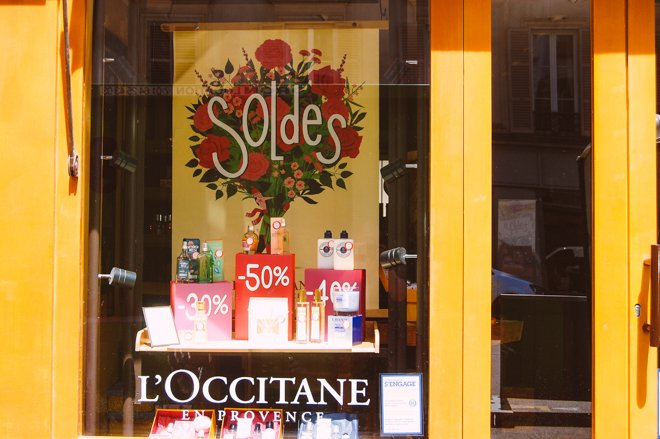 There are so many great shopping streets in Paris, it's not hard to find what you're looking for. Here are a few recommendations, according to budget.
For the mid-level shopper:
Rue du Commerce
15th Arrondissement
Between metro La Motte-Picquet-Grenelle and Commerce
Beaugrenelle Shopping Center
12 rue Linois, 75015 Paris
Stores open late, until 9pm
Rue de Rivoli
Between the Louvre and Hôtel de Ville
Highlights include BVH department store
For the luxury shopper:
Le Bon Marché 
24, rue de Sèvres, 75007 Paris
Galeries Lafayette
40 Boulevard Haussmann, 75009 Paris
Rue Saint-Honoré
1st Arrondissement
Near metro Madeleine and Concorde
Highlights include Chanel, Hermès, Dior, and others.